It makes perfect sense that one of the world's top custom BMW motorcycle builders is based in Germany. Under the guidance of company founder Marcus Walz, WalzWerk Motorcycles have been building custom bikes since 1990. Modifying motorcycles built at the BMW Motorrad plant in Berlin has become the focus of his business. Together with his team they now produce an impressive 80+ custom Beemers each year at their workshop located 1 hour south of Frankfurt.
To help streamline his business while also ensuring customers have the freedom to request a unique motorcycle, Walz developed the Schizzo. The Schizzo is a "modular" motorcycle design that can be tailored to each customer's specific desires. So flexible is this approach that the Schizzo can be ordered in scrambler, roadster, cafe racer or bobber trim and customers can choose from 3 different performance and component-based price points.
This motorcycle is named 'The Monza'. Unlike many of the commissioned Schizzo builds that pass through the WalzWerk workshop, the Monza was an in-house project. The WalzWerk team created it as a potential new style offering for the Schizzo range. Based on a 1987 BMW R100 Monolever it took Walz's team a mere 2 weeks to complete. This is due in part to the fact they have streamlined the production of these bikes so efficiently.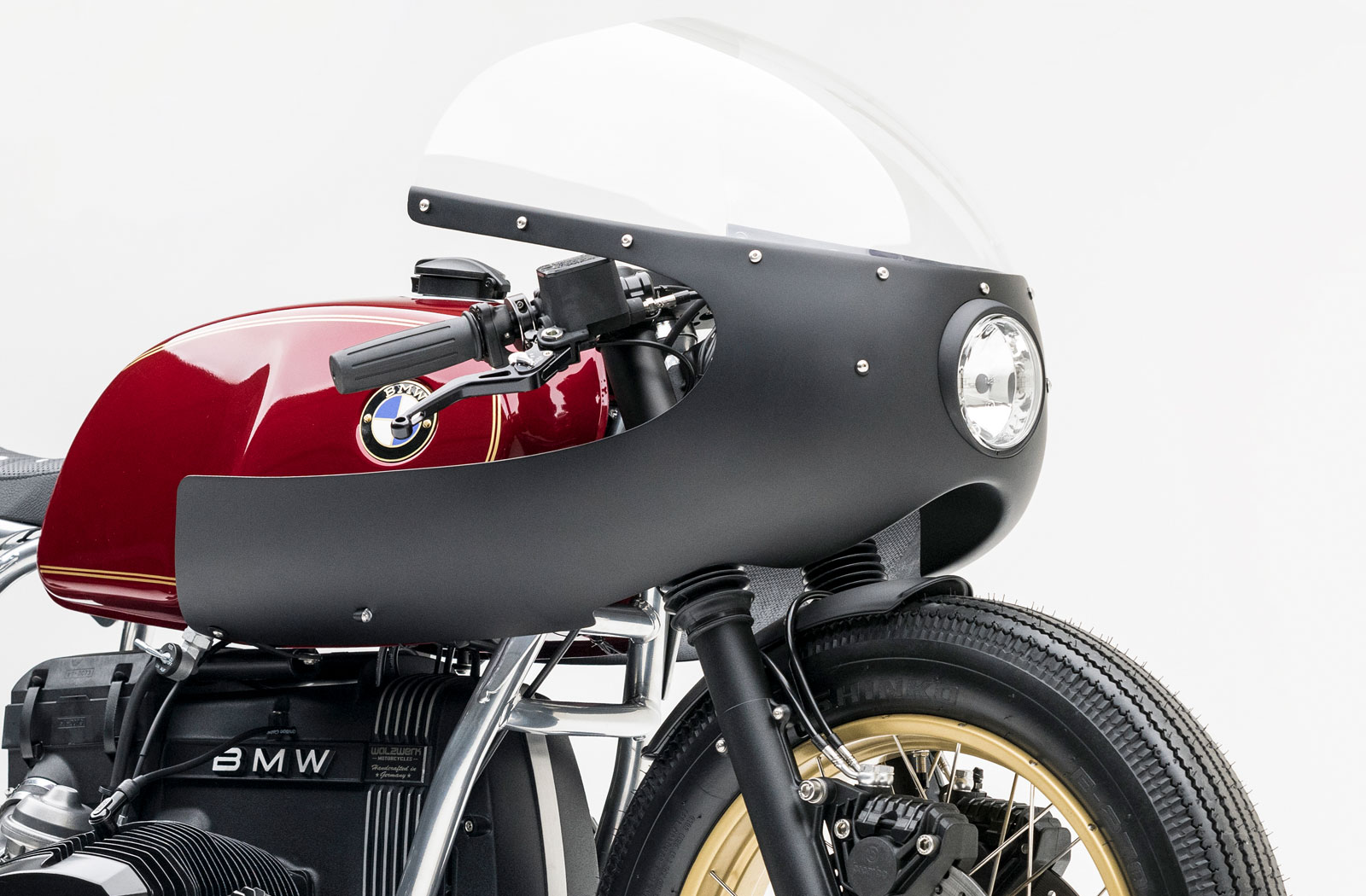 Along with running a tight ship, Walz has amassed a collection of carefully curated donor bikes. "We stock around 60-70 BMW R80/R100 donor bikes and each one has a unique story," he says. "This bike had only one owner who had passed away. We bought it from his widow." Along with all those bikes Walz stockpiles many of the custom and aftermarket components used to create a Schizzo. Some of which, like this bike's blacked-out 2-into-2 shorty SC-Project exhaust, are produced exclusively for his workshop.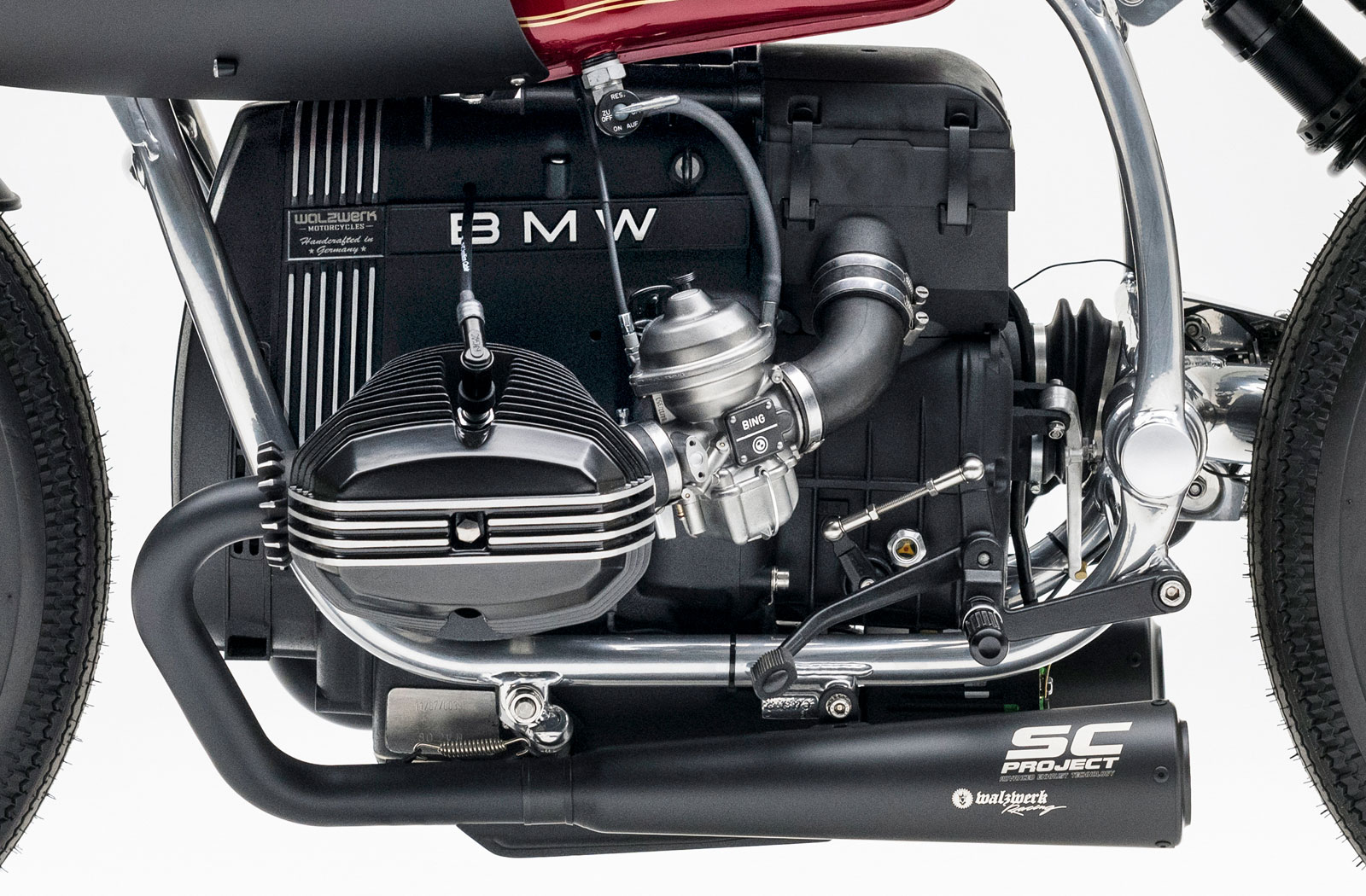 Each Schizzo build includes a set of standard modifications and updates. The Monza features Walz's own personal blend with many of the options found in their range-topping Schizzo Cafe Racer 'Pro' package. Future customers can modify the package to their own liking when they place an order but the changes to the R100 chassis are standard across the entire Schizzo range.
The frame modification involves completely stripping and shaving the stock frame to remove any redundant brackets. The rear end is then replaced with a WalzWerk bolt-on subframe complete with built-in turn signal brackets and a new mount for the monoshock.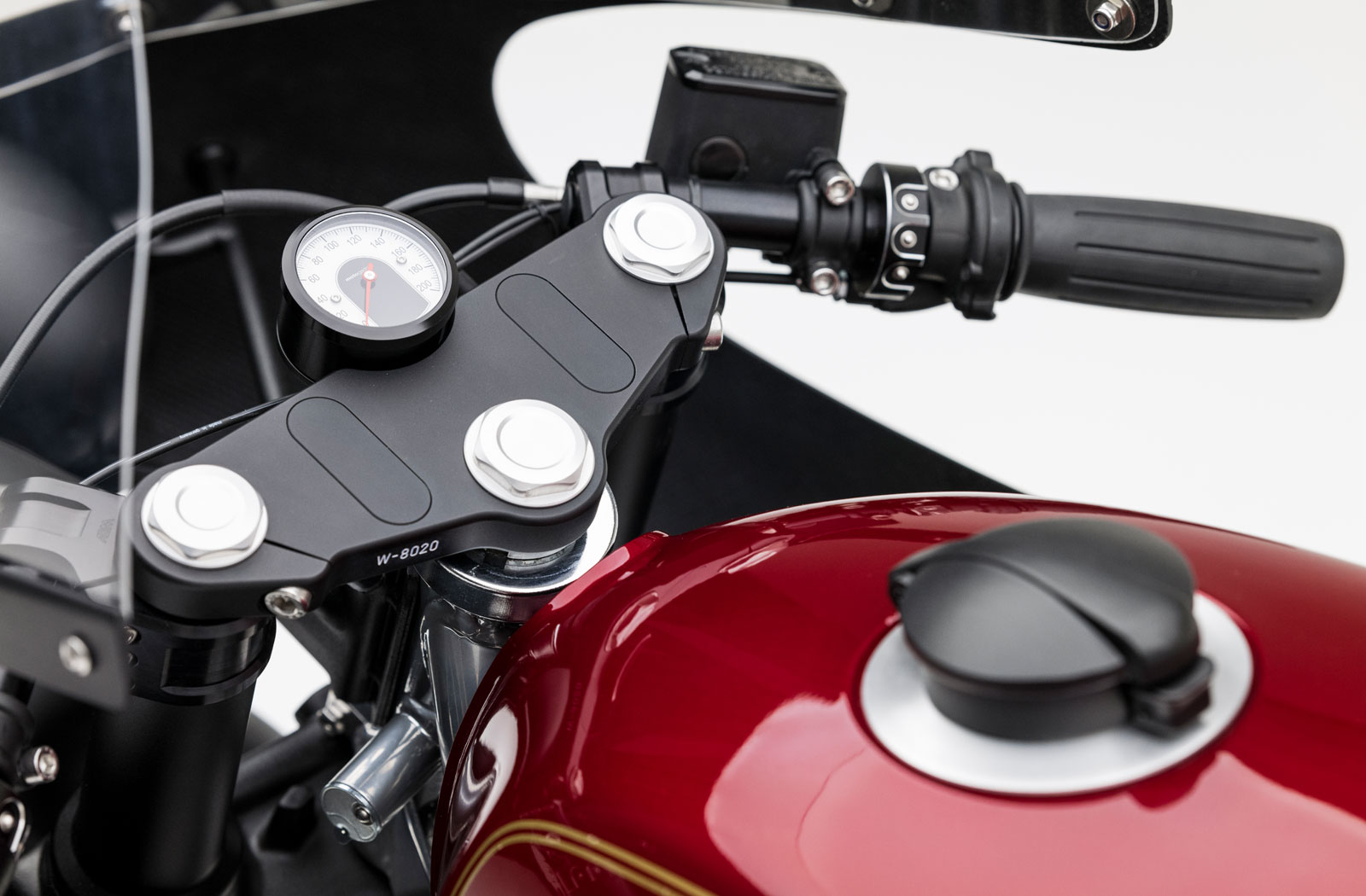 Modern accessory upgrades on this Monza come in the form of Motogadget m-Switch mini controls and a Motoscope tiny speedometer. There's also a Motogadget m-Unit Blue managing the electronics which is stashed away neatly under the seat. Lighting comes in the form of tiny WalzWerk extra-bright LED turn signals with the ones at the rear also managing brake light duties. The 130mm headlight is a WalzWerk unique part too and it's available along with many other Schizzo parts in their online store.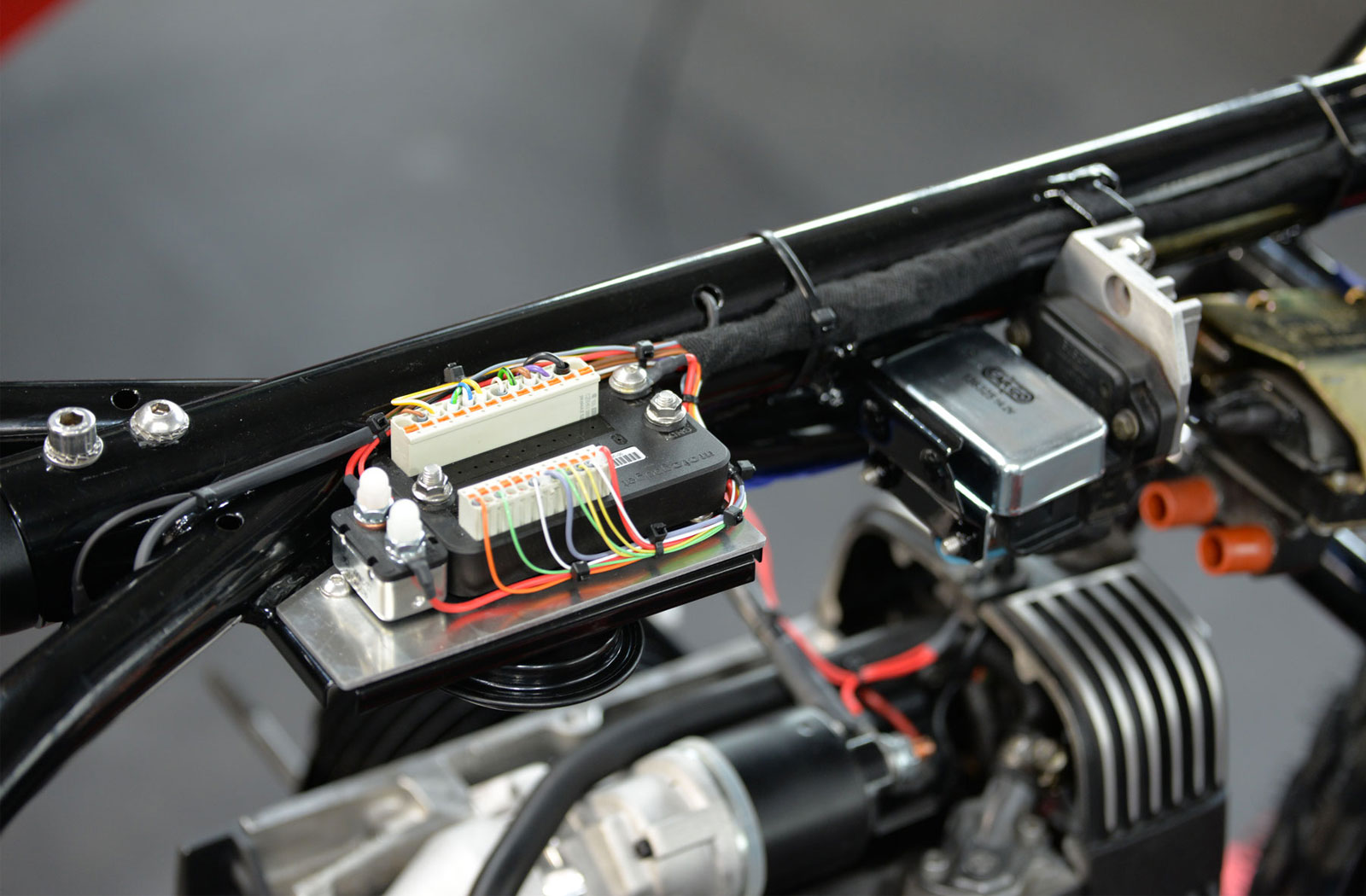 During the rebuild many of this R100's standard components were replaced too. There are now new ABM brake lines, a completely new wiring harness, Shinko vintage look tyres, a lithium battery upgrade, adjustable ABM levers and a WalzWerk top yoke. Since this model was inspired by race bikes, the handlebars have been replaced by WalzWerk clip-ons and the footpegs with ABM adjustable rear sets.
This Monza also benefits from a plethora of performance upgrades. Starting with the brakes there's a twin floating disc Brembo conversion up front. The new wheels are made up of matching, lightweight 18-inch rims that are laced using stainless steel spokes. The suspension has been hopped up thanks to a complete front-end overhaul and the fitment of a Touratech Black-T Performance shock in the rear. The bike also sits 15mm lower than other Schizzo models to drop its centre of gravity and enhance its aggressive stance.
As for engine mods, Walz has left no stone unturned. Internally the airhead benefits from a complete gearbox overhaul, an extensive service and a 1000 cc engine kit upgrade. The stock carbs have had a complete overhaul too and they inhale through a performance air filter. All of this combined with the SC-Project exhaust has resulted in a power figure of  70hp at the rear wheel which is a big step up from the 60 horses at the crank that these bikes had when new.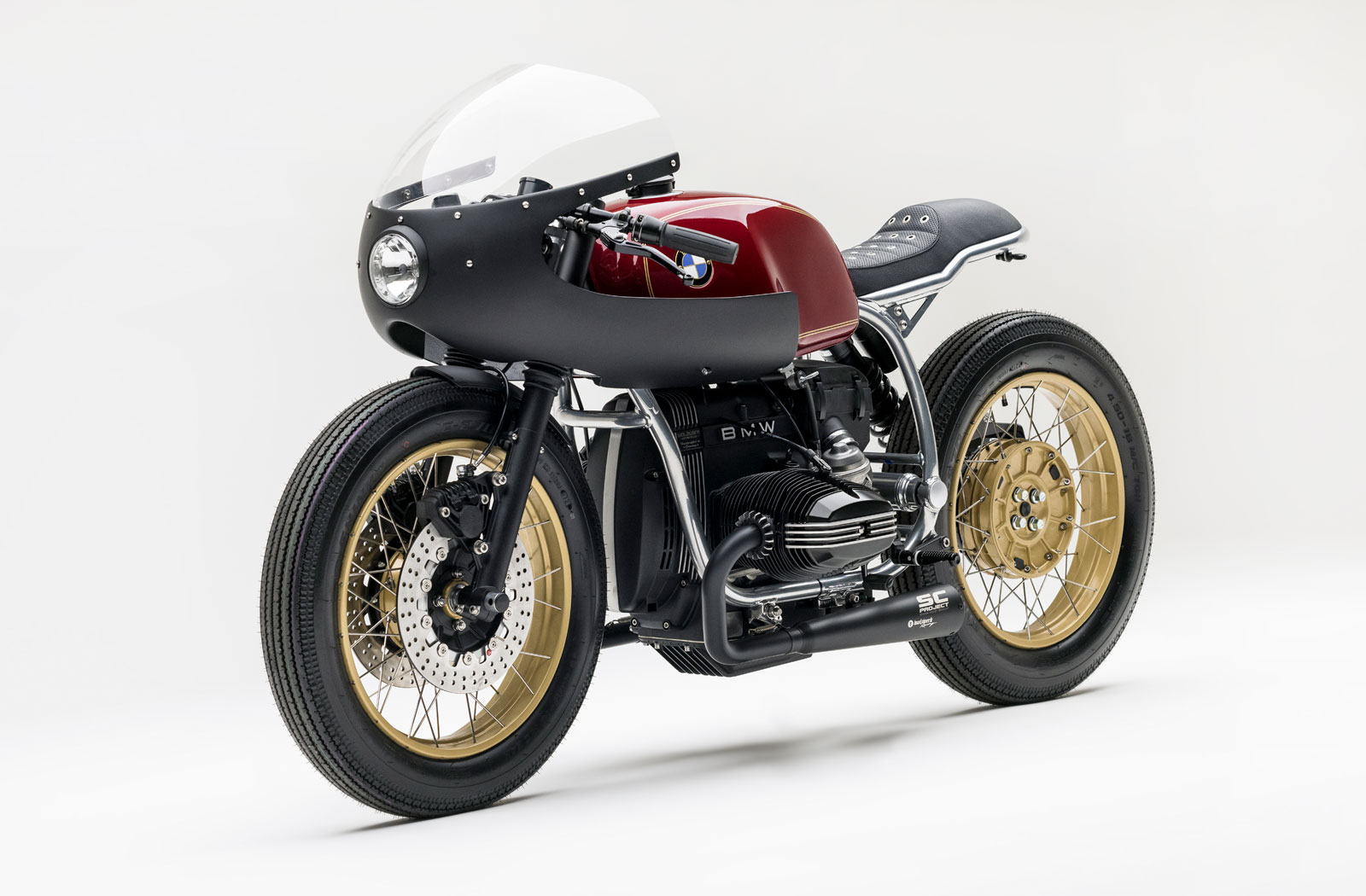 What makes this version of the Schizzo unique is its bodywork and fitting it proved a challenging task. The fairing they chose for the job was that of a 1960s 125cc Kreidler race bike. This meant it had to be heavily modified to suit the BMW geometry and required the development of a bespoke mounting kit to hold it in place. The finish on this bike's frame is unique too. Here Walz has opted for an aluminium coating which gives it a truly unique appearance but comes at a premium price point.
To complete the transformation WalzWerk has finished the R100 fuel tank in bold red and gold with matching BBS Gold painted wheels. The fuel tank wears a befitting Monza filler cap and the engine has been thoroughly blacked out to allow the frame to really shine.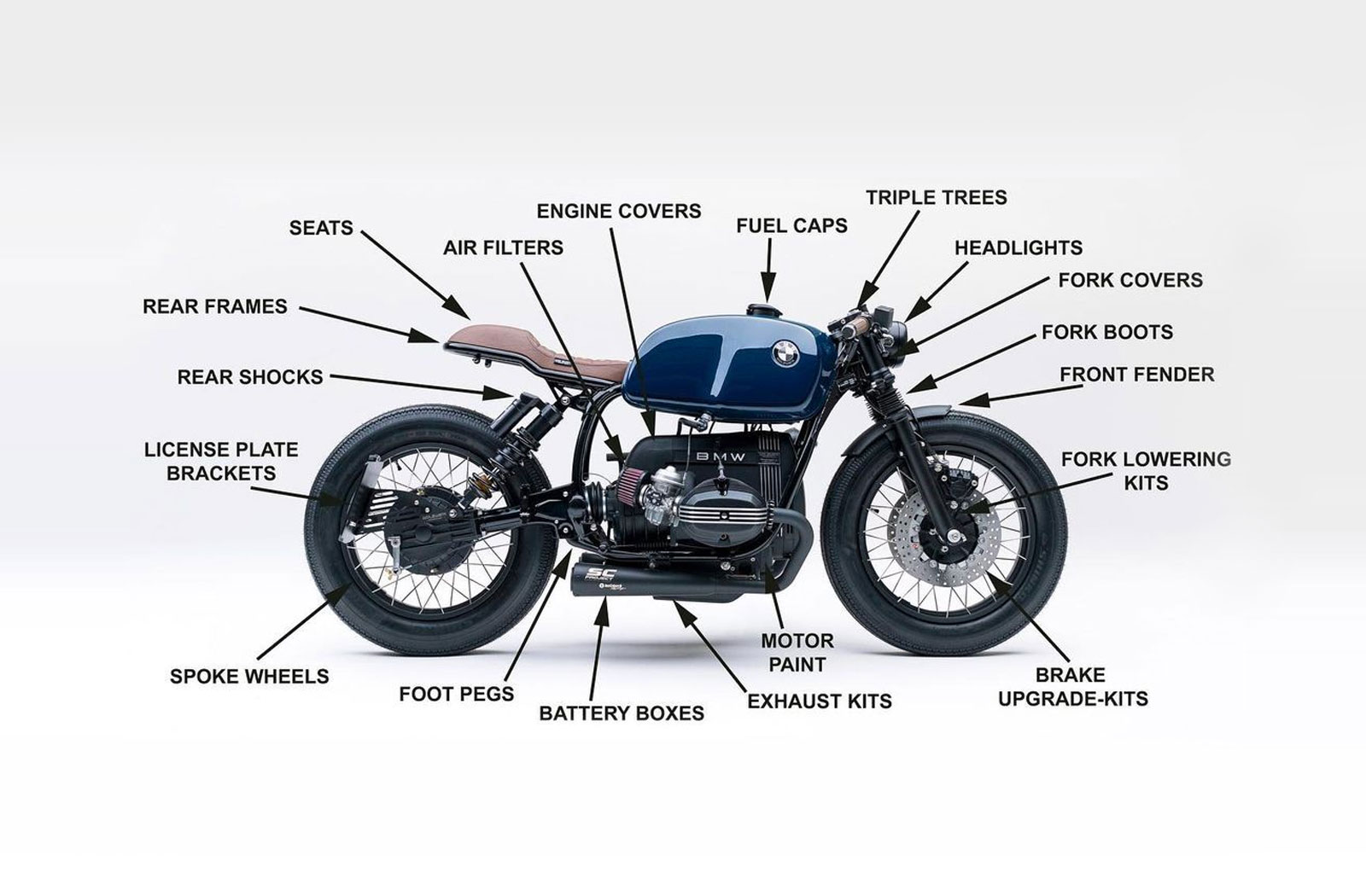 Aside from the obvious aesthetic improvements, Walz tells us that this R100 handles unlike any that rolled off the BMW production line. Along with the aforementioned power and handling upgrades, it now weighs a mere 165kg. That's an incredible 50kg less than stock and less than many modern sports bikes.
Walz tells us that due to all of the different performance and parts options available for the BMW Schizzo, and the ability to choose a unique paint scheme and upholstery, there's virtually no limit to what a customer can request. For those eager to put together their own Schizzo concept the WalzWerk website will soon feature a 3D configurator. The only bad thing about that is I can see myself wasting hours on there building my own Schizzo dream bike…and I'm sure I won't be the only one.
Photography by NOOK2