When he's not fabricating parts for submarines (Yes, you read that right) David Manchester is building bespoke furniture or helping his wife to run her events business. Somewhere in between all that though he devotes his time to his passion, building custom motorcycles. This stunning '95 BMW K1100 cafe racer is his latest work and thanks to his keen aesthetic eye and retrained use of copper it's one of the best flying bricks we've ever seen.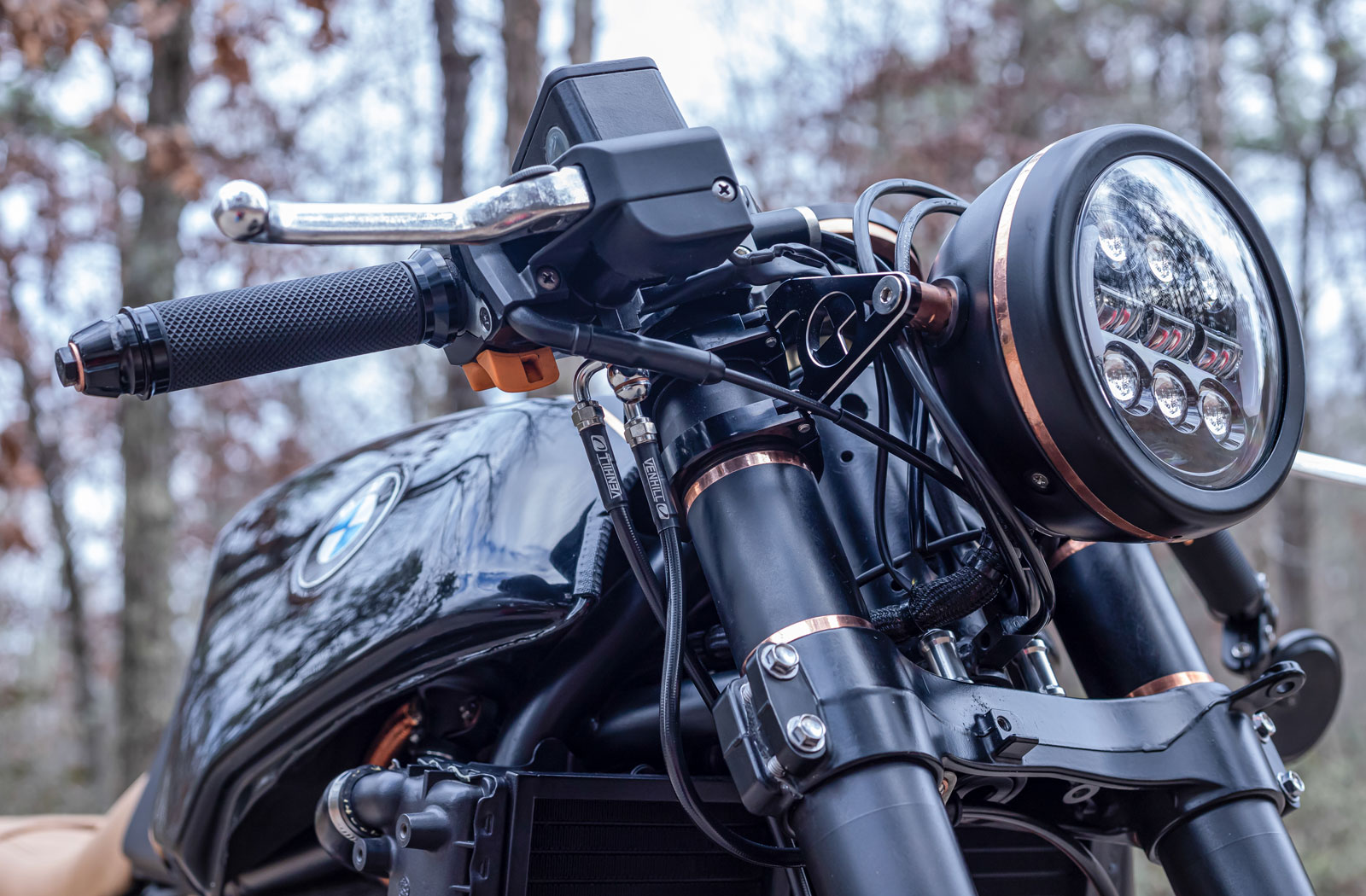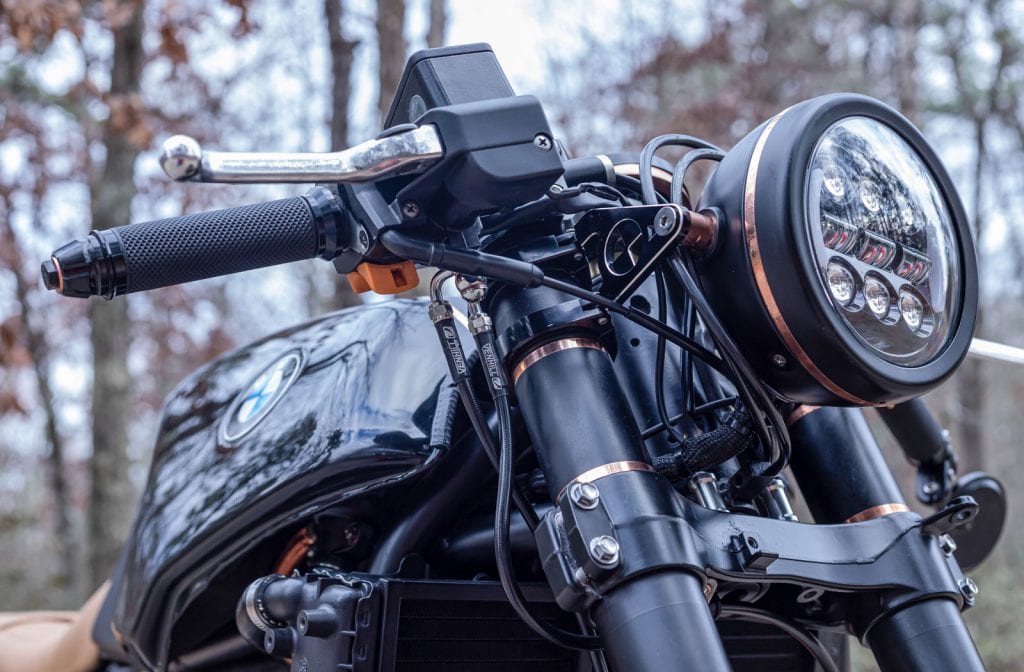 "There is no other medium in which I work that encompasses form and function more thoroughly," David confesses. "Inspiration for the bike's stance and design came from bike builds by Trevor Ditson, and Paul Fill. I also really love the K builds that modify the frame and angle the rear to follow the tank line, but I am too short!"
Tipping the scales at around 595.2 pounds (270kg) the BMW K1100 is far from the svelte proportions of your typical cafe racer. To make matters worse David's donor wore huge luggage bags and a rear trunk along with the bike's touring fairings. So, being the resourceful chap that he is, David stripped away everything he no longer required and promptly sold the lot to fund the work that lay ahead.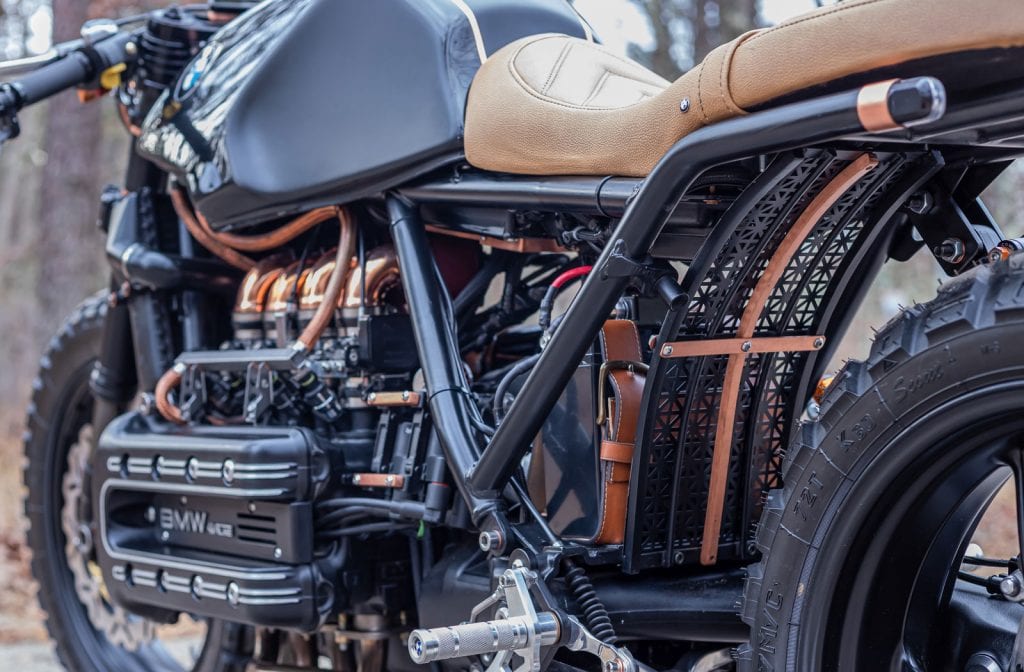 "I feel the K bikes have a lot of visual weight," says David "The tank and engine are very large and need to be visually counterbalanced." To achieve this balance David has fit a set of GSXR 1000 forks which are wider than the originals. A wider GSXR 600 rim joins them on the front end while out back you'll find a BMW R1150 wheel. These changes allowed the fitment of a 140 front and 170 rear tire which have balanced things out nicely. Adding to the handling improvements gained from the suspension swap the bike also stops much harder than before. The GSXR Tokico front brake and Brembo rear have been fully rebuilt and are complemented by custom braided lines by Venhill, a Magura master and fresh discs.
Next, David addressed aspects of the K1100 design which were overly bulky. With the fairings gone he focused on reducing the visual weight of the engine. "I got rid of the stock airbox and went with copper velocity stacks capped with pod filters," he says. "I utilized the open space left from the big airbox to relocate the radiator overflow canister."
The use of copper became a key design element of this build and David has used tasteful restraint with its application. This has helped to make the material more of a design feature as opposed to an overall theme. He's applied it sparingly to areas he wanted to draw attention to such as the Suzuki front end, LED headlight, his custom made bracketry, braided fluid lines and the bike's shapely fuel tank.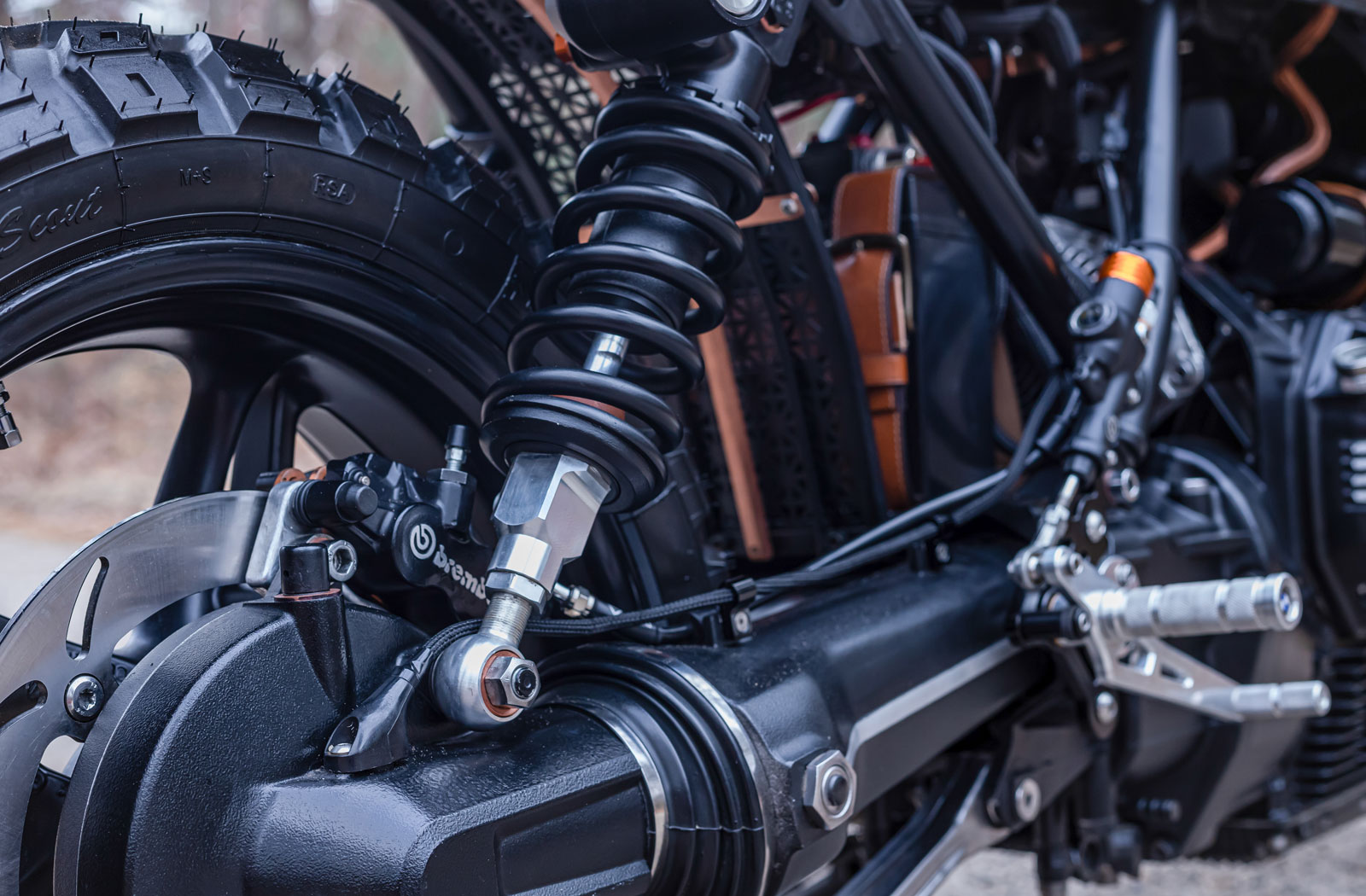 To get his K1100 cafe racer sitting right, and at an appropriate height, David chopped the subframe. He then fabricated his own replacement adding extra supports for the bike's unique taillight arrangement. To level things out the fuel tank was raised 2 inches higher at the front and a custom two-up seat from Cafe4racer.eu positions him at the perfect height.
Although his donor's engine was running seemingly fine, David isn't one to do things in halves – so it too was torn down. During the rebuild, he replaced notoriously unreliable items such as the water and oil pumps and tested each cylinders compression and valve clearances. Ports were polished, gaskets replaced and everything buttoned down to factory torque specifications. Bosch injectors replace the factory units and a new alternator and starter motor have been wired in using a custom wiring loom attached to a Motogadget M-unit Blue. The fuel system also received an extensive internal overhaul as well as an external freshen up. A layer of clear coat on the throttle bodies has been used to keep them looking good for years to come.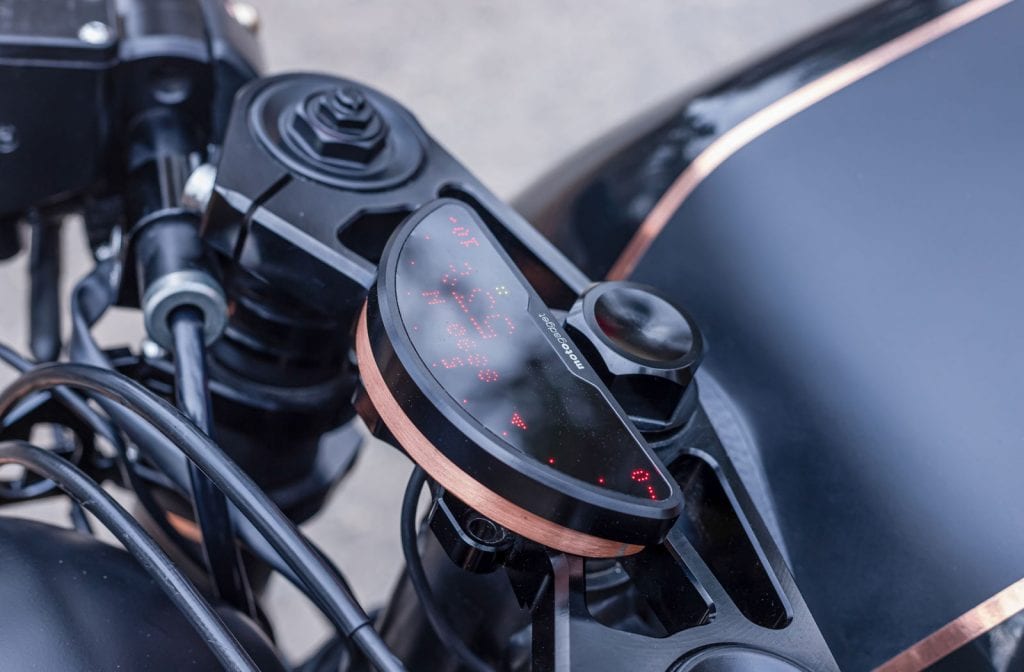 David has also rebuilt the K1100's final drive installing new bearings packed with a special lubricating concoction developed by Trevor Ditson. Gear changes are managed by a fresh clutch assembly and he even installed a new oil sight window to get a clearer view of the engine's lifeblood. The entire engine was then painstakingly scrubbed clean by hand before being treated to a fresh coat of black Eastwood 2k ceramic paint. Lastly, David added premium fluids and tuned everything to suit the changes to the intake, exhaust and fueling.
Along with the Motogadget M-unit Blue, this K1100 cafe racer is running an extensive list of electrical upgrades. Setting them up was no easy task. "There are some guides out there for other model K bikes but not this one. I rewired the bike from the Motronic back utilizing the BMW factory pin out diagrams." Taking pride of place atop the Suzuki yokes is a Motoscope Pro sitting in a copper housing. Other Motogadget items include an M-Button, Breakout Box B and M lock keyless ignition. A Paul Fill's magic K box eliminates false neutrals on the dial and everything that needs to be out of the elements is housed in a waterproof electrical box beneath the seat. Mounted to the bike's clip-on handlebars are custom switch assemblies, aftermarket grips and a single bar end mirror.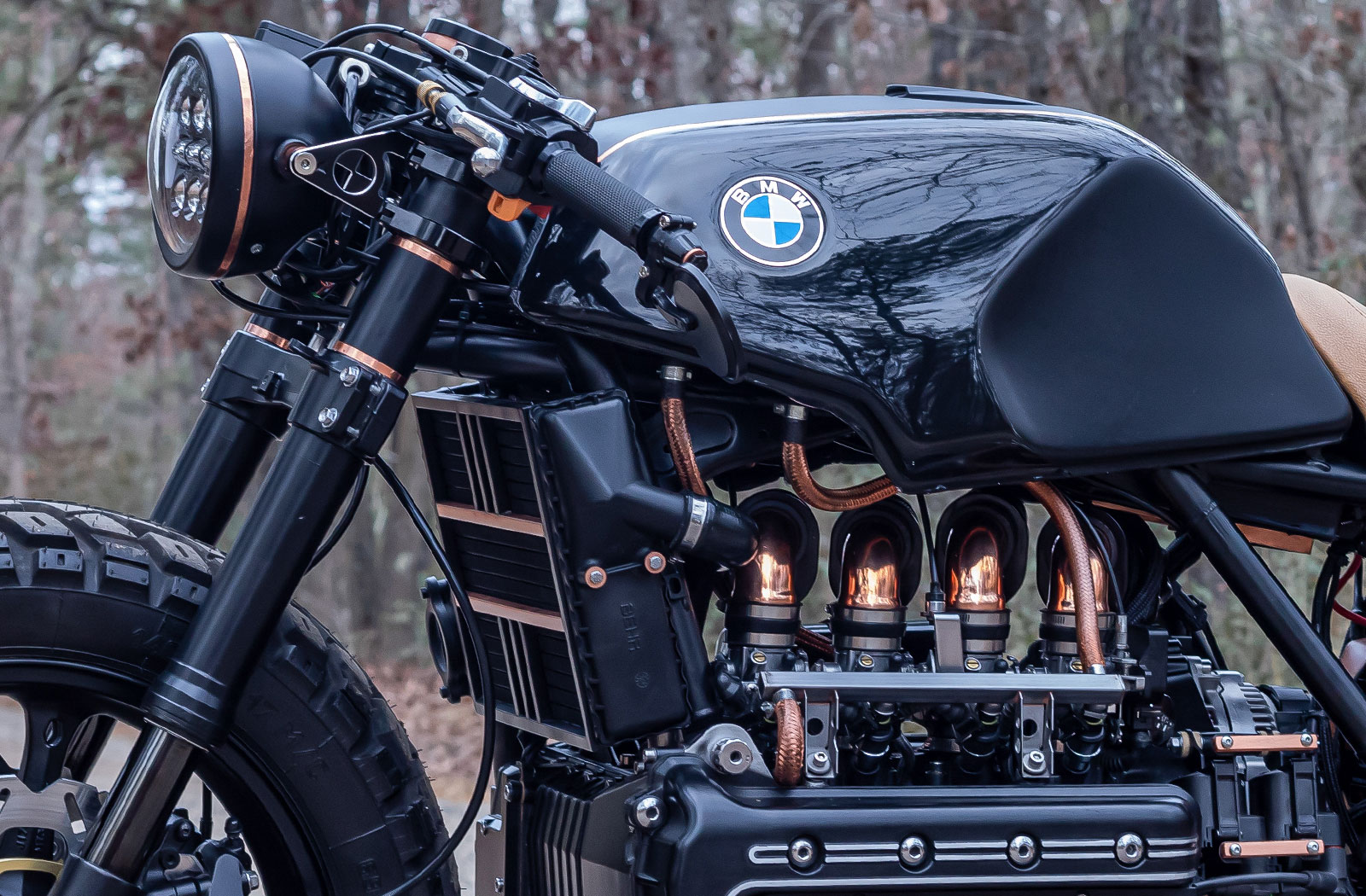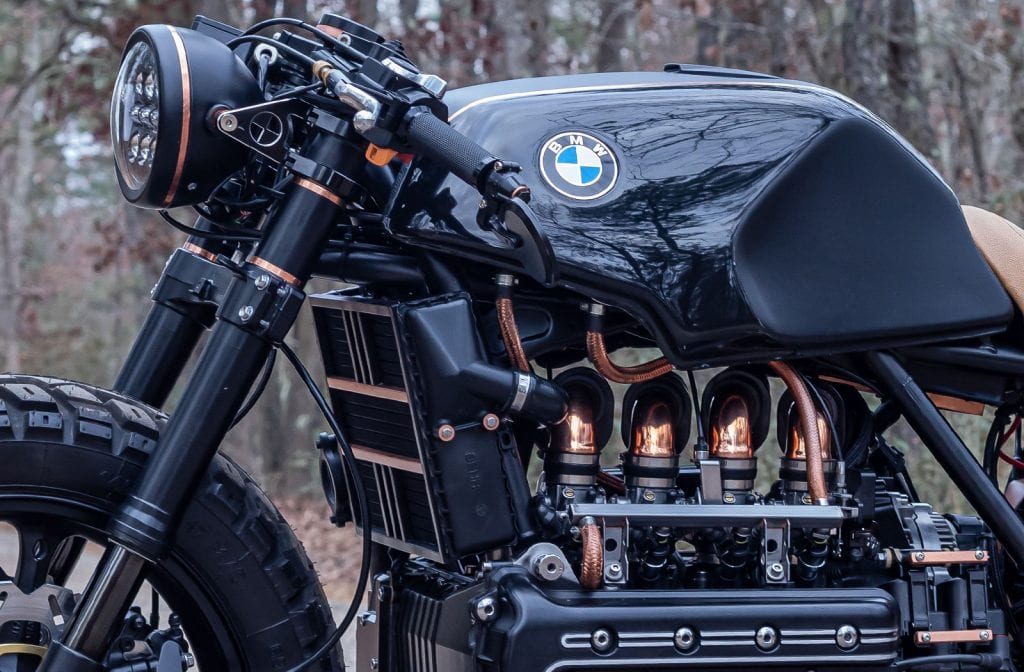 David describes the finished bike, which he's named John Malkovich, as "Dr Jekyll and Mr Hyde". That's because of its ability to transform from mild-mannered and unassuming to loud, powerful and mean without warning. "It weighs a ton less, well not a ton but feels like it!" David jokes. "It really feels like a different bike and has lots of torque and grunt. It looks and plays the part." We couldn't agree more.
Photography by Magazzukii