At first glance, you could be forgiven for assuming this custom motorcycle is based on a model from BMW Motorrad's current lineup. With its sharp lines, modern suspension and accessories it would look right at home parked alongside an R Nine T in a BMW showroom. But truth be known, it's actually a 30-year-old BMW R100 R that's been skillfully modified by the Lithuanian workshop, Differs Moto.
Based in Lithuania's capital of Vilnius, Differs Moto is overseen by workshop owner Povalis Vaisiauskas. The motorcycle enthusiast turned custom motorcycle builder prefers to apply a cafe racer ethos to his work. This involves stripping a motorcycle of any excess to create a machine that comprises only the bare essentials. In his own words, "This allows us to pay great attention to what's really important – aesthetic proportions, character, comfort."
This R100 R is the epitome of Differs Moto's approach to bike building. Starting with the proportions, Povalis dispensed with all of the factory bodywork. He then installed his own subframe which has establish a much more aggressive bone line.
The new tinware is all handmade from aluminium. Built to the same proportions as the frame the narrow fuel tank grants the rider a clear view of the airhead's beefy cylinders below. A classic Monza-style filler in its centre juxtaposes the tank's hard edges and the modern paint scheme. Behind the whole assembly sits a custom seat that'll only accommodate one. Extending rearward from there you'll find a blade-like tailpiece/fender that further extends the line of the frame; it's been kept clean thanks to a custom side mount license plate bracket. The fitment of the Differs bodywork has resulted in a tightly packed, brutish-looking BMW. So, to make sure the bike delivered on its aesthetic promise, Povalis has revised its performance too.
When speaking of motorcycles, character and performance are one and the same. This bike's character improvements are the result of a combination of simple modifications that yield big improvements.
With the R100 R now weighing much less than its former self, Povalis saw no need for internal engine work. Instead, he gave the 980cc boxer a full rebuild, fit it with a new exhaust system wearing a Spark GP-style muffler and retuned the carbs. He then turned his attention to the suspension where the changes are much more dramatic.
The BMW's front end is now occupied by a set of upside-down Aprilia RSV 1000 Mille forks. As for the shaft-driven rear, it's supported by a modern YSS mono shock. Stopping power has also been given a boost thanks to the inclusion of the RSV's Brembo twin disc stoppers up front. Surprisingly both the front and rear wheels are the original R100 R items. Fitting the front rim into the RSV forks took some massaging, but retaining the classic spoked look was clearly worth the effort. Metzeler Roadtec 01 sport touring rubber provides all the grip necessary to dominate urban streets or carve up rural backroads.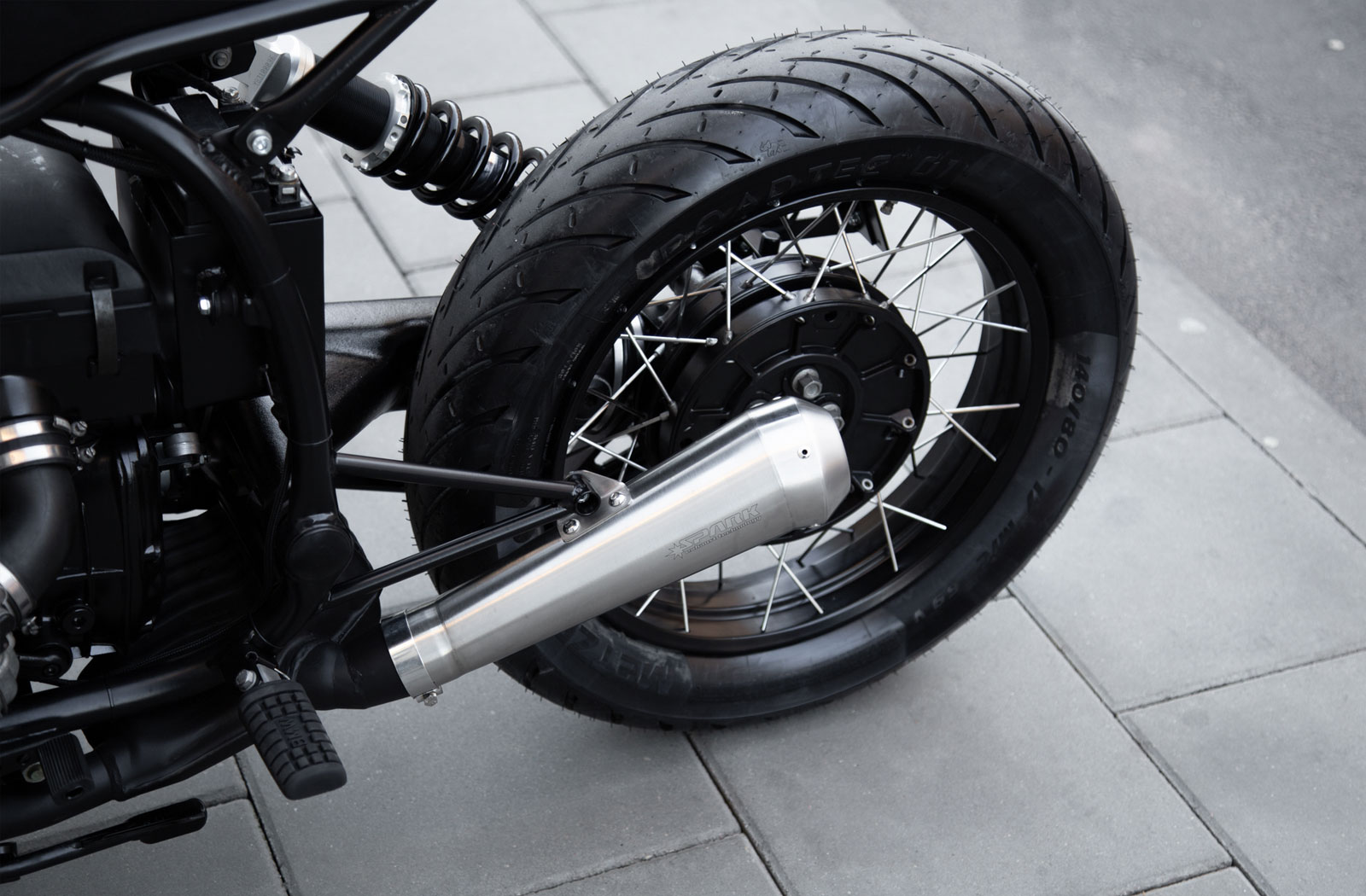 The comfort portion of the Differs Moto BMW R100 R recipe comes in the form of modern accessory upgrades and custom-made components.
For all-day riding comfort, the custom solo seat features ample padding and has been finished using a soft Alcantara suede. The riding position follows suit by retaining an upright stance; achieved by mounting high-rise clip-on handlebars to the RSV fork legs.
Modern tech convenience comes in the form of a complete LED lighting upgrade. Up front is an ultra-bright Koso Thunderbolt LED headlight. The bar end blinkers are from Motogadget and they're accompanied by tiny rear end turn signals which are mounted into the ends of the frame rails. An LED brake light integrated into the tail unit completes the arrangement. The whole electrical system is powered by a lightweight battery that's housed in a custom box behind the engine and there's a custom wiring harness running off a Motogadget mo.unit.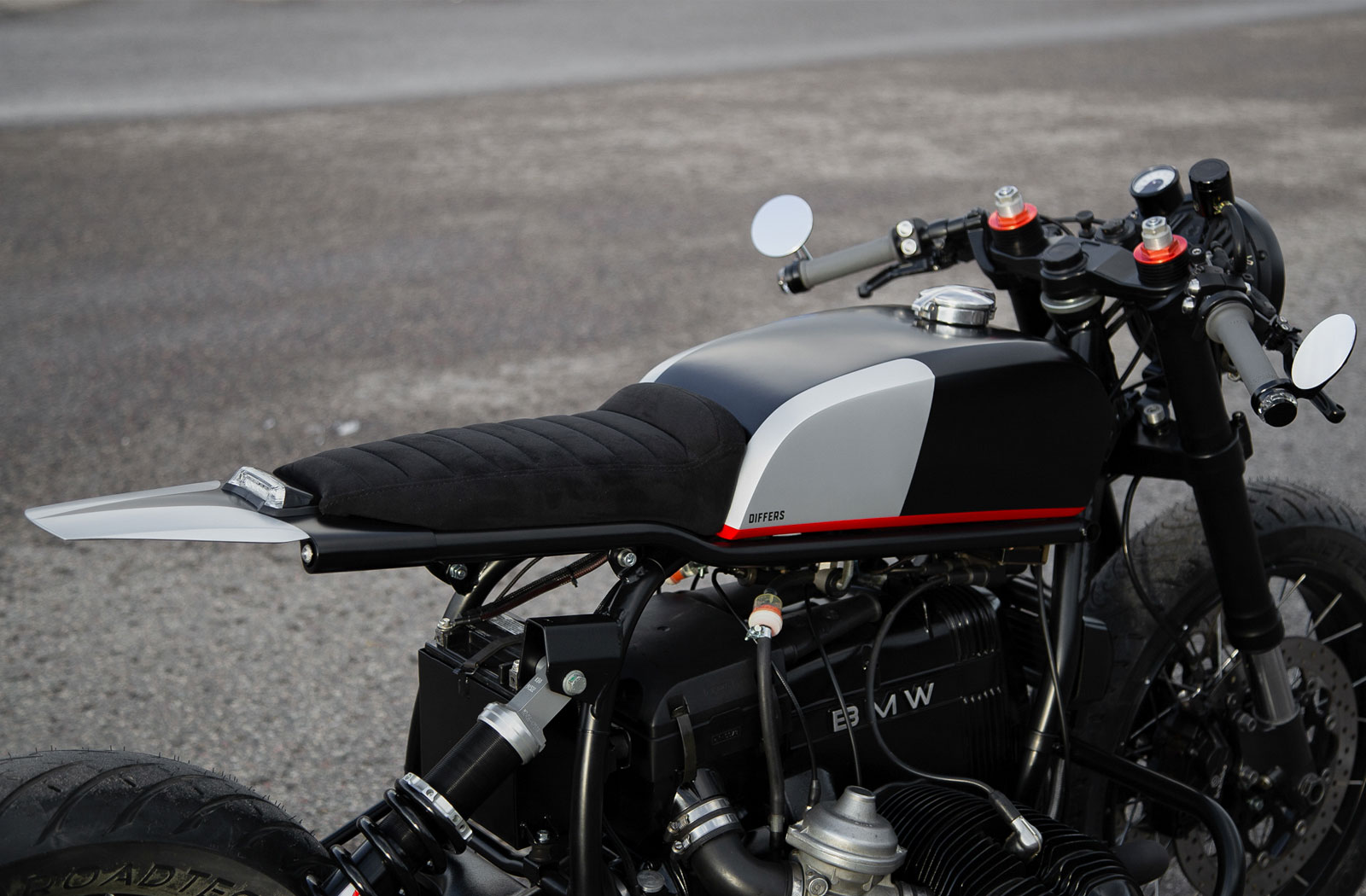 Perched over the bike's new headlight you'll find a Motogadget Motoscope Tiny speedo and an aftermarket CNC fluid reservoir. The bars wear grey ODI grips, aftermarket levers, svelte Motogadget mo.view spy bar end mirrors and Motogadget push button switches.
The finished result is a far cry from the retro-look nineties R100 R that BMW created and it's a huge improvement. With builds of this calibre rolling out of the Differs Moto workshop we'll be keeping a close eye on their future projects.