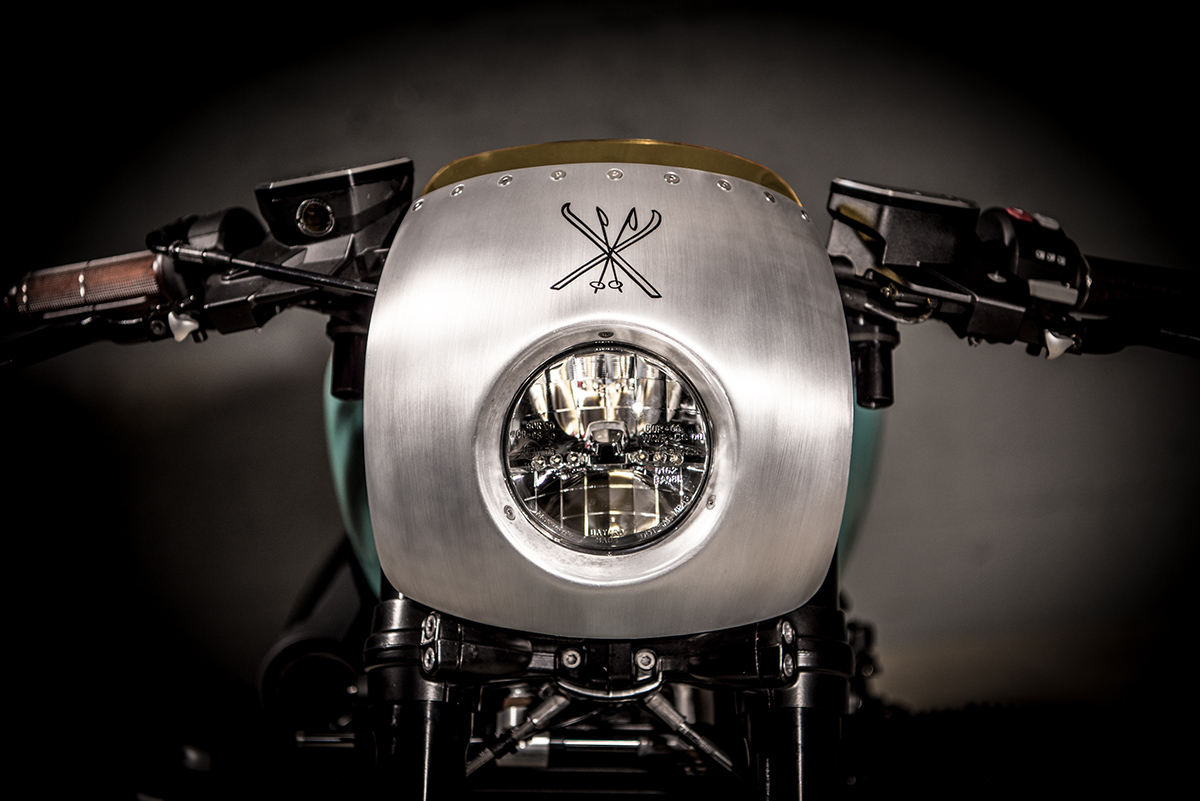 "A Scottish businessman reached out to us after seeing our bikes. He asked us to customise his own brand new R Nine T.  Astonished that he would choose us and that he was prepared to ship the bike all the way to us in Switzerland, we proudly agreed to take on the task. A short time later the bike arrived from Edinburgh and he flew into Schmerikon to discuss the shape of the project.
As we discussed inspirations and looked through colour combinations, he showed me a gorgeous Aston Martin DBS. I suggested perhaps contacting an Aston dealer to get the factory colour code. He replied that he might as well just read it from beneath the hood – it was his own car in the garage at home. It was quickly growing evident he was a client of particular tastes."
"We settled on a 'quiet but angry' appearance; wide shoulders and a slim, short tail section to create a more aggressive looking forward lean. The tail and front fairing were made in house, the seat cut down, and a smaller headlight fit to keep things in proportion. Then we matched styling with suitable handling; equipping the bike with an OHLINS suspension front and rear, along with lightweight Kineo wheels. The rear uses a six inch wide rim to fill the brief for a "fat-ass" rear tyre.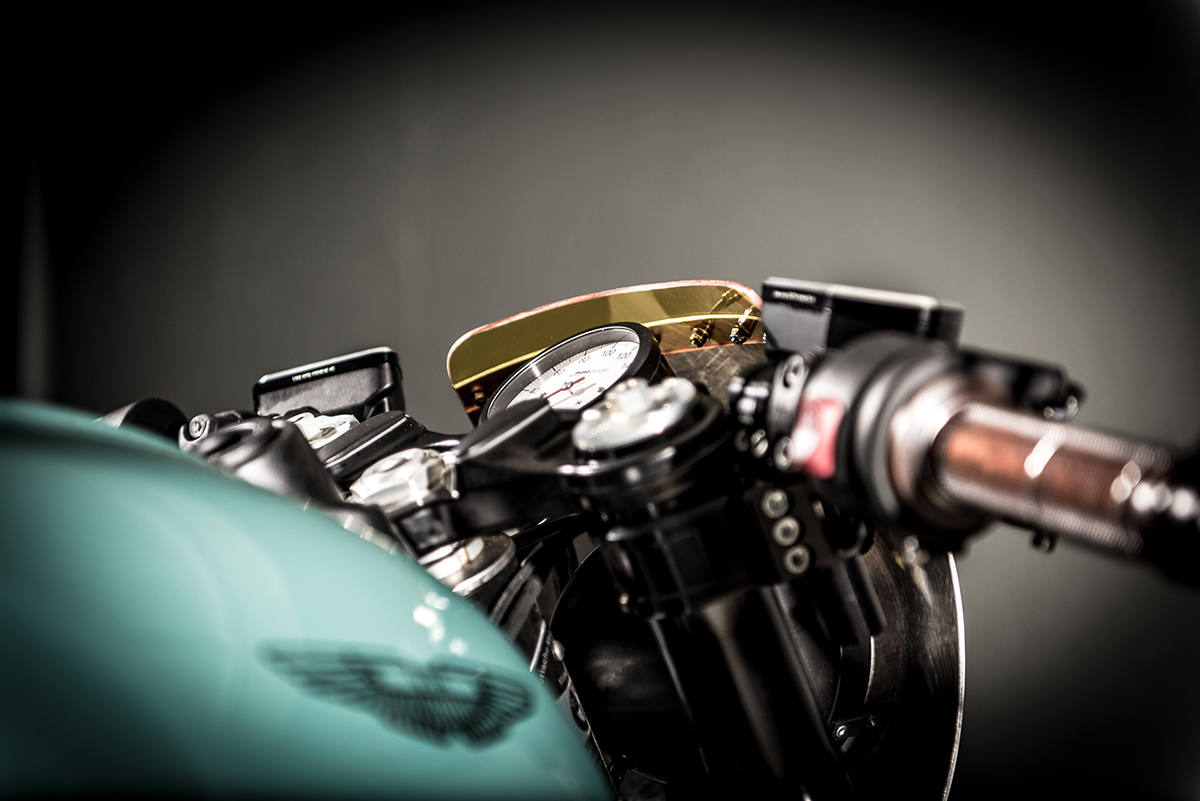 The BMW's CANBus wiring makes integrating an aftermarket dash challenging. We overcame this to achieve simplicity and classy lines with the Motogadget Motoscope Classic speedometer. The other big challenge for us Swiss builders was remembering that the mirror goes on the right for the UK! We may have had to fix this error more than once…"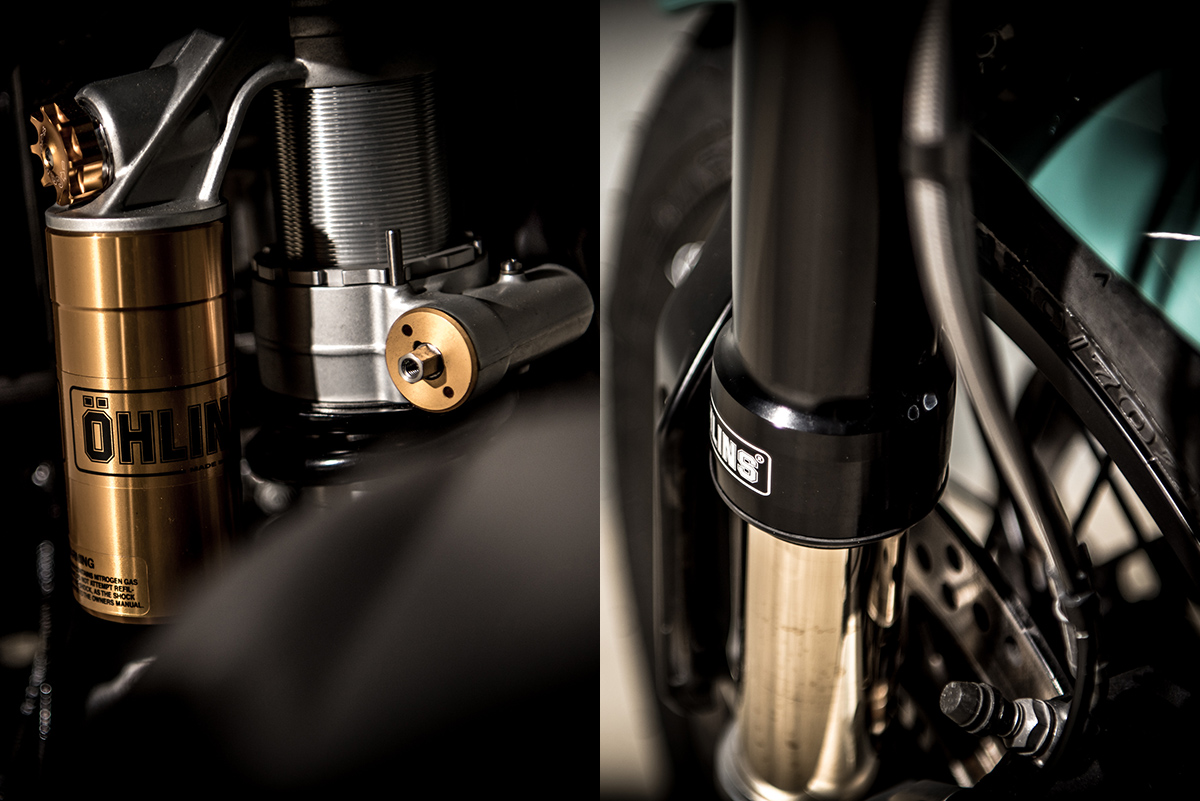 "With the Aston theme decided, the owner found a picture online of a DBR9 Racer in a gorgeous flat green-grey. A quick call to Aston Martin and we had the factory DBR9 Racer paint codes. Unfortunately the colour we mixed using the codes was a much darker British Racing Green in metallic! We got the codes again from Aston – and yet again we mixed up the same, wrong dark metallic green."
"It was then that one of our younger Mechanics noticed the inspiration bore a small logo in the bottom corner.  The image turned out to be a render from a Playstation game, and definitely not a factory colour!  It was still ideal, so we custom mixed some samples and sent them to the owner to pick a favourite. All up it took 3 weeks just to get the colour right, but seeing the finished product made it all worthwhile."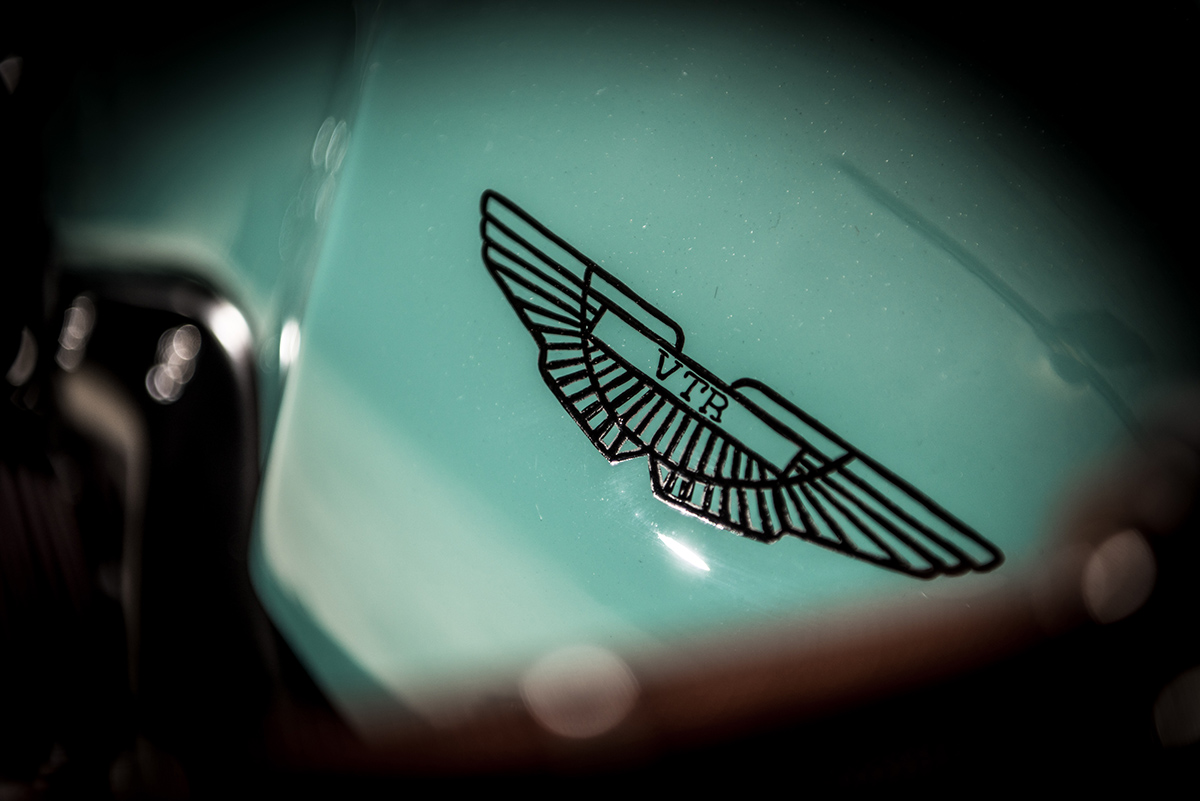 "In keeping with our love of fine craftsmanship we added many details that nod to the Aston insignia. The wings, now bearing VTR's initials were painted by hand. So too were the crossed skis on the front fairing; chosen as the owner is a ski maniac and a former ski instructor. Johanna Voglesang painted these and other embellishments, and the seat was re-trimmed by Yves Knobel. Both artisans are friends of VTR Customs and operate their businesses nearby.
We updated the Owner with pictures throughout the build, and heflew straight across to see it once completed. Handing over a finished bike in person always makes me happy. The sparkle in the Owner's eyes is proof we've done our job well. Thankfully this owner's eyes sparkled brighter than the water of Lake Zurich and he was eager to take it out right away. He returned from a first ride around the shores of the Lake with a beaming smile across his face and our work was done."
Special thanks to our latest contributor and wordsmith Mik.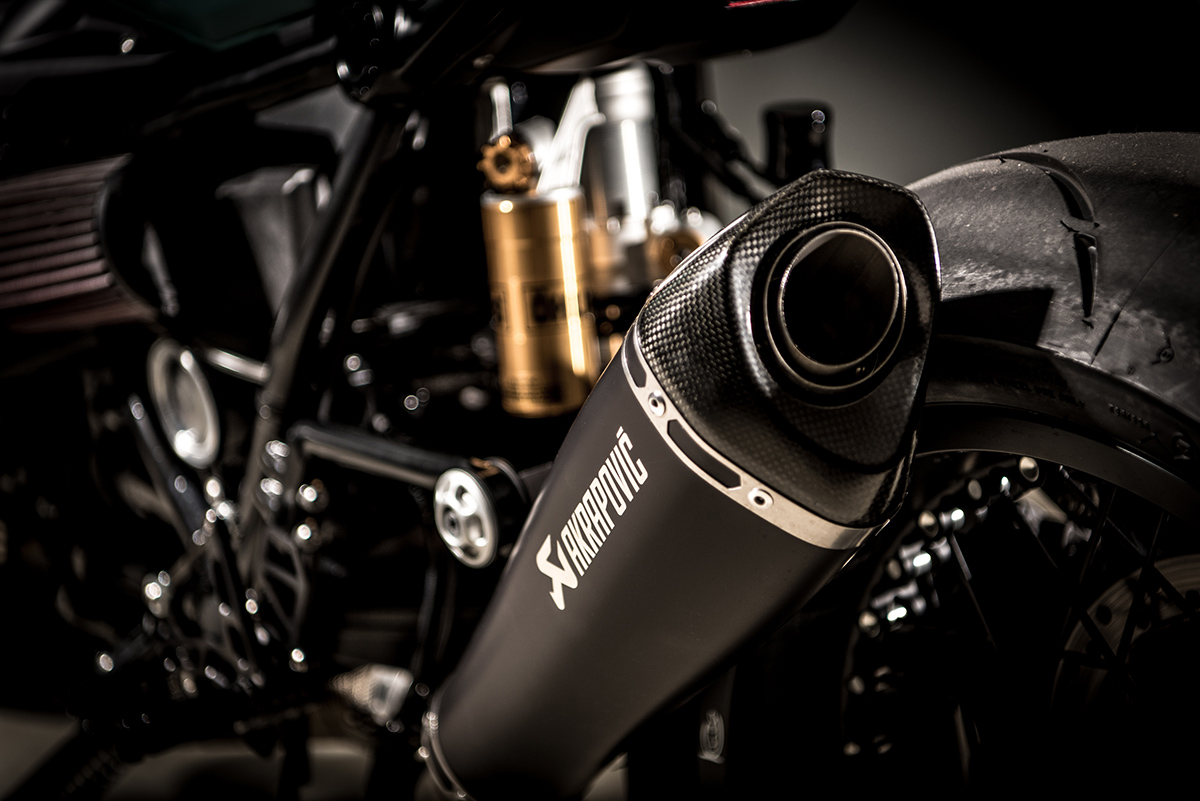 Build Sheet:
VTR handmade alloy tail
VTR Alloy front fairing
VTR CustomsSeat : Made in House by VTR Customs, trimmed by Yves Knobel seat covers
Kineo wheels 6 x 17 rear, 3.5 x 17 front
K&N pod filters fit to VTR customs open cut intake (street legal)
Akrapovic Black edition exhaust
ÖHLINS front and rear suspension
LSL Cafe Racer handlebars
Motogadget Chrono Classic Speedo
Custom wiring by VTR Customs
Monza gas cap with VTR Customs adapter
"DBR9 racing green" by Playstation…. and Freuler, Benken
Logos handpainted by Johanna Vogelsang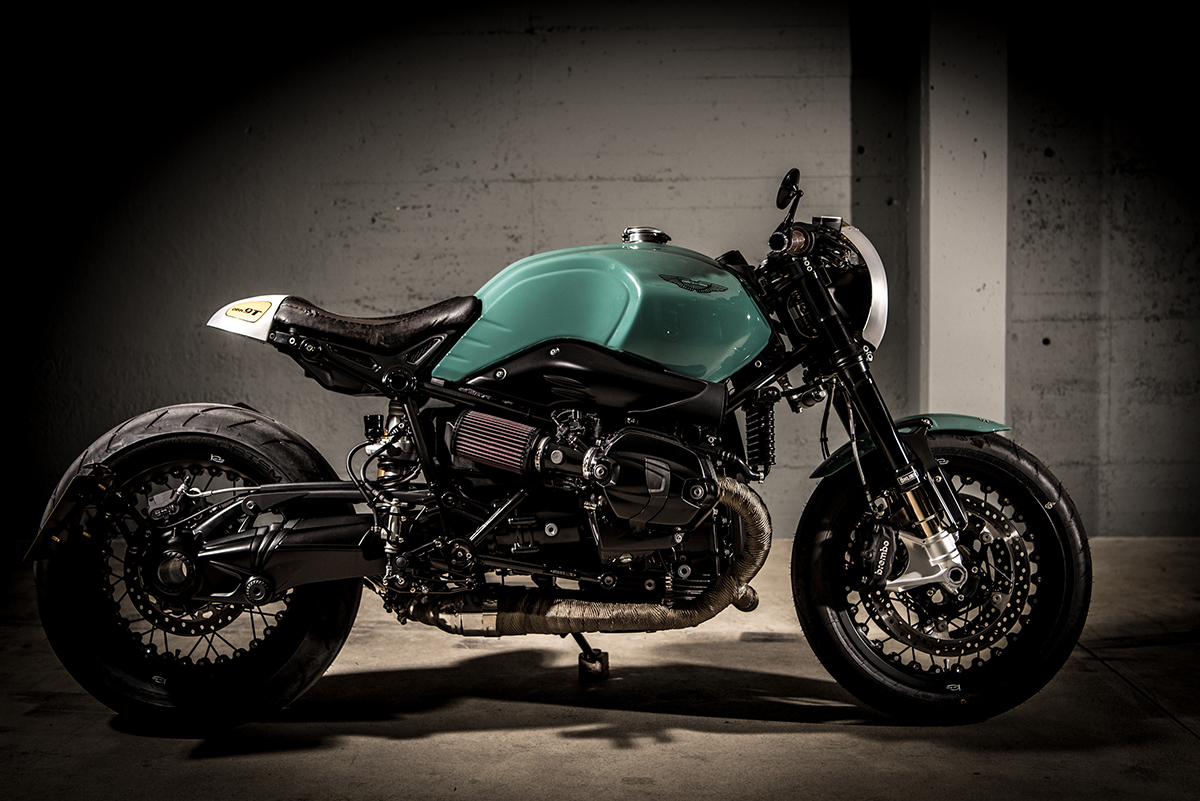 German technology, Swiss masterminds, an iconic British marque and a body to die for; There's more than a touch of 007 to the newest build from VTR Customs – the DBR 9T.
VTR Customs have produced a string of incredible BMWs, including the Goodwood R1200R featured here previously on Return of the Cafe Racers, however, it's the BMW R nineT that has really captured the imagination of the VTR team. The 1200cc boxer twin has become a popular donor for their custom creations and they've been producing a steady stream of amazing R9T builds since the bike was first released back in 2014. When images of this new R nineT based build crossed our desk we got in touch with Daniel Weidmann, owner, and GM of VTR Customs and he had this to say about the DBR 9T…