During its impressive 20-year run, there were 81 different model variations of the BMW R100. The iconic boxer has been a staple of the custom scene for years thanks to its availability, dependable engineering and relatively basic composition. One of the last models in the R100 lineage was the 1991 BMW R100 R roadster. Like its siblings, it's a great starting point for a cafe racer project.
This custom BMW R100 R is a good case in point. It's the work of Marco Antonio Alfaro who runs the workshop 'Cafe Racer New Style' in Albacete, Spain. As you'd expect his work leans heavily towards cafe racer styled projects but this bike, named Silver Star bends the rules a little.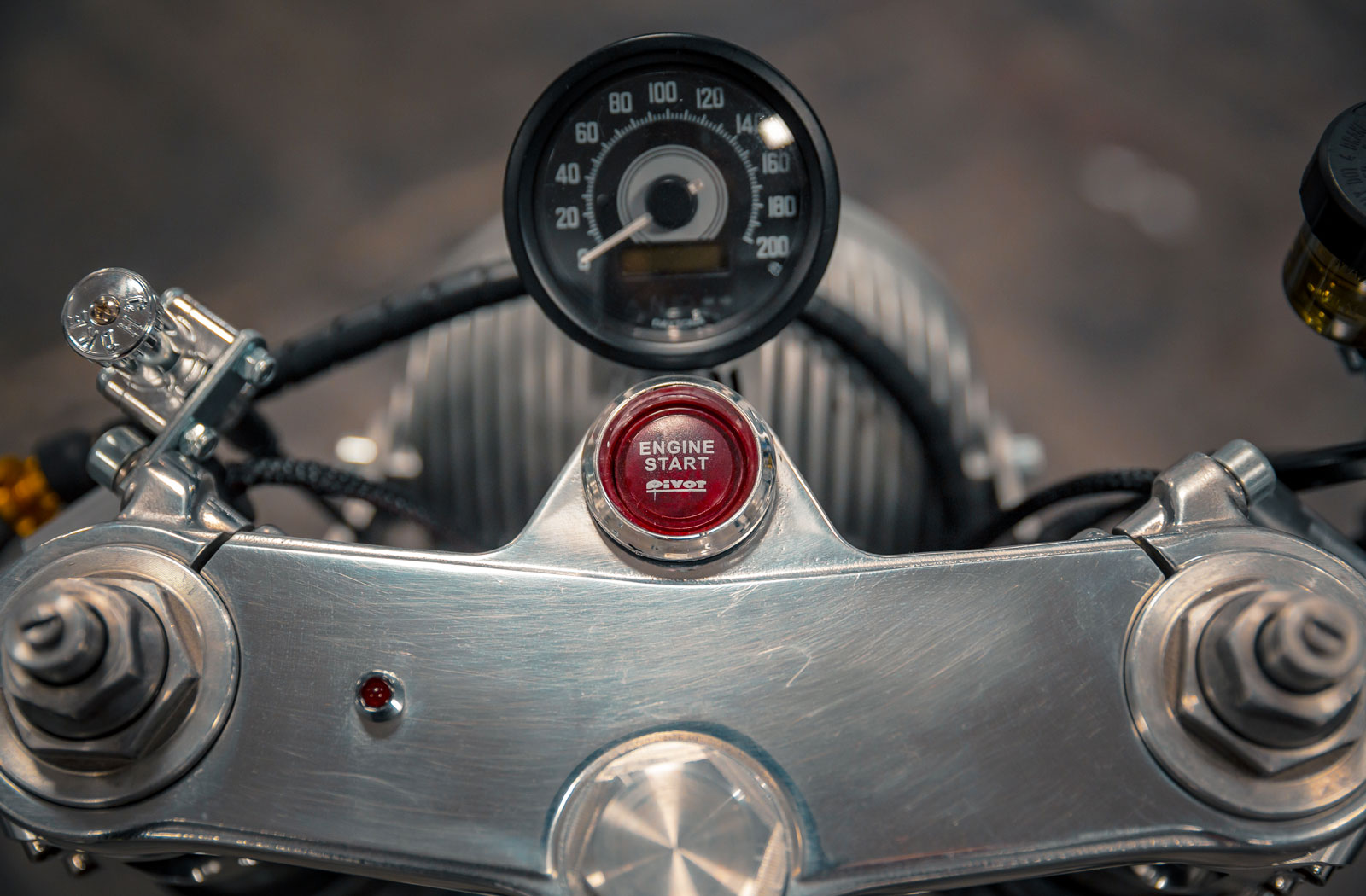 Marco describes his latest work as a Brat with the look of a Cafe Racer. We'd pitch it the other way around though since the only thing here that we feel makes this Boxer a Brat is its flat, two-up seat. Everything else about the CRNS R100 R "Silver Star" epitomises modern cafe racer styling.
Marco began this project with the customary frame modifications. His work focused on the rear where he's mounted a completely revised subframe to house the aforementioned Brat style saddle. During the overhaul, he also removed redundant brackets and resprayed the entire chassis in metallic silver.
Next was the suspension which has also seen a complete overhaul. In the rear, you'll find a modern YSS monoshock that sits between a custom mount on the subframe and the bike's polished paralever shaft drive. Moving his attention to the front end Marco opted for a complete swap. Replacing the standard R100 R forks is a set from a Suzuki GSXR 750. The new setup sits in modified triple clamps which have also been diligently polished.
With the suspension thoroughly upgraded Marco followed suit with the front brakes. Pointy end stopping power is now handled by a twin Tokico radial-mount setup that bites down on beefy custom discs. Marco jokes that "If this doesn't stop her, the next thing would be fitting a parachute!", but we're confident this mod is sure to do the job. As for the wheels, they're the original 18-inch and 17-inch arrangement but Marco's wrapped each one in Avon Storm 3D X-M Sport Touring rubber.
Marco then picked out a selection of parts that would help transform the R100 R into his interpretation of a modern Boxer cafe racer. These include a set of TRW clip-on handlebars which are wearing custom grips, levers, switches and an Acerbis throttle. The cockpit has been reduced to a single Daytona Velona gauge which is perched above a Pivot engine start button; mounted directly into the triple clamp. The modern LED headlamp may be a big upgrade from the stock unit, but it still manages to convey the retro look Marco was after.
To keep the BMW's silhouette sleek and low Marco's mounted some Highsider mirrors on a set of engine crash bars. The rear fender is gone so he's installed a hugger style license plate bracket that houses all of the rear end lighting. The front fender has been wisely retained, but Marco's replaced the GSXR unit with a trimmed down custom made version that better suits the bike's revised aesthetic.
As for the fuel tank, it's a retrofitted BMW R100 RS item. It looks right at home on this cafe build thanks to its deep knee dents. The addition of a Monza filler and custom stainless BMW/CRNS badges completes the look.
Boxer twins like this can easily clock up over 100,000 miles when properly taken care of. While this bike certainly hadn't covered anywhere near that number, it was indeed well taken care of, so Marco limited his mods to the customary tweaks.
After giving the engine a service and clean up, the stock carbs were fitted with K&N air filters. A Mega-ton style exhaust helps to free things up and gives this BMW cafe racer a more befitting bark. Marco has also overhauled the electrics by adding a Motogadget M-unit controller and a revised wiring harness.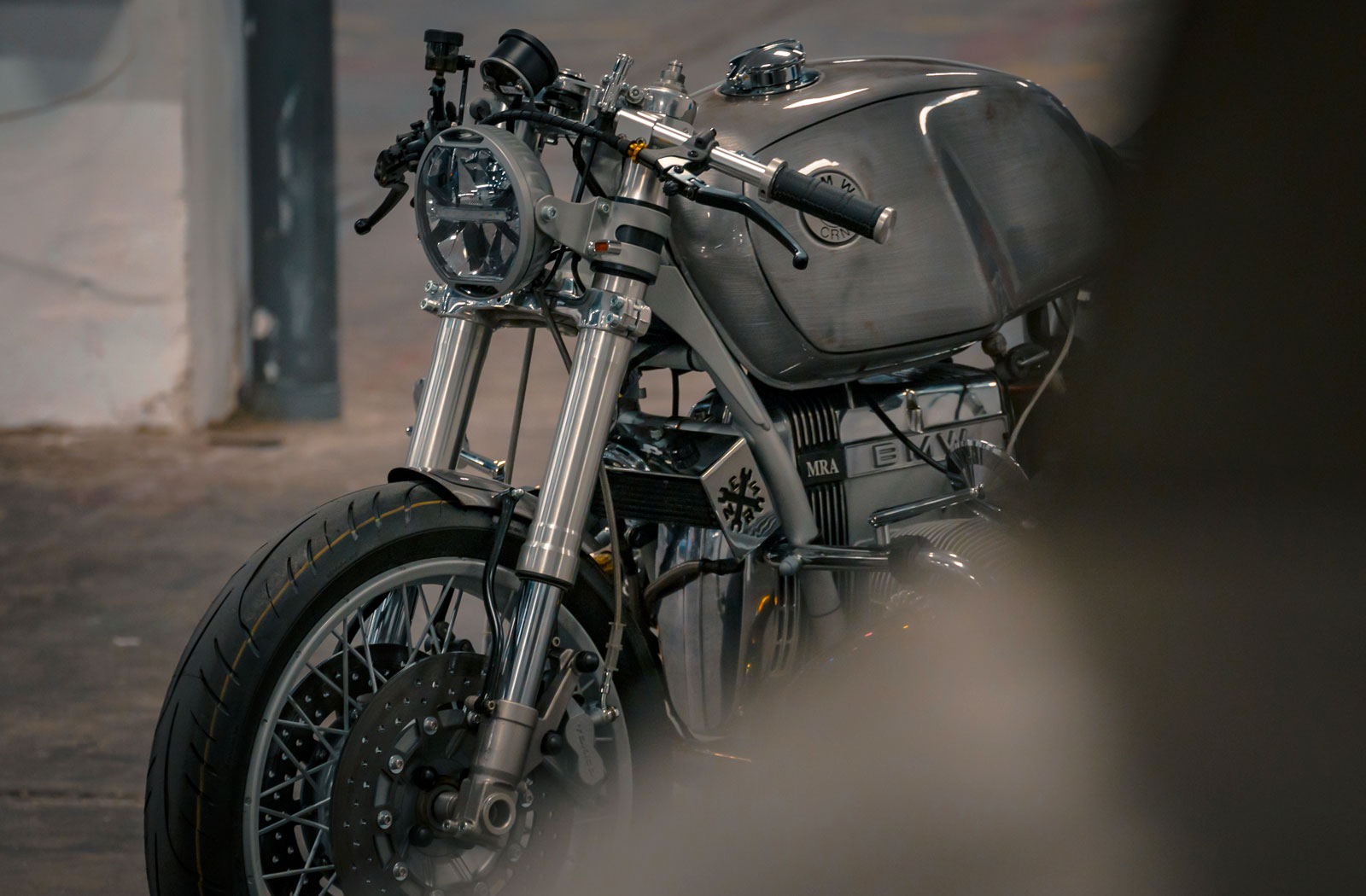 Along with polishing several of the R100 R's chrome components, Marco had his Silver Star painted by Vespino Dorado. The mono-tone scheme suits the bike to a tee and made it a hit at Barcelona's 2021 BAUM Festival.
All up the Marco invested 5 months of his time building his BMW R100 R cafe racer. That was, without doubt, time well spent.
Photography by Xavi Dynamische shot on location at BAUM Fest 2021.