The Skorpion Sport was produced by German motorcycle manufacturer MZ (Motorrad und Zweiradwerk) between 1994 and 2004. Although you may have never heard of the Skorpion, or it's manufacturer, the bike proved very popular in Europe as an alternative to Japanese inline fours. By combining a bulletproof engine with a well-designed frame and capable brake package MZ created a revered street bike. The MZ Skorpion also happened to be very well priced. As a result, it became a favourite of European club racers. Sadly MZ shut shop in 2012, but the brand continues to have a loyal following, especially in its home country.
This MZ Skorpion cafe racer is the work of German-born tool maker and bike builder Mario Deuse.
"MZ has been always a part of my life," says Mario. "When I was 18 I drove my fathers MZ ES250/2 which had a sidecar." Watching the MZ brand fall victim to unpaid debts and ultimately filing for bankruptcy was heartbreaking for Mario. So when the opportunity to buy a 1994 Skorpion Sport presented itself he snatched it up. As well as his love for MZs Mario is a fan of cafe racer styled motorcycles. He built his first back in 1996 using a '72 Triumph Tiger. Since his newly purchased Skorpion was in need of a facelift he decided the best course of action would be to convert it into a cafe racer.
The Skorpion Cafe Racer Conversion
To create his vision of a Skorpion cafe racer Mario focused his efforts on completely redesigning the bike's bodywork. He began by retrofitting a Suzuki RGV125 Gamma fuel tank to the Skorpion frame, a conversion that's common amongst club racers. It sits flush on the frame thanks to a few minor modifications and the fitment of a Yamaha FZR fuel tap. Mario went on to create a custom oil tank that doubles as the bikes tail unit. The design was first modelled in CAD before being fabricated from aluminium sheet and welded together with the aid of a good friend. After a discussion with his local TÜV rep, Mario created a new subframe using tubes with the same diameter and wall thickness as the existing frame (smoke and mirrors).
Leveraging his skills in CAD Mario continued to model new parts for the project. These include the number plate and rear lighting array, footrest mounts, housings for switchgear and various brackets. Each part was then machined or laser cut in aluminium by local suppliers and anodised for durability.
One of the standout features of Mario's design is the slim bikini fairing up front. The fairing was made by chopping down a universal alloy fender and frenching an HID headlight into its centre.  It was then left raw to help visually tie the front of the bike to the rear.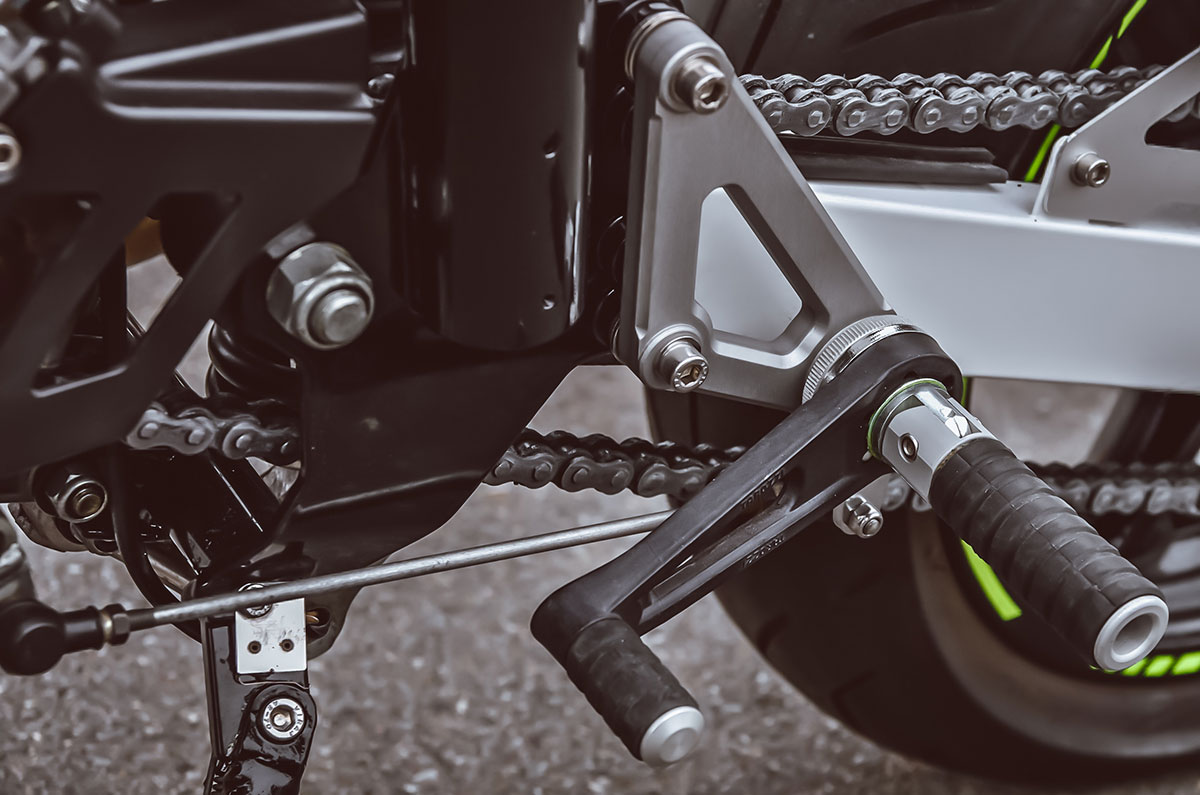 By stripping most of the original bodywork away and replacing steel components with aluminium Mario shed an impressive 27kg from the Skorpion. Along with the handling improvements the huge reduction in weight put less burden on the engine. But no cafe racer is completed without a few extra horses.
Mario unlocked extra grunt on his Skorpion cafe racer with a few race proven improvements. The 660 Japanese single now features a stage 1 Hotcam upgrade, Mikuni TM42 carb with a custom Y-shaped intake and a free flowing K&N air cleaner. A GPR exhaust system rounds off the performance package and as you'd expect, this Skorpion rides as good as it looks.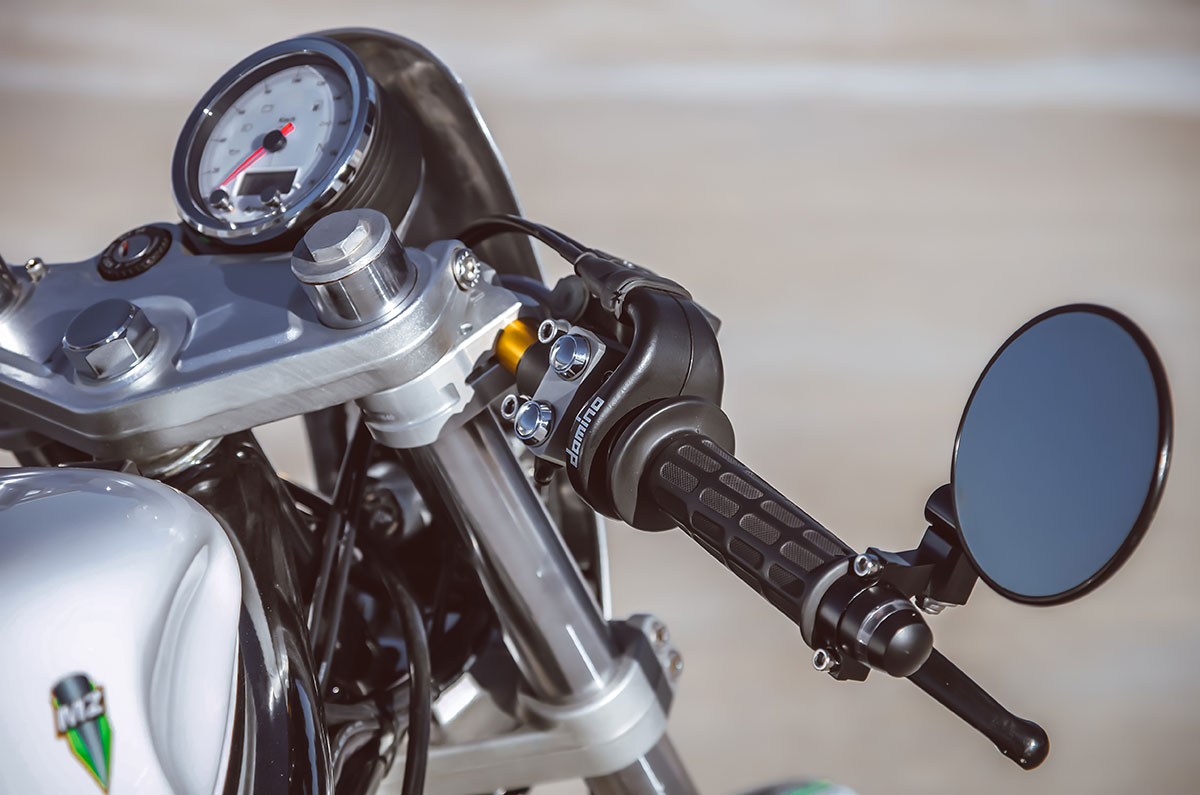 Custom Parts Check List
| | |
| --- | --- |
| Component | Specification |
| Bodywork | Suzuki RGV125 Gamma fuel tank, custom alloy oil tank/tail, Custom alloy bikini fairing |
| Frame | Custom subframe, Tarozzi footrests |
| Engine | Stage 1 Hotcam, Mikuni TM42 carb, K&N air cleaner, GPR Italy exhaust |
| Electrical | Motogadget M-Unit, Complete custom loom, electrics mounted under the fuel tank |
| Lighting | Shin-Yo Ellipsoid headlight, Kellermann bar end indicators, Highsider integrated brake and indicator light unit, Acewell Speedometer, custom switchgear |
| Wheels & Tyres | Bridgestone Battlax S20 |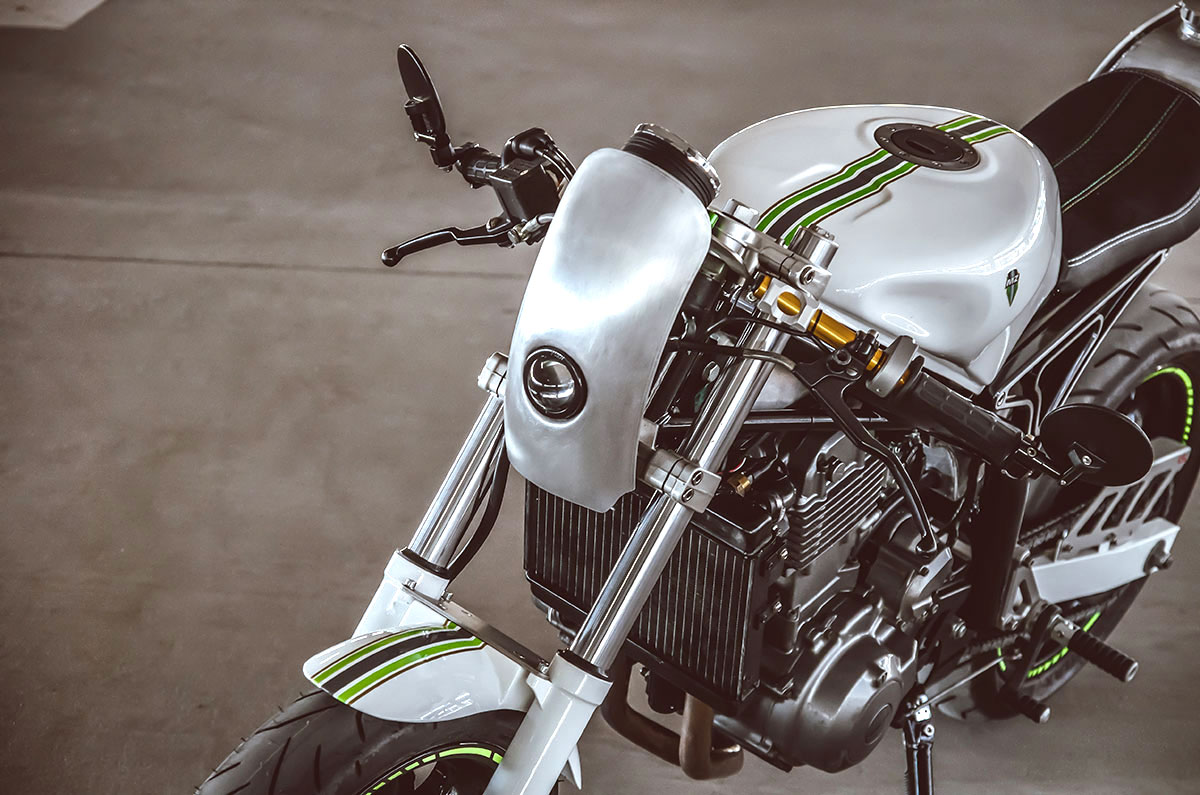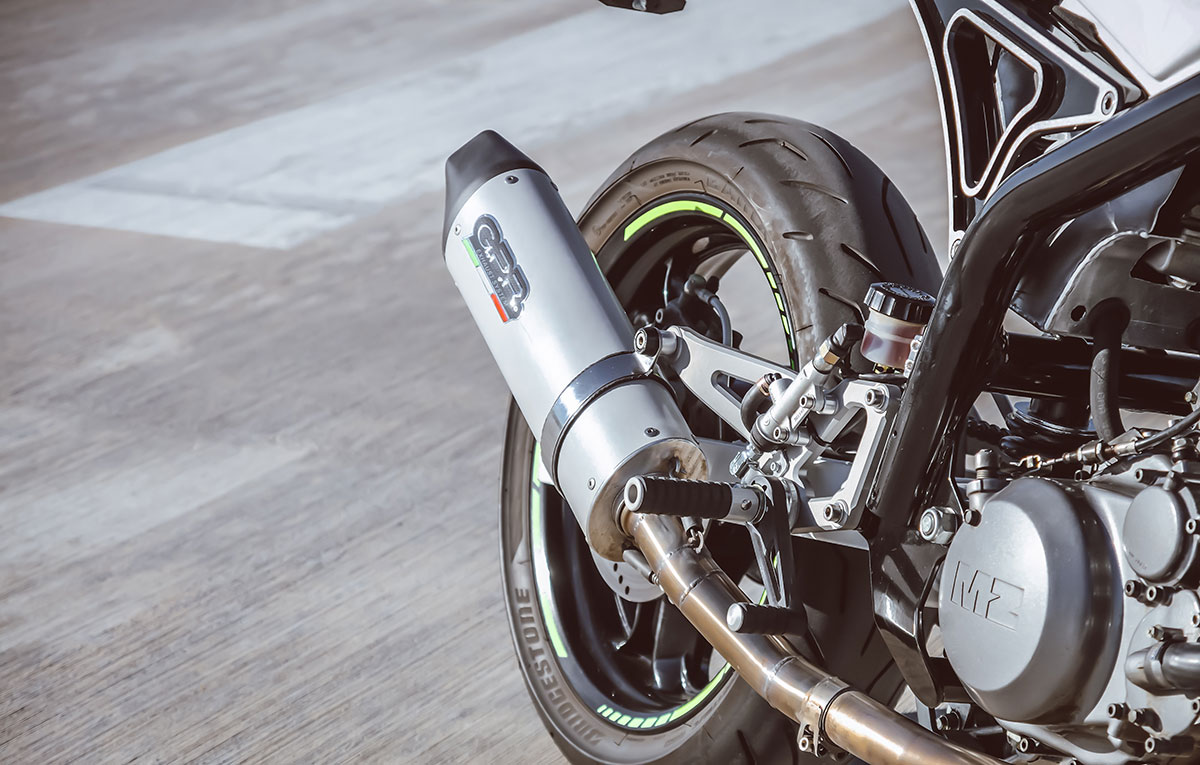 MZ Skorpion History
The MZ Scorpion was a developed in collaboration with British design firm Seymour Powell. Together they devised a machine that mated Yamaha's torquey XT660 thumper and electrics with Italian made Grimeca brakes and suspension. MZ developed the bikes unusual frame design and added adjustable bars and footpegs, a stainless exhaust system, lightweight alloy wheels and braided lines. The engine produced a respectable 58bhp and an almost equal amount of torque. Thanks to the single cylinder configuration the Skorpion had very sleek proportions and weighed in at 174kg.
The Skorpion came in 3 different flavours. The Sport wore a bikini fairing and low bars and was described as a cafe racer. It's styling, however, was very much a product of the nineties. The Tour was a more appropriately configured commuter with higher bars and no fairing. The Traveller was a full faired sports tourer with panniers and a riding position designed for comfort on long hauls.