During this week's edition of Sunday Screening, we feature new motorcycle videos from the US, Japan and France. First up is a custom Honda CB750 by first time builder Brent Bekker with the guidance of the crew at Flying Tiger Motorcycles. We then join Koichi Fujita of An-Bu Custom Motors in Nagoya, Japan on a ride out with some of his customers. And finally, we take a short but sweet look at the BMW KDRAG K100 created by Joël Alba of Les Ateliers Du Dr Joe.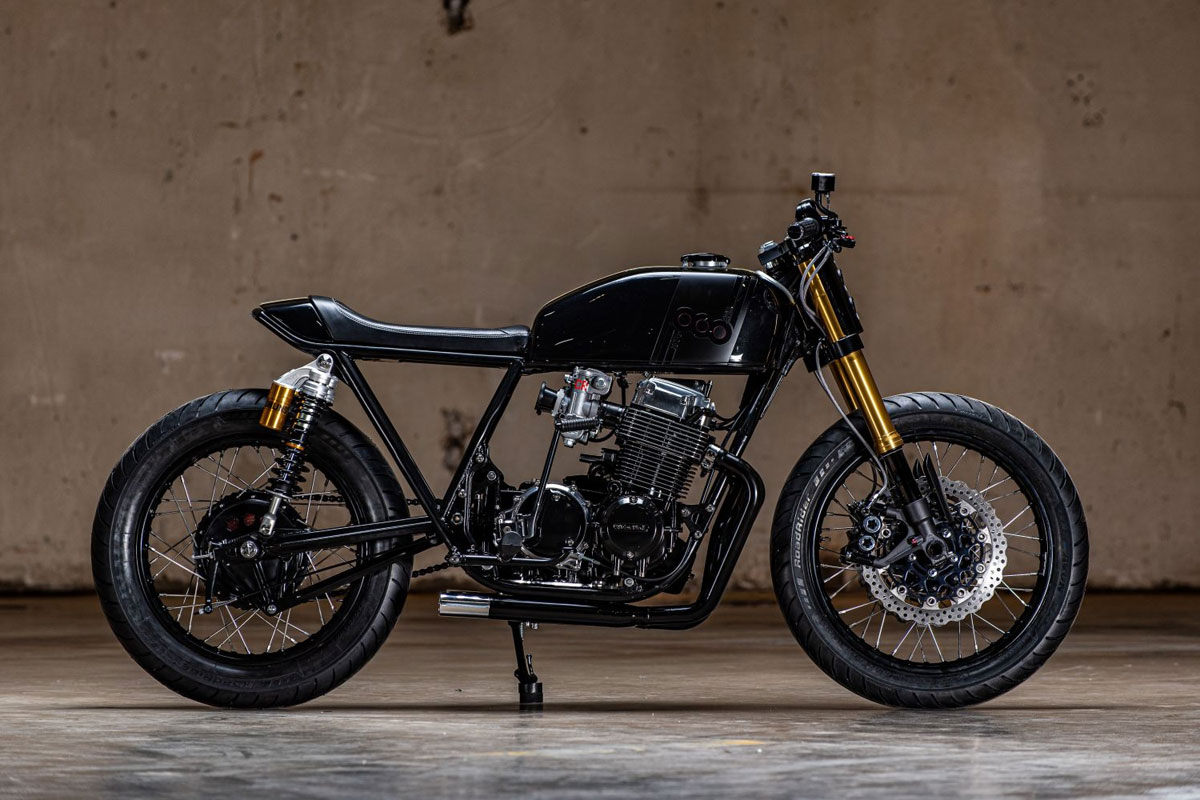 BEKKER HONDA CB750 STREET TRACKER
Brent Bekker built his Honda CB750 Street Tracker during a sabbatical from his demanding career. Having had little experience working on motorcycles and being eager to learn he offered his time to Missouri's Flying Tiger Customs. A few weeks turned into 6 months and eventually resulted in Brent building his first complete custom motorcycle with the guidance of the Flying Tiger Crew.
Brent's '73 CB750K has been transformed into an extensively upgraded Street Tracker that he says has elements influenced by Bauhaus design. The spec sheet on this one is long and includes engine performance upgrades such as an 836cc big bore kit, Sump Thing wet sump conversion and Keihin CR31 race carbs. There's also a complete suspension upgrade using a Suzuki GSX-R front end installed using a Cognito Moto conversion kit and high-end rear shocks from Ohlins. As for electrics Brent went all out with a full range of Motogadget components.
In the video below, you'll see a few of the bikes sweet details up close and hear it in action. For the complete build story head over to BikeExif.
AN-BU CUSTOM MOTORS RIDE OUT
It's rare we get to see the custom builds we feature in action. It's even rarer to see a group of one builders bikes all together tearing up the street. In the video below we join Koichi Fujita, the owner and operator of Nagoya based workshop An-Bu Custom Motors. Koichi-san is seen riding one of his BMW K100 RS cafe racer builds and is joined by several of his customers for a cruise around Nagoya. This video is one of many by Japanese YouTuber Bike Nostalgic which gives a rare insight into the Japanese custom motorcycle scene. You can view more video like this one on his Youtube channel, unfortunately, none of the dialogue is in English.
THE LES ATELIERS DU DR JOË BMW K100 RACER
Lastly, we have a short video from France showcasing the BMW KDRAG created by French tattooist Joël Alba, aka Dr Joë. When Joël isn't permanently imprinting his artwork on people's skin he likes to customise motorcycles and this BMW K100 is his finest work so far.
Joël's K100 was designed to have the appearance of a period-correct, BMW built K100 track bike. The heavily customised Flying Brick features many unique one-off parts that Joël designed and fabricated himself. Most notable is the new tank design which features an aluminium fuel cell protruding out of a fibreglass cover. Joël has also made several trick modifications that we haven't seen before including a pair of custom made indicators that sit beneath BMW roundels. For more details check out the feature on Silodrome.