If you're a Triumph owner living in Europe and you want to modify your bike you're spoilt for options. There's a long list of amazing European custom workshops who can realise your two-wheeled fantasy. Amongst them, however, is a handful of garages who specialise in reimagining Triumph's modern classics. One such workshop is Tamarit Motorcycles in Alicante, Spain. Their portfolio features an impressive 57 custom Triumph builds and they're made using parts Tamarit have developed in house. Their latest project is no different. Based on the quintessential modern classic, a 2017 Triumph Thruxton 1200 R, this is the Tamarit Malasangre.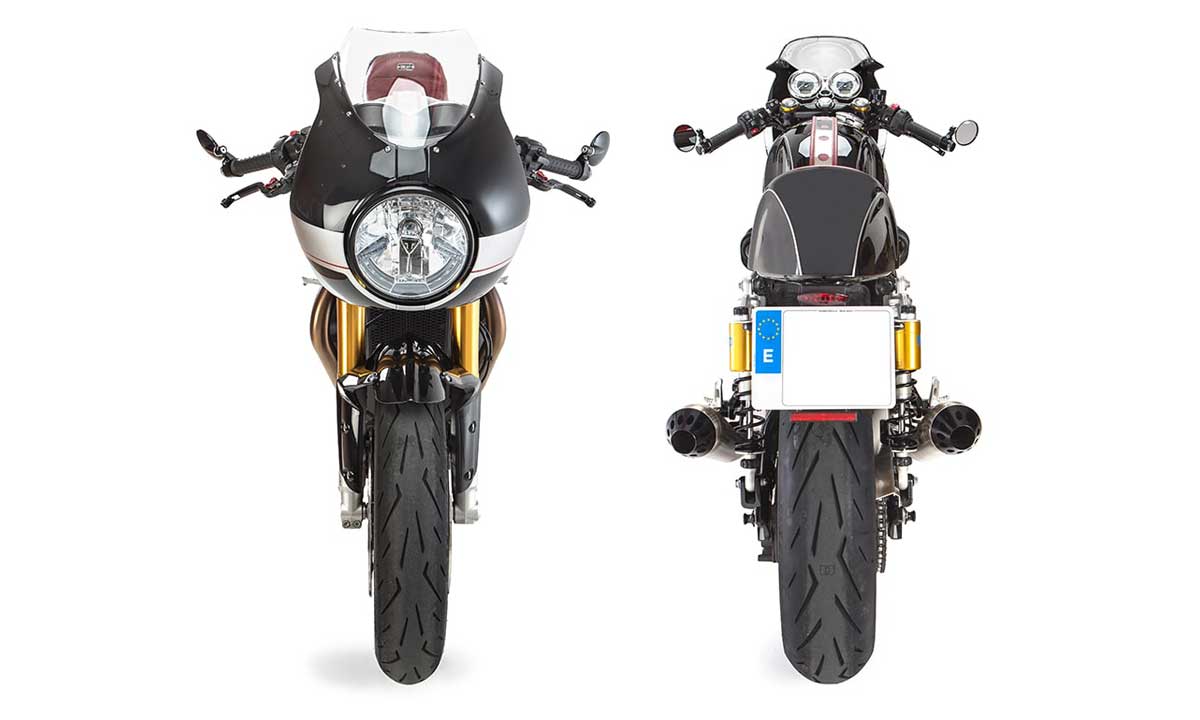 Malasangre, which translates to Bad Blood, arrived at the workshop after it's owner decided it was time for a change. "Samuel wanted a radical makeover of his Triumph Thruxton 1200 R." says Tamarit. So Samuel left the bike in Tamarits capable hands with a very straight forward brief. "This is the budget I have, you can do whatever you want but surprise me big time with a top Tamarit build."
As with all Tamarit projects, the Thruxton 1200 R project kicked off with a series of sketches for the owner to choose from. Samuel went for a design that retained the bikes cafe racer theme and added a sinister edge to its styling. Along with a predominantly black paint scheme, the concept added a cocktail of aftermarket parts from Tamarit's own catalogue and a few other European aftermarket experts.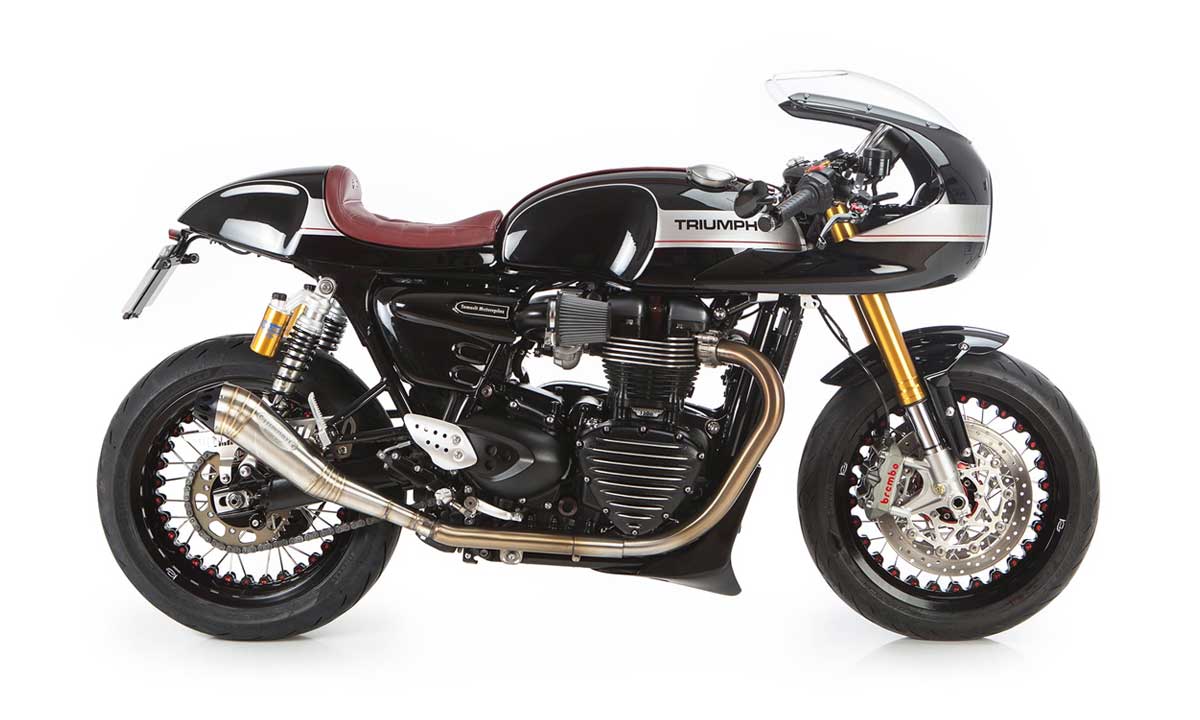 New additions to the bodywork from the Tamarit catalogue include their fender eliminator kit which drastically tidies up the Thruxtons tail. The new saddle and tail unit is Tamarit's hugely successful Monaco seat which is a bolt-on modification for this model. The midsection has been restyled using a set of Dakota side covers but for this application, the Dakota's have been specially modified to allow the fitment of a rather unconventional aftermarket add-on. To visually draw the bike closer to the asphalt there's a Tamarit Belly Pan specially designed to work with the Hinkley water-cooled twin. Things have also been tightened up at the front end with a Tamarit short fender. A laser-cut stainless chain guard completes the list.
Along with tapping into their own catalogue Tamarit relies on a few trusted premium parts suppliers to help realise their concepts. For the lighting on their Thruxton 1200 R, they looked to German manufacturer Motogadget. The standard indicators have been replaced by tiny Motogadget m-Blaze LED indicators in the rear and m-Blaze bar end indicators at the front. For a touch of classic custom style, both the primary and stator covers have been swapped with ribbed alternatives from French producer EDM. From Italy came a pair of black and red spoked wheels by Kineo and FreeSpirits supplied what is perhaps the bike most striking and unusual modification. Protruding through each of the Tamarit Dakota side covers are 'horn-shaped' FreeSpirits Power Filters.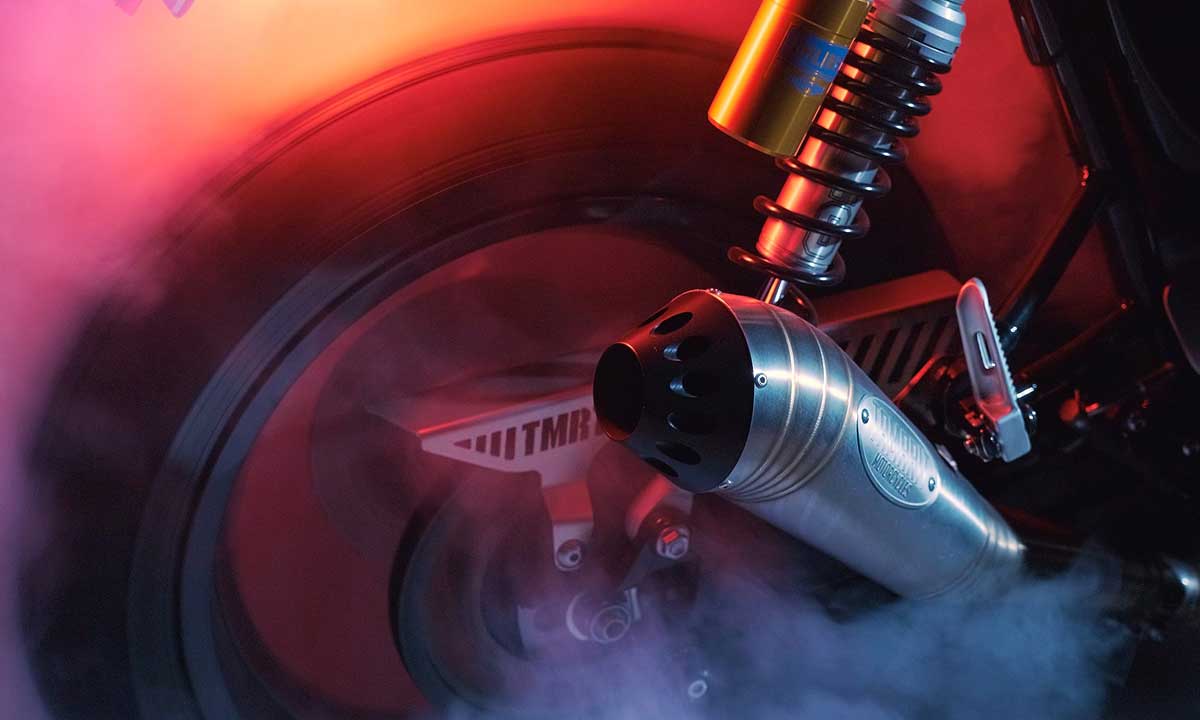 The forward-facing Power Filters are mounted to the engine via 180-degree inlet tubes. According to FreeSpirits, they are designed to maximise airflow and reduce operating temperatures. They also look unlike anything you'd expect to see on a Thruxton 1200 R making this build rather unique. To finish off the performance package Tamarit has added a custom 2-into-2 exhaust system capped with their own Bocanegra mufflers. These changes confidently push the Thruxtons factory 96bhp power figure into the triple digits.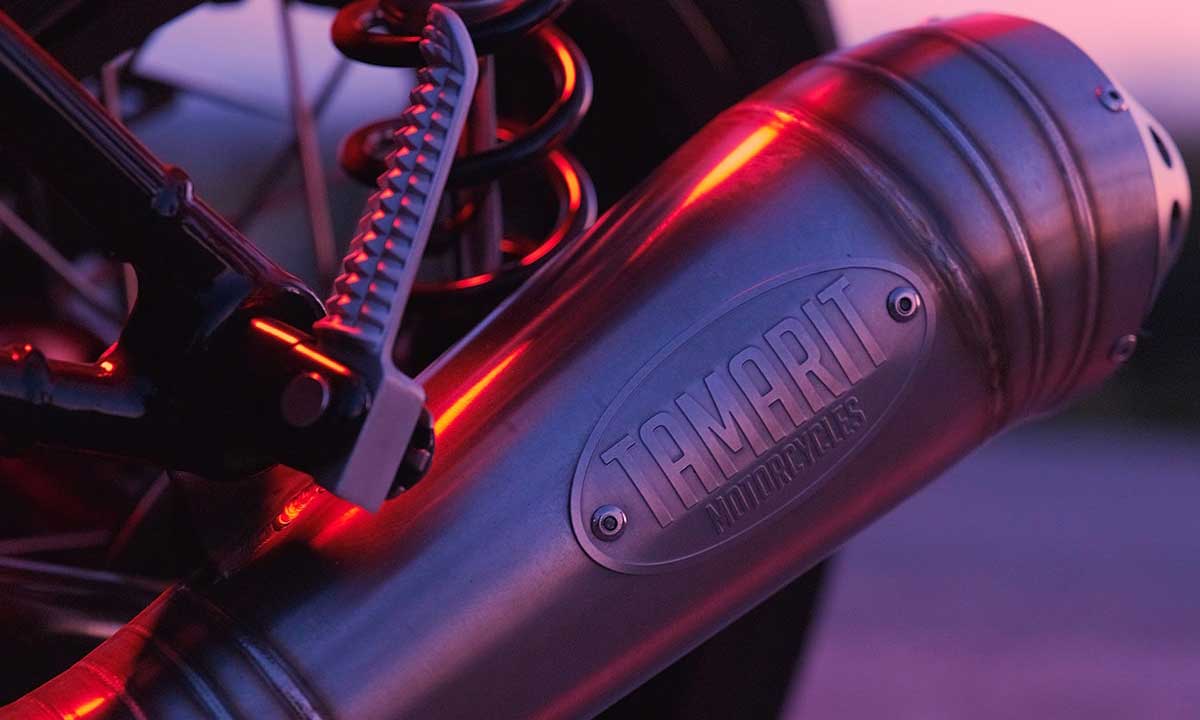 As for the bikes 'Bad Blood' name, rest assured it's not a reference to the relationship between Samual and Tamarit at the end of build. The name is more of a literal translation of the bike's colour scheme. Bad refers to the dominant use of black. While blood refers to the red Bordeaux leather saddle and tank strap which complement the Kineo rims. Instead, it seems that Samuel couldn't be happier with the result of his Tamarit build, as demonstrated in the image below.