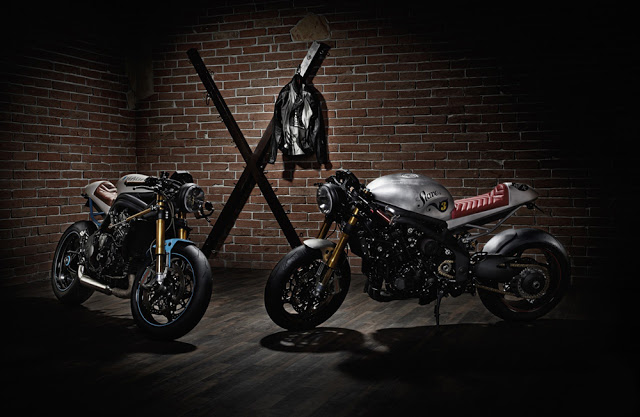 "We are fetishists.
 We worship speed. We adore motorcycles."
Kalup is a new brand/breed of motorcycle riding gear from the Czech Republic that blends those 3 statements. Their bold designs will drop jaws and raise eyebrows and that's exactly the reaction Kalup founders Pavel Hluchy and Filip Žák are aiming for. "We wanted to make riding gear that protects and you can still hit a Berlin club later". As you can imagine a pair of self confessed fetishests aren't about to ride around on stock motorcycles so they have been building their own custom creations. The two latest bikes aptly named the 'Slaves' (3 and 4) are both based on the Triumph Speed Triple R's and just like their clothing they are a balance of exquisite forms and purposeful function.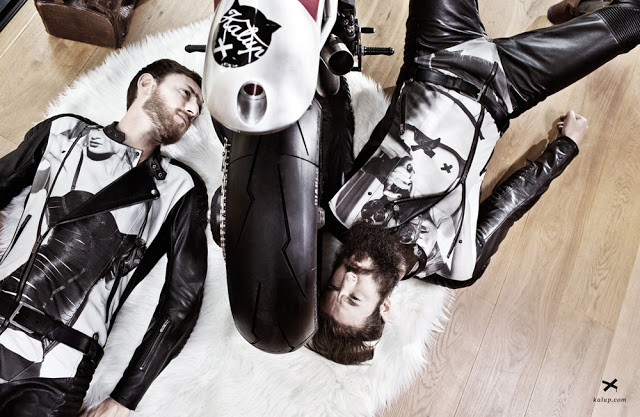 "After years of riding and testing different bikes we realized the right bikes for us have three cylinders. That meant only one option – Triumph. After our first 2 slightly modded Street Triples (Slave One and Two), we fell for the culture of the Cafe Racers. We like to ride fast and sometimes venture to the racetrack, so we wanted machines that pay homage to 60's and 70's styling, but respect our racing desires.
"Because no manufacturer could offer us that out of a factory we started to build our own bikes and at the same time created our Kalup fashion range. We decided to build real top end custom bikes, that could also communicate the values of our brand. We already had our sights set on Triumph, so the only question was which model to use as a base."
"We chose the best that Triumph offers in naked bikes its Speed Triple R. We took off everything unnecessary, sharpened our pencils and started to sketch our new bikes. Thanks to a friendship with a Triumph garage called DK Moto Company, we knew where to start. The workshop owner was at first a bit apprehensive, but when he saw our passion for the project he pulled together a group of skilled people who dived right into the project with us."
"We started with a great base of a bike and were sure to keep the best things. The Öhlins suspension, factory chassis with the PVM aluminium wheels, the Brembo brakes and of course the 1050cc, 135bhp, 3 cylinder engine. To reach our desired design and to reduce the overall weight, we decided to make everything else out of aluminum. One of the top aluminum specialists in Czech created the shape of each fuel tank and seat base by hand in 2 months. We the reupholstered each seat to hug the the new fuel tank and seat base using our own leathers. Next, we created two brand new exhaust system from stainless steel.  The biggest problem was removing the superferlous wiringand electronics. Once it was done though the new cables, electronics and the racing gel batteries all fit under each seat."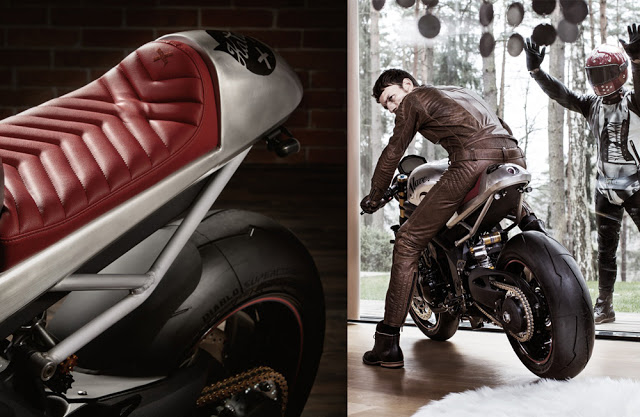 "After another month of designing brackets, switches and other gizmos we reached Apple-like perfection. We created new triple clamps on a CNC mill, moved the starter box to the side, added our LED headlights and turn signals from Revival Cycles, mounted racing style handlebars and added Posh grips and Rizoma mirrors. We took the airbox out, put in K&N hiflow filters and added the power commander to remap the fuel delivery and really bring each engine to life. The last quest was to sync the electronics with new multifunction Trans Logic instruments."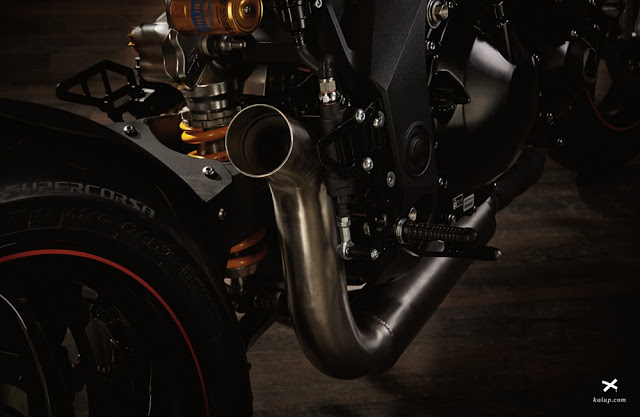 After 2 months of additional work the bikes were rebuilt with each representing its owner's particular style. Slave Three and Four were born with the final touch being a 6 coats of clear and some hand painted Kalup livery on each tank and tail. It was then off to the Wheels and Waves festival in France for their shake down. "We took the untested Salves about 120 miles through the Pyrenee mountains. We looked a bit exotic next to the classic old machines that attend the event, but the bikes rode exactly how we liked."
"Our brand connects the magic of the free thinking motorcycle culture of the 60's and 70's with the latest safety and manufacturing technology."
KALUP
"THE RIDING GEAR FOR THE BRAVE"
(link may not be safe for work)