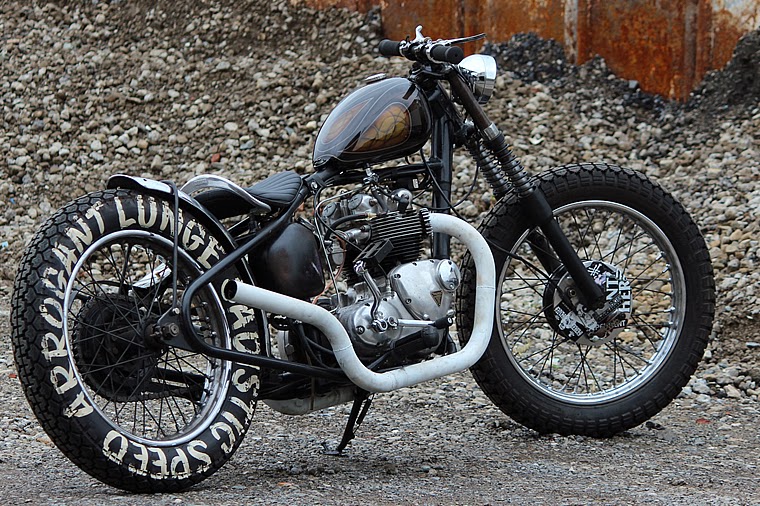 It's been a while since I've paid Japan a visit on the site, but this beauty of a Bobber from Arrogant Lunge in Yokohama is certainly worth a look. As would be expected the Arrogant Triumph Bobber is as unique as any bike we've seen roll out of a Japanese custom workshop and it certainly isn't a ride suited for the self-conscious or shy.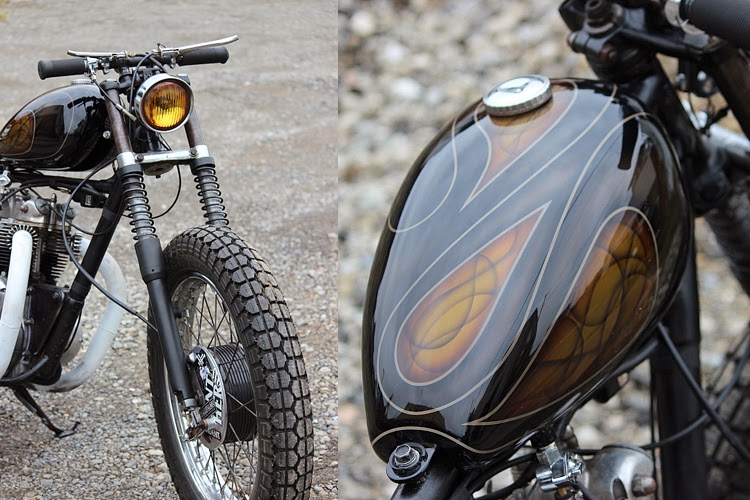 At the heart of the bike is a 500cc Triumph T100R motor stripped back to the bare essentials. Bolted to the head is a pair of open ended, custom made pipes shaped to follow the lines of the engine casing and coated in ceramic white. The bolt on hardtail replaces the original rear end without the need for cutting or welding and a single, unsprung (ouch!) seat places the riders rear end inches from the action.
Style wise the bike is a lane splitter through and through. The tiny handlebars sit no wider than the foot pegs and its number plate has been positioned as close to the rear rubber as possible. To drop some more weight the front fender was removed and the rear swapped for an alloy item left raw to match the engine casings. The tiny, modified peanut tank received a sixties style custom paint job in keeping with the lane splitter/bobber style with plenty of airbrushed and pinstriped magic laid down before copious layers of clear.
"ARROGANT LUNGE SADISTIC SPEED!!! "
I know that this bike certainly won't be something that everyone will appreciate but they say that about the Mona Lisa too. If the name of their workshop has any relevance I'm pretty sure they don't really care what we think anyway…I'm not so sure about the lunging part though?