Royal Enfield has been stirring things up in the custom scene with a string of commissioned builds based on their 650 twins. Late last year they invited their Australian dealer network to get involved by creating the 'Busted Knuckles Build-Off'. A few weeks back we took a look at one entry built on the west coast by Rogue Motorcycles and MotoMax. Today we travel to the other side of the land down under to its most southern state. This is where you'll find Tasmanian Motorcycle Warehouse and their Royal Raven Continental GT 650 cafe racer.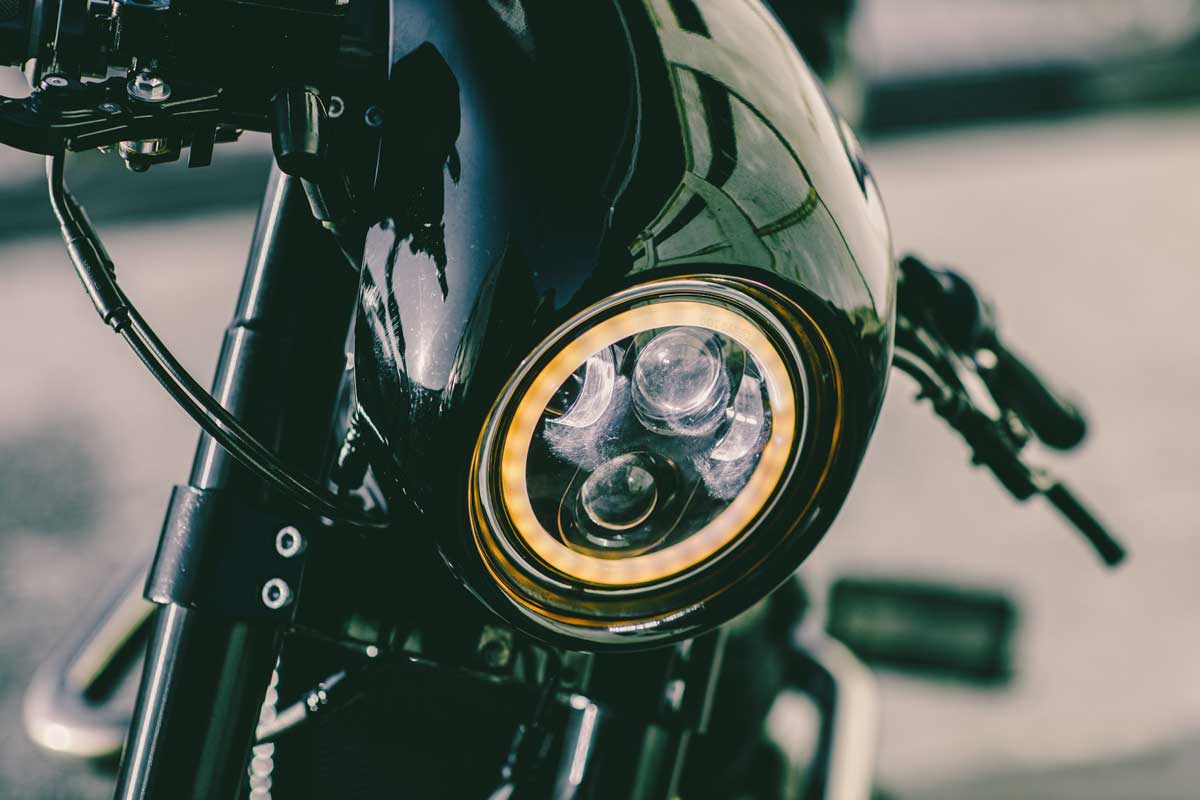 Located in the states second biggest city of Launceston, Tasmanian Motorcycle Warehouse (TMW) has a history stretching back 40 years. TMW specialises in motorcycle sales, riding gear and maintenance, but customising motorcycles isn't something you'll find listed on their website. So when the announcement of the Busted Knuckles Build-Off was made TMW asked around the workshop to see who in their team was up for the challenge.
The TMW Busted Knuckles dream team consists of 3 mechanically trained pros – Adam Palmer, Grant Plumbridge and Jess Mustart. Adam and Grant are seasoned customisers, with personal projects that have seen them supercharging engines and fabricating their own parts from scratch. Whereas Jess, despite having years of mechanical know-how under her belt, was new to the game. "This was my first bike build and I really wanted to be a part of making something unique that we could be proud of." says Jess. "Being a brand new, stock Royal Enfield Continental GT 650, the base chassis/motor setup was a great starting point for us."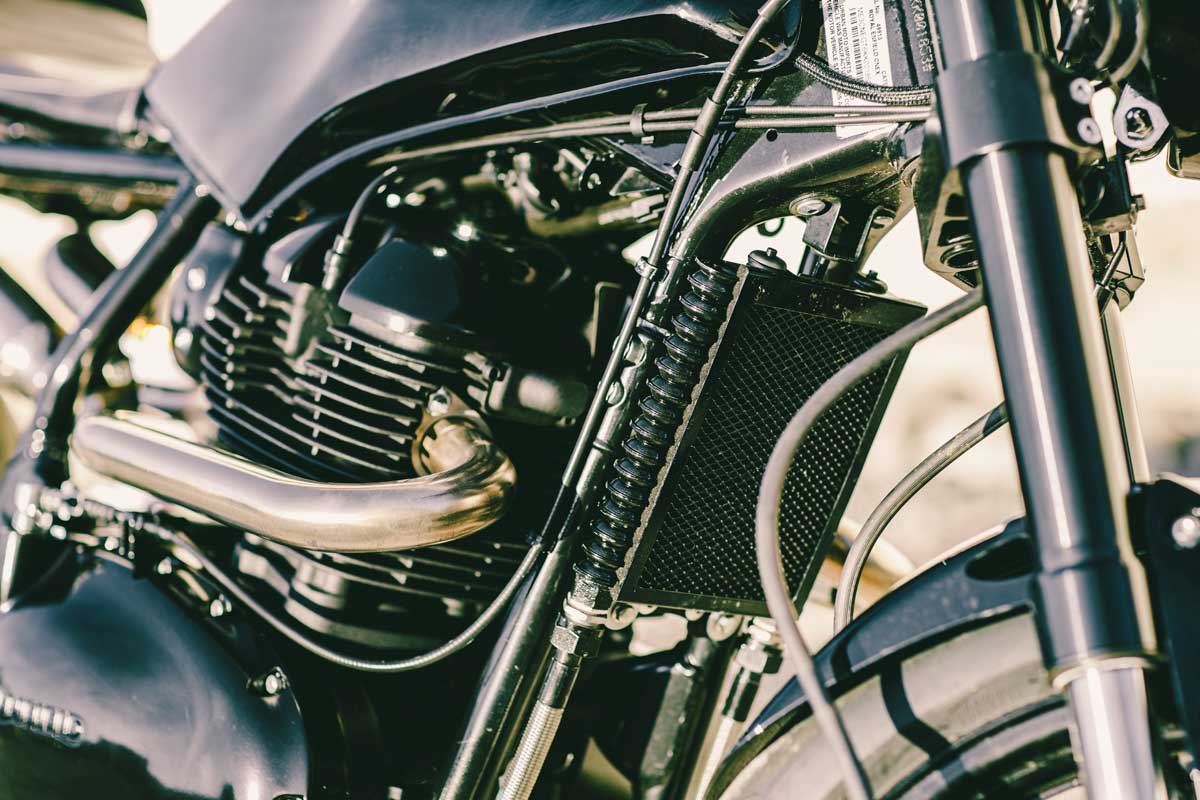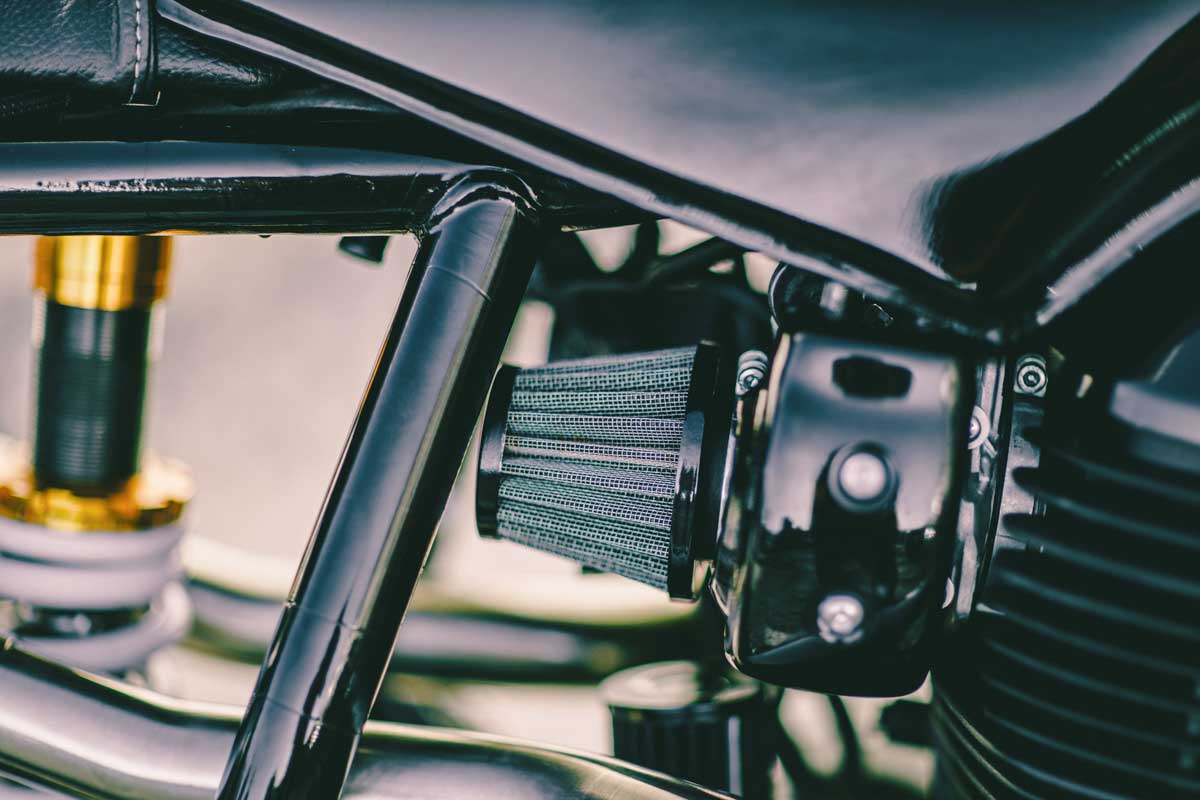 The first stage of their Continental GT 650 project was deciding which direction to take it. "We wanted the build to have a modern cafe racer/sports bike style with sleek minimalist lines," says TMW. "Both the Continental GT and the 650 Interceptor handle great straight out of the box, so we really didn't want to lose that inviting, everyday rider feel. It had to be usable, not just a showpiece." With this goal in mind Jess, Adam and Grant pulled together a shortlist of must-have modifications that included a modern suspension overhaul, a one-off exhaust system and completely revised bodywork.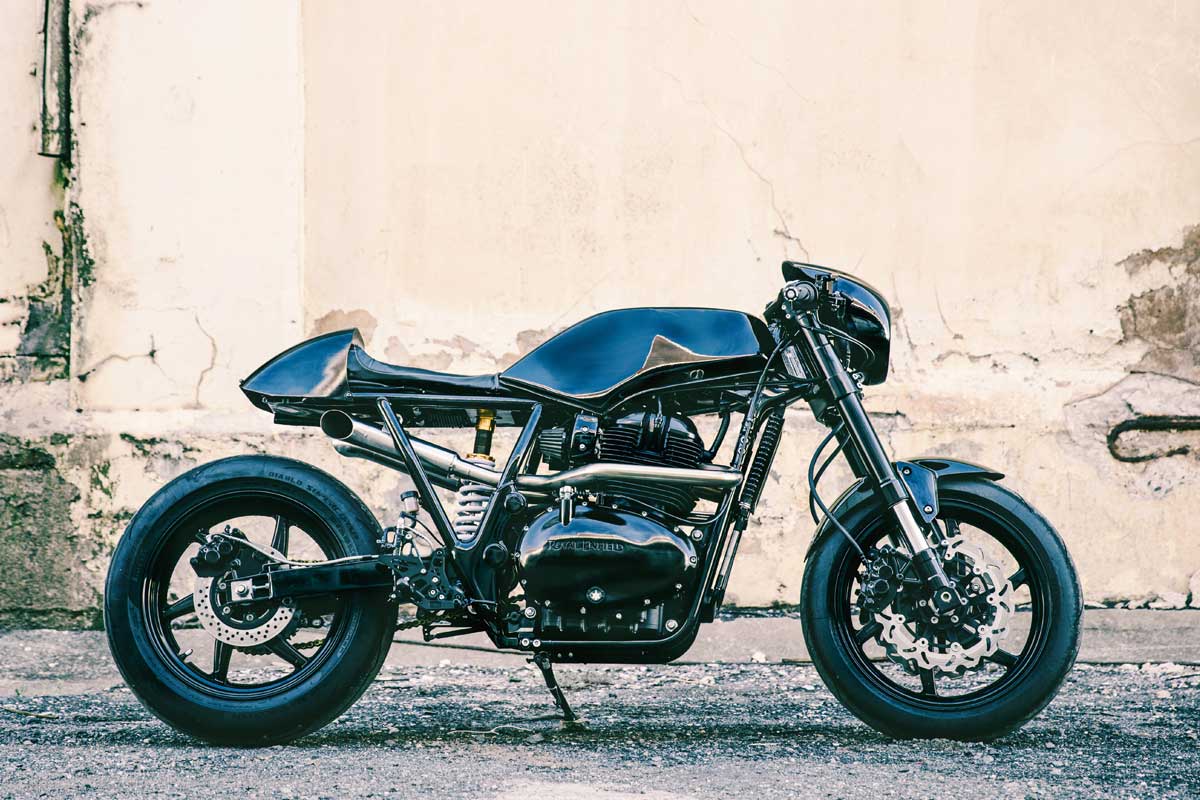 For the suspension upgrades, TMW sourced a modern upsidedown front end complete with its 17-inch front wheel and brake setup. This was grafted to the frame with a few modifications to the triple trees. When it came to the monoshock conversion the team had prepared themselves for some hard work, but working on the GT's chassis proved otherwise. "The major job to turn it from a dual shock to a mono-shock was made easier thanks to the bikes simple frame layout," they recall. The task was done by shaving off the bikes twin shock mounts and welding a new anchor point for the mono-shock beneath the seat pan. To make things easier the shocks matching swingarm, 17-inch wheel and disc brake were all shoehorned into the frame too. With the goal of eventually taking their modern cafe racer to the track, tyre selection was an important consideration. Pirelli's street approved race rubber, the Diablo Supercorsa, was the obvious choice.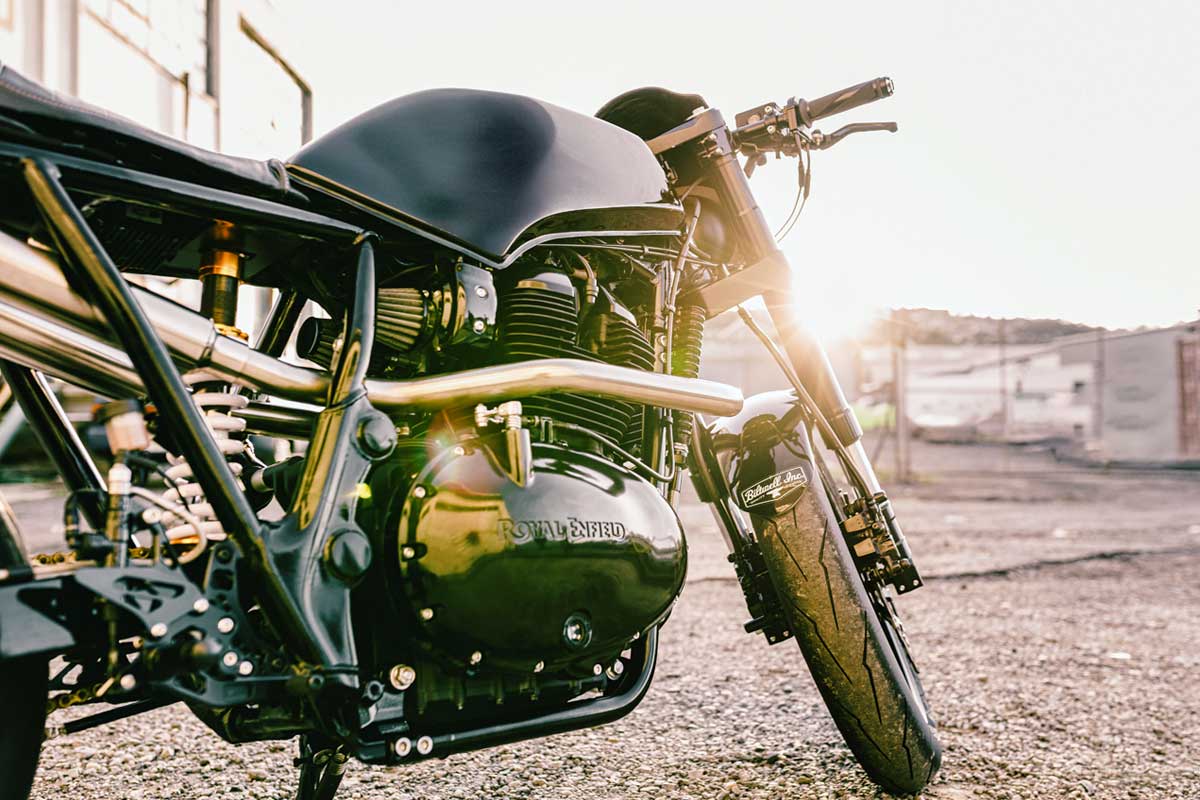 Engine performance modifications were kept simple. Doing away with the Euro compliant exhaust and air-box offered TMW the biggest performance gains without resorting to opening up the engine. The removal of those items was also a key aspect of slimming the bike down. Replacing the entire airbox system and side covers are a pair of slimline pod filters. As for the exhaust, it's a custom made 2-into-2 set up routed through the frame before terminating under the seat. Along with looking and sounding astounding, the new system weighs a fraction of Enfield's factory unit and frames their efforts with mono-shock perfectly.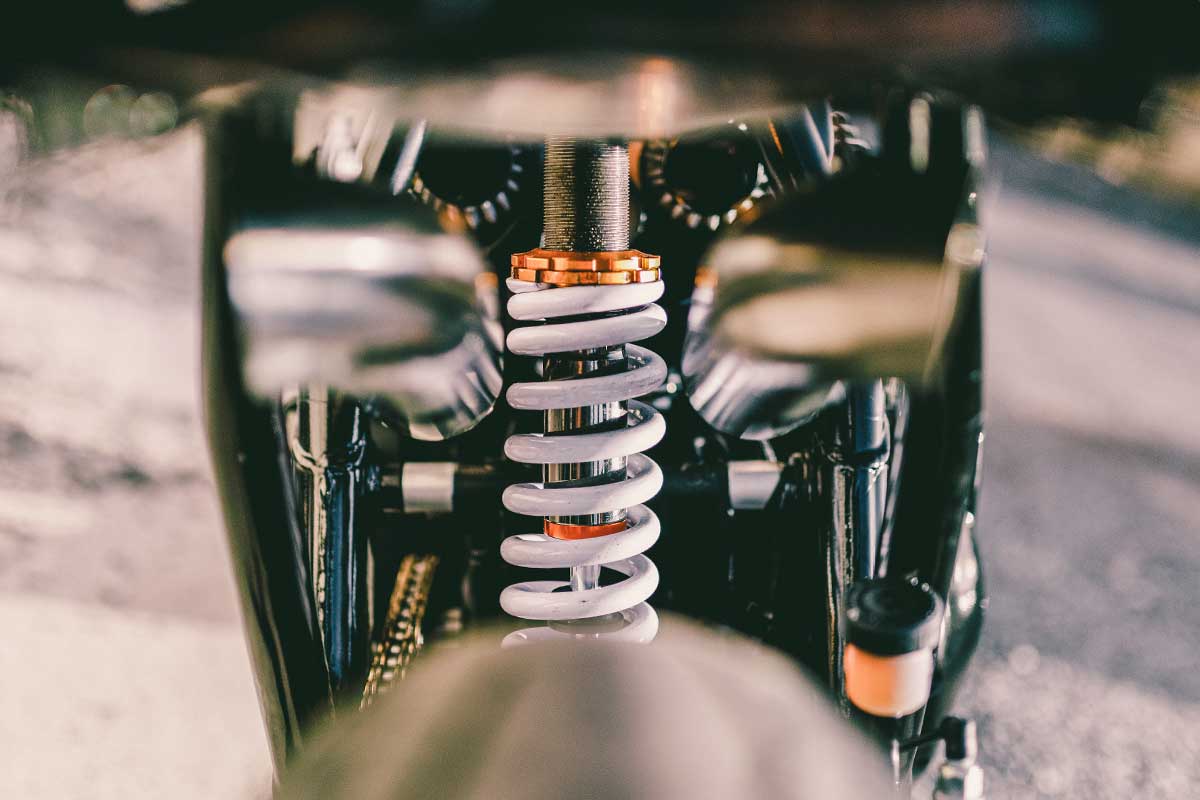 All of the Continental GT 650's stock bodywork has been dispensed with. To get the modern look they were after, a 1980's Kawasaki fuel tank has been retrofitted to the frame. The installation involved removing the base of the original tank and welding it into the Kawasaki item. This allowed for the standard fuel pump to be retained. In the rear, they added a custom made cowl which houses the Enfield's wiring, ECU and battery. Up front is a bikini style cowl pulled from a Harley-Davidson Night Rod with a custom made halo headlight. A more aggressive, cafe racer riding position was achieved by fitting aftermarket clip-on handlebars, rear-set footpegs and by reshaping and covering the original seat pan.
"We set the ergonomics of the rear sets to suit the riding position of the new front end and it is very comfortable and stable to cruise on. Our Continental GT 650 also likes windy sections of road. It behaves well around tight corners as well as powering through sweeping hilly passes with ease."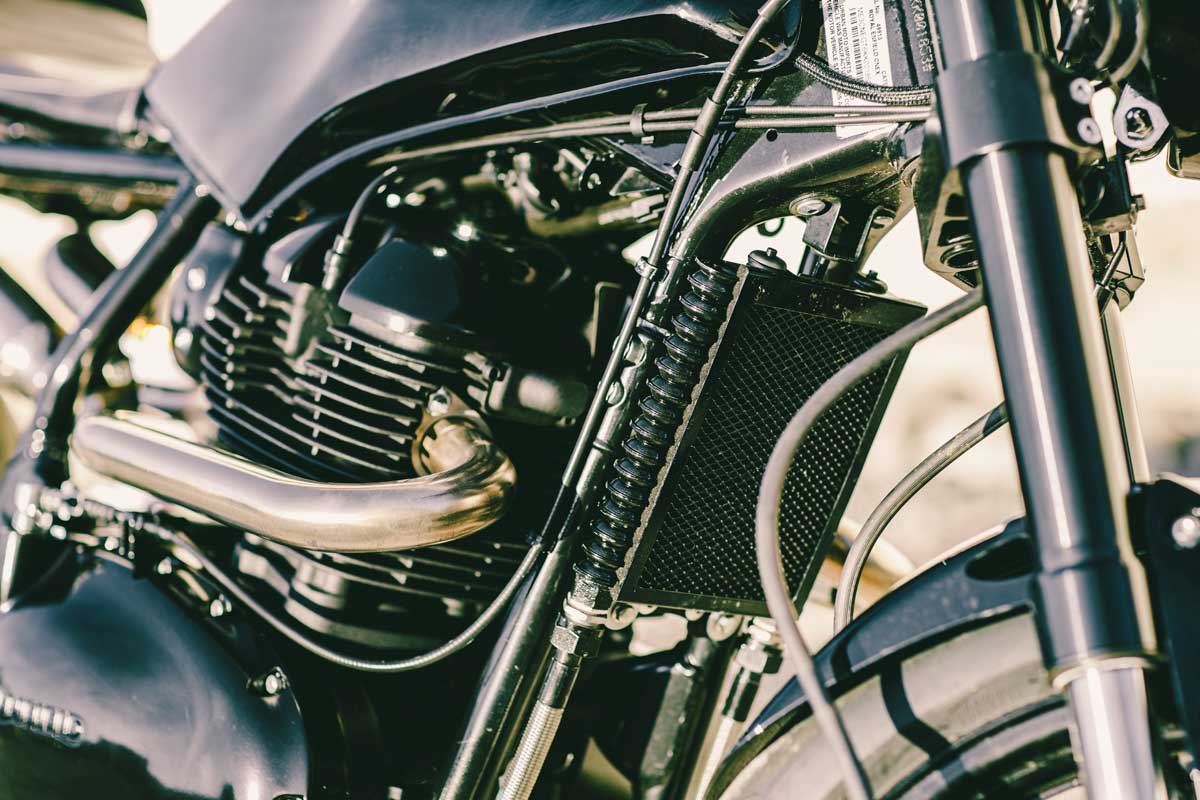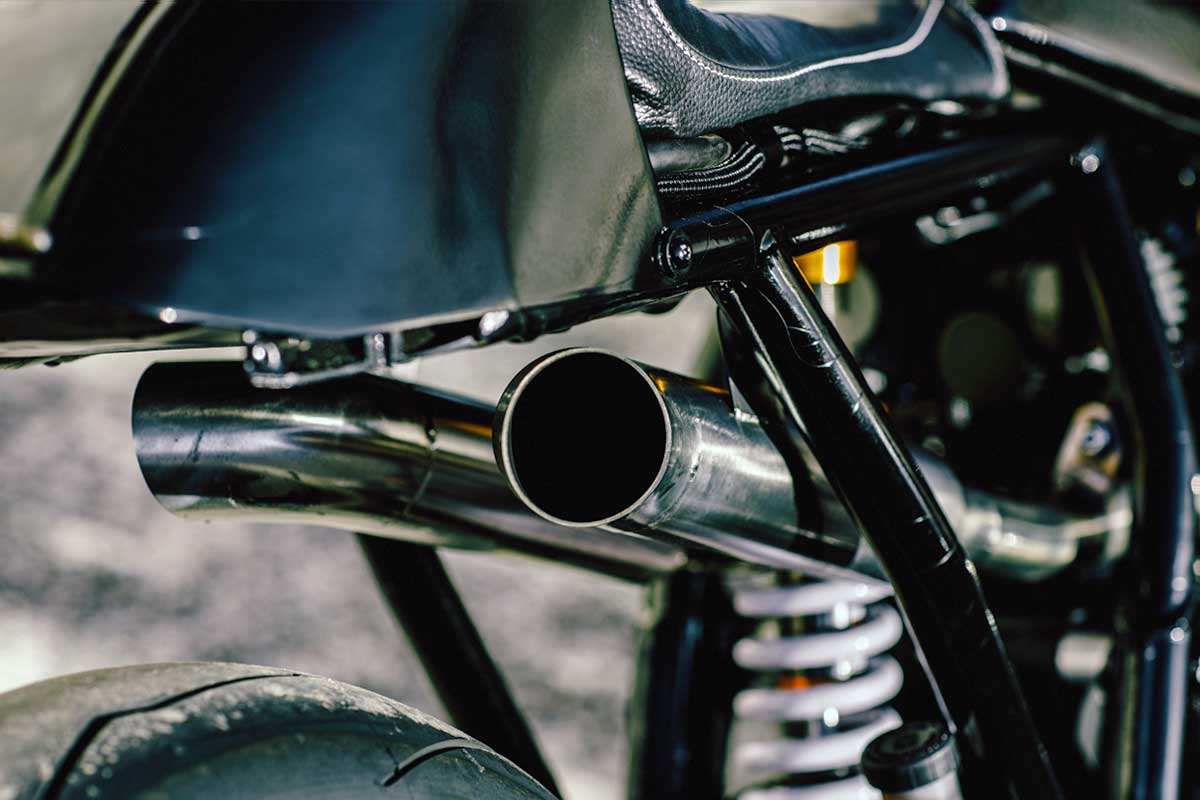 When it came to choosing a colour the team agreed their Enfield should be both stealthy and sinister. That, of course, equated to black, with a hint of metal flake to help it stand out to the judges. They didn't just add a few stygian touches here and there though. Almost everything on the TMW Continental GT 650 has been blacked out including the engine, earning it the fitting title of, "Royal Raven".
TASMANIAN MOTORCYCLE WAREHOUSE
Photography by Scott Adams