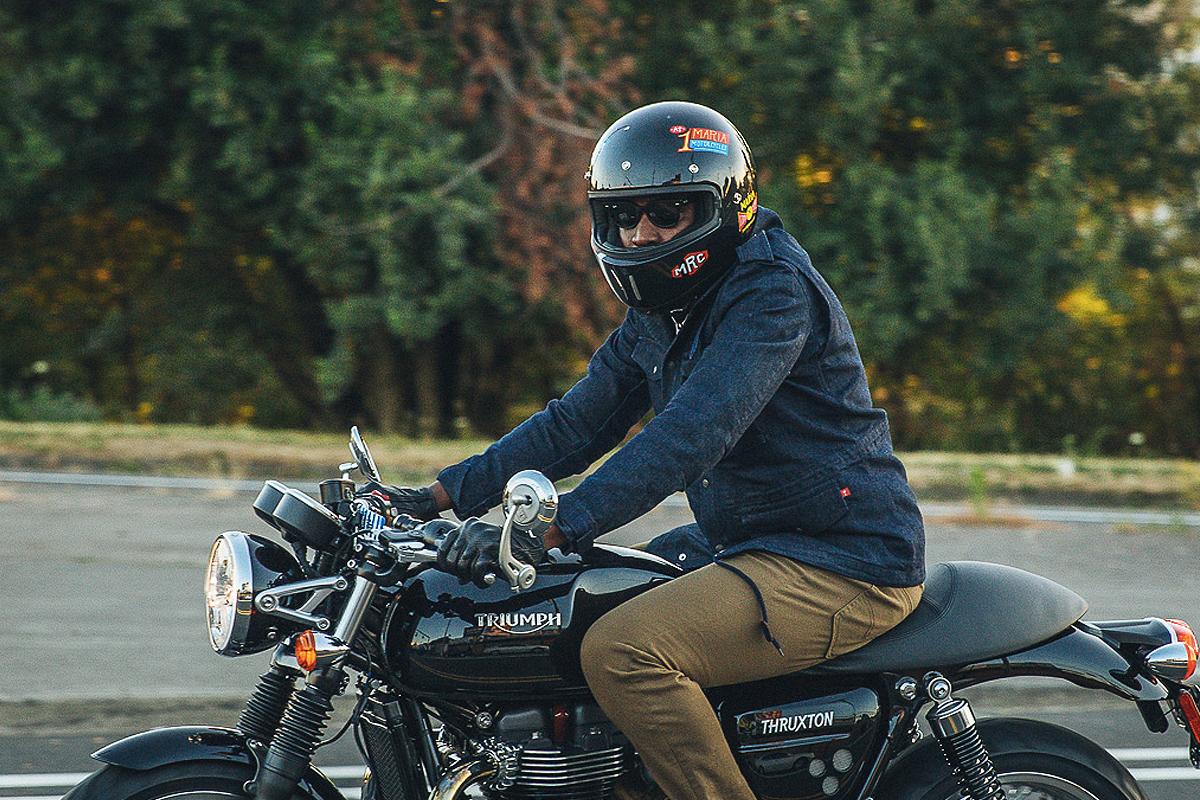 Every time I hop on my bike I have to mentally remind myself that I am playing with fire. One of these days, without warning things could go horribly wrong. For years this train of thought has kept me in leather, but, like so many other riders I'm guilty of taking the easier or more convenient route. Thankfully times are changing. Manufacturers have cottoned on to the fact that we want more from our gear than rock hard armour alone and the alternative options are piling up fast.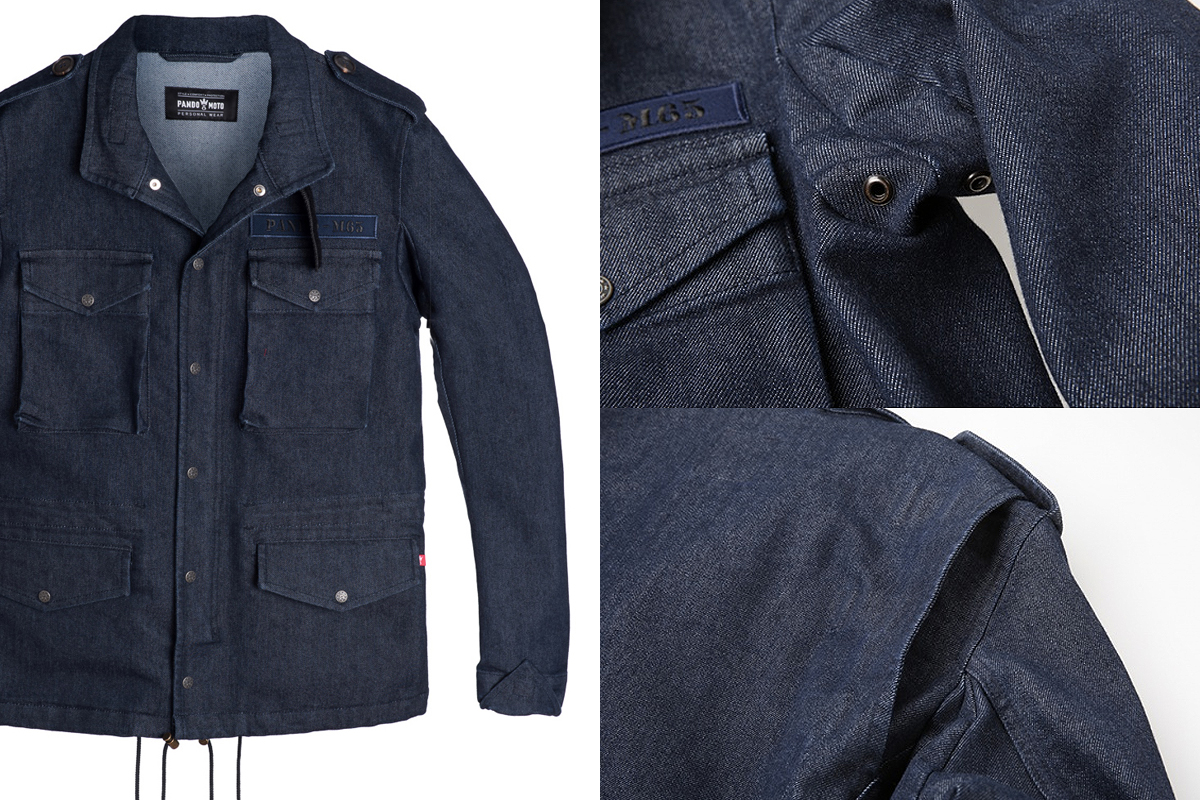 Kevlar lined jackets are commonly recognised as the next best thing to leather but there are a few other alternatives that I was keen to investigate. Pando Moto's military style M65 denim jacket seemed to check off all the boxes that usually left me feeling wanting so I decided to give it a go. After receiving the M65 in the mail and throwing it on for a quick ride around the city during an evening peak hour session I have to say I was a little impressed.
The material that the M65 is constructed from is what really separates this jacket from traditional denim. It's denim for sure, but nothing like I've experienced before. It's not like the raw denim that's made in a mill on some small island where they take their craft to levels of pure obsession. It looks similar, but is actually a clever blend of denim, Cordura, and CoolMax fibres. At 12.5 oz. thick it's about the same density as a middleweight denim jacket, but the interwoven Cordura adds significant abrasion resistance. Not only that, the M65 has summer heat beating ventilation vents which did their job well during my tests because someone definitely forgot to turn on the A/C and I was still feeling somewhat fresh.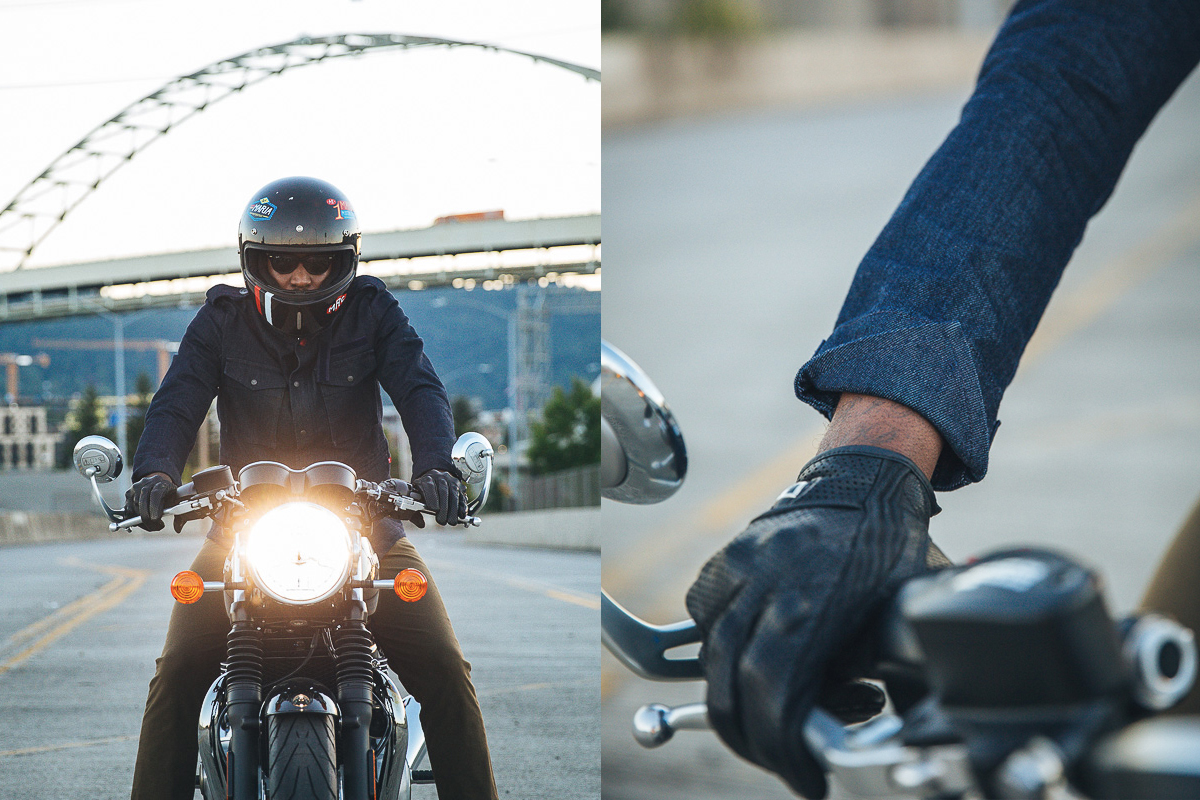 The abrasion-resistance improvements over leather is difficult to gauge, because let's be honest, I had no plan of going down on this hot summer day. However, by all accounts it seems to add up according to the University of Google. How much more or less reliable it would be compared to leather is up for debate. The M65 will definitely offer superior tear resistance to my Levis denim, or even some Kevlar-lined denim jackets, but whether it's better than my leather is a test I hope to never have to take. When it comes to summer comfort however, the M65 takes the cake.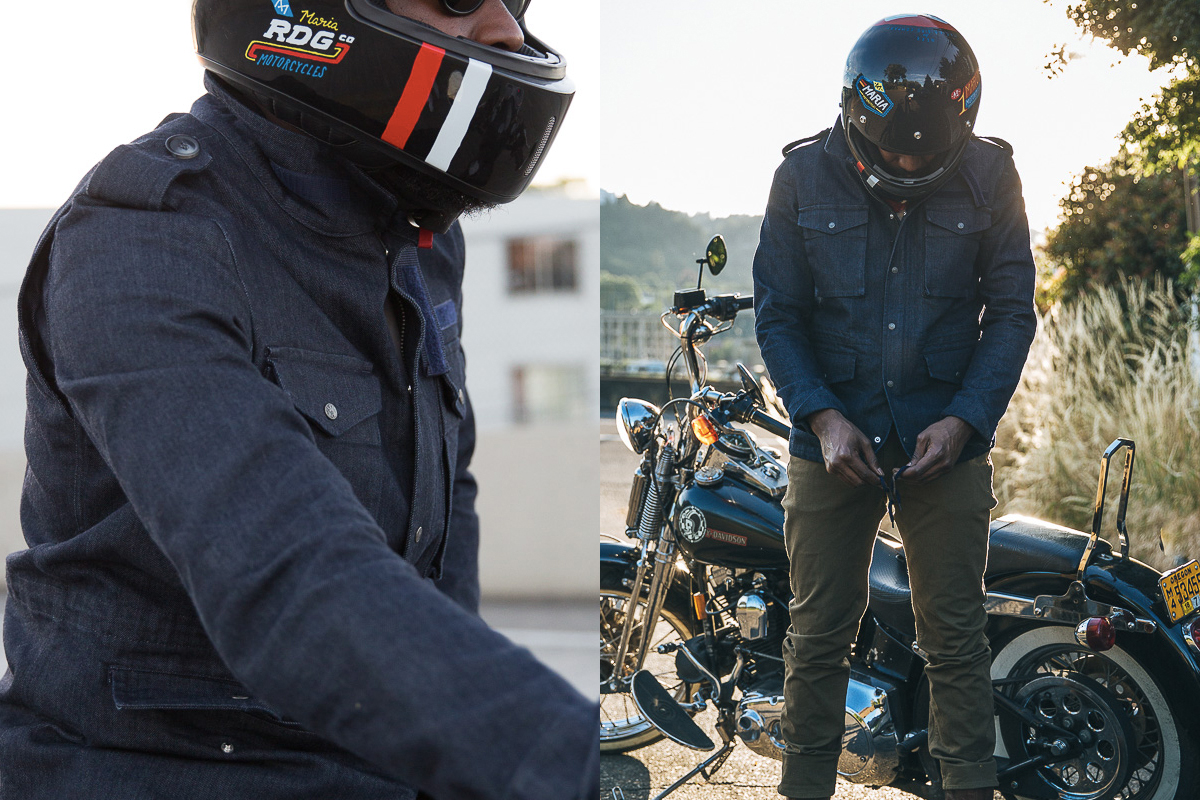 If there's one thing about the M65 and protection that isn't debatable though, is how good its armour is. Put simply it's one of the best sets of armour I've come across in a motorcycle jacket in terms of function and wearability. I could bend, twist and manoeuvre in a way I never could in any other motorcycle jacket I've owned. This was by far the biggest plus for me, even better than its cooling properties. Who'd have thought you could be safe and comfortable at the same time!? In the shoulders, back and elbows of the M65 is CE-Level 1 armour that's been developed in-house at Pando Moto. Using an active polymer they've created armour that bends and contours to your body without feeling cumbersome. Sure the back protector pocket, like so many other jackets, suffers from a bit of sag after you sweat all over it, but it still sat where I'd want it to be if things went south… as in straight on to the asphalt.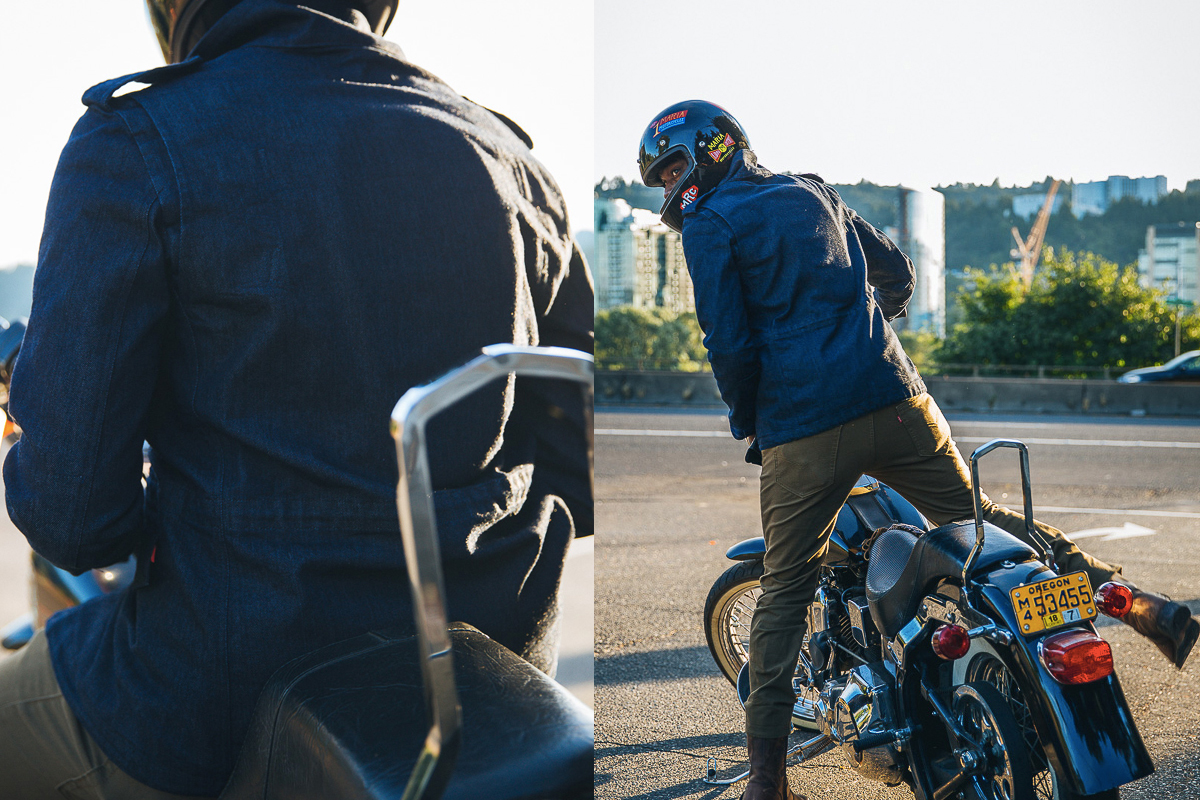 What about fitment? I knew it would be a standard European fit, meaning slimmer than your average American cut. So imagine my surprise when a size "Large" arrived and it fit my 190 lb., 6'1 frame perfectly. A major plus about European cuts is that the sizing is slim and in this case, the denim itself also has some stretch, so that aided in flexibility.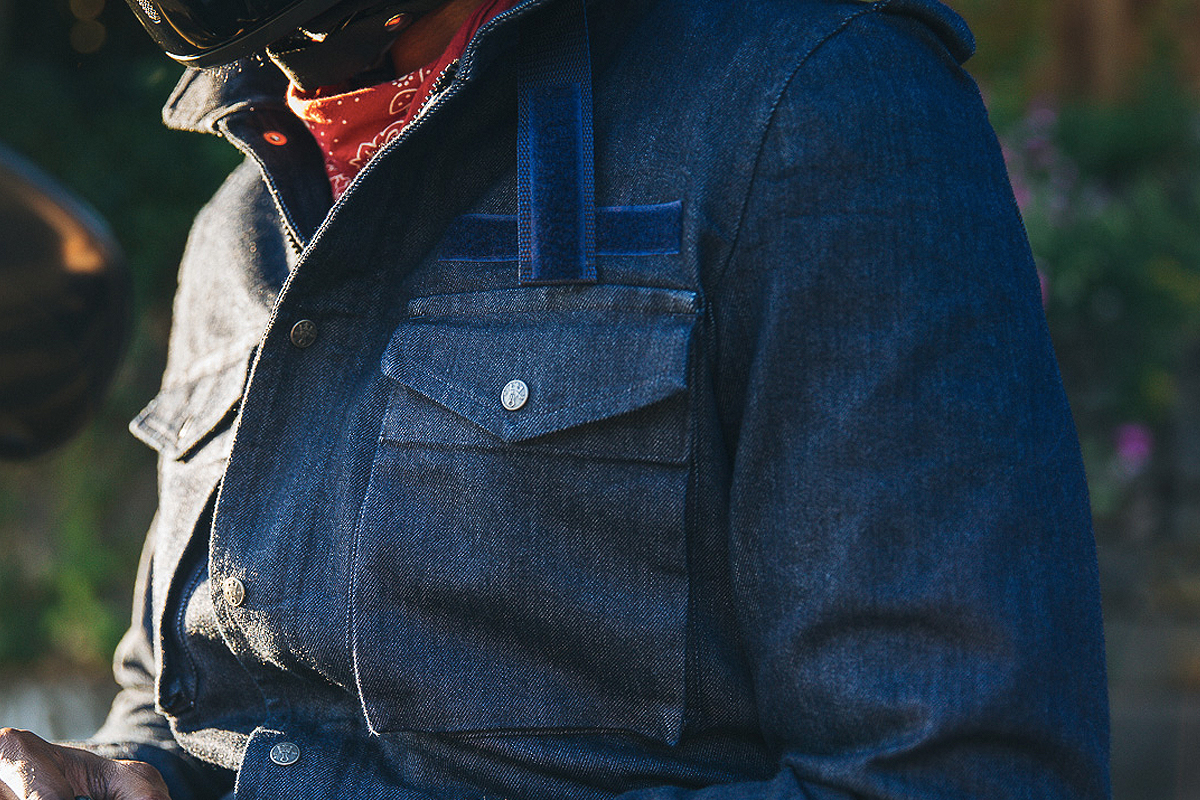 As for when you'd wear the M65 I'd say it's definitely a Spring/Fall piece. It won't cut it in my local winter, especially with rain and snow on the forecast. If you live in a similar climate you better make sure you don't discard your lined leather number when the M65 finds its way into your closet. However, with that being said if you are located in a place that doesn't receive much rain or snow it could make a great all year piece. Styling wise it sits at the top of the charts as a denim moto piece. The armor, the look, and its fit and flexibility exceeded my expectations and as such it gets a thumbs up from me.
It's summer. The sun is turned all the way up. It's so hot I could literally crack an egg on my gas tank and cook breakfast on the way to work. My head tells me to reach for the trusty old leather jacket, but my epidermis is pulling me towards the Levis denim number hanging beside it. Obviously when it comes to protection leather is the go-to guy, but in this heat, anything that lets at least a bit of air through would be a welcome alternative. Thankfully I may have found a safer answer.