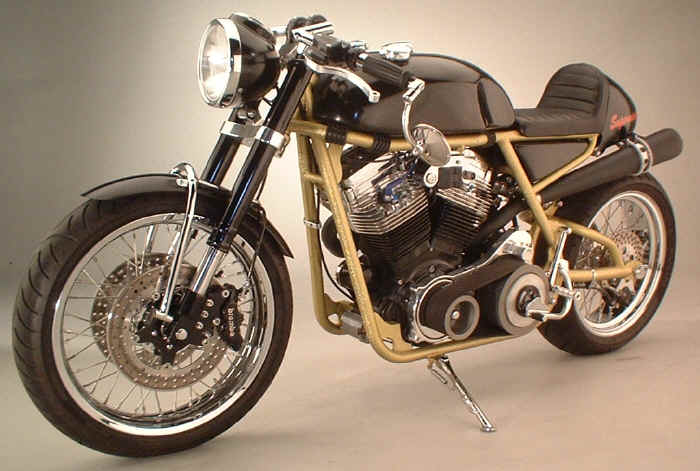 American Cafe Racers in Colorado Springs set themselves a challenge. Create a motorcycle that "incorporates elements of the current trends in custom bikes yet remains an original and distinctive design…The engine should be big, powerful, and American. The bike should not try to compete with existing products or copy their designs, avoiding being categorized by staying original. It's appearance, performance, and handling will not be compared to any other motorcycle, yet the bike will excel in all areas" and the result was the Supermanx.
The Supermanx is a Cafe Racer through and through. The featherbed style frame is based on the original Manx Norton and the styling consists of all the bits and pieces you would expect to find any any modern Cafe Racer. But there are a few stand out features that make the Supermanx a Cafe Racer all of it's own. The most obvious of which is the gold fleck paint on the frame, maybe not everybody's cup of tea but it does a very good job of highlighting the bikes body work and engine. Second thing you will most likely notice is the belt drive attached to the big V-twin, 2 features you certainly wouldn't expect to see on a conventional Cafe Racer…but is any Cafe Racer really that conventional anyway? Then you start to notice things like the chrome detailing on the engine, control levers and rims, the twin matte black "gattling gun" exhausts, twin fuel tanks, curly exhaust pipe set up, speedo/headlight incorporation, spoked rims and wasp like tail section. All up it's a pretty good looking machine.
The Supermanx is powered by a belt driven, 125HP Harley Davidson EVO V-Twin (different engine set ups are available). Power is delivered through a 6 speed gear box and stopping power comes front twin from discs and and a large diameter rear disc with floating caliper. The bike weighs 475lbs wet (215kgs) and ride is smoothened by adjustable Ohlins shocks. With plenty of grunt available at a twist of the wrist American Cafe Racers claim it's capable of speeds in excess of 120mph and they have summed up the whole ride experience on their site with this interesting little quote…"What's a motorcycle without a chain thrashing around beneath you, that you don't have to command and control like a raging bull?
Is it noisy as [email protected]#k as you blip the throttle and pull in the dry clutch, snick it down into first, yell to your mates, and blast off? Does it give you that indescribable feeling, deep in your gut, like you're about to leave everything behind?
Do you feel totally thrilled and alive when you ride? Like there's nothing else that matters? You're out there on the edge, and it's the greatest feeling ever. People in cars seem like fools. Nobody gets it 'cept you! You whack the throttle, grinning like a madman to yourself, swearing. The exhaust bellows, your arms stretch and your grip tightens as you try to hang on… 3rd, 4th, 5th….You blow out that breath you didn't know you were holding, gulp in fresh air as you roll off the throttle, and coast up to the next stoplight. Alive, invigorated, cooler than Dean or McQueen on your Supermanx!".
The recipe sounds right and the bike looks the part but there's a couple of things I'm not sold on. Firstly the price is pretty steep (starting from $39,000USD) especially when you compare the bike to other available alternatives. Also the gold fleck paint won't be everyone's cup of tea although it certainly does give the bike it's individual looks. Then there's the engine…a belt drive on a Cafe Racer? Sure there's heaps of grunt available and they have a range of engine options but purists would find it hard to give up their old chain driven machines for a bit of rubber on a pulley.