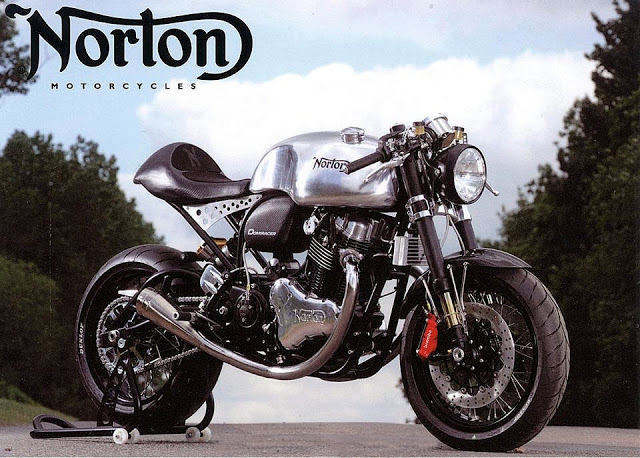 In the early sixties, the Domiracer was a heavily tuned Norton Dominator that produced around 55bhp and was capable of clocking speeds of over 100mph, a first for pushrod engines of its era. The Domiracer weighed 16kg less than it's rival sibling the Manx and was designed by Bracebridge Street Race Shop in the UK. The Domiracer took out first place in the 1960 Thruxton 500 and a third-place finish in the 1961 Isle of Mann TT before the project was shut down when Bracebridge closed its doors.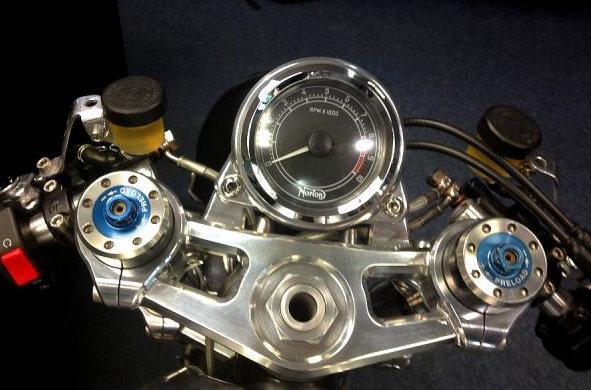 Now over 50 years later the Domiracer is set to return in a very limited run of 50 bikes from the new Norton Motorcycles workshop in Derby, UK. The 2013 Domiracer is built around the new 961cc Norton Commando engine and features a specially designed featherbed style tubular frame. The new bike's bodywork is made up of a lightweight carbon fiber seat, air box, and front fender and a handmade aluminum tank gives it a distinct Cafe Racer style which was the exact intention. The Domiracer was designed to be a modern interpretation of Cafe Racer motorcycles and what better base to use than the modern interpretation of a Norton?
"I wanted to build a bike that was the pure essence of a café racer, with no expense spared. The kind of bike that I would build if I took home a Norton Commando and stripped it down to its bare essentials." – Simon Skinner, Norton Motorcycles


So the Norton Domiracer is a purpose-built, high power, bare-bones street racer but it has one small problem, it's not street legal.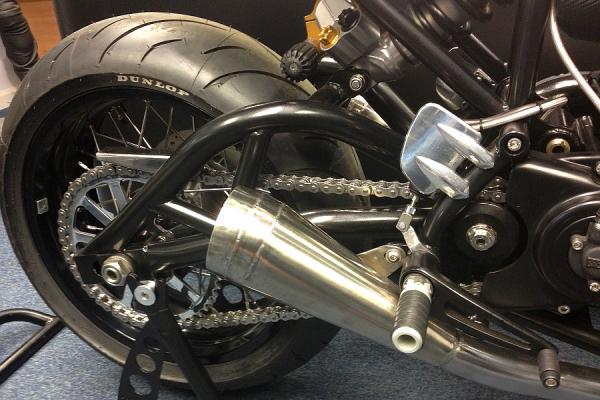 As you can see by these photos the Domiracer features plenty of trick performance parts you won't find on a standard 961 Commando. The stainless exhausts are open ("Sorry officer I couldn't hear your siren over the sound of my pipes!"), the dash features one big tacho ("Sorry officer I have no idea what speed I was doing?"), there's an additional oil cooler up front, Brembo brakes provide the stopping power, a Ducati-esque trellis swingarm secures the back wheel and the fully adjustable Ohlins suspension uses a monoshock in the rear.
To give you a better look at the bike, here's a sneak peek and a review that 
MCN
 did on the Domiracer earlier in the year…
With only 50 Domiracers set for production they are sure to be snapped up fast, but only by those who can afford the £24,000 ($37,500 USD) price tag; and if you'd like to ride it on the street you'd better have an extra  £2,000 ($3,130 USD) handy to cover the street-legal conversion costs. Regardless of the cost, I have to say I think you're money would be well spent. The Domiracer will become just as collectible as its history-making ancestors and in a fraction of the time.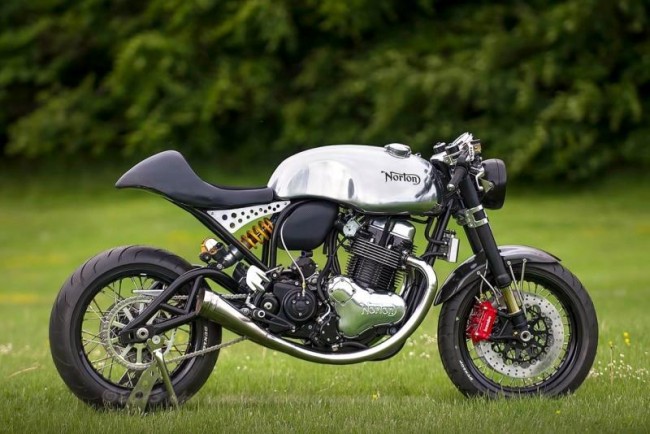 Norton Motorcycles return
to the motorcycle scene has been one of the most exciting announcements I've covered during the time that I've been writing this blog. Not everyone seemed to share my enthusiasm though with the new Norton's receiving some rather harsh criticism. Personally I couldn't be any happier than to see the Norton badge being mounted on the tank of a motorcycle designed and built using modern technology in the spirit of Norton's legendary bikes. Norton played an integral part in the early days of the Cafe Racer scene so you can imagine my excitement when news of the 2013 limited edition Domiracer was released…