Try tying your shoes with one hand behind your back. Now imagine building a custom motorcycle like that.
There's no denying this custom MV Agusta Brutale by ONEHANDMADE in Taiwan is an incredible piece of rolling art. However, once you know more about its creator your appreciation of the bike will be tenfold. That's because it's builder, Queen Houng has limited use of his right arm. Yes, you read that correctly. He built a custom motorcycle better than most able-bodied men could with only one strong hand.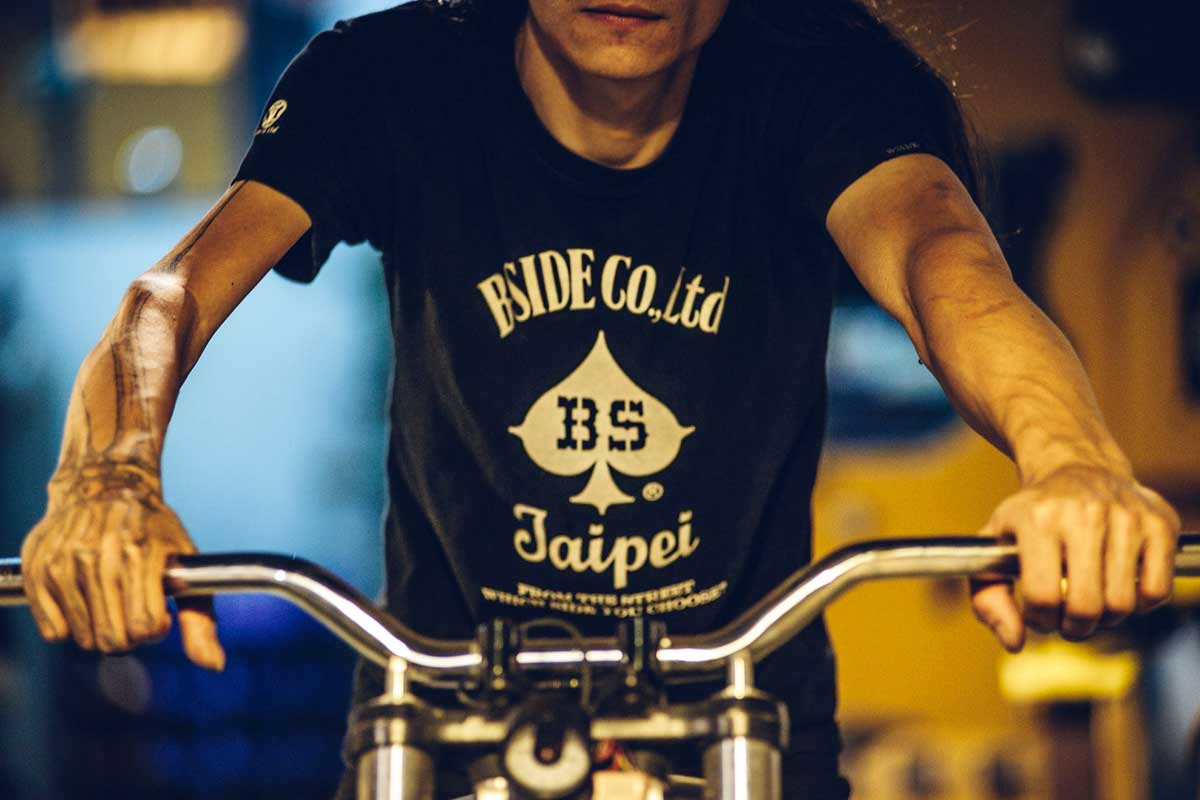 Early in his career, Queen honed his skills by seeking out local mentors and studying Youtube videos. He started out working at a mechanics shop for a measly $100 a month just to get an understanding of how a motorcycle works. Then tt the age of 22, he ambitiously set out on his own. Inspired by photos of custom bikes he'd seen in magazines he began designing and building his own. He continued to learn by binge-watching Indian Larry's sheet metal videos and built relationships with local tool shops where he was shown how to operate fabrication machinery. Then without warning, things took a dramatic turn for the worse.
Queen was hit by a car while riding his motorcycle. The doctors said he was lucky to have not been more severely injured, but one of his most important tools, his right hand was badly damaged. The accident left him with a severed nerve plexus leading to the degeneration of the muscles in his entire arm. But it wasn't enough to stop Queen from following his dream. He began the long arduous road to rehabilitation. It was an endless struggle that he admits he couldn't have done without the support of his wife. She helped him in the workshop assisting with tools and even holding the welding rod while he welded. "She told me 'My hands will always be your right hand.'" Queen recalls. "I will never forget that. It took me a long time to get used to using only my left hand. But I won't limit myself because of that." To continue his riding Queen switched the throttle on his bike to the left and was soon back, where he belonged, in his workshop.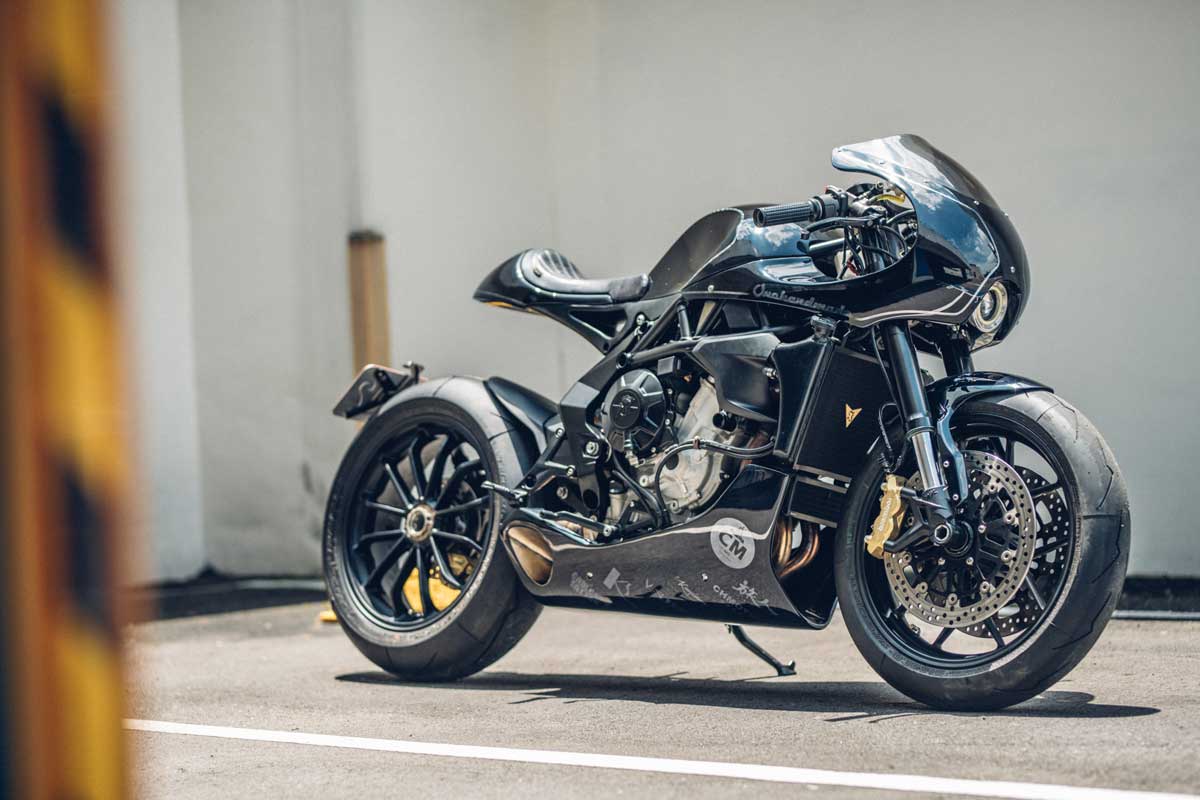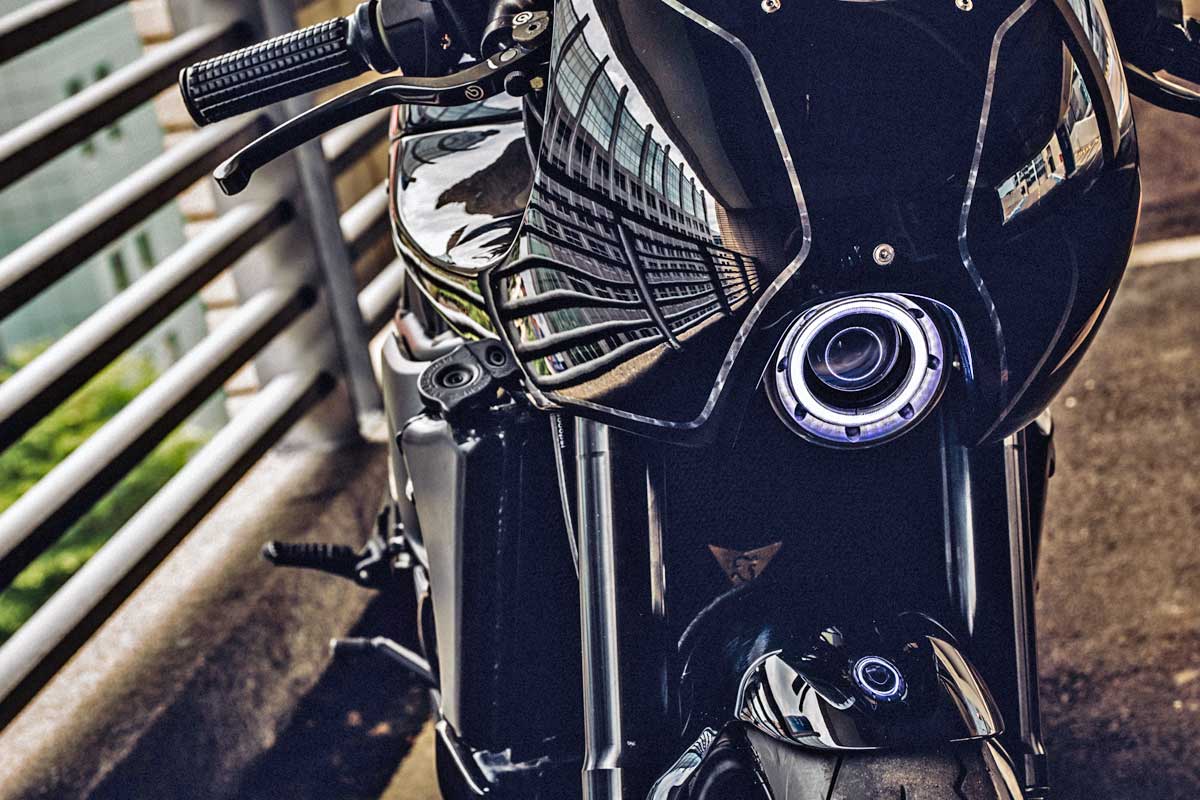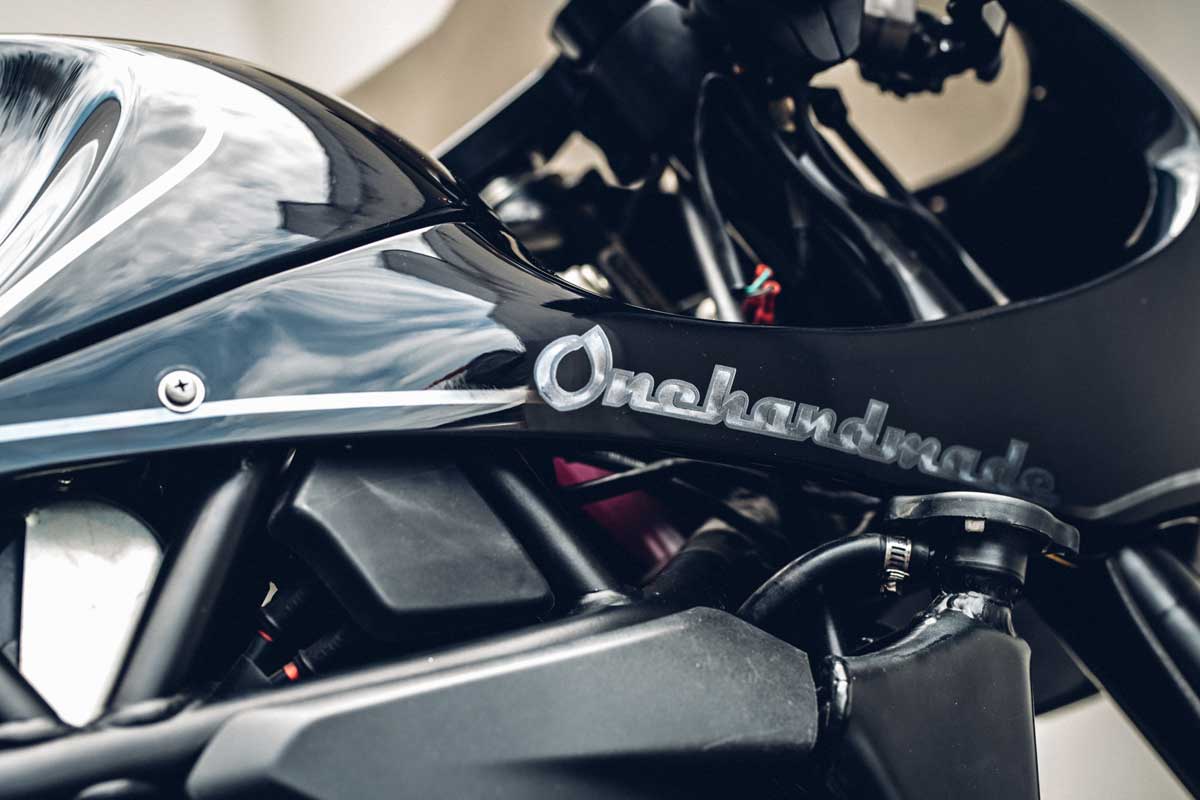 Over time Queen completely transferred dominant use to his left hand. He also built enough strength in his right arm to have limited use of it. Since the accident, he's honed his skills in metal shaping and completes most of the work on his projects himself. One dream he never lost sight of throughout his career and the accident was to one day enter the AMD World Championships of Bike Building. This is the bike he did it with.
Building a Brutal Brutale
The donor for the project was a 2013 MV Agusta Brutale 675. The MV was built for a customer wanting to transform the muscular naked bike into a retro-styled cafe racer. Taking around 6 months to complete Queen admits it was primarily an exercise in styling since the bike already performed great. So he looked at the history of both cafe racers and MV Agusta for inspiration. The aesthetic he settled on was a faired design heavily influenced by MV's own classic GP racebikes.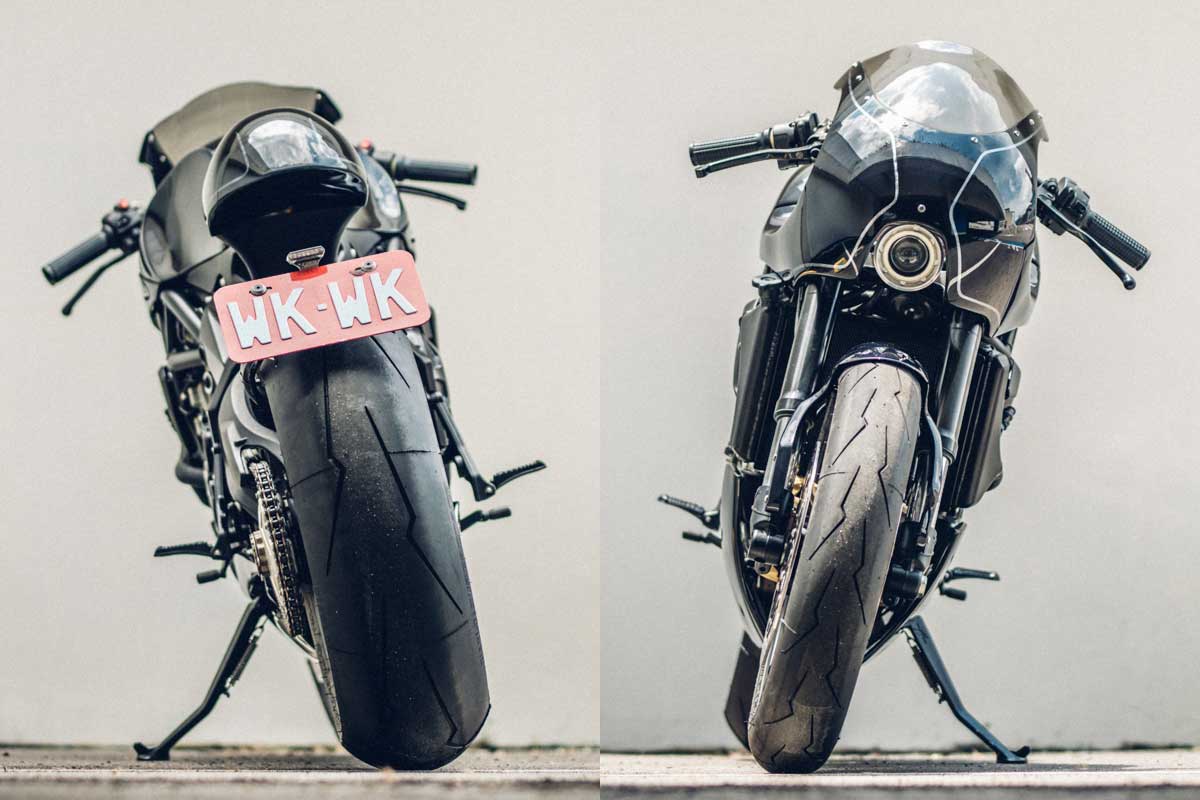 During the build, Queen shaped the MV's new bodywork by hand from aluminium using traditional metal shaping techniques. All of the bike's new bodywork is custom made including the fuel tank, fairing, tail and fender. Queen also added a belly pan to frame the MV's 110bhp 675cc triple inside his custom bodywork. Surprisingly Queen doesn't do much in the way of pre-build design work. You won't find any 3D renders or even hand sketches laying around his shop. Instead, he works from his head, assessing and modifying as required throughout the build process.
Other work completed during the build of this Brutale cafe racer includes a complete custom 3-into-1 stainless exhaust. The entire system lives inside the alloy belly pan and exits just in front of the rear wheel. To work with the new fairing the front end utilises clip-on handlebars and a CNC milled top clamp that keeps things looking clean. The rear end is supported by a custom made subframe and the headlight and brake lights both custom too.
As for aftermarket additions, the anodized alloy grips and very well hidden indicators are from the Motogadget catalogue. Brembo provided an upgraded master cylinder and the seat is by Kingsman. Although the bike has an air of retro about it Queen installed modern Pirelli Diablo Supercorsa V2 rubber to avoid compromising performance. There's also a gold EK chain to compliment the Brutale's factory gold Brembos.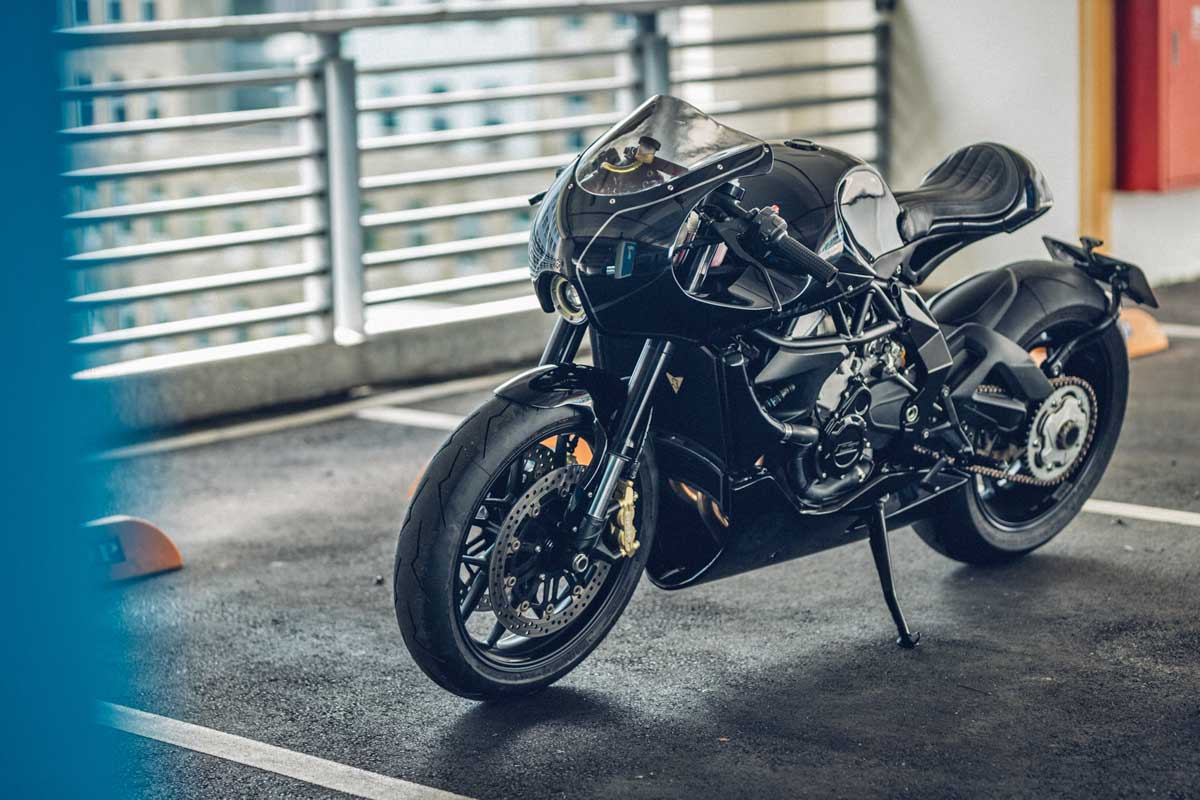 One of the only tasks Queen didn't complete himself was the bike's paintwork. For this, he tasked local experts Incross Custom Art with laying a timeless black and silver scheme. The MV's belly pan wears racing livery style mentions of the build partners and Queen's own ONEHANDMADE brand runs along the sides of the fairing. Look closely and you'll also see that those pinstripes are actually unpainted, burnished sections of alloy showcasing the bodyworks aluminium core.
During its inaugural appearance at the AMD Championships Queen's MV Agusta Brutale placed ninth in the 2019 Street Performance class. A respectable achievement for any builder, let alone one with Queen's disadvantage. Thankfully he doesn't look at it that way and promises to be back in 2020 with his sights clearly set on taking home a first place trophy… and I have no doubt he'll do it.
Photography by JL photography