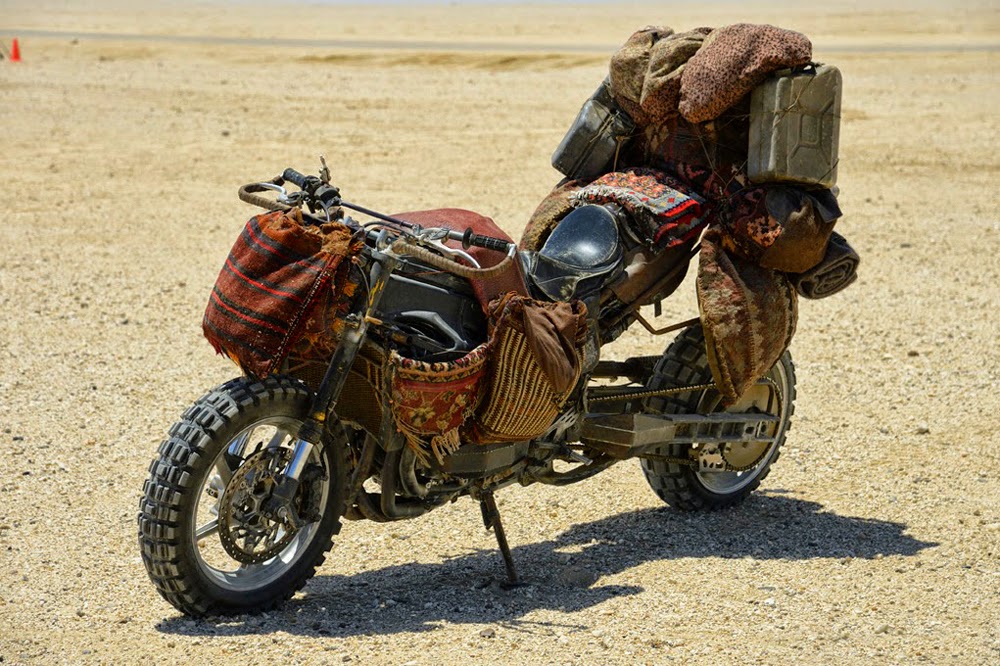 Starting with Max Rockatansky's bike, he was given his motorcycle by the Vuvalini women, fully loaded with supplies as thanks for helping Furiousa and the 5 wives during their attempted escape from the War Boys and Immortan Joe. As I said the bike has some rather questionable upholstery draped all over it, but underneath all that gaudy tapestry is what looks to be a Yamaha R1!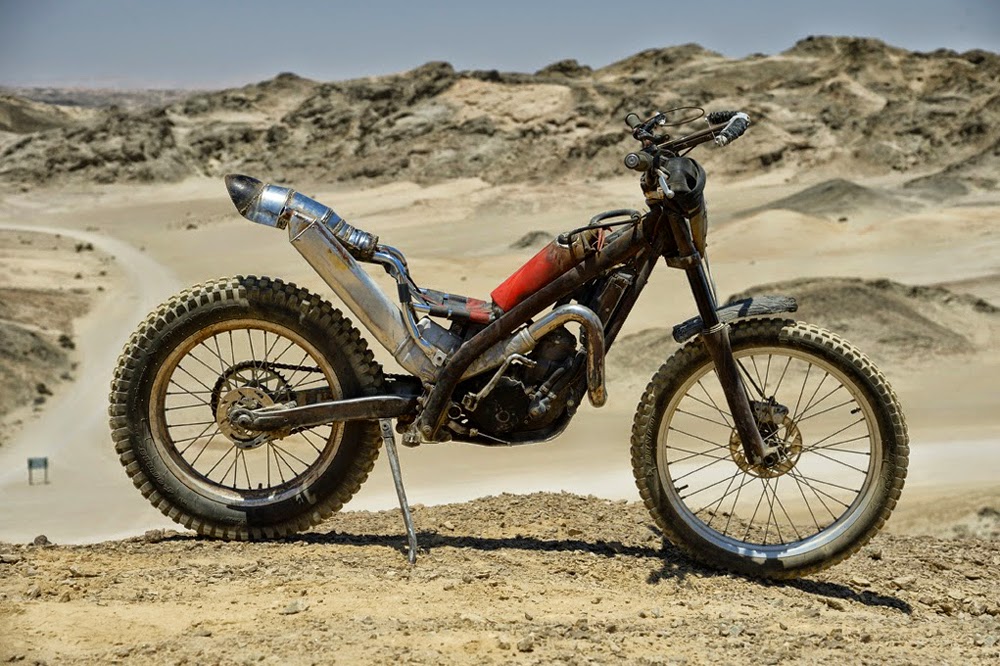 The bad guys, which are made up of several different gangs that pursue Max and Furiousa in their war rig, drive an array of post apocalyptic, two and four wheeled vehicles. Half way through the film they come across the Rock Rider gang in some narrow, rocky canyons. These guys all ride bikes based on MX and trials motorcycles like YamahaYZ250F's and Gas Gas TXT250's (pictured above).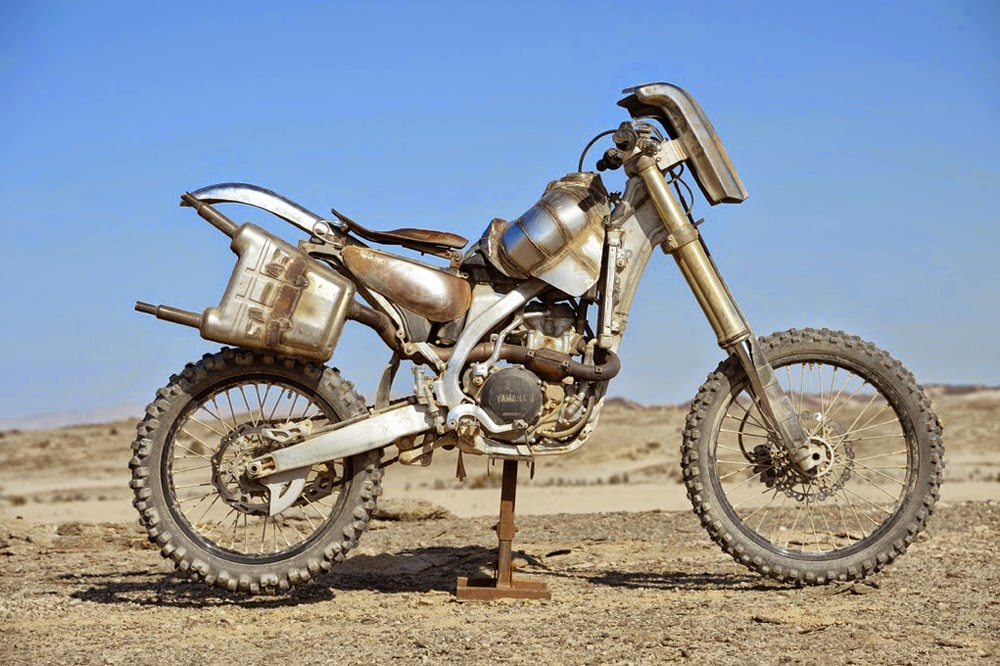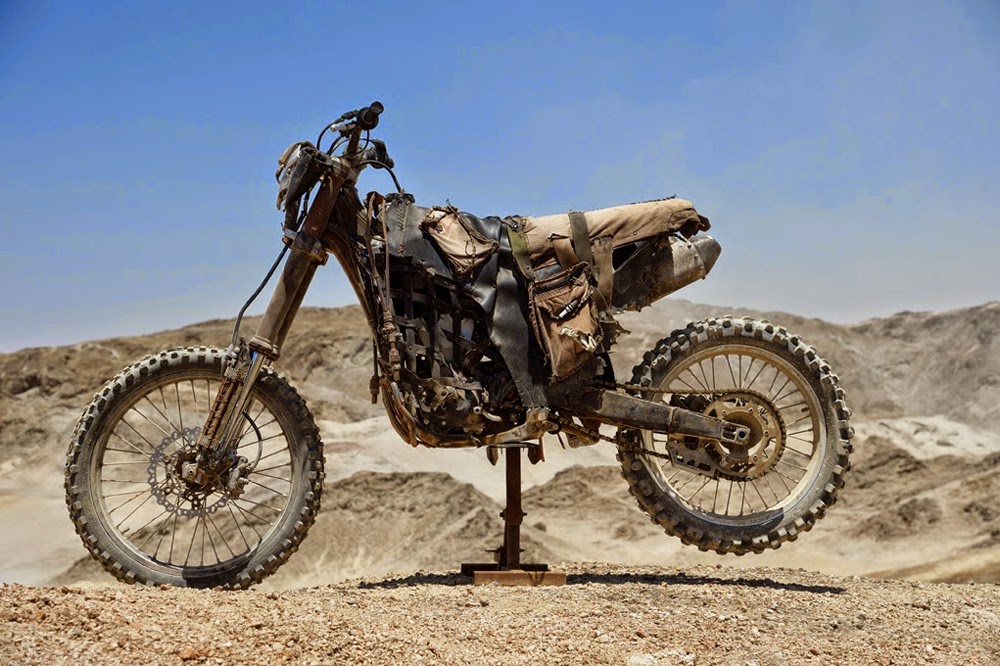 Production designer Colin Gibson worked with his team to convert the bikes into their Fury Road form. They used an array of general household items and miscellaneous vehicle parts which they bolted to the stripped down frames, removing paint in favour of raw steel and adding plenty of desert patina for added realism. Then to ensure they looked as good in action as they did standing still Aussie MX champ Stephan Gall was called in to coordinate the riding action.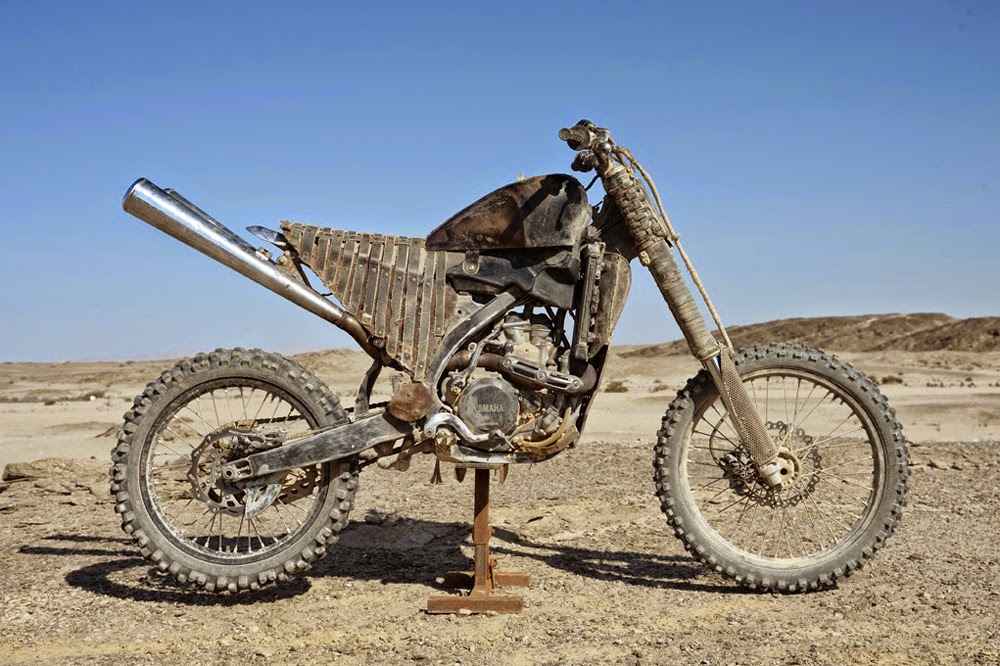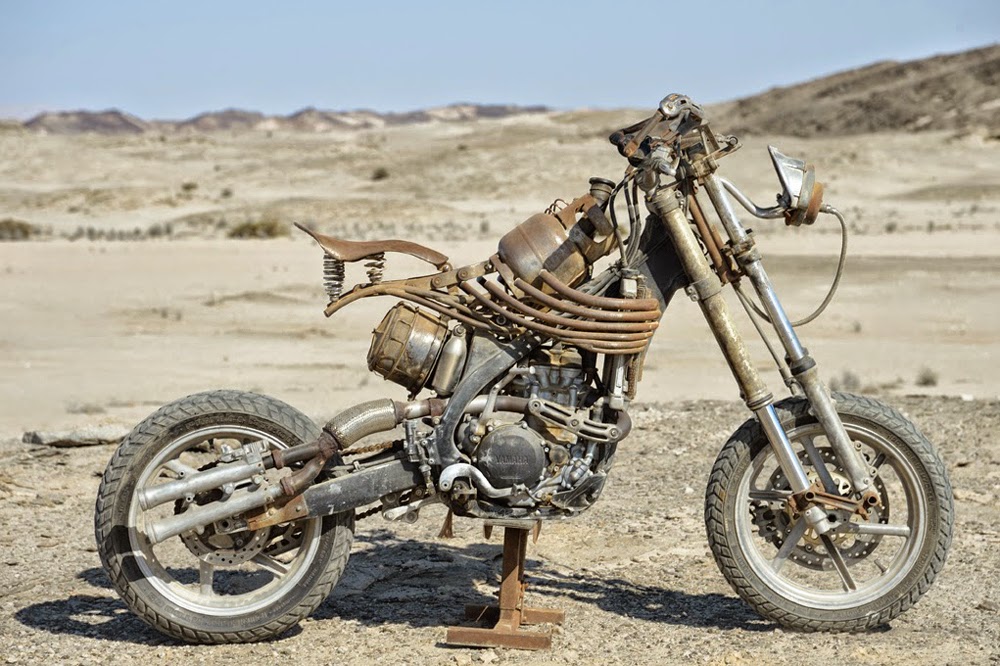 Other bikes ridden by members of the other gangs were more suited to flat plain, high speed desert riding. With extended hill climber swing arms, chunky tyres and boom sticks strapped to the back these desert sleds were based on larger capacity, heavily modified street bikes.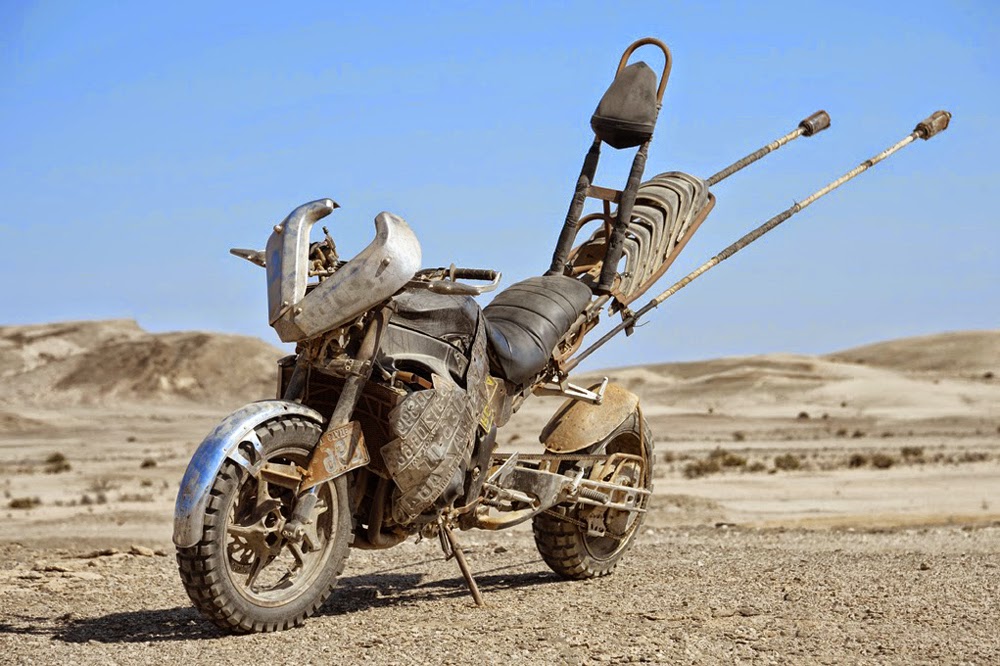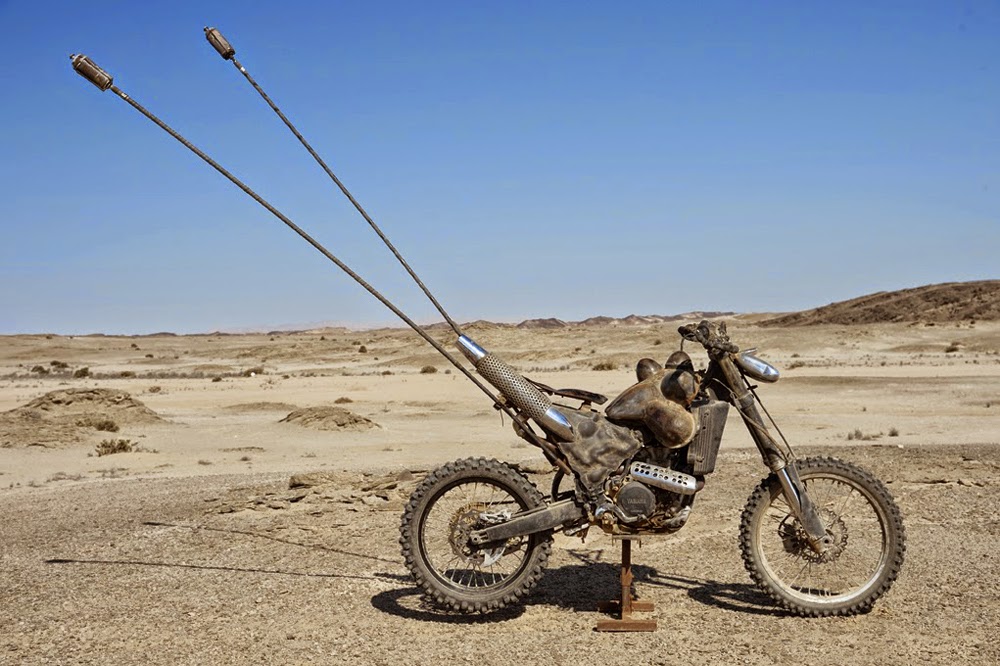 The following bikes are introduced into the film when Max and Furiousa stumble across the Vuvalini women out in the middle of the desert thanks to Megan Gale getting her kit off and screaming from the top of an old powerline (as you do in the desert). Most of the bikes in their group are tourers from marques like BMW, Honda and Triumph, but there's also a few unexpected, high powered beasts amongst them such as Max's R1.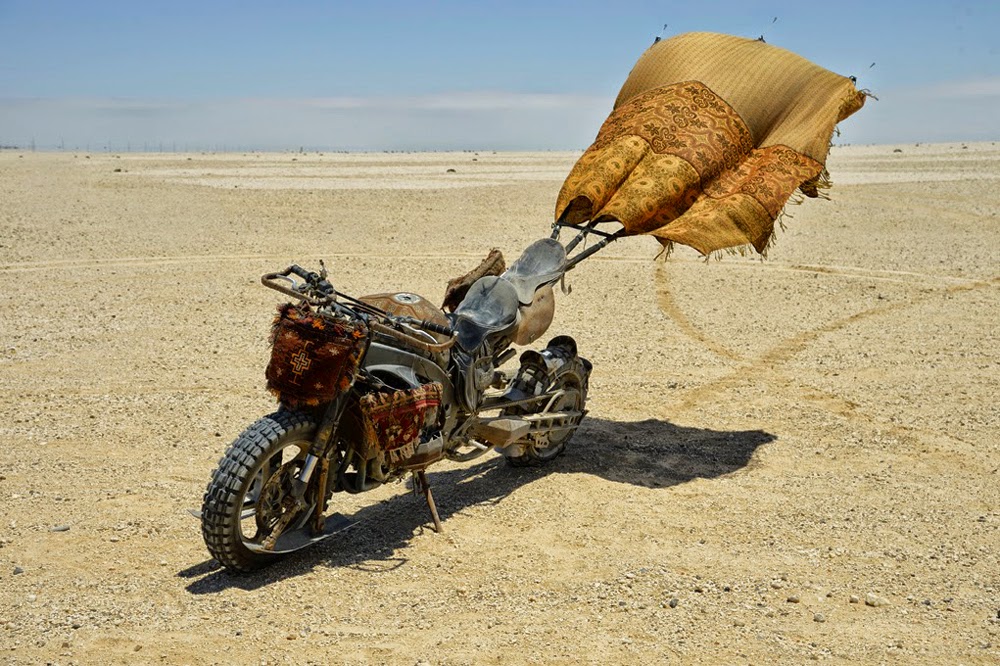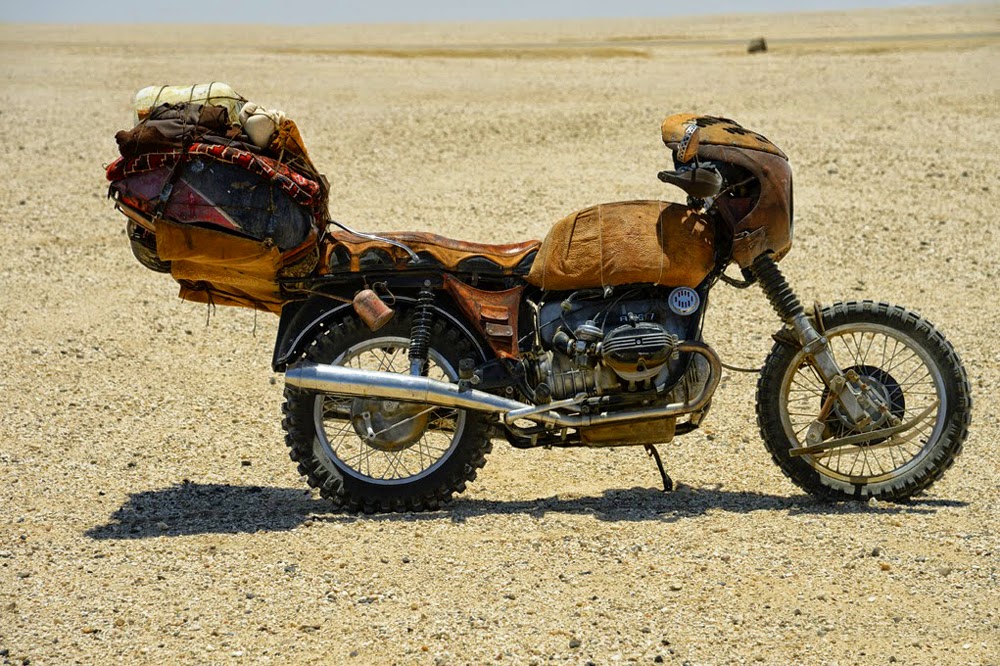 To give their motorcycles a more "feminine" look the Fury Road designers then wrapped the Vuvalini bikes in leather and added things like sails, trinkets and Persian rug off cuts. The Honda Goldwing below even got it's own feather tiara making it the envy of every leathery skinned, irradiated desert dame.
Furiosa's BMW (below) looks to be a BMW R80 engine in an R69 frame (please someone correct me if I'm wrong). Although it is heavily modified this is one of the more easily recognised motorcycles in the film thanks to the prop designers taking advantage of how cool the airhead motor looks in it's original state.
If you haven't seen Fury Road yet I'd suggest you do while it's still on the big screen.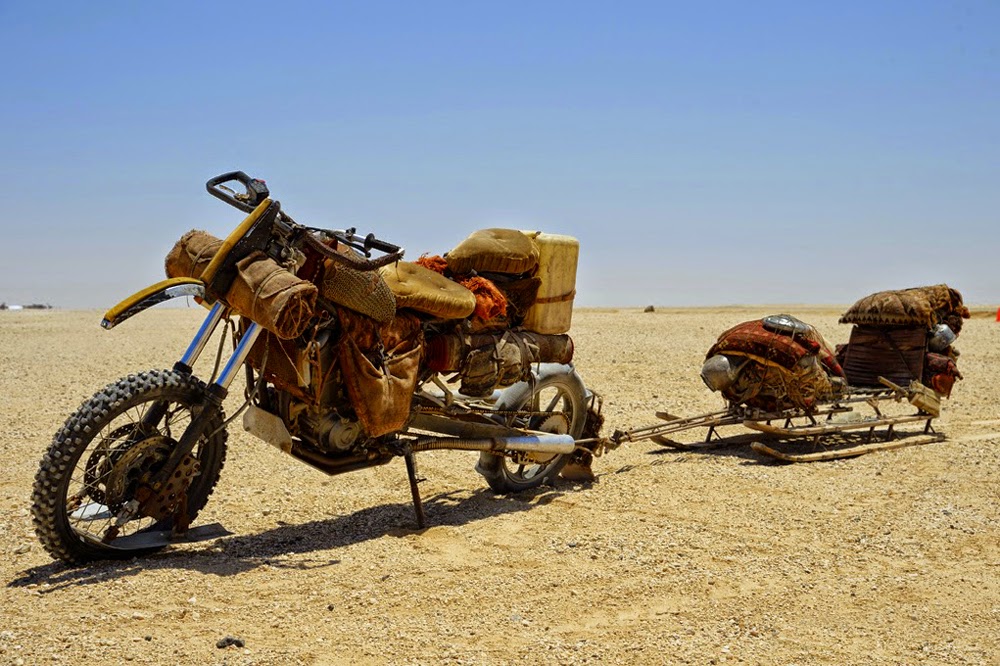 Let me start by saying, I loved the new Mad Max Fury Road movie! Although the script was minimal and Max did seem to be somewhat overshadowed by Charlize Theron's character Furiousa, it was explosive, action-packed insanity from start to finish. For all of those revheads out there (like me) the vehicles would have been just as important to you, if not more, than the rest of the story and trying to recognise makes and models of both the post-apocalyptic cars and the motorcycles in the film added an extra level of excitement. Fury Road was also the first time in the entire Mad Max series that we've seen Max climb aboard a motorcycle and although it was fleeting (and covered in carpet) it was great to see. So now that the film's out I think it's the perfect time to take a look at some of the Mad Max Fury Road motorcycles that starred in the film…