Sometimes we forget that riding gear goes beyond what we use to cover our skin. The Nixon Landlock GT backpack is an all-terrain backpack designed to keep everything that isn't your body, safe from the moment you step out your front door.
Having firmly established themselves as a quality brand in the surfing, skating, snowboarding, and mountaineering scenes, Nixon is now broadening their horizons. And with the Landlock GT backpack, things are looking very promising.
As you would expect from something labelled as all-terrain, the Nixon Landlock GT is as comfortable outdoors as a moss-covered log in the forest. It's just meant to be there. Nixon says that their Landlock collection has an "alpine-inspired design", which comes through when you're looking at the finished pack, mixed with a kind of military-style that gives the impression of practical preparedness. A 1200D ballistic nylon shell also means the Nixon Landlock GT can handle the rigours of outdoor use and abuse.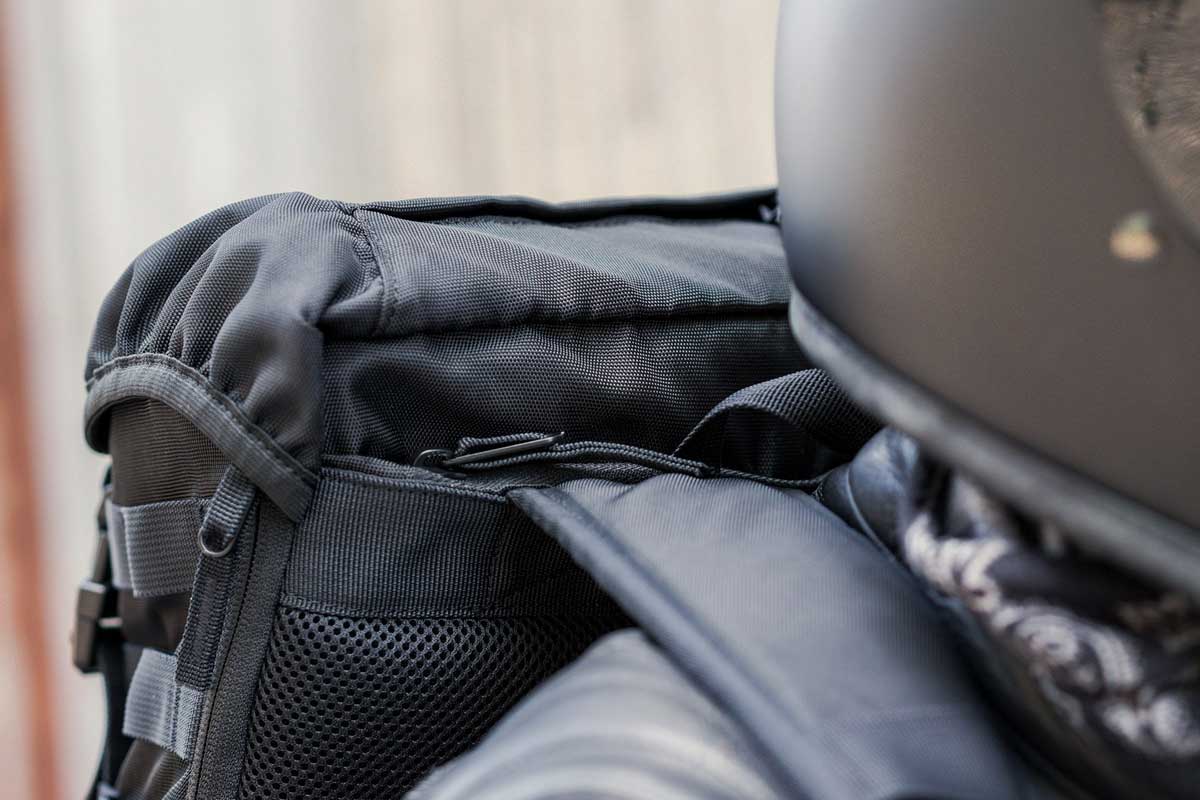 With a body measuring 50cm x 33cm, inside the 33L pack you'll find a plethora of different storage options. Inside the main gear compartment, There's a plush-lined pocket for more precious items – phones, sunglasses and the like. There's also a padded, zipped pocket that can accommodate a 15″ laptop, several organisation pockets, a removable cord organiser and a stretchy mesh pocket. On the outside, you'll find even more storage options. There are pockets that can take care of delicate quick access items, a full length back compartment and even more mesh pockets. You'll also find highly adaptable Molle webbing running across the front of the pack for securing items that don't belong inside. To keep your belongings safe the bag closes with a drawstring and a double clip flap. The Nixon Landlock GT makes no claim to being 100% waterproof, but it'll stave off mother natures worst long enough for you to seek shelter.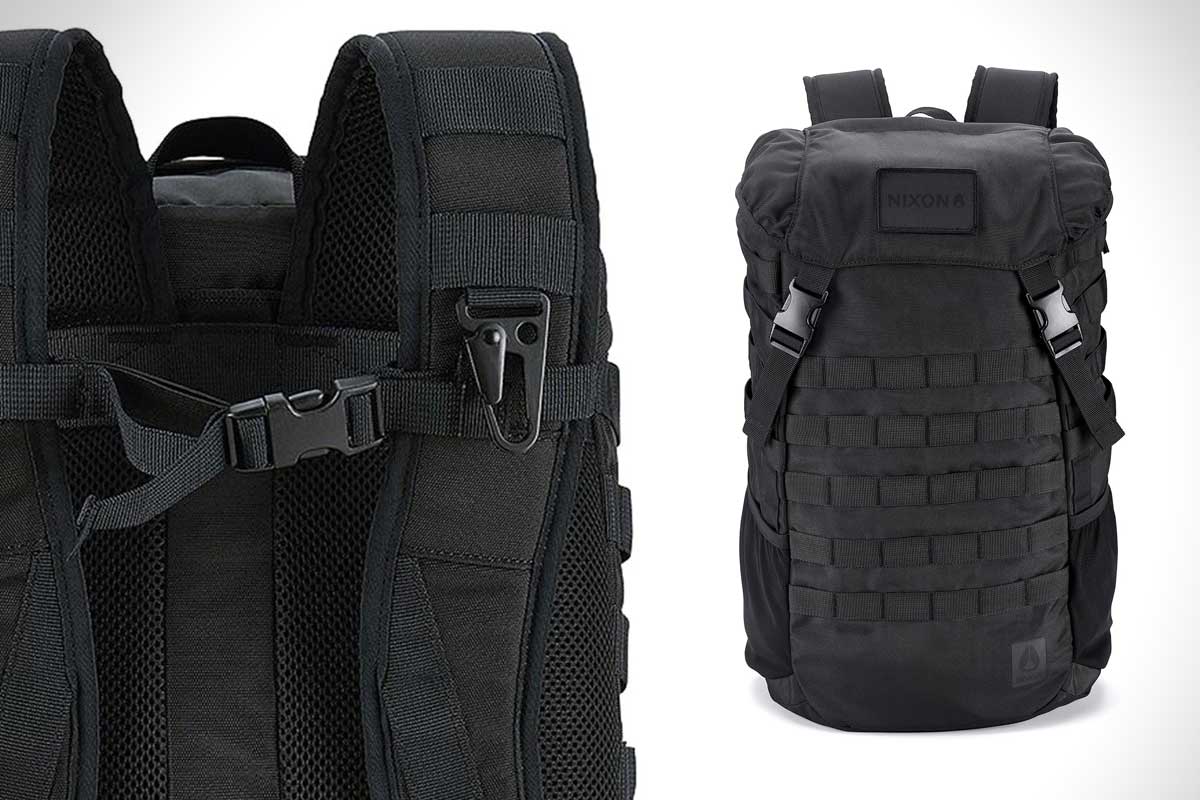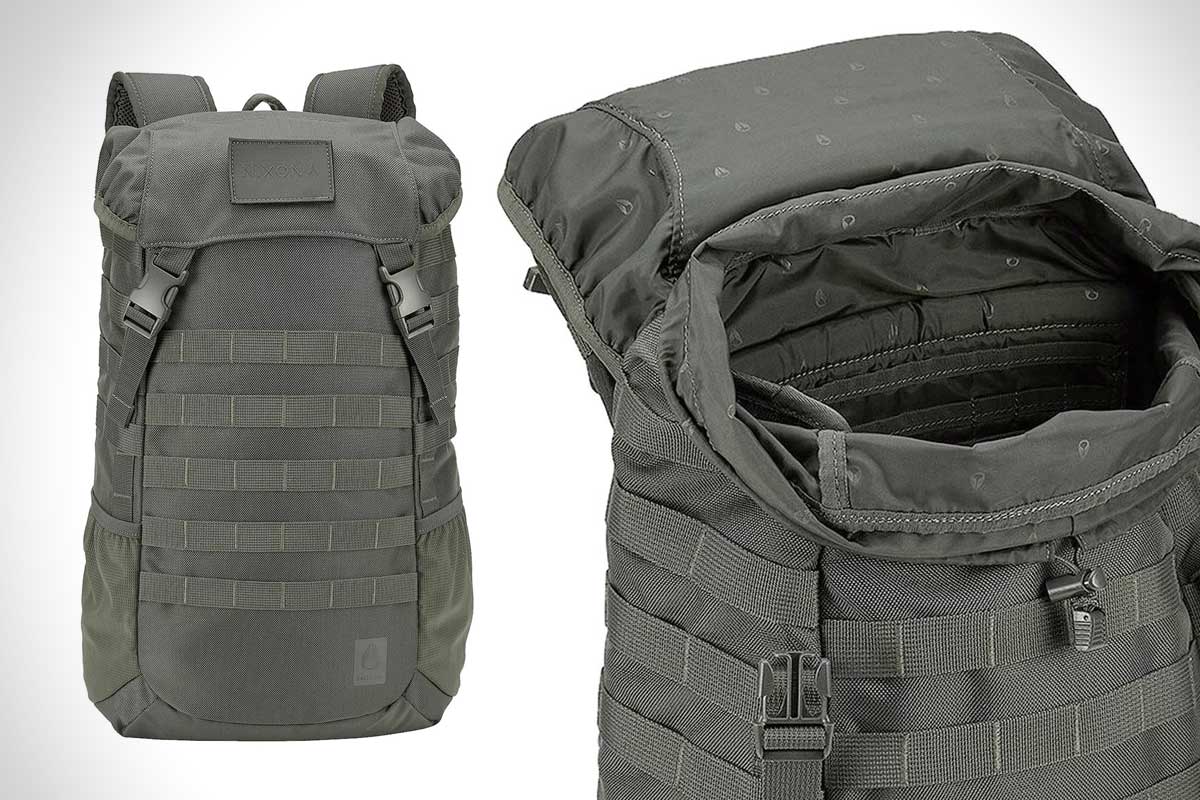 When it comes to choosing a colour you get 2 options. There's either a classic black or muted graphite and all of the hardware on each style is colour matched. Nixon has kept branding to a minimum and the large velcro Nixon patch on the front can even be removed if you want to go completely incognito. As for on-bike comfort, the wide shoulder straps are padded and the adjustable sternum clip will help to reduce shoulder strain.
Every year, dozens of backpacks fit right into the all-terrain, outdoor market. But they're often a one-trick pony, either made to withstand nuclear fallout and resembling a patchwork of kevlar vests, or nailing all the design and style features, but tearing open at the first sign of rough and tumble. The Nixon Landlock GT backpack, however, balances these two aspects perfectly and is ready for wherever you are in the world.
Story by Liam Champagne