Down here in the southern hemisphere things are heating up! Temperatures in Western Australia during the Christmas break can average around 30°C (86°F). So to be reviewing a waterproof motorcycle jacket right now feels a bit strange. But when new gear lands on my desk I find it very difficult to resist the urge to try it out straight away. So, despite the searing temperatures outside, when this REV'IT! Flare 2 waterproof jacket arrived I put it straight to use.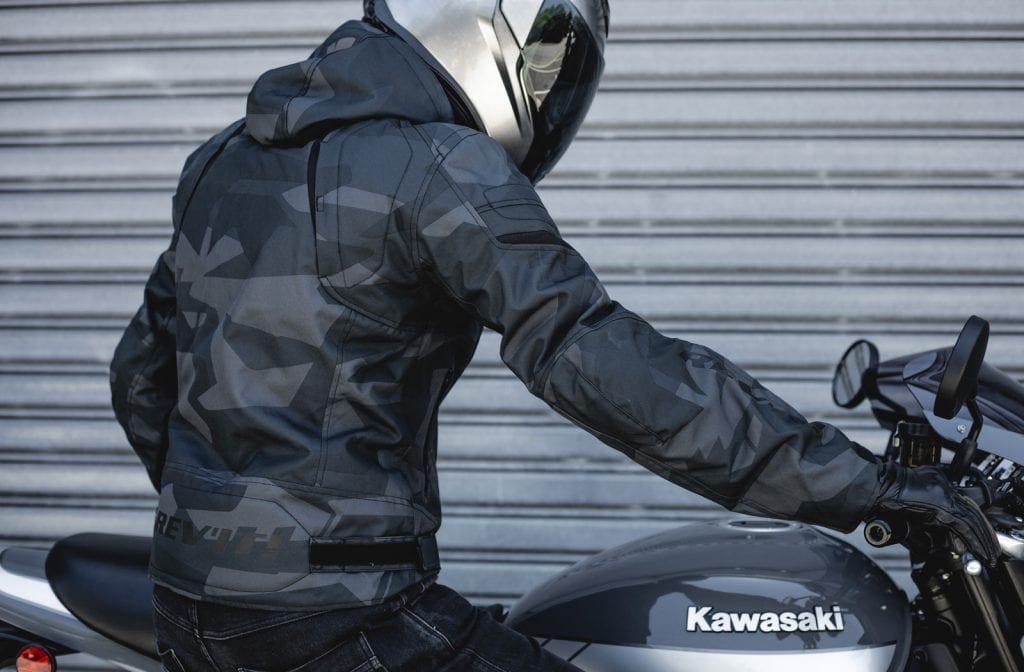 The REV'IT! Flare 2 is one of the brands top-selling motorcycle jackets and it's easy to see why. Available in a range of tech camo designs and featuring streetwear styling it looks great both on and off the bike. For the purpose of our review, I went with the black version which is actually a mix of grey tones. This colourway goes perfectly with the latest addition to the Return of the Cafe Racers stable, a grey Z900RS Cafe. But to be honest, this jacket would look good on pretty much any colour bike. Unlike other camo print motorcycle gear, the Flare 2 black and dark green use very muted colour palettes resulting in subtle finish rather than a garish military look. If you're after something a little louder you can always check out the more radical green option (see below).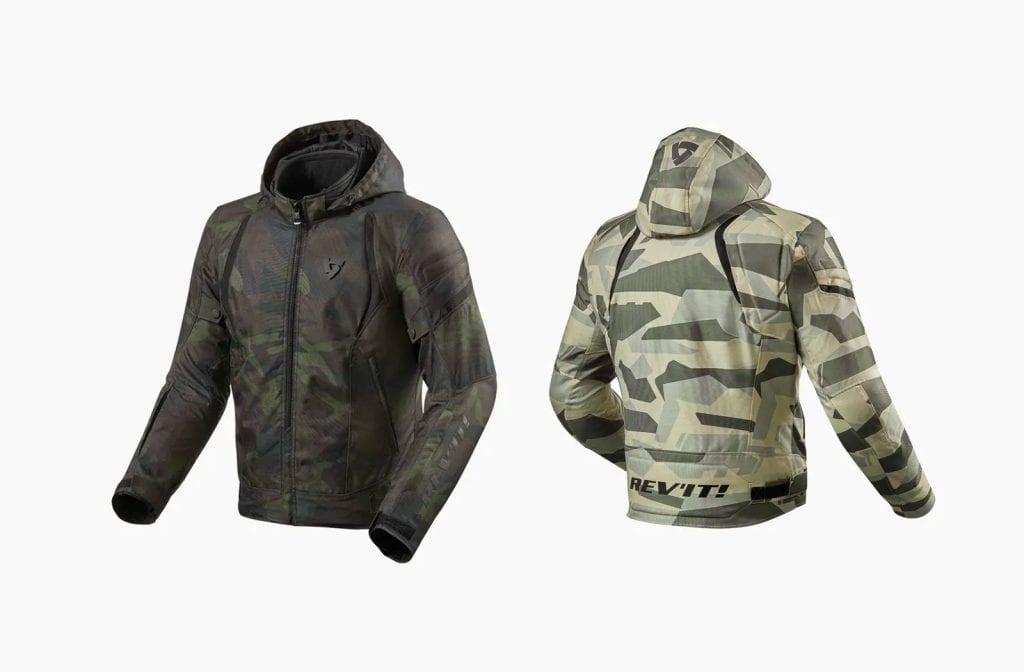 The first thing that struck me about the Flare 2 is how well made it is. This is the first REV'IT! jacket I've owned and I was instantly impressed. There were no loose threads, cheap fasteners or iron on emblems. Everything here oozes quality and boasts the kind of attention to detail and pride in craftsmanship I look for in my riding gear. After all if they spend this long making it look good it's sure to function well too…right?
All of the Flare 2 seams are double-stitched and neatly finished. The inside of the jacket continues the premium theme with everything finished to a similar standard. I'd class the fit of the REV'IT! Flare 2 as a sports bike jacket. I say this because the jacket sits short as most sports bike jackets do and because of the stocky looking elbow and shoulders. Don't let you put this off though. The Flare 2's urban streetwear aesthetic means it'll look right at home on any modern classic or custom ride too.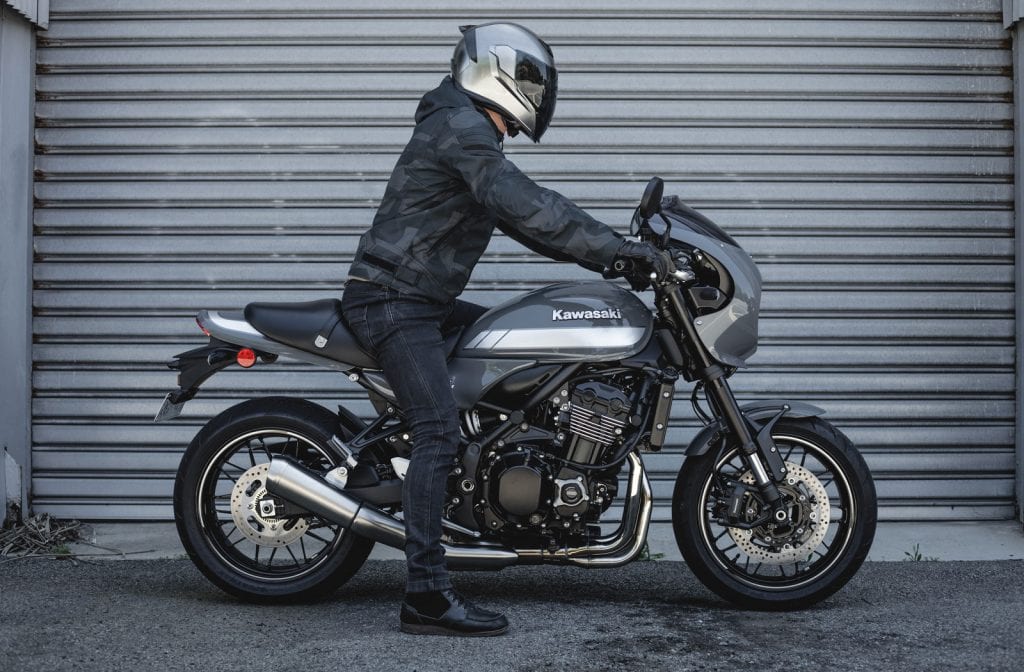 One feature of this jackets design that is sure to divide opinions is the hood. Personally, I'm a fan of the look and have other hooded riding jackets in my collection. What appeals most about the hood of this jacket is how REV'IT! have considered it's functionality on the bike. A hood on a motorcycle jacket can act as a parachute at high speeds, pulling the collar back and putting pressure on your throat. To prevent this from happening the Flare 2 hood secures to the back of the jacket using a press stud.
Since this jacket is intended for use in the rain the hood also features 2 drainage holes so you won't get doused with water when you go to use the hood after a wet ride. Additionally, if the idea of having to wear a hood all the time doesn't appeal the hood of the Flare 2 is removable for those times when you want to ride hood free. I've done over 1000km wearing the Flare 2 at suburban and freeway speeds with the hood in place and I haven't considered removing it yet.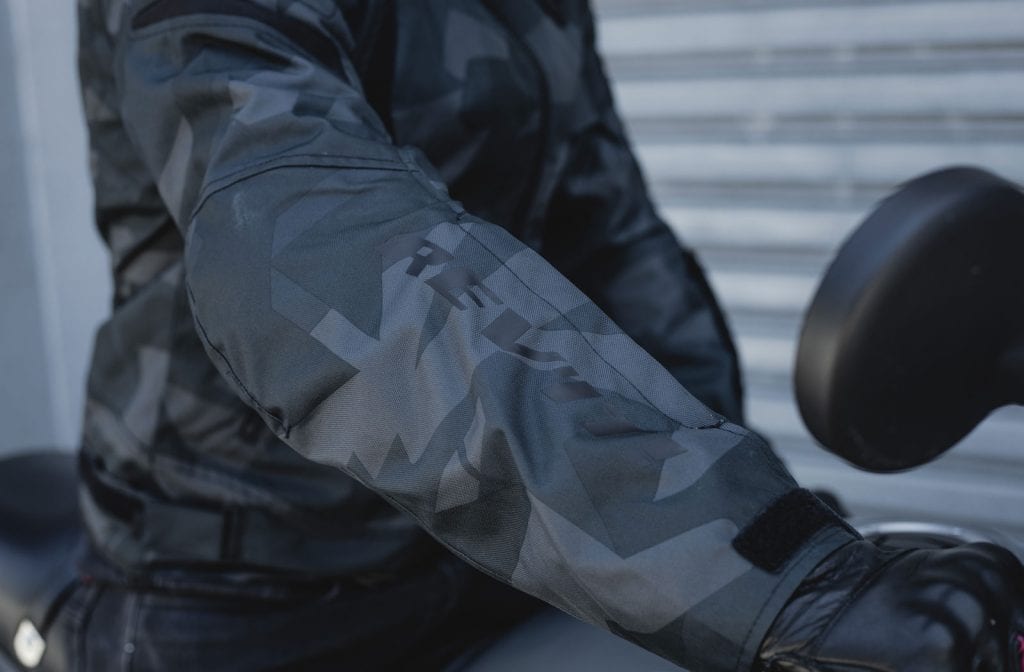 Most of my riding so far has been in temperatures ranging from 77°F (25°C) to almost 104°F (40°C) so I've opted against the use of the jacket's thermal liner. Heading out in such warm conditions in a jacket that appears skewed towards winter riding had me a little worried. I was half expecting to arrive at my destination soaking wet from sweat, but that was not the case.
To prepare the Flare 2 for hot weather riding I left the collar slightly open, folded the weather guard behind the main zipper to one side, opened up the pockets at the waist and unzipped the ventilation openings on each sleeve. These few options along with a pair of permanent vents on the back are the extent of the jacket's ventilation offering. Surprisingly, they worked very well. The forearm vents, in particular, outperformed my expectations. Even at lower speeds, they managed to channel air up arms, past my armpits and around to my back. This meant that even after a day-long ride (around 4 hours) on a 100°F day I remained comfortable.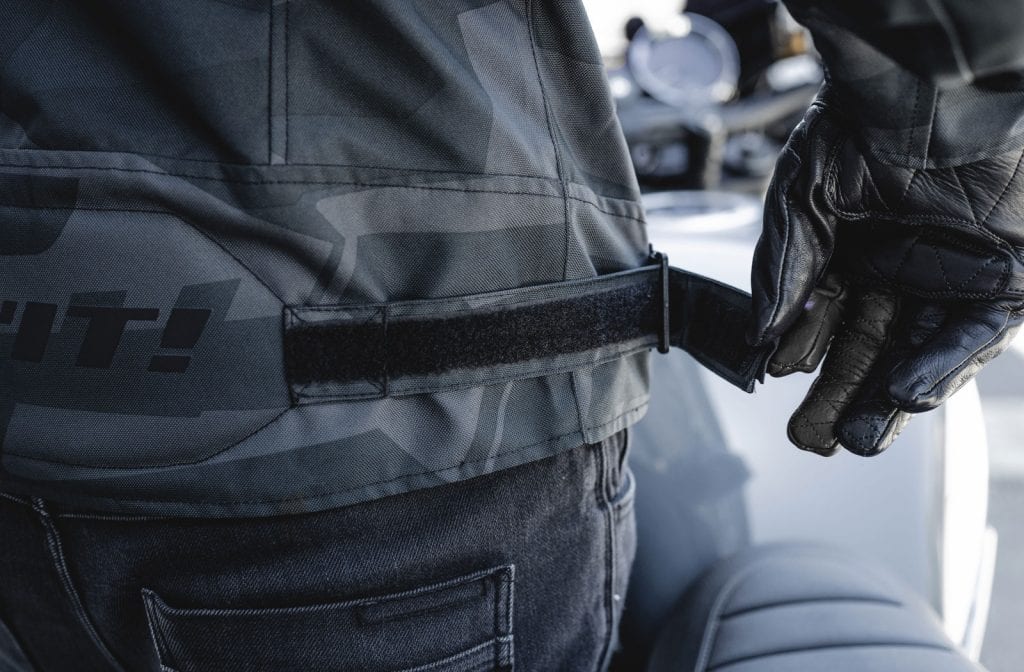 In terms of fitment, the Flare 2 offers a few areas of adjustment. There is a hook and loop cinch on either side of the waist, 2 stage button adjusters on the biceps and hook and loop adjustment at the wrist.  Overall I found the fit of my medium jacket was accurate and in keeping with other jackets I own. For those worried about shorter jackets not offering enough protection, the Flare 2 features a REV'IT! pant fastener which can attach to any pants in their range or be combined with one of their specially designed Safeway belts for use with other brands of riding pant. And if storage space is what you're after the Flare 2 isn't the solution. Two waist pockets and a single internal one are the extent of its offering.
When it comes to rider safety the REV'IT! Flare 2 is constructed from 600D polyester which provides the extent of the jacket's abrasion resistance. Included with the jacket are shoulder and elbow Knox body armour inserts. You also have the option of adding a Seesoft back protector but that is sold separately for an additional $50USD or so. The armour is comfortable and flexes well but has a bulkier appearance than alternatives like D30. I've become used to the natural look of D30 so seeing myself with swollen elbows and shoulders again was a bit strange. However, as you can see from the photos, they aren't so pronounced that it looks unnatural. Another nice safety feature of the Flare 2 is the addition of a reflective REV'IT! emblem on the hood. This helps to increase your presence on the road in low light conditions which is always a good thing.
Since I'm reviewing an all-season jacket in the peak of an Australian summer there are features of the Flare 2 I've yet to fully test. This is, of course, the ability to keep you dry in a downpour and warm in winter. Without having put either of those factors to the test I can only tell you how REV'IT! has equipped the Flare 2 to do so. The jacket's waterproofing is managed by a Hydratex G-liner which keeps the water out without sacrificing breathability. The lining forms a comprehensive waterproof barrier within the jacket and the main zipper is backed by a weatherproof flap. When temperatures drop the Flare 2 thermal liner can be easily installed using an internal zipper and 2 button clasps inside each sleeve.
Overall I've found my experience with the REV'IT! Flare 2 to be a positive one. The fact that is such a great looking jacket obviously helps here, but if it didn't perform well I'd quickly dispense with it. REV'IT! does of course offer jackets specifically for summer riding, but I like gear that offers year round functionality, which I would say the Flare 2 does. I'm so pleased with the jackets performance that it's my new go-to jacket for the foreseeable future. I'm hoping when things start cooling down it will continue to perform exceptionally. My gut feeling is it'll handle anything our climate down here throws at it with ease.
Photography by Regular Moto