Despite a global pandemic, in 2020 there were 53,111 motorcycles reported stolen in the USA. And that was 10,000 more than the previous year! It doesn't take a genius to figure out that means the chance of your bike being stolen increases every day. Secure storage, bike locks, alarms and being smart about where you park your motorcycle are all good methods of reducing motorcycle theft. But even though you may have done everything you can to deter would-be thieves, there's always a chance it could still happen.
The sheer number of motorcycle thefts taking place means that the police aren't going to be releasing an APB for your stolen motorcycle. Surprisingly, there is about a 46% chance you'll get your stolen motorcycle back, but there's no knowing how long that will take and what condition your ride will be in when it does eventually return home. So what more can you do to help the authorities locate your stolen motorcycle fast?

Moni Moto 7 GPS Motorcycle Tracker
GPS tracking devices are the answer but don't go thinking a $30 Apple Airtag is a good solution. What you need is a purpose-built tracker that'll keep tabs on your motorcycle from the moment it's stolen and deliver regular, accurate information on its whereabouts. The Moni Moto 7 Tracker does exactly that and it's one of the more reasonably priced solutions for GPS motorcycle tracking on the market.
The Tracker 7 is Moni Moto's latest GPS motorcycle theft tracking device. It's compact, wireless, easy to hide and is supported by a regularly updated phone app. Once you have purchased the unit the only ongoing cost is an affordable, once-a-year subscription fee.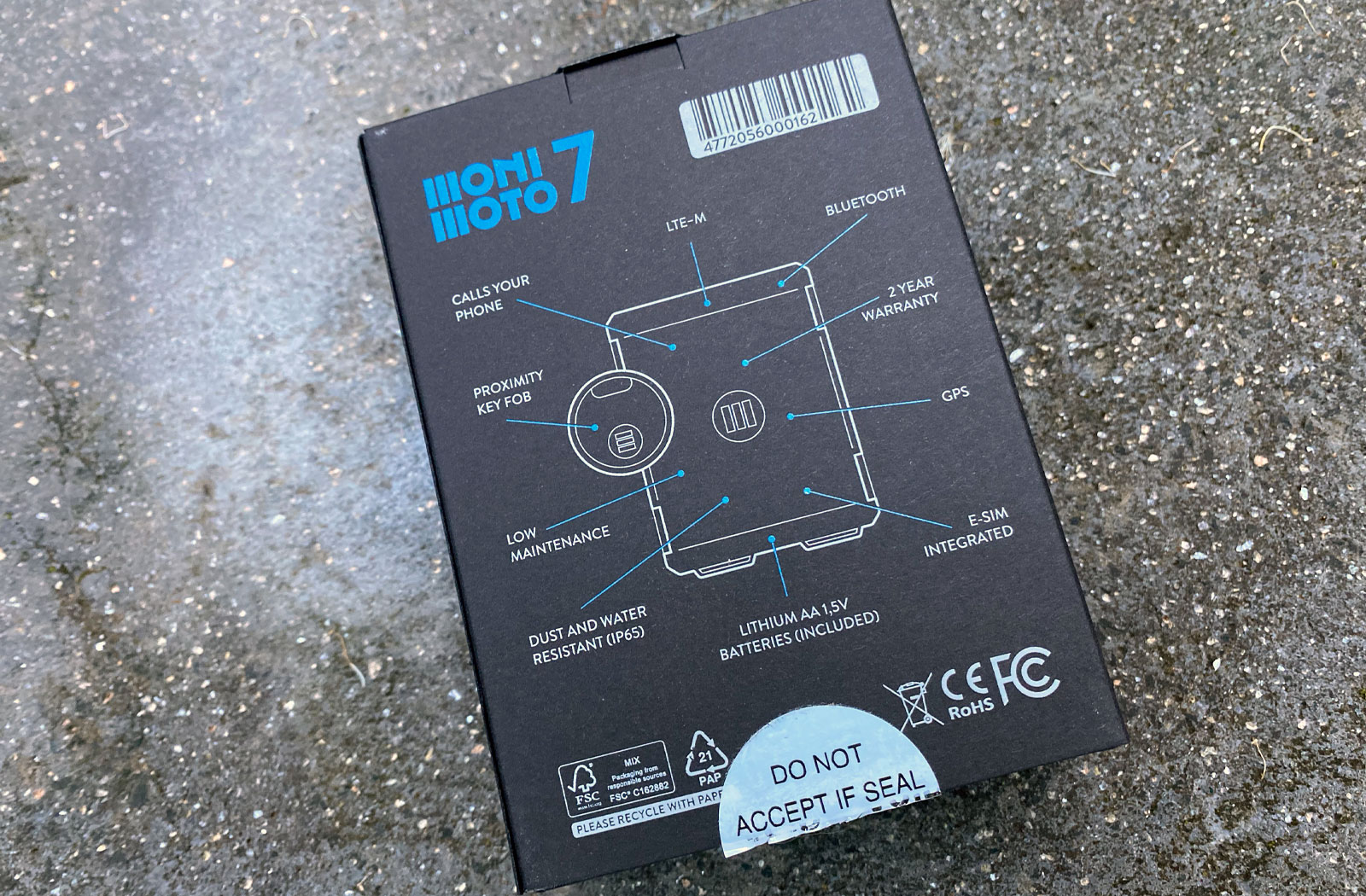 What's in the box?
The upfront cost of the Moni Moto 7 Tracker is $199 USD which includes 2 months of free use. After that, you'll pay a modest $49 USD a year to keep the eSIM within the unit active.
Inside the Moni Moto 7 Tracker box, you'll find the rectangular tracking unit that is slightly bigger than the palm of an average-sized hand. Inside the unit are a pair of long-life rechargeable batteries and an e-Sim. The unit also comes with a 1.5-inch round key fob with its own battery installed, 2 reusable zip ties and some basic instructions.

Moni Moto 7 installation and set up
Another benefit of the Moni Moto 7 Tracker is how easy it is to set up.
After removing the unit from the packaging you open up the panel in the back and remove the tab at the end of the batteries. When this is done a red LED will light up momentarily, followed by a green and then a quick red flash to indicate the unit is active.
Next, you download the Moni Moto app onto your phone (available for both Apple and Android). Upon first launching the app you need to give it permission to send you alerts and provide it with a phone number. This is so that the unit can alert you with a phone call when it detects suspicious activity.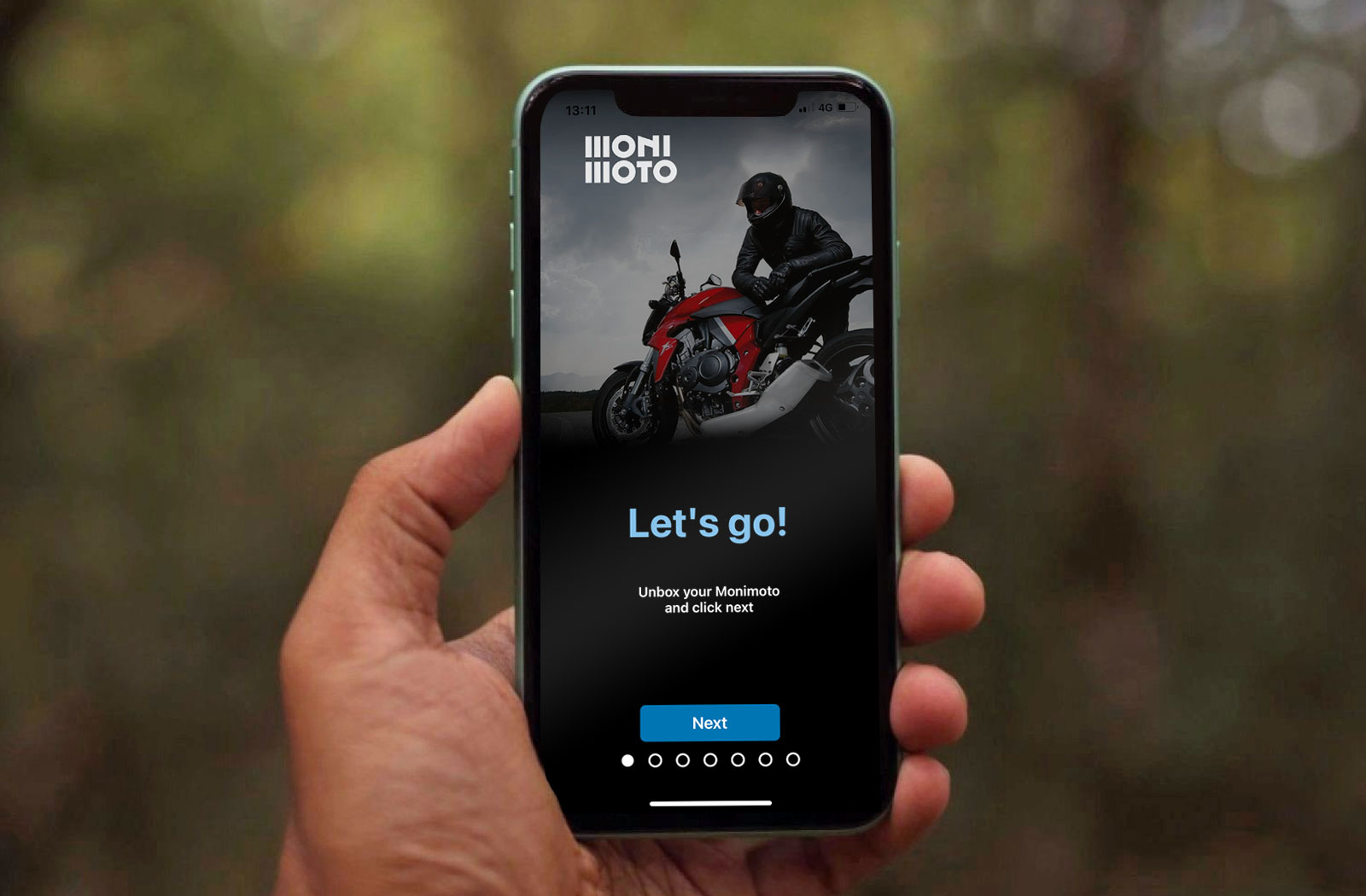 The app then walks you through the set-up process. This involves selecting which model tracker you purchased, pairing the unit and key fob with your phone, giving the unit a name (in case you have more than one) and if required updating the unit's firmware using Bluetooth. The tracker will then send you a text message letting you know it's ready to go and asking you to save its number in your contacts. To ensure you will be suitably panicked when this happens I'd recommend giving it a name that's hard to ignore. I saved the number in my contacts as "BIKE THEFT ALERT".
Once those steps have been completed, attach the key fob to your motorcycle key and use the zip ties to attach the Moni Moto 7 tracking unit to your motorcycle. For that last step, it is of course a good idea to find a well-hidden location for the tracker on your bike. Under your seat seems like the most obvious place, but its best to place the unit somewhere harder to reach. This is because experienced thieves are aware of GPS trackers and under the seat is the first place they will look. The Moni Moto 7 Tracker unit is IP65 water and dust-proof so it can be exposed to the elements.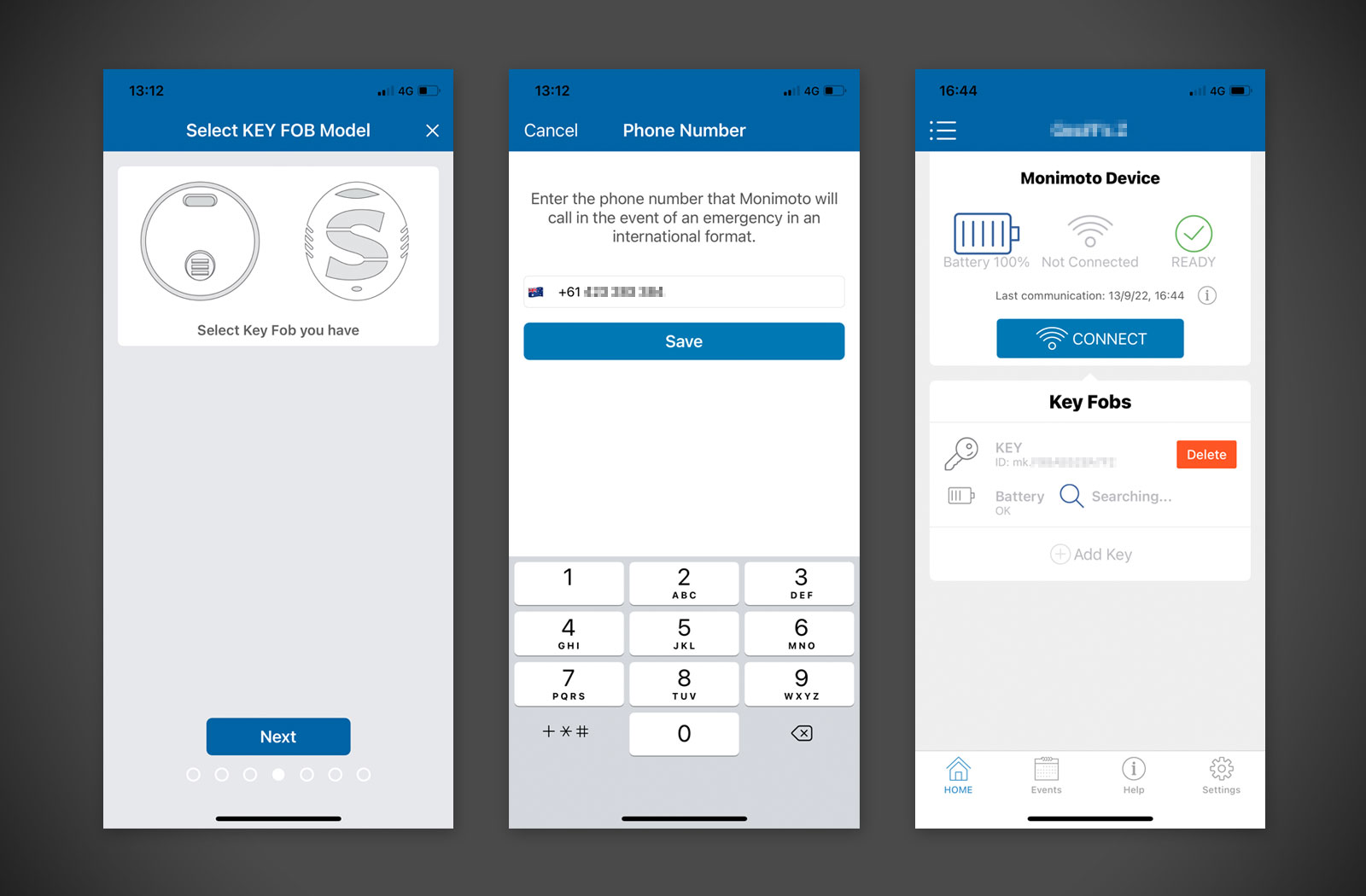 How the anti-theft GPS tracker works
After you've completed the set-up process and attached the tracking unit to your motorcycle it's ready to go. When the Moni Moto key fob is in close proximity to your motorcycle the unit is disarmed. When you move it away the unit will automatically arm.
While armed if the Moni Moto 7 tracker detects any movement of your motorcycle it goes into alarm mode. When this happens the unit calls you on the phone number you provided and sends a push notification via the Moni Moto app. The Moni Moto unit will then continue to give you location updates every 5 minutes or you can request live updates which will be delivered at 1-minute intervals. This allows you to either track the motorcycle down yourself (not recommended) or direct police to the exact location of your motorcycle to apprehend the thief.
Another interesting feature of the device is its 'active tracking' mode. This is designed to allow you to track the motorcycle even if the alarm hasn't been activated. This would of course be useful if someone stole your key with the fob attached and then used it to steal the motorcycle.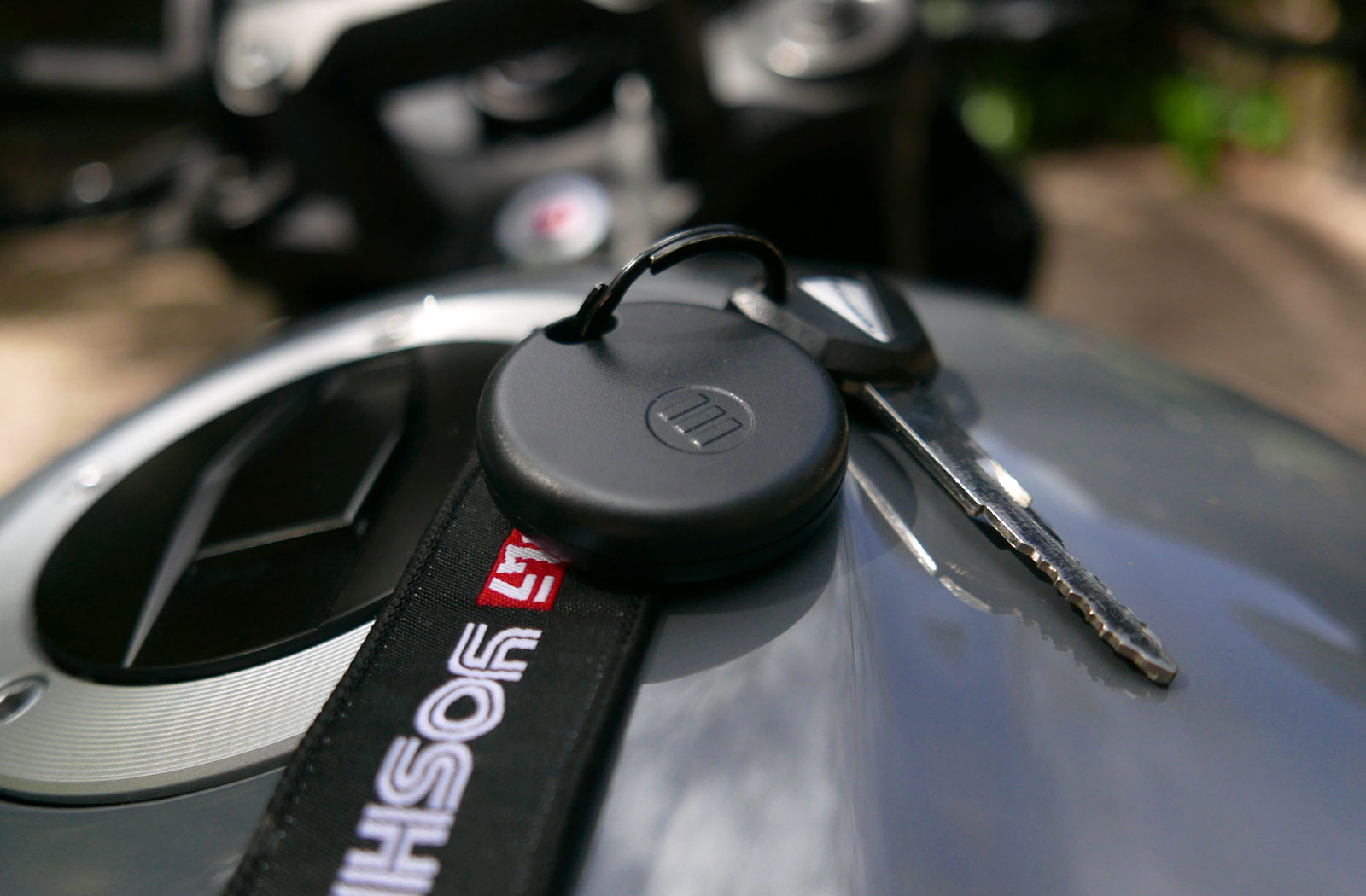 Moni Moto 7 GPS Tracker Test Results
Moni Moto has a straightforward method of testing that the GPS tracker is functioning properly. It involves moving the fob key at least 50m away from your motorcycle, switching off Bluetooth on your phone and then moving your motorcycle. So that's exactly what I did.
After pushing my motorcycle a few meters from where it was parked it took around 1 minute for the unit to call my phone. Soon afterwards came the push notification letting me know something was up. In the Moni Moto app, an alarm icon appeared and when tapped, it displayed a notification with a GPS coordinate. This then clicked through to a map so I could see exactly where the bike was. As expected the location it displayed was spot on.
I will always take precautions to reduce the chances of my motorcycle being stolen, even with the Moni Moto 7 Tracker installed. But knowing I can track my bike down fast if some low-life does decide to steal it makes the cost of this motorcycle GPS tracker worth every penny.
Available from: White's Powersports (AUS & NZ) / Revzilla