Wearing motorcyclist ear plugs while riding is something I wish I'd made a habit of earlier in my life. I suffer from tinnitus (ringing ears), mainly from going to rock concerts in my youth, but riding motorcycles hasn't helped the situation. If I do any freeway riding without ear plugs my ears end up ringing louder, which means I'm doing more damage. People without this condition probably won't experience the ringing, but rest assured the same damage is being done.
For years I have been buying disposable ear plugs in bulk to tackle this issue. I knew there were specialised motorcyclist ear plugs on the market, but after seeing how much a custom made pair cost I took the cheaper option. The much more affordable disposables do their job well, but I find they are awkward to fit and wasteful. Worse still, they block out too much noise. This basically means I'm one sense down and the last thing you want on a motorcycle is to be less aware.
Recently I was contacted by EarPeace, a company who specialise in noise protection and offer motorcyclist ear plugs. I was offered the opportunity to try out a set and agreed to give them a go. Along with a nice affordable price point, the EarPeace M ear plugs offer a feature that was of particular interest to me, the ability to adjust how much sound they actually block. So I ordered a couple of pairs from Amazon and awaited their arrival. Then it was announced that Australia was going into a complete pandemic lockdown. This meant no riding of motorcycles for me until the restrictions were lifted. Not an ideal scenario for a riding gear product review, but rest assured I found plenty of other ways to test this product.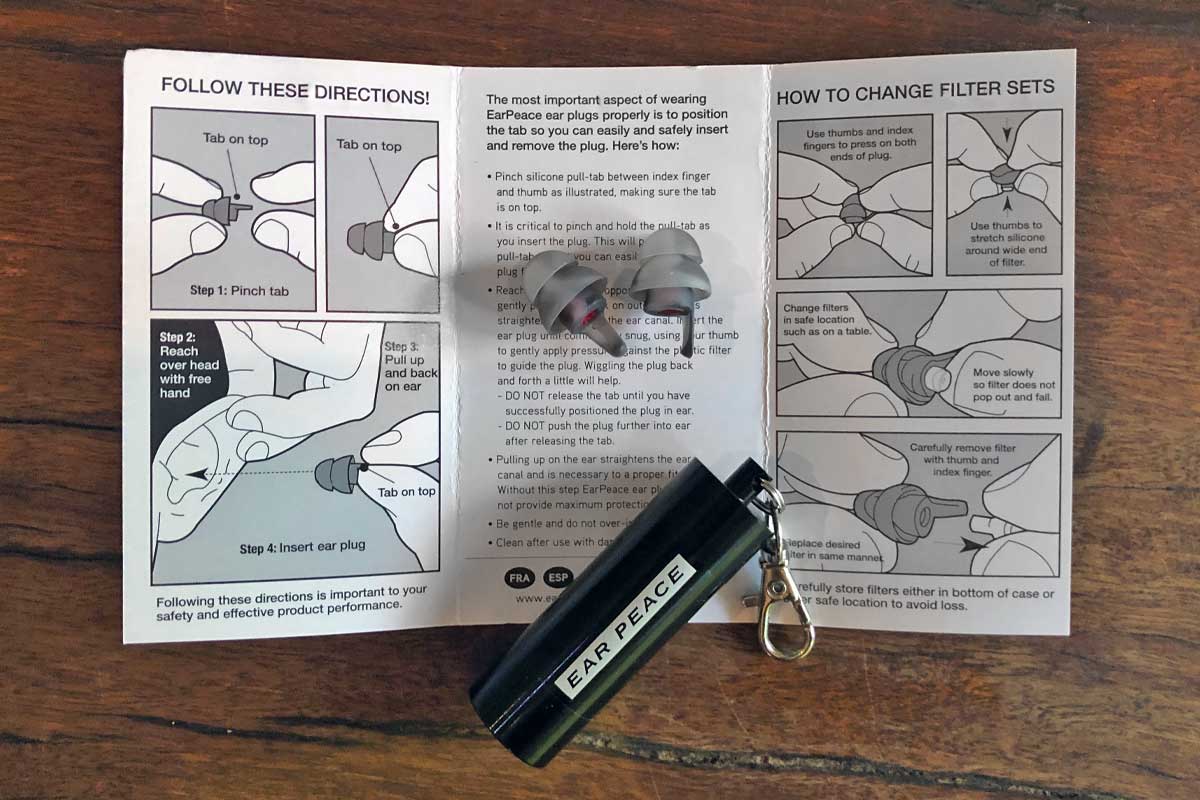 The EarPeace M motorcyclist ear plugs are made from soft, hypoallergenic silicone. This means they can be cleaned and reused indefinitely and that they are very comfortable to wear for extended periods of time. The design is similar to your average in-ear headphones and uses a double flange construction to create a steadfast seal.
Insertion of each ear plug is made easy using a simple tab that you grip between your index finger and thumb. With your other hand, you reach over, pull up on the top of your ear to open up the ear canal and slip the EarPeace in. The whole process, including removing the ear plugs from their carry case, takes under one minute to complete.
When you purchase a set of the EarPeace M plugs the box contains 3 ear plugs. This is a nice way of extending the life of your purchase should you lose a plug. There is also a neat aluminium carry sleeve which can be clipped to a set of keys or inside a jacket. What makes these motorcyclist ear plugs special though is that the level of noise cancellation they offer is adjustable. With each set of EarPeace M, you get 3 sets of noise filters. The different noise filters come in clear, red and black and each offers differing levels of protection.
Clear = Medium protection. Suitable for most loud events. Rehearsals, dance events, movies are all examples.
Red = High protection. Suitable for live concerts and festivals.
Black = Max protection. Total noise blocking for situations that demand it such as sleeping in noisy environments.
Installing the filters into the ear plugs is a simple matter of rolling the silicone back. You can then remove the current filter and swap it out with another. The filters are small so I suggest doing this over a clean surface. The EarPeace website offers in-depth information on how their ear plugs are rated according to European and United States testing standards, but I'm not going to pretend to understand all that. Instead, I just put them to the test.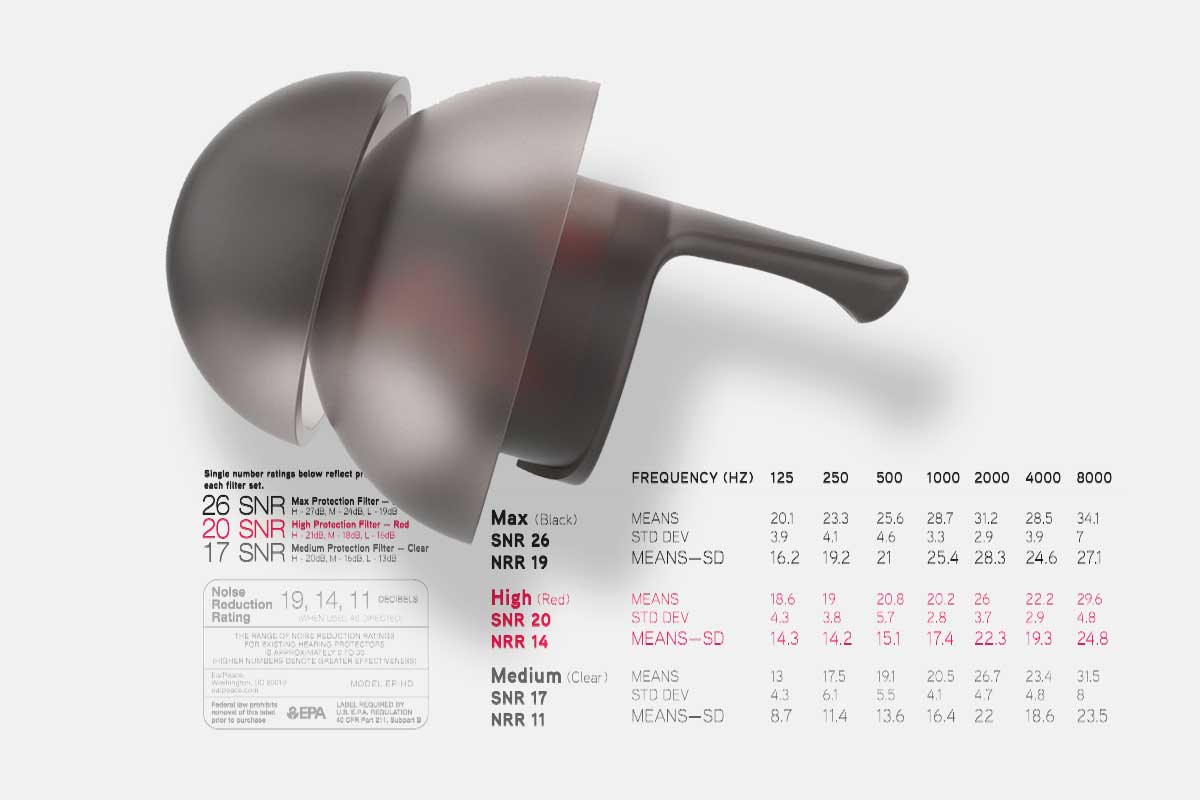 Despite being unable to go riding I found other ways to put the EarPeace M to the test. During the lockdown, I have been on a rural property where I had access to a wide range of seriously loud tools and found plenty of opportunities to use them. The tools I used while wearing the plugs included a 2 stroke post hole digger, several different petrol powered chainsaws, a grinder, nail gun and even a rifle.
What surprised me most about these ear plugs was how well I could talk to other people while wearing them. With my disposable plugs, I generally avoid communicating with anyone until I have removed them simply because I can't hear a word they're saying. The EarPeace M, on the other hand, let me hear enough to easily talk with others. The clear and red EarPeace filters are designed to allow certain amounts of sound through. This means you can still hear the rev of an engine, the beep of a horn or, according to EarPeace, a comms system inside a helmet.
During my testing I found the red/high protection filters to work best. With a chainsaw revving at full throttle, I could hear what was going on but it was at a level I could bear. And after a day of cutting trees, digging holes and shooting cans, the ringing in my ears was no worse than the normal level. My choice of EarPeace M noise filter for everyday riding would be the high/red option.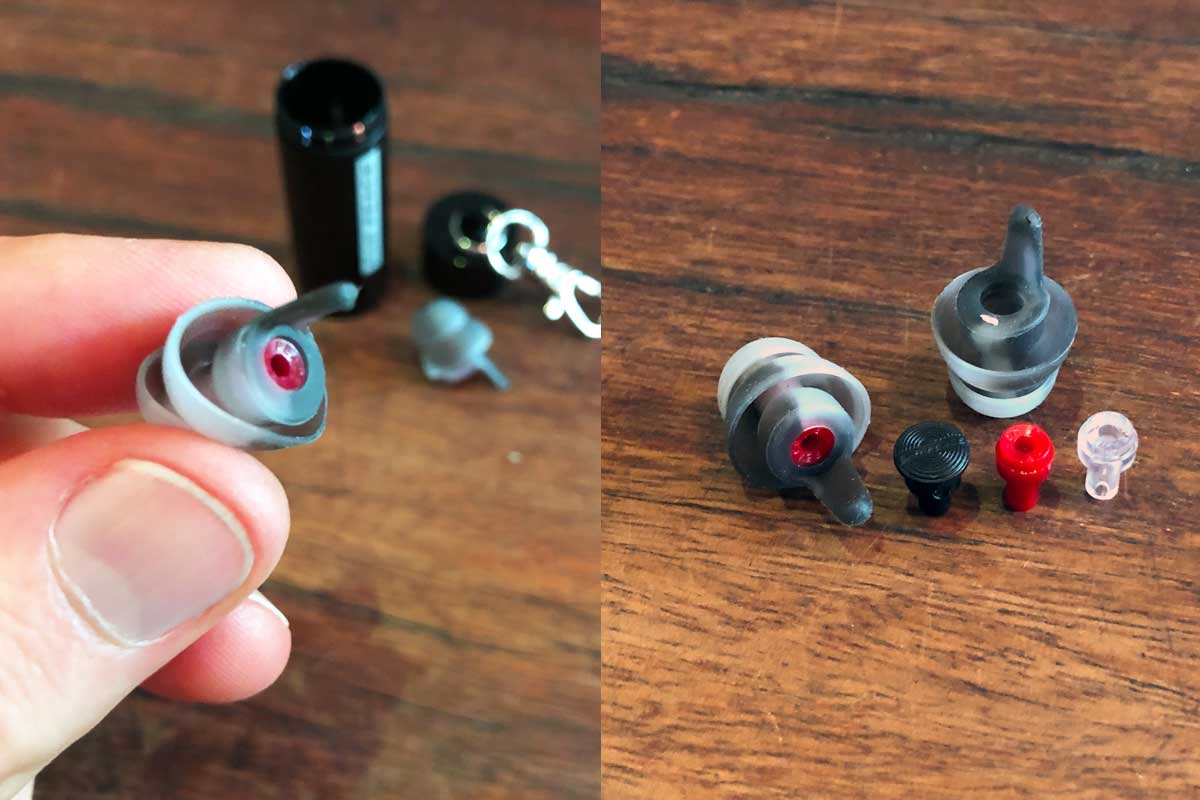 I'm no risk-taker when I ride. I rely heavily on my senses to stay out of trouble. In the past, this has meant risking further damage to my hearing by opting not to wear motorcyclist ear plugs. The EarPeace M will not reduce my situational awareness making them an indispensable addition to my riding kit. Best of all they cost about the same as a basic cotton t-shirt. That's a double win for me earning this product 2 big thumbs up. If you need more convincing I suggest you check out the 1500+ positive reviews on the EarPeace website or the 1600+ on Amazon.