Radical by name radical by nature. If you want to own one of the most powerful custom Moto Guzzis on the street there's one man to talk to. His name is Stefan Bronold, the owner of German workshop Radical Guzzi.
Upholding such a reputation takes a lot of hard work. So in order to retain his crown as the go-to high-powered Moto Guzzi guy, Stefan has been competing in the Glemseck 101 and Sultans of Sprint drag race series. This bike named 'Cento Anni' has been in development for the past 2 years and at the recent Glemseck 101 races, he unleashed it on the 1/8th mile track where it achieved some impressive results.
The most powerful street bike to ever roll out of the Guzzi factory is the new V100 Mandello. Powered by a 1042 cc, 4 valve per cylinder v-twin it produces 115 hp and 102 Nm of torque. Back in 2004, Guzzi released a potent track-only motorcycle named the MGS-01 Corsa. That bike made 122 hp and 112 Nm from its 1225cc motor. In comparison, Radical Guzzi's Cento Anni produces an incredible 165 hp and 200 Nm of torque…at the rear wheel.
The engine powering Cento Anni is a Frankenstein design of Stefan's own creation. "At the heart of the performance upgrades is our self-made 1702 ccm 8V Motor," he says. "It's the biggest air-cooled European 2-cylinder motor in existence." Now that's a title worth declaring!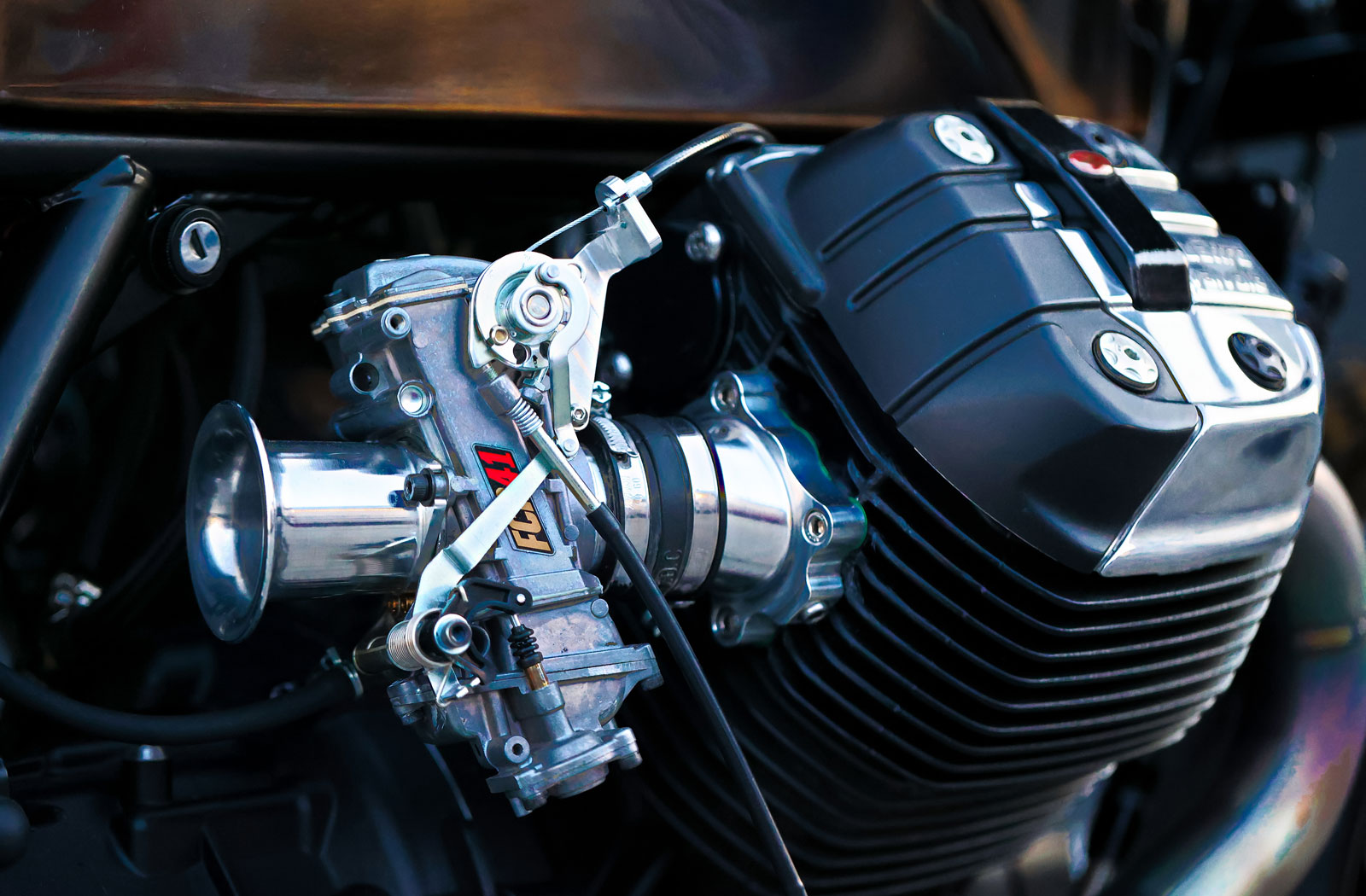 Starting out with a set of modified California 1400 cases Stefan filled them with his own formula of custom performance parts. Inside the beefy v-twin, you'll find a performance crankshaft, forged pistons and rods, and bespoke camshafts. Feeding each of the behemoth cylinders are FCR Keihin carburetors which inhale through open-mouthed velocity stacks. The exhaust is unsurprisingly custom too, the headers are built from titanium to maximise power and minimize weight and they wear an Italian-made Mass exhaust muffler.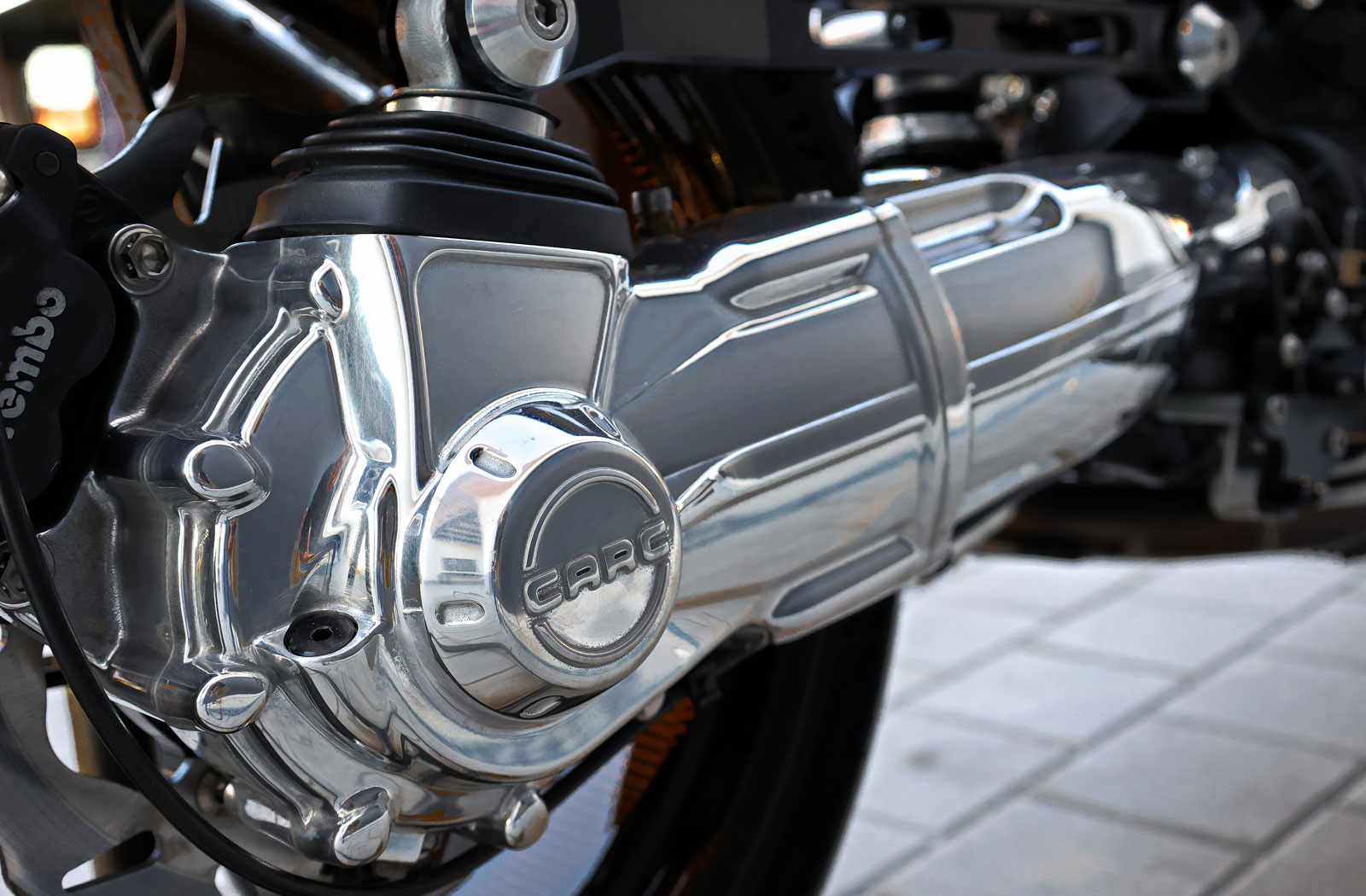 With such a huge v-twin sitting within its rails it'll come as no surprise this bike's frame is custom too.
Once again Stefan kicked things off with a stock Moto Guzzi Bellagio 940 chassis. First and foremost the roadster/cruiser frame was modified to allow the 1702 cc engine to be shoehorned in. Stefan then focused on revising its geometry to suit the project's modern cafe racer theme. The result was an entirely new rear subframe which has established the level bone line synonymous with cafe racer style.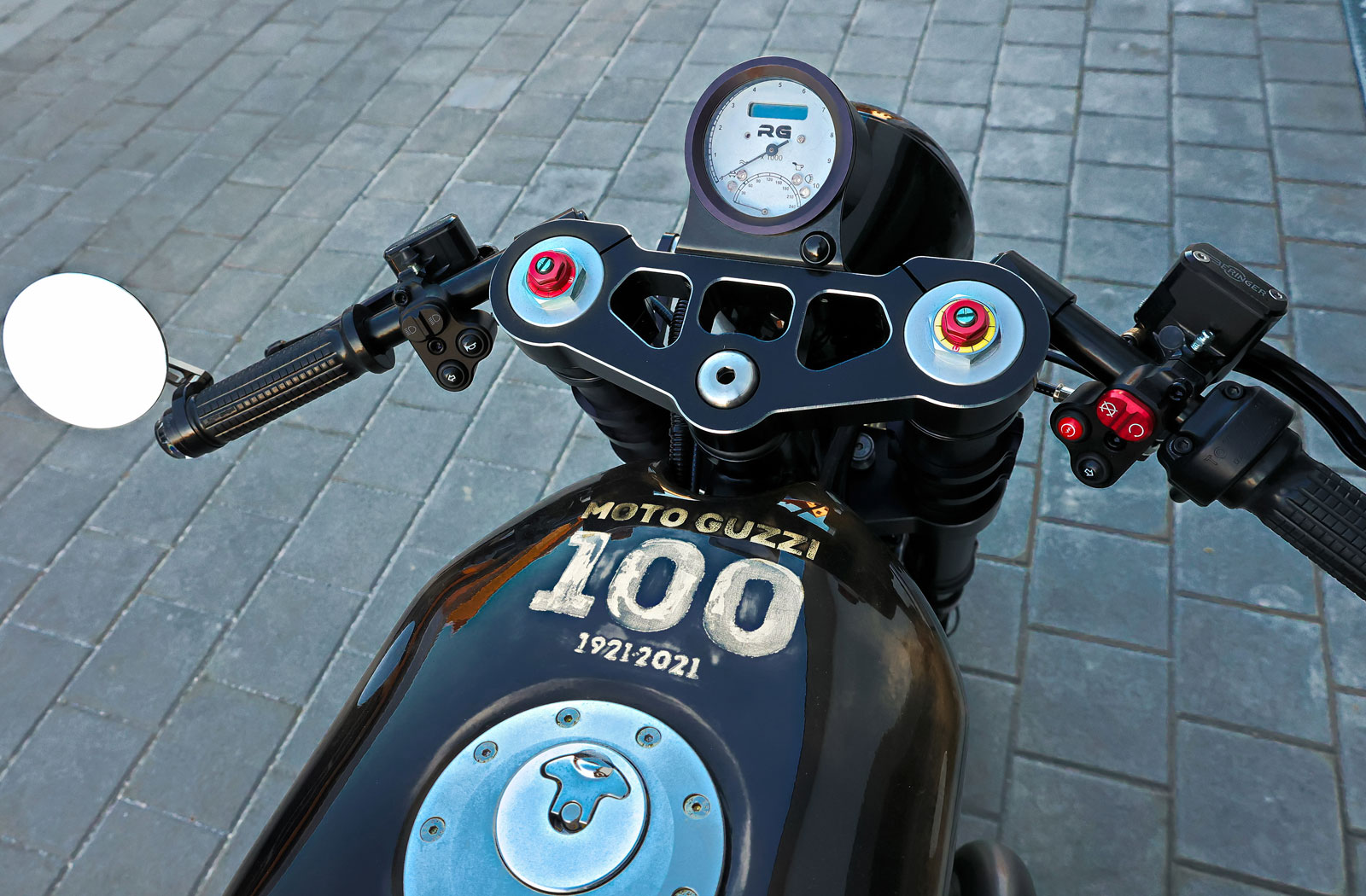 With so much power on tap Stefan's put together a more than adequate handling package. Smoothing out all the bumps are premium suspension components from Wilbers. The upside-down front end sits in custom-made alloy triple clamps while fully adjustable mono-shock supports a mirror-polished single-sided shaft drive swingarm.
Slowing down isn't something you want to disregard when drag racing and it certainly hasn't been overlooked here. The custom brake package uses a single Brembo caliper at the rear and twin Beringer stoppers up front. The rotors are floating wave items by Galfer and the controls and reservoirs hail from Beringer. As if all that wasn't enough Stefan has also reduced unsprung weight drastically with the fitment of Rotobox forged carbon 'Bullet' rims.
Sitting atop the revised frame is custom-made Radical Guzzi aluminium bodywork. The slender fuel tank is quintessential cafe racer. Built long and low it sits flat on the frame and deep knee indents accentuate the huge heads of the longitudinal v-twin. Behind the tank sits a custom wasps tail rear cowl cut to follow the aggressive upward angle of the subframe.
Although built with Sprint Racing in mind Cento Anni is equipped for street riding. For that reason, the LSL clip-on handlebars wear a full set of Renard Speedshop switchgear. The bar end mirrors and turn signals are by Motogadget. The large tachometer sitting over the headlight incorporates a speedometer into its design and there's a license plate holder and dual-function lighting in the rear. Impressively this custom-made beast is 100% street-legal. Ensuring that their bikes can be registered is something Radical Guzzi pride themselves on – and it's no mean feat considering Germany's strict TÜV homologation laws.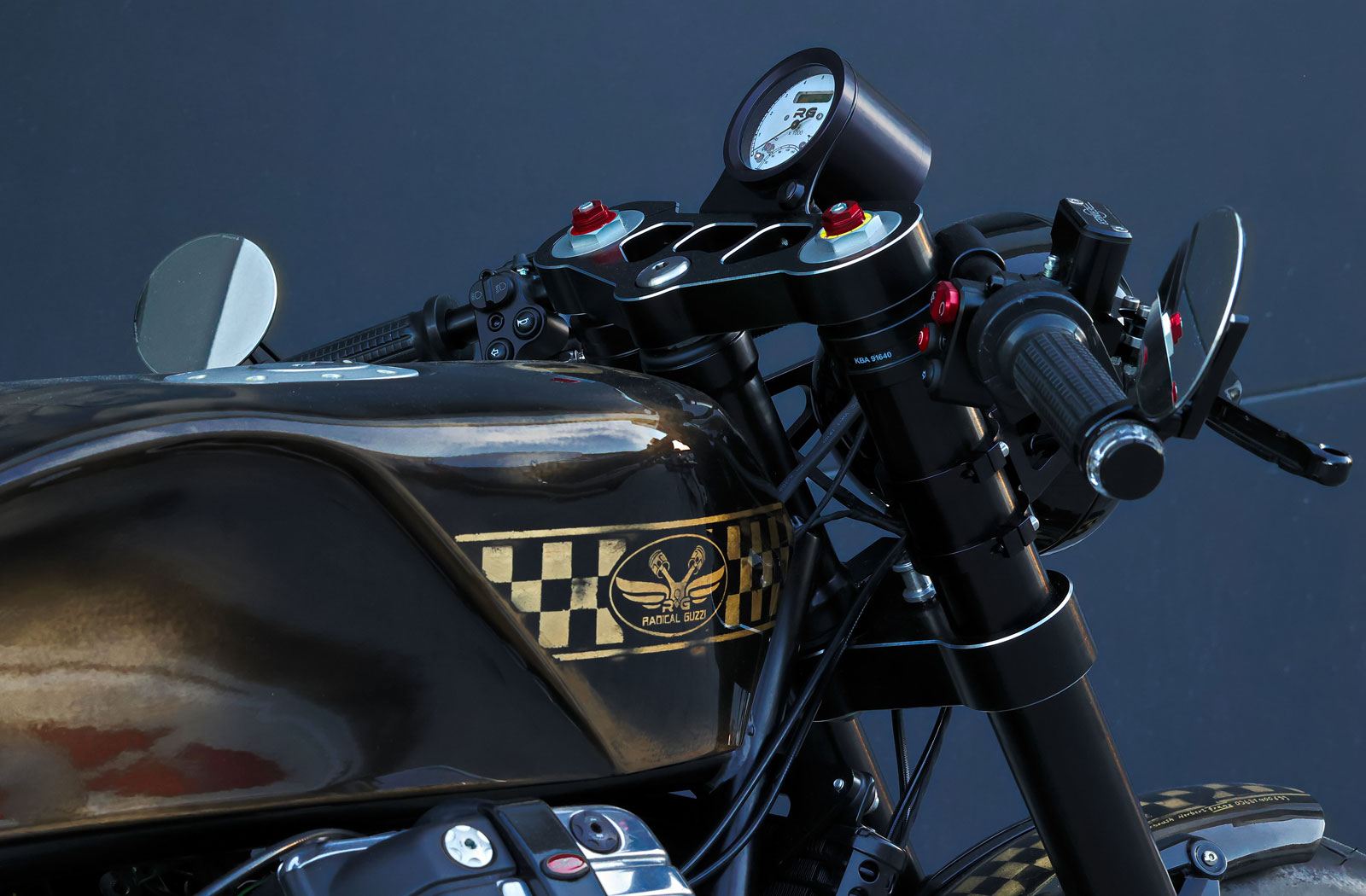 Seeing as this project kicked off in 2021, the year of Moto Guzzi's Centennial, Stefan decided to theme his project in recognition of the occasion. So once everything had been test fit the bodywork was handed over to his good friend Herbert Franz. Using an airbrush and plenty of gold leaf Franz hand-painted the bodywork. The finished design features portraits of famous racers and engineers from Moto Guzzi's history books along with an illustration of the company's famous Mandello del Lario headquarters.
At the 2022 Glemseck 101, Cento Anni took out 1st place in the Sprint Beast class and 2nd in the Rocket class. In light of that, I think it's fair to say that Stefan and Radical Guzzi's reputations remains intact.
Photography by Kerstin Streit