Imagine the biggest bike gathering you've been to. Hell, the biggest gathering of anyone. Now double it. Double it again. Then and only then you'll understand the enormity of the Bangkok Motorbike Festival. It's the biggest single event in South East Asia that doesn't involve mass civil disobedience.
Now in its twelfth year, the custom show element of the Bangkok Motorbike Festival takes place over 5 days and has over two hundred thousand people pick their way through it. When you take into account the trade stalls that fill the shopping centre, that punches the numbers up to seven hundred thousand people.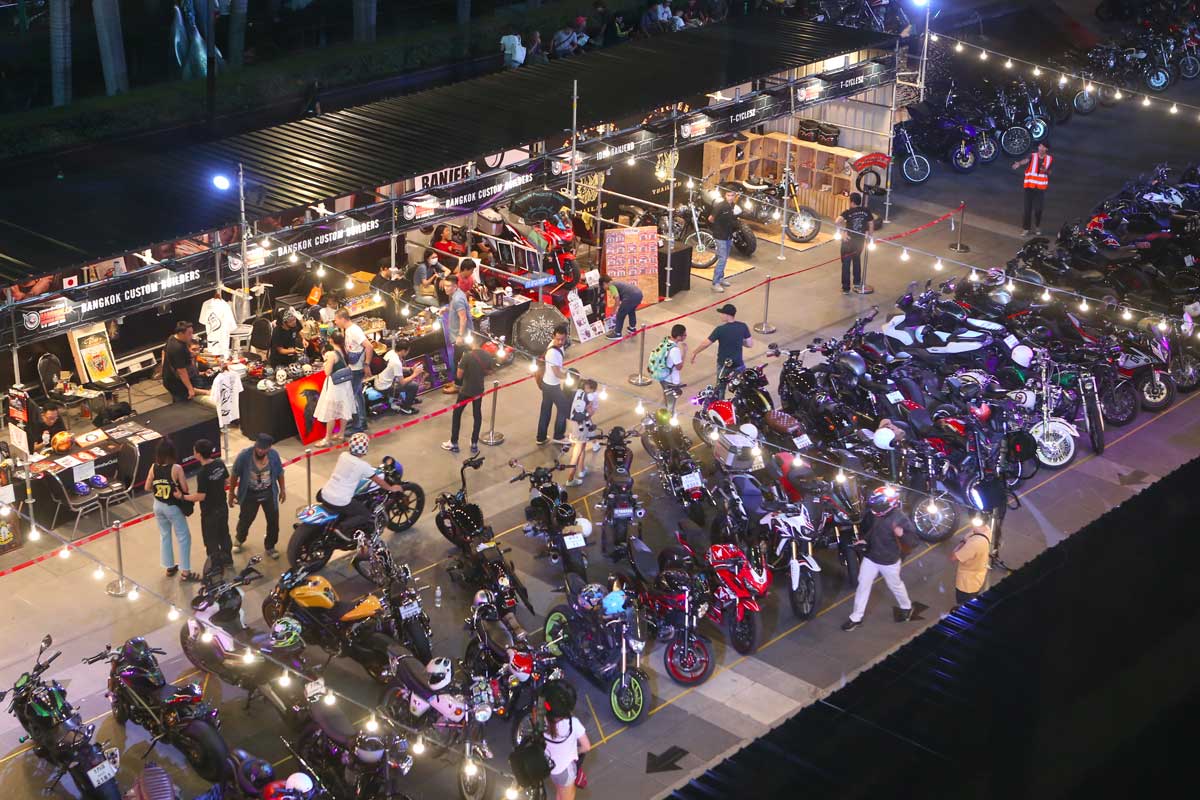 And yep, you heard me right. The show is run in the forecourt of a shopping plaza. It's not the same vibe as your local suburban mall though. CentralWorld Bangkok is the 11th biggest shopping complex in the world. It has everything anyone in Thailand could want. Great stores. Great food. And Life-changing air conditioning.
The surrounds of CentralWorld also act as large, open areas where events like this are run. So there's a mountain of things going on at the Bangkok Motorbike Festival. There are booths selling apparel, brake pads, oil and lubricants. Dozens of promotional girls with more plastic on them than the R1's they straddle. Tens of thousands of local riding hardcore and the bewildered tourists meandering through at any one time. But the really good stuff is at the Bangkok Custom Bike Competition end of the show, which is why I was there representing Return of the Cafe Racers.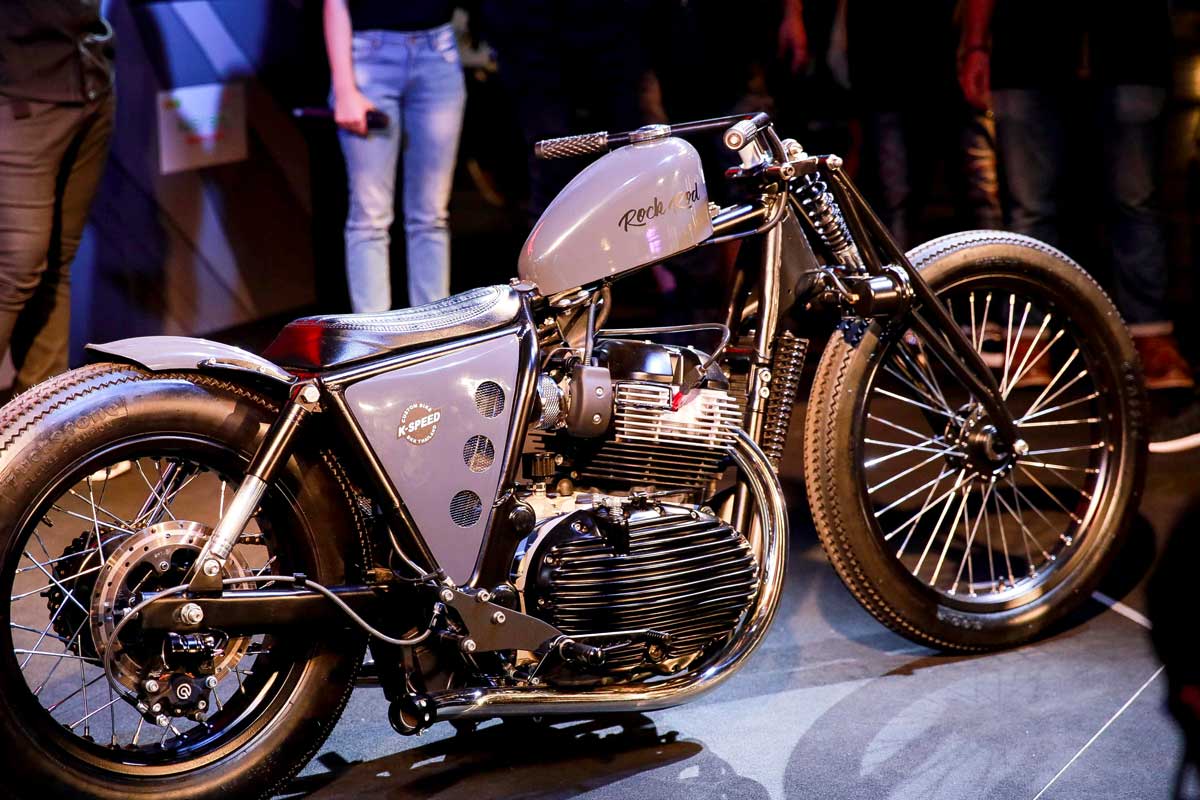 THE SHOW ITSELF
The Bangkok Motorbike Festival is a mutant developed from a huge online Thai motorcycle forum, hd-playground.com. The 'HD' thing is incidental – they state it stands for 'Highway Dragster' and not exclusively for Harley owners. Hmmm. Regardless, the forum caters towards all manner of big-ass bikes a select subset of locals ride. A score of years ago the guys from the forum had a few meetups, put on some shows and now, over a decade later, it's become one of the biggest motorcycle shows in the world. Who said the internet was only good for bike blogs and porn?
A large part of the success of the Bangkok Motorbike Festival is Lee Trinathy. Founder of HD playground, a sucker for anything over 1200cc's and, with salt and pepper hair and a quiet manner, has a passing resemblance to a Thai version of Maxwell Sheffield from The Nanny. He's wrangled people, places and shops and kept the show expanding year on year. Right up to the point at which they can send yours truly over there to judge the events' cafe racer category. Truly the peak of the show's success.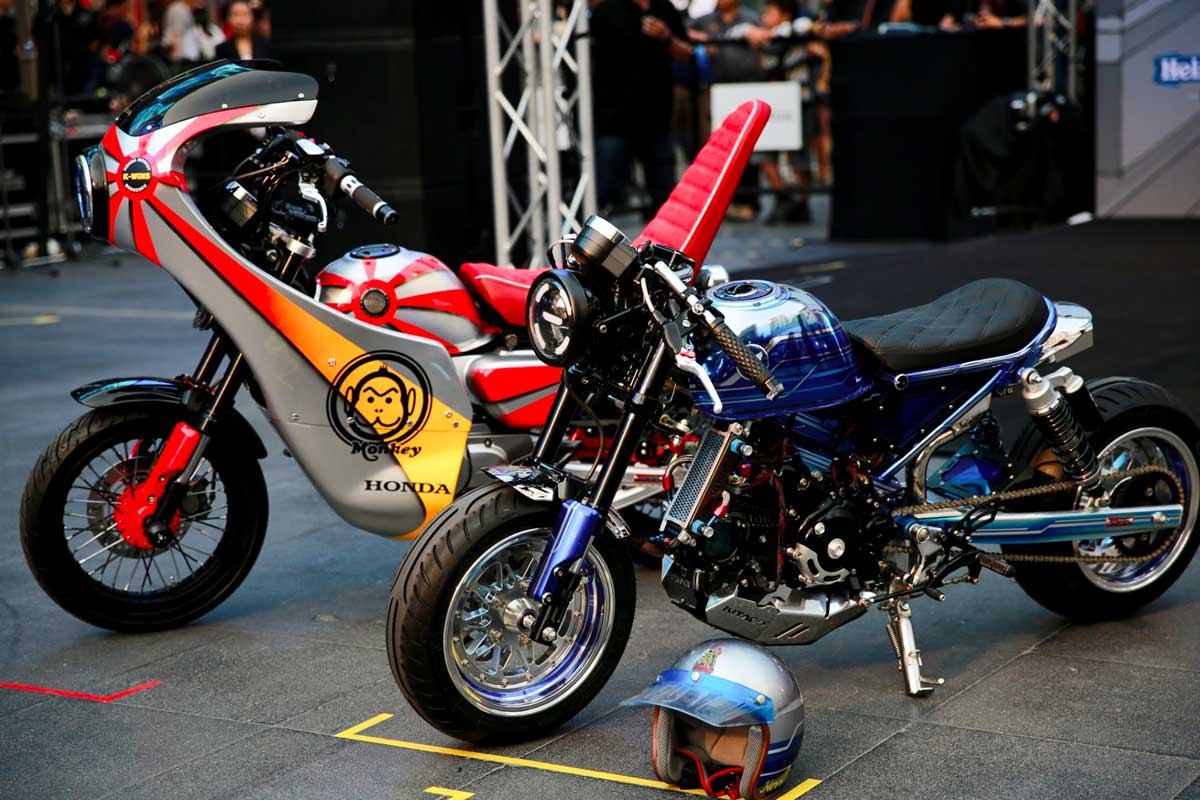 CUSTOM MOTORCYCLES OF ALL TYPES
So I wasn't just in Thailand to gorge myself stupid and stare at customised women. I was there for the modified bikes. And if you're anywhere in South East Asia and you've got a day to kill I can assure you it's well worth a trip to CentralWorld to ogle some of the custom bikes on display.
One of the greatest things about the Bangkok Custom Bike Competition is the way parking is organised. If you've got a big-bore bike that's had some work done to it a helpful assistant will stand at the entry, wave a flag and direct you to park your bike in the middle of the show.
That's a stroke of damned genius. If you're anything like me you'll spend more time walking through the carpark of a motorcycle show and looking at the bikes actually being ridden than staring at the showpieces. They're the bikes that people live with. It's like an automotive version of 'readers wives'. The ones with scars and the ones that actually get used.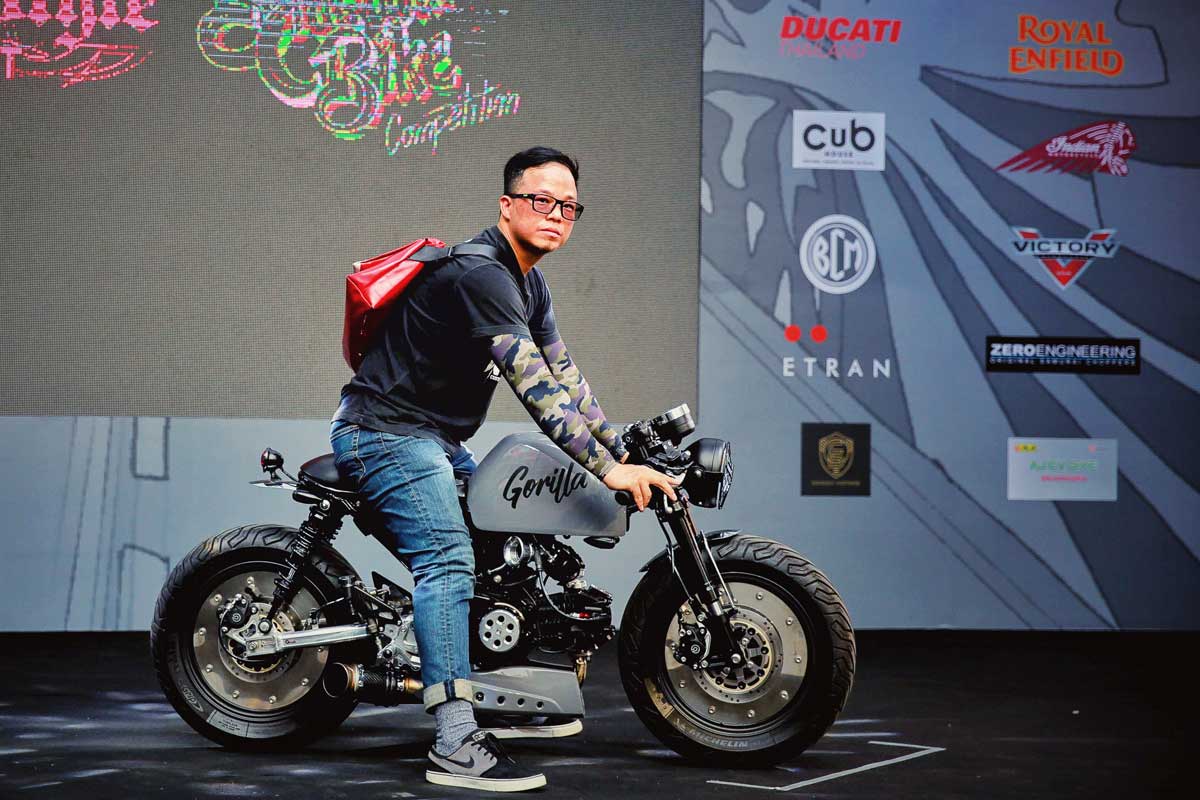 WHAT TICKLES THAIS FANCY
Over the course of a week, I saw countless Yamaha XSR900's, a smattering of R9T's, some old BMW airheads, Yamaha XS650's and a metric shitload of Royal Enfield twins. There were more Triumph T100's in one spot than I've seen at some official RAT get-togethers. There were some truly outstanding SR400 and 500's ranging from a bone-stock 1978 model to a 2000's custom job with USD forks, flat slide carb and 17" rims. Harley Davidson was even well-represented, with both newer models and a smattering of Shovelheads, Panheads, Knuckleheads and the occasional Dickhead.
But rather than go through that, here are some of the standout custom motorcycles of the show for us.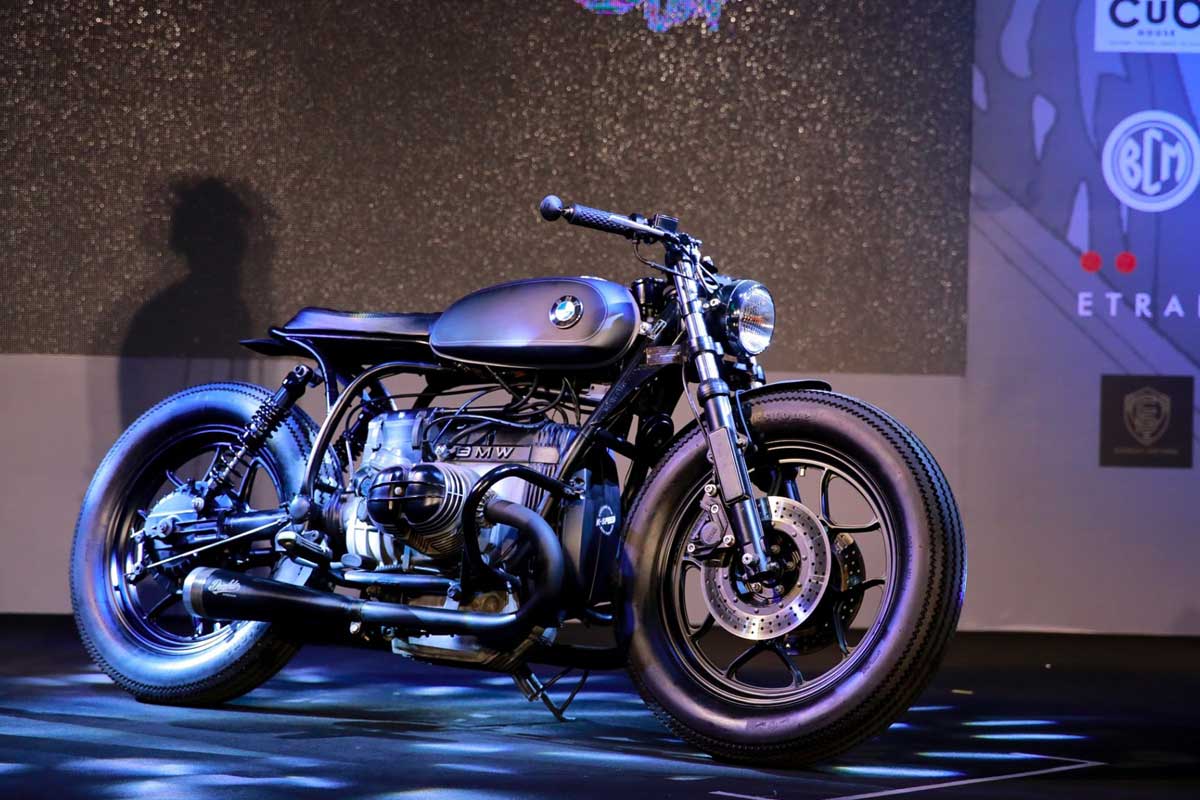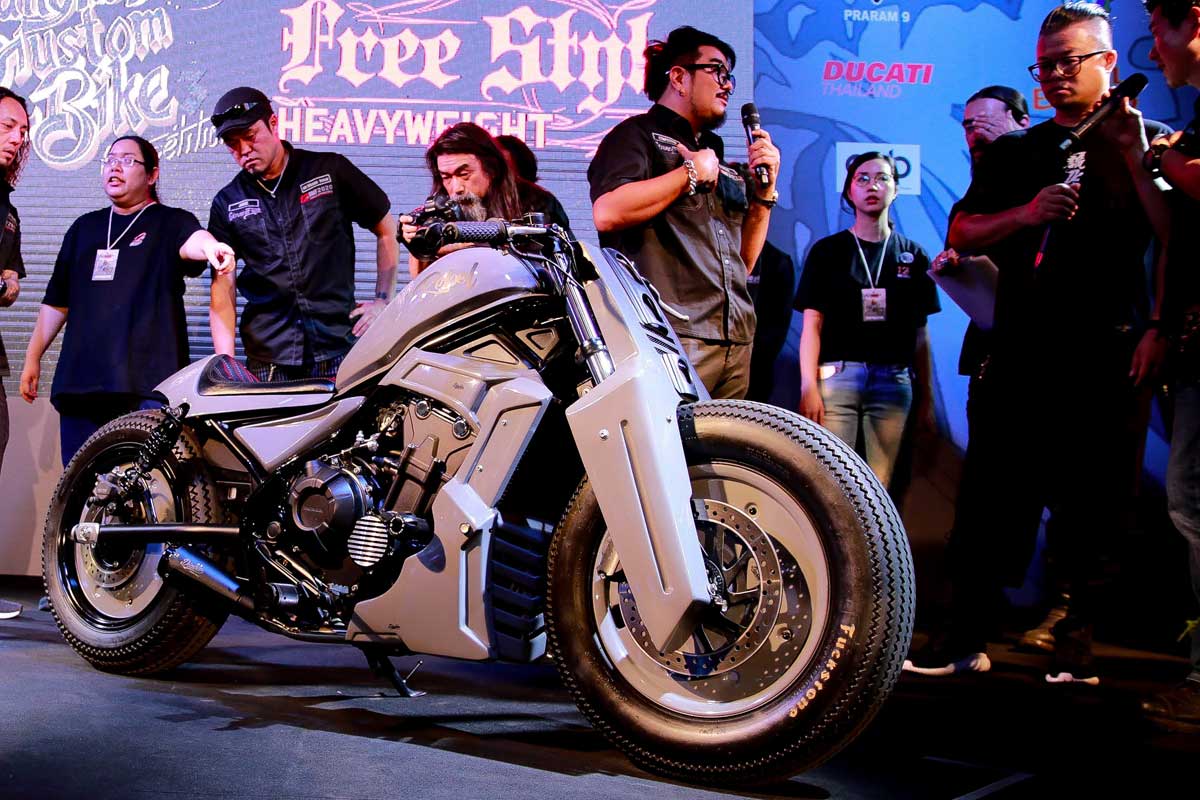 K-Speed's textbook BMW. We've seen a fair few of these done already over the years, but I'm still not sick of them. Especially when they're as nice as that. K-Speed is one of Thailand's most prolific bike builders, pushing out in excess of 35 builds a year. They're of all marques, styles and years but each runs a similarly demure paint scheme as this.
That's K-Speed's Honda 500 Rebel. In standard trim, the Rebel is a strange, strange beast. It skirts just around the edges of a traditional chopper and the reception, in the west at least, has been lukewarm. But there's something about the customised ones coming out that make me think that there's gold in them thar hills.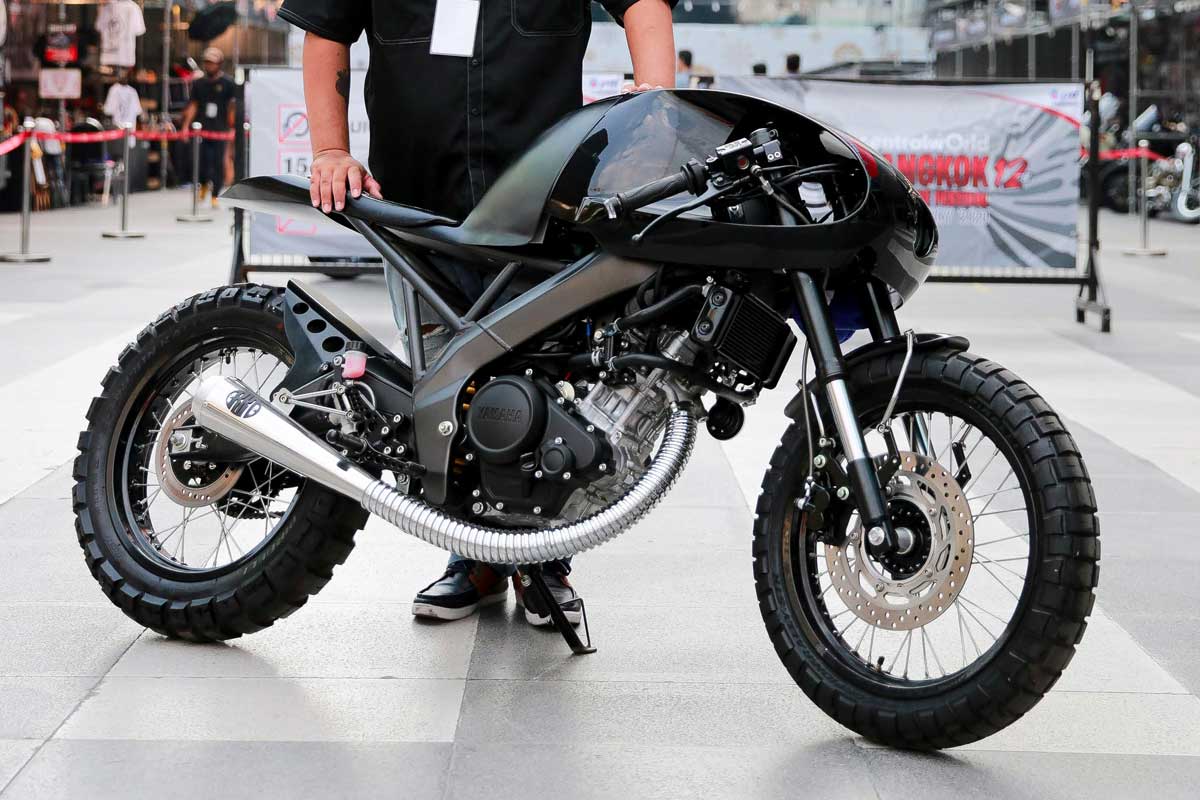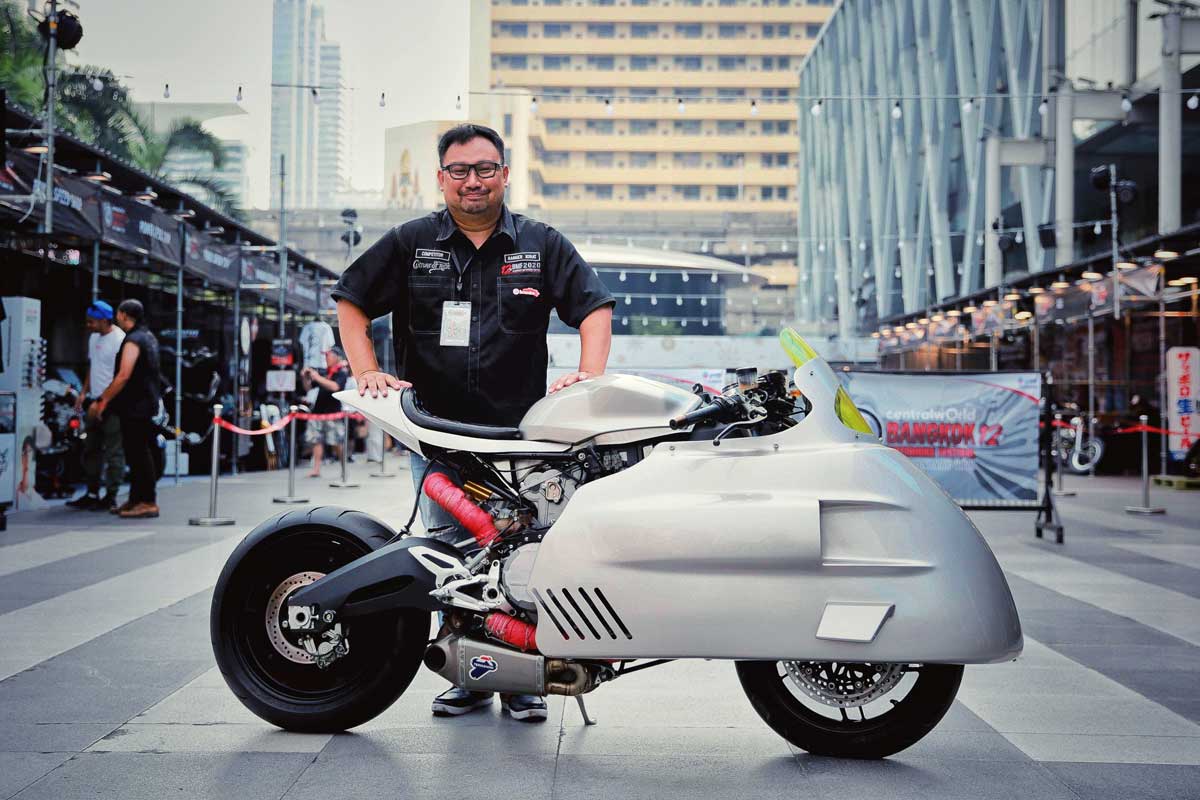 Ranger Korat's neat little Yamaha XSR155. In standard trim, the XSR155 looks so close to the XSR900 it's shocking. They're selling like hotcakes in South East Asia and by all accounts, it's a typical Yamaha. Absolutely bulletproof. Ranger Korat doesn't always work on bikes this small, however…
That's Ranger's Ducati 899 Panigale. Raised, Phoenix-like after a track day mishap, the client approached the small Thai shop and asked for them to build something truly wild. And they delivered, with this atomic aged take on an Italian superbike. All the bodywork has been done in alloy. That's including the perfectly executed streamliner. Astonishing stuff.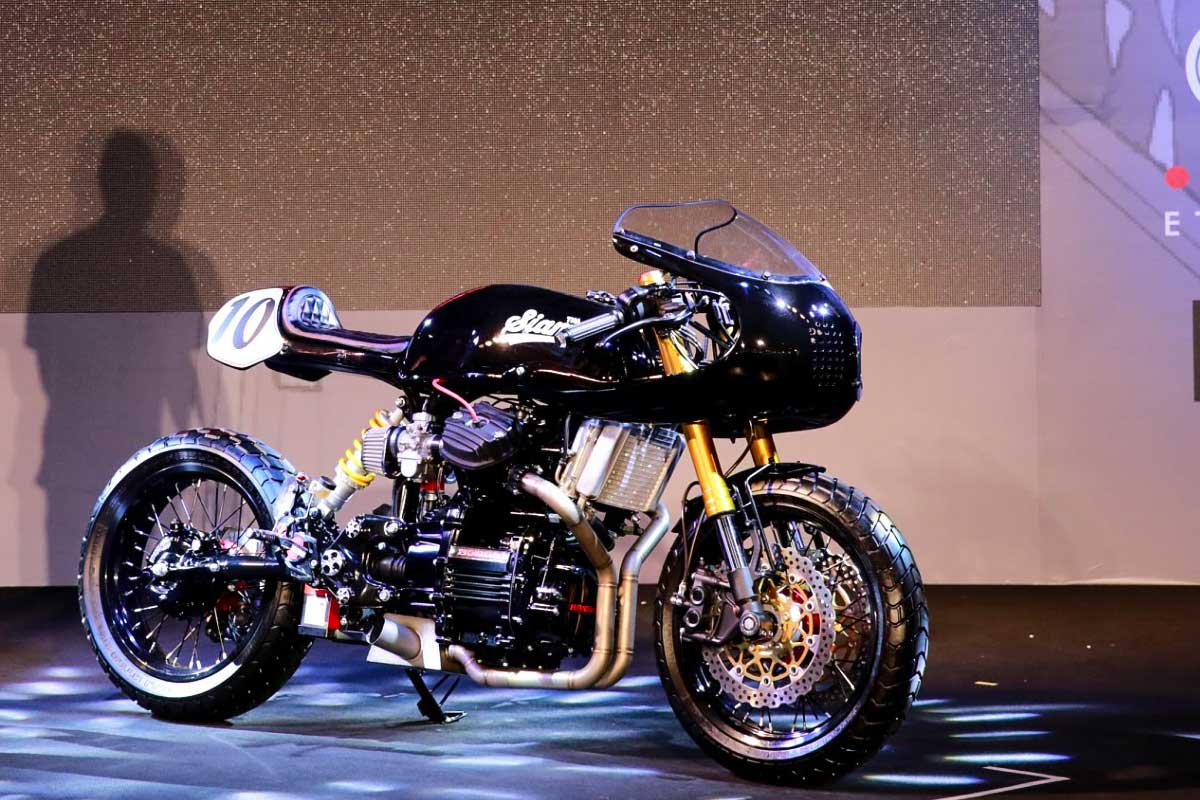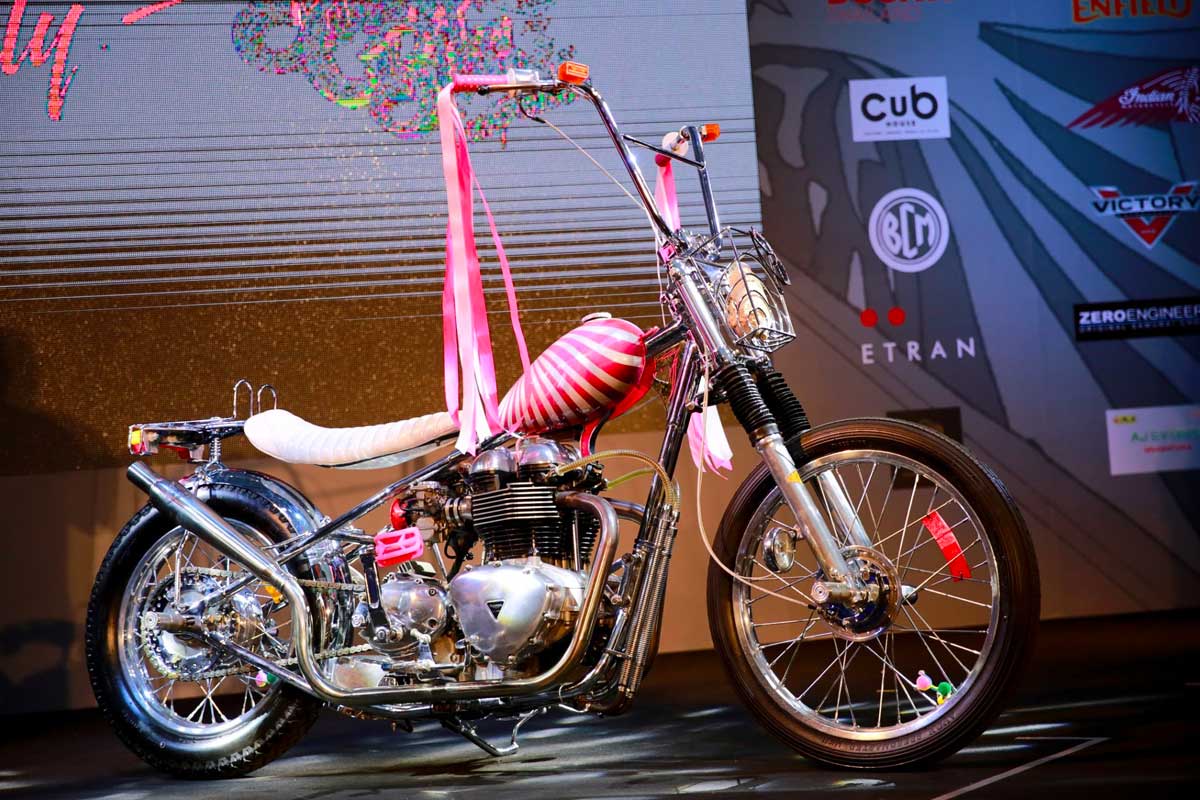 Bird Custom's Honda CX500. We've seen a fair few of these in our years, but rarely have they gone through as much work as this. There's a completely new rear swingarm assembly, bodywork, front forks, brakes, exhaust system, carbs. And black frame, tank and engine. This has had more powder thrown at it than John Belushi.
Speaking of illicit drugs, here's Pao Budda's Triumph twin bobber. The thing is almost completely scratch-built. Frame, exhaust, seat, tank and even the breadstick holder at the front. I think the tassels add a special something.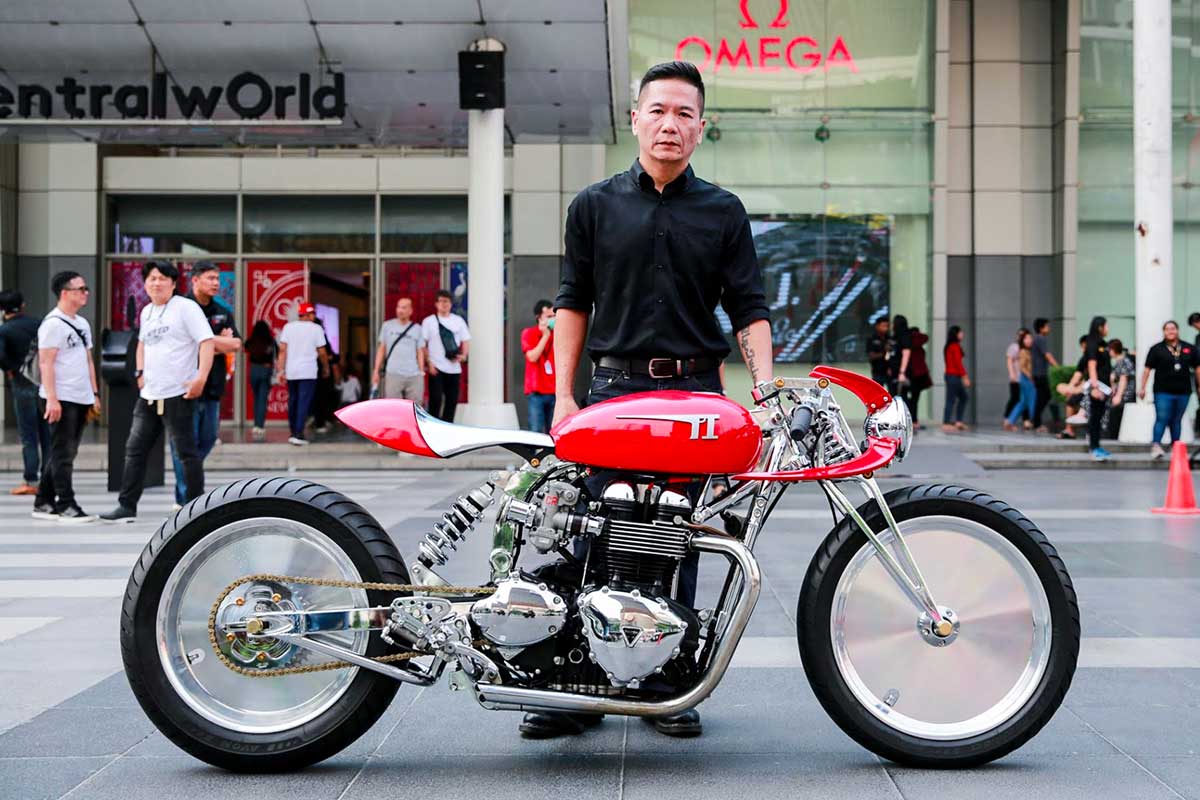 JUDGEMENT DAY
But there could be only one winner. And the bike that stood out the most for me was this, PI Customs' gorgeous Triumph Bonneville.
An astonishing amount of work has gone into this labour of love. A scratch-built springer front end, deep dish rims, a new rear shock assembly and tiny subframe. A scratch-built headlight assembly. An absolute show-stopper, I wasn't the only punter at the Bangkok Custom Bike Competition to be blown away by Pi Piyayos' attention to detail, imagination and, later that evening, beer drinking ability.
JUST DO IT
2020 was our first trip to the Bangkok Motorbike Festival. And we'll be back. It's a fantastic mix of trade show, custom bikes and one of the easiest-going, friendly crowds that we've come across anywhere in the world. Keep your eyes peeled online to see what they're up to next year. And if you find yourself anywhere in South East Asia, it's well worth a trip across to the Bangkok Motorbike Festival to see what Lee and his team have on offer.
Story by Marlon Slack