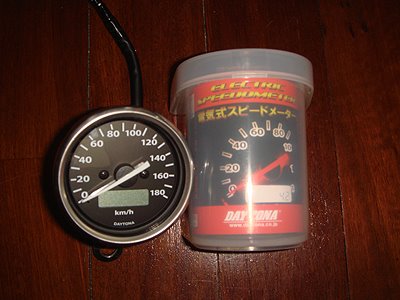 I dropped in at Deus Ex Machina in Sydney and picked up a new speedo for the W650. As the W650 uses an electircal instrument cluster there aren't many companies producing custom dials to suit. The unit I purchased is produced by Daytona in Japan who also do a tacho and different colour facia units to match your style. The unit features a clock, 2x trip meters, odometer and 180km speed reading and it's glows a brilliant almost blue white.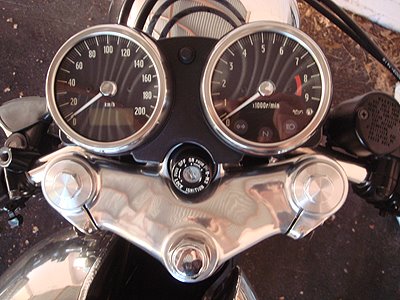 I have to say one of my least favorite parts on the W650 (a close 2nd place to the incredibly oversized and ugly standard indicators!) is the big plastic looking instrument cluster. To get it off the bike you first need to remove the headlight for easier access. Then remove the 4 screws attaching the cluster and it's bracket to the top bridge. Then simply unplug the wiring from the back of the unit.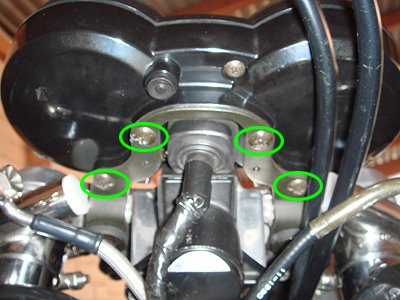 Remove the tape from the wiring and you will see that there are 12 wires that lead to the instrument cluster. Make sure your battery is unplugged and you can cut the wires to seperate them from the plug. Now like I did you will notice that none of the wires match any of the wires coming from the Daytona Speedo unit….ahhh crap.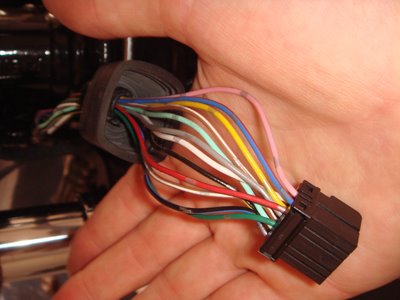 At this point I referenced the well detailed yet totally illegible Japanese installation instructions that came with thespeedo. WTF!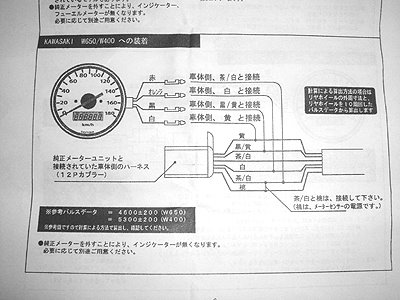 After much head scratching I phoned Taka at Deus and he kindly gave me a full run down on the wiring. Which are as follows:
First join the pink + brown white wires coming from the W650 together
Daytona Black – W650 black yellow
Daytona Orange – W650 white
Daytona White – W650 yellow
Daytona Red – W650 brown white (+ pink)
Daytona Blue, Brown, Black – not used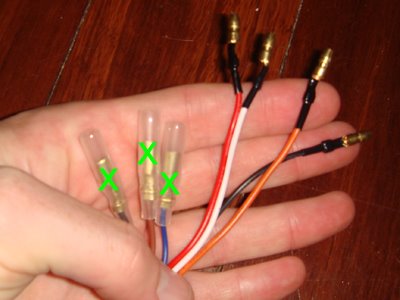 You will by now of course notice that there are a lot of extra wires. Don't worry these are just for the Tacho and warning lights. You can of course attach these to new lights or a new tacho but I have opted to go without.
Once your wires are connected you can attach the bracket (also purchased from Deus) and the speedo to the bike. The speedo will then require calibration which you can do using the instructions below. Please not you will need a friend to help you with calibration. Once you have set the numbers as per the instructions you will need you friend to ride alongside you so you can check if your speedo is displaying the right speed.
Now that looks cool!