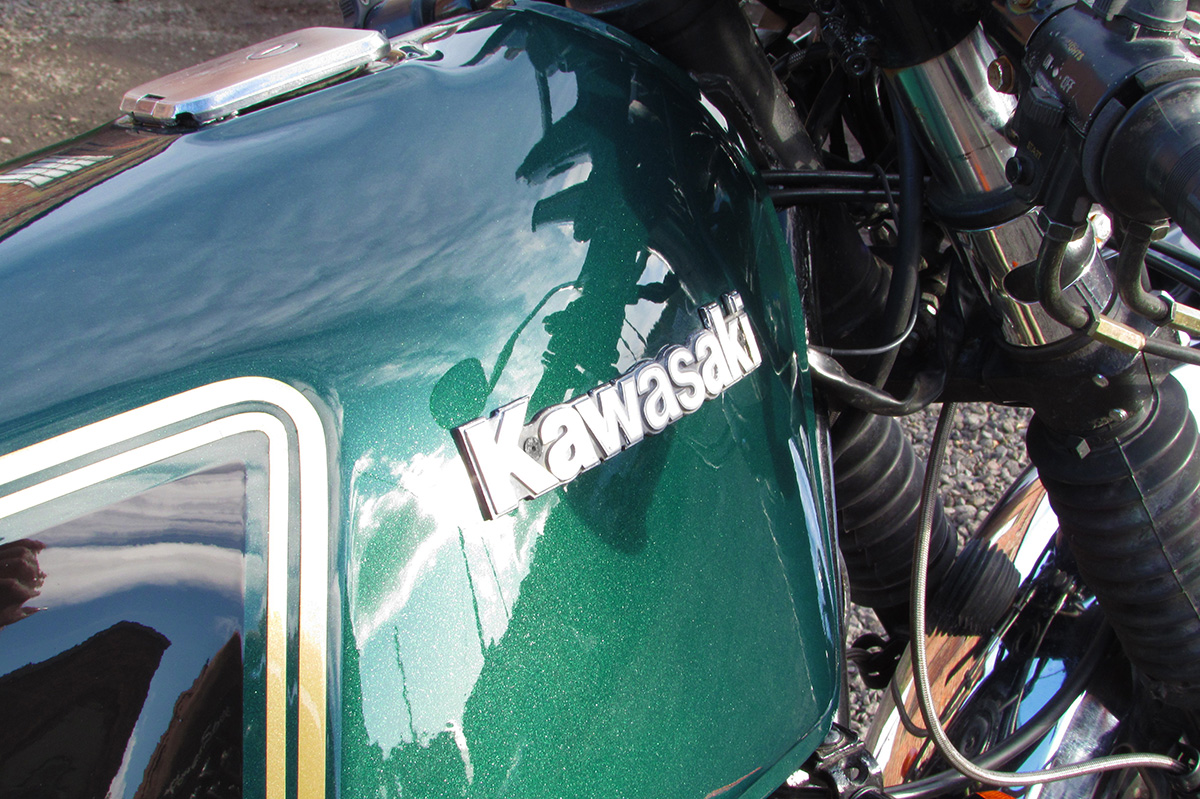 "The Kwaka had stood still for at least 5 years and was running on only 3 cylinders. It puked fuel from the carbs and looked rather unloved." Joe recalls. "The tank was rusty inside and the rear end of the bike was only loosely put together in preparation for a trike conversion that thankfully never happened. The electrics were relatively untouched and once I had it going again the 24,000-mile engine ran strong."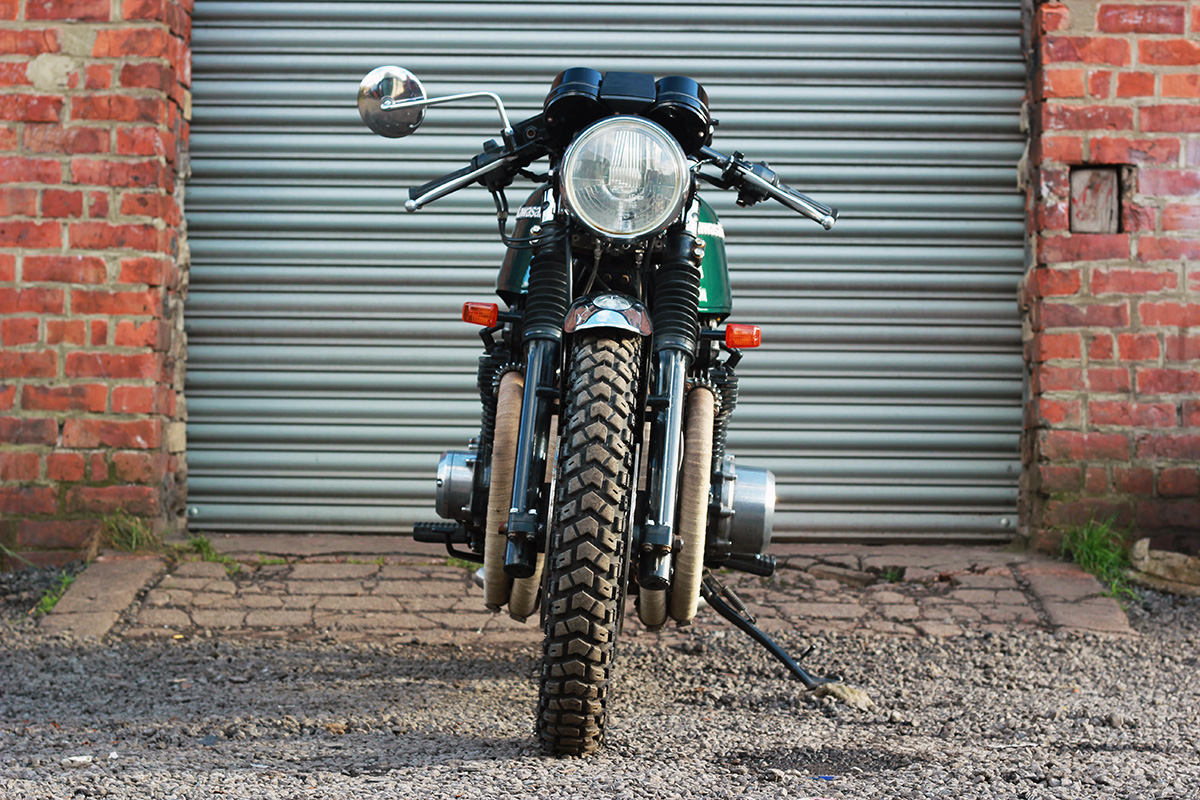 "When I set out to buy a bike I was originally looking for a late 70's Z1000 to build a Mad Max Toecutter replica. However, aside from them being prohibitively expensive, it's been done many times before. I then spotted the Z1000ST on eBay. It had the right stance and looked brutish. It kind of gave me the impression that it was constantly pissed off and might want to kill you given half a chance, so I bought it.
I like to build bikes using non-runners or projects that have stumbled. They bare scars which I like to leave evidence of. Those scars are what make each bike unique. The way I usually build is to get the bike running and registered so I can ride it. This allows me to put a few miles on it, figure out what needs work and how I want to alter its design. I always sketch out an idea before committing to it and with the Big Zed, or Bigzy as she became known to my mates, I knew I wanted 4-into-4 pipes and that it had to sit long and low."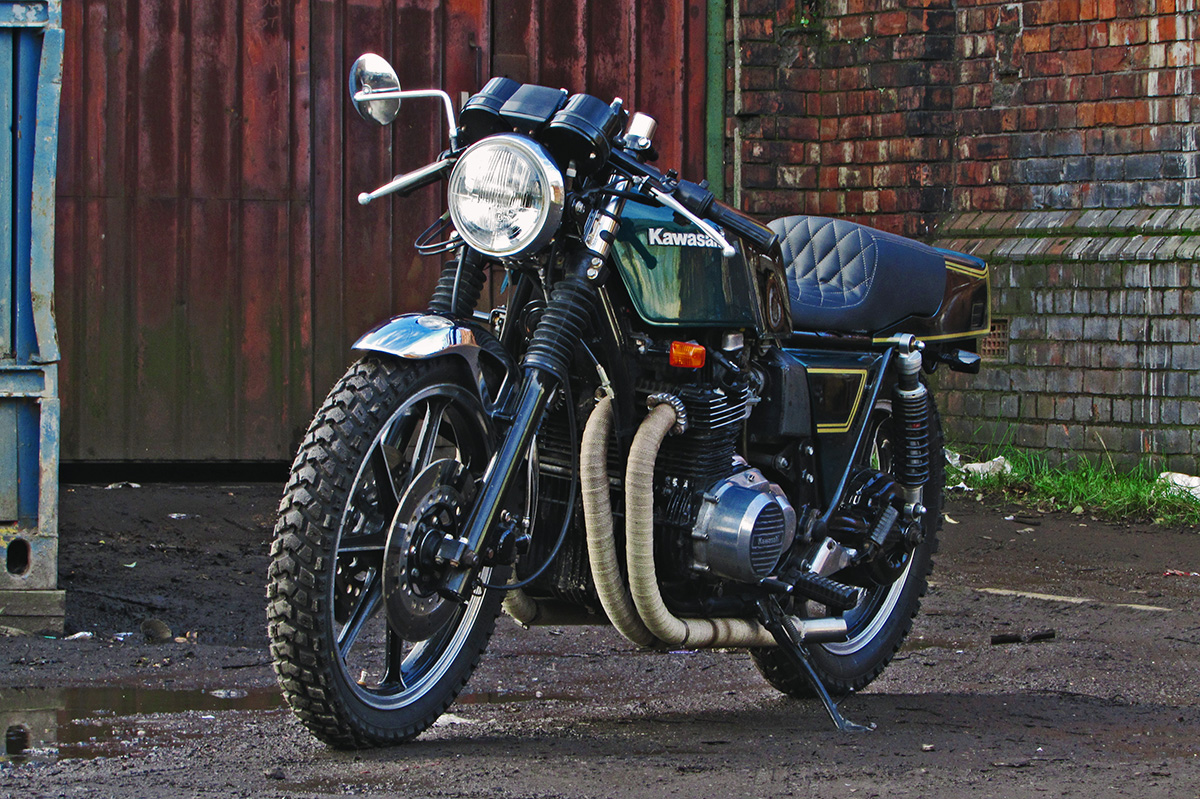 "I'm a stickler for paint perfection and whilst it's not totally perfect, most people would be hard-pressed to notice. With the clip-ons and the dual sport knobbies, I expected it to look great but go round a corner with all the poise and precision of a deflated balloon. Fortunately, that's not the case at all. On a recent ride out I enjoyed carving up the dales and keeping pace with a couple of mates on more modern machinery. Once I began to trust the tires there was ample grip to really throw the bike into turns. I'll admit that it would probably handle better on some road tires, but it just wouldn't have the same vibe."
"As for the exhaust and carb tuning affecting power, it's definitely got lots of low down grunt. It's more fun to ride around town than before and I enjoy racing between traffic lights (although I don't condone that sort of behavior). The angry growl of the exhaust also persuades cars to make more space for me.

I love riding older bikes that are running old parts. You can ride as hard as you dare and have all the fun you want without breaking too many road rules. This is why Bigzy isn't wearing many modern parts and the few upgrades I have made are either period or hidden like using sintered pads."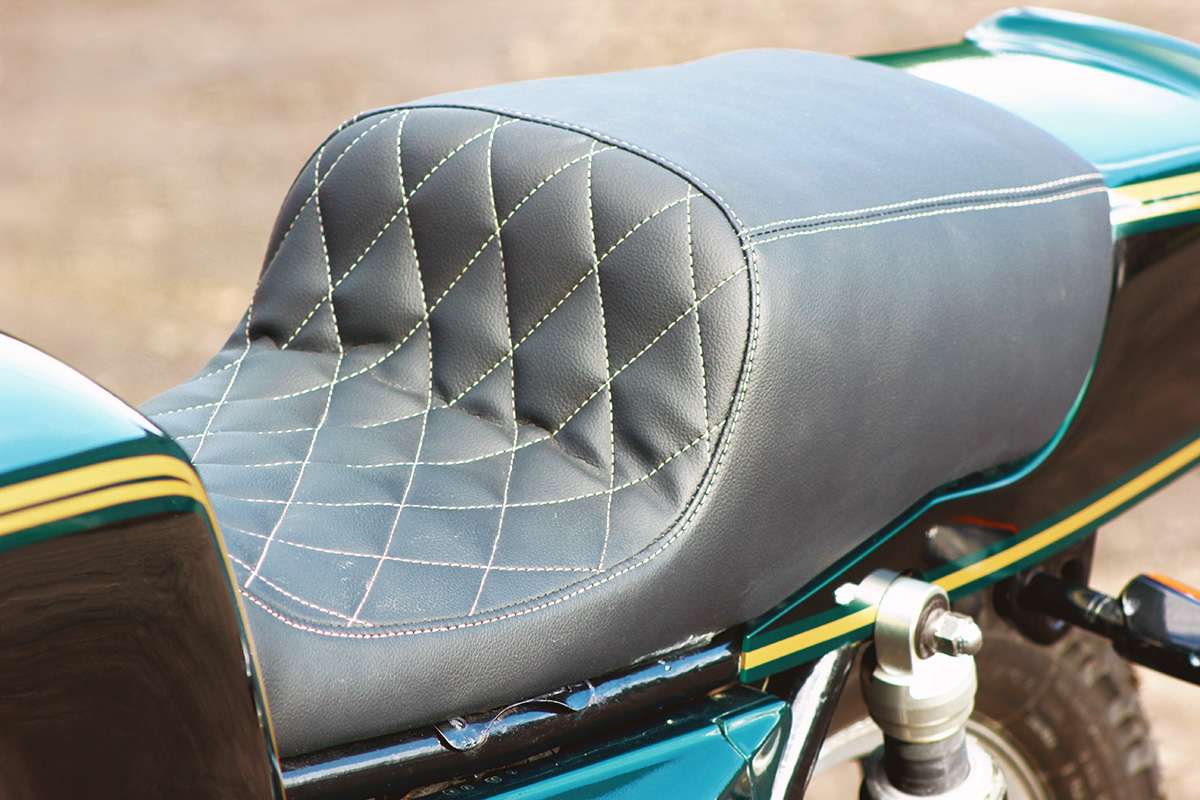 Modifications:
Home brewed stainless 4 into 4 short kicked out pipes with baffles
Custom seat covered by DP Leathers
Rear frame chopped and lengthened by 2 inches
Lowered by 2 inches front and rear
Bandit 1200 rear shocks
Welded steel clip-on bars
Paintwork was done in-house with rattle cans. ("Its all about how much effort goes into the preparation")
Hand shaped rear mudguard and under seat tray
Aftermarket headlight and indicators
Heidenau K60's tires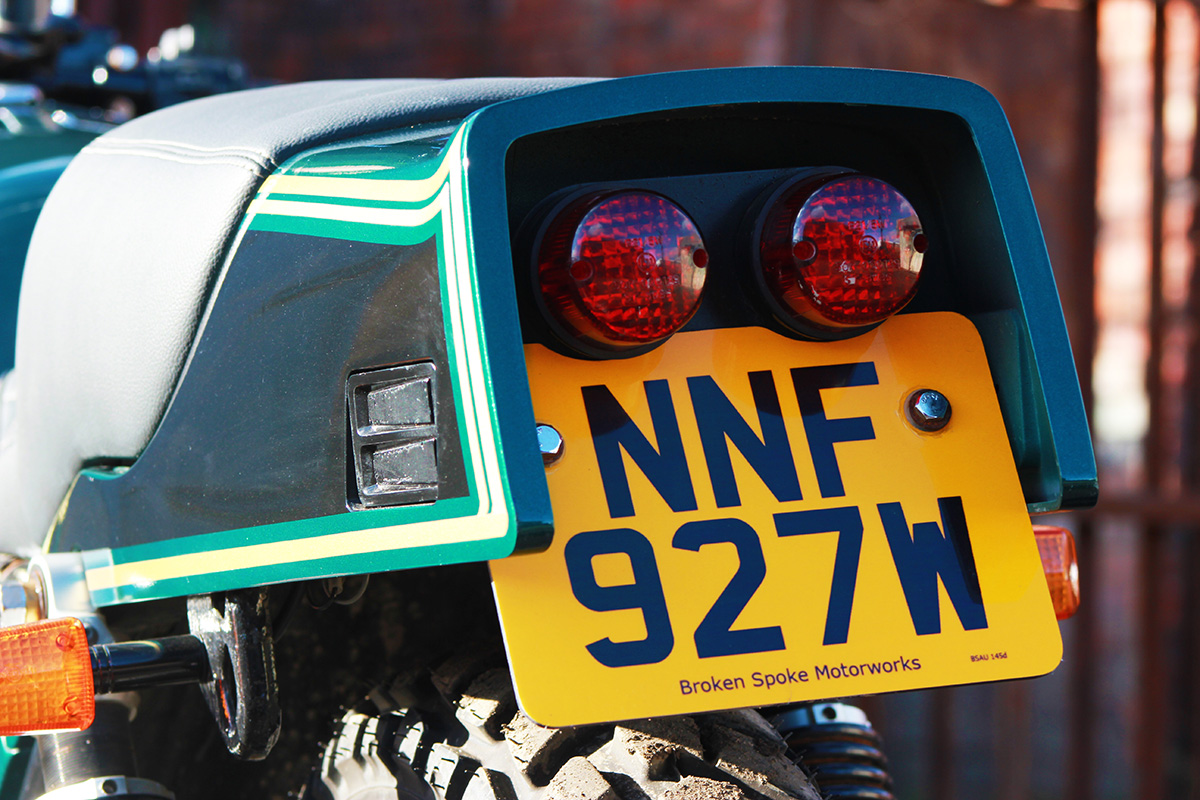 Joe builds his bikes under the brand of Broken Spoke Motor Works, a name that hints at the kind of motorcycles he chooses for his projects. Thankfully after all the lows 2016 dealt him, Joe is now back on a high.
Photography by John Reed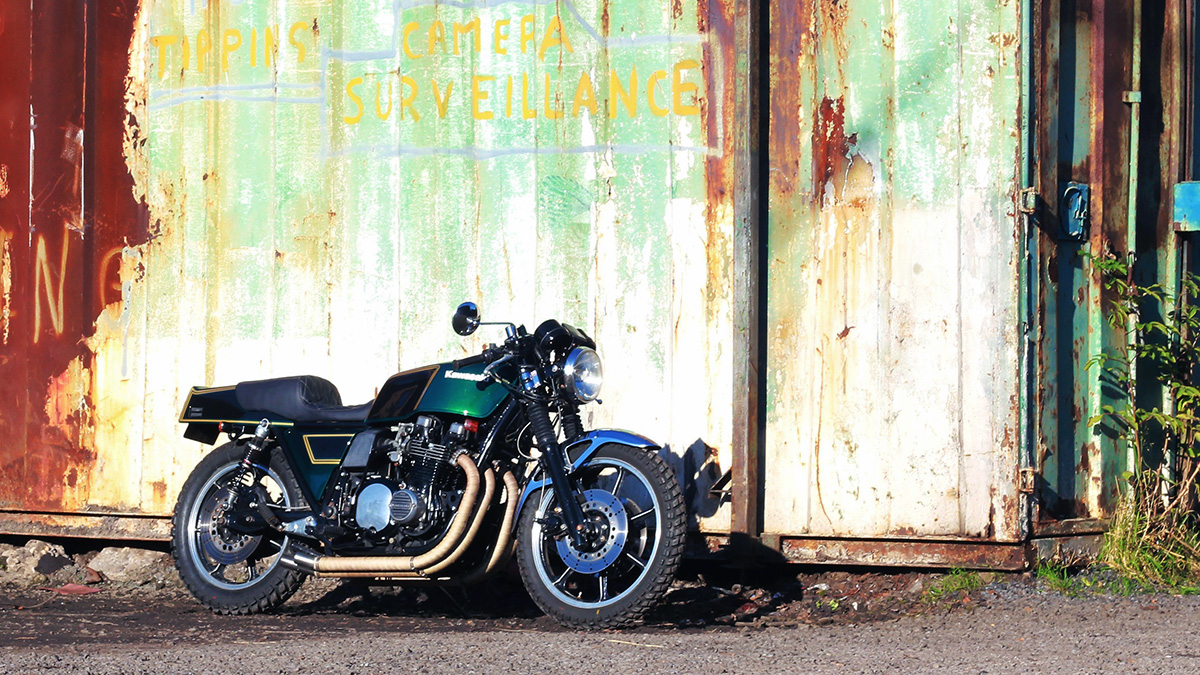 Joe Gibbons had a tough 2016. Along with a string of health and personal problems dragging him down he lost his job just before Christmas. Things were looking pretty bleak until he found solace in a motorcycle. As the story goes, late last year Joe hired a van and set off on a 600-mile journey to collect a 1980 Kawasaki Z1000ST that would, over the following 6 months, get him back on track.