Rob Chappell of Canada's 'Origin8or' workshop is no stranger to customising Honda's CB900F. A few years back he built one for himself that stirred up so much attention on BikeExif he got an offer to sell it that he couldn't refuse. Soon afterwards another Honda CB900F came into his possession so he decided to give it another go. Determined to make this build better than the first he spent the last 3 years building this bike and I think we can safely say he achieved his goal.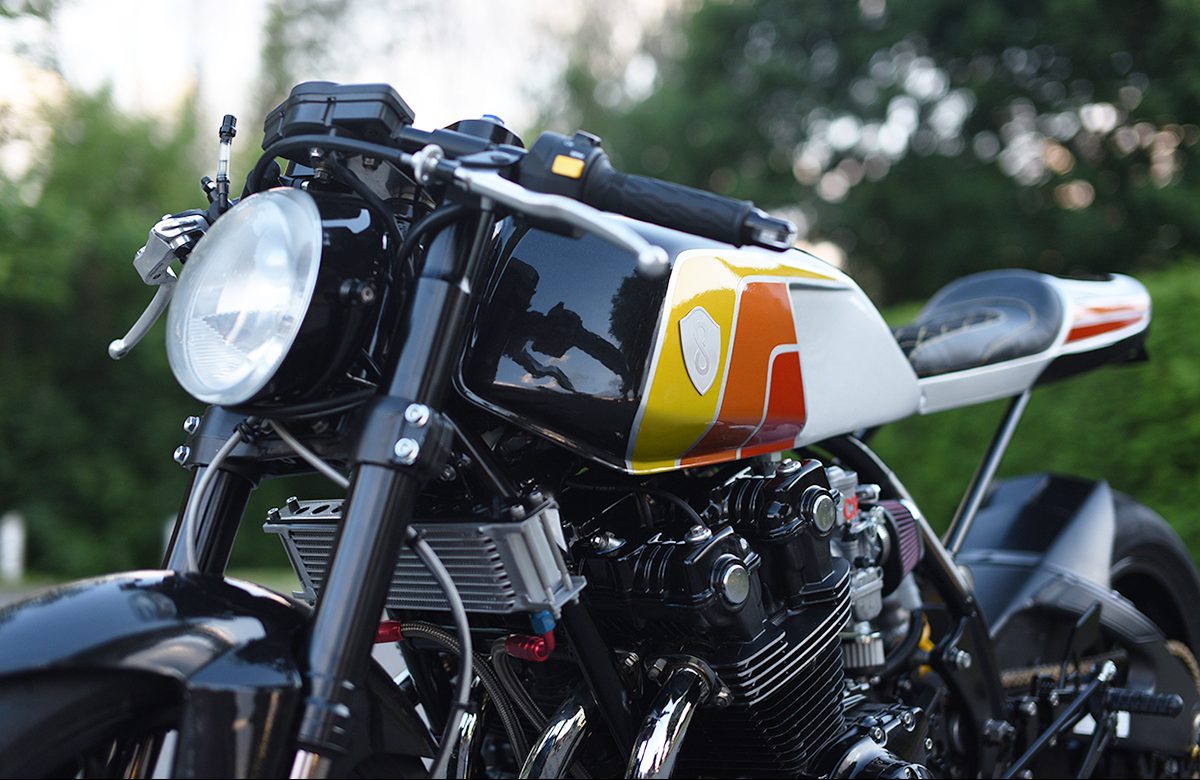 "The bike was a bone stock, single owner '81 model that was in fantastic condition, aside from sitting unused for 10 years." says Rob. "I picked at it on and off for 3 years, but generally an entire build like this takes me 4 months. On my builds, I try and do all the work myself. Frame modifications, welding, metal fab, paint, engine work etc. The only thing farmed out during this build was the powder coating and trimming."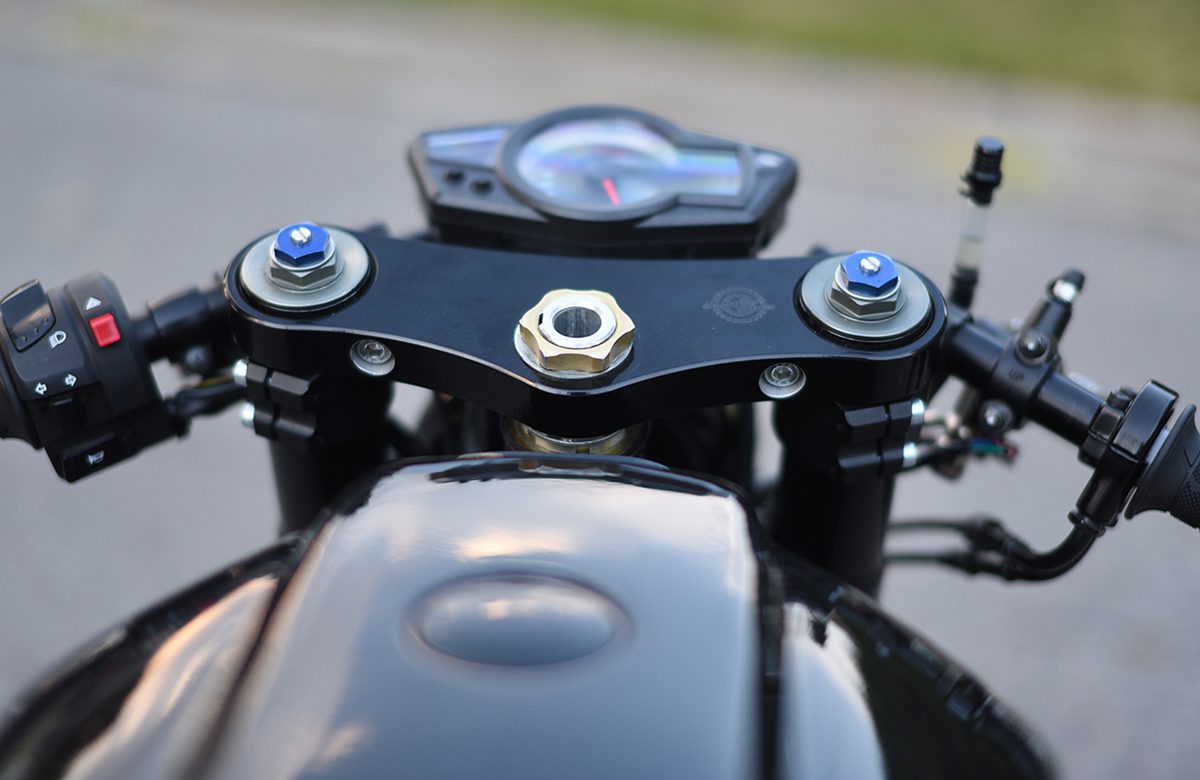 "I remember these air-cooled big fours from my childhood and they have a certain nostalgia for me. However, they weren't the best handling bikes and given today's modern options for suspension there's a lot that can be improved. For this bike, I built a new sub-frame and a triangulated shock mount before retrofitting the '08 R6 rear-end and matching year GSXR750 forks. I also braced the frame in front of the engine, under the tank and around the shock mounts to handle the load of the mono-shock swingarm."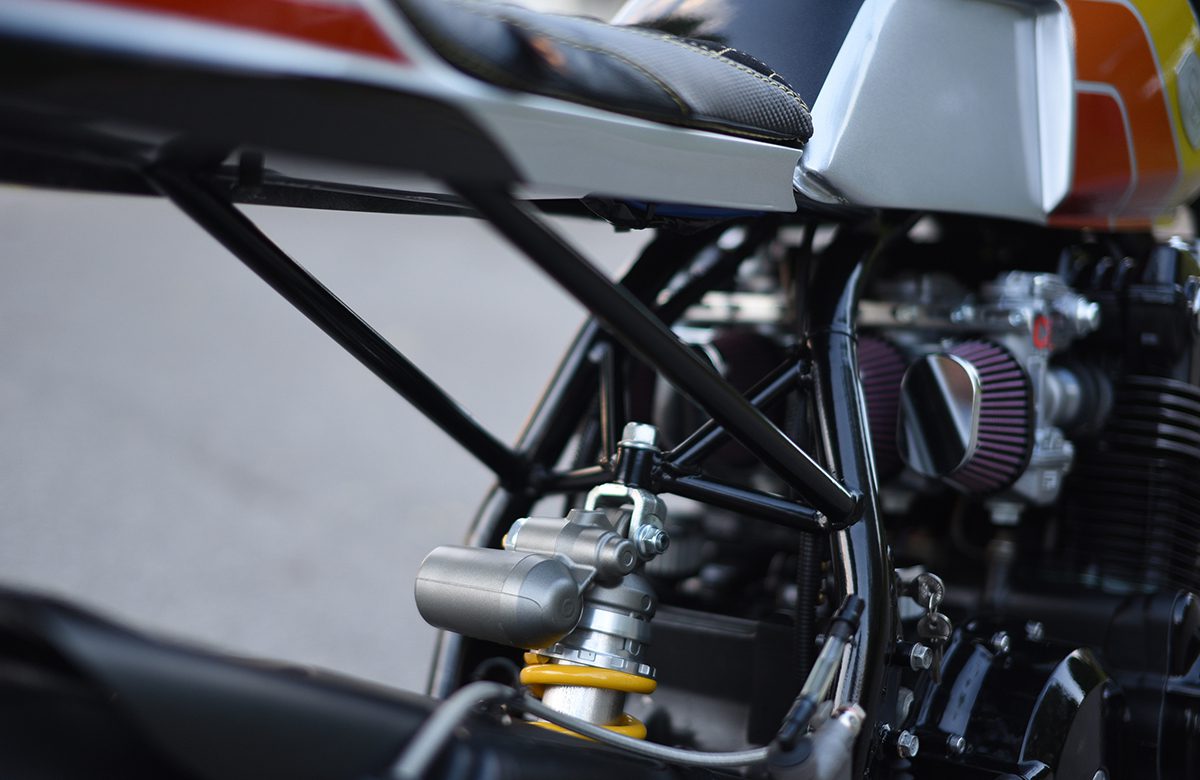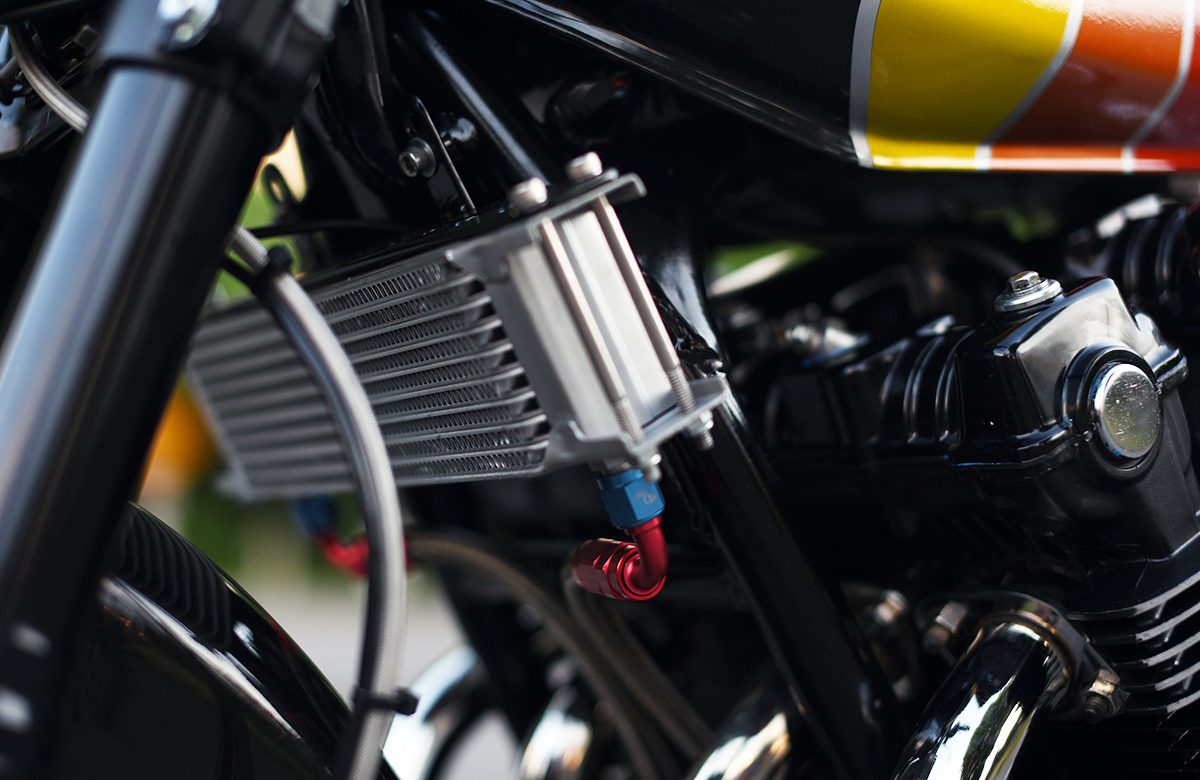 "I've been a graphic designer for 25 years so naturally, I wanted to play with the bike's lines. I got busy cutting up a stock tank, welding in knee indents and flushing a pop-up gas cap. I also modified a KZ1000 tail which I have since reproduced and sell in my Origin8or web store. The seat is a one-off by my brothers business, Tuffside. I had him stitch it up using suede, carbon and leather with bold yellow stitching. Then I added R6 adjustable rear sets with woodcraft pegs and levers, a set of woodcraft clip-on handlebars, a Cognito Moto top triple clamp, a Harley V-rod headlight (because I love the look) and a new oil cooler with braided lines and anodised fittings. The anodised black billet sprocket cover came from RICCI Engineering out of Sydney Australia.
I can't stand looking at bikes with mismatched wheels so my CB is rolling on matching Carrozzeria V-Track Forged rims with Dunlop GP-A rubber. I fit wave rotors at the front and rear for the brakes and added stainless braided lines."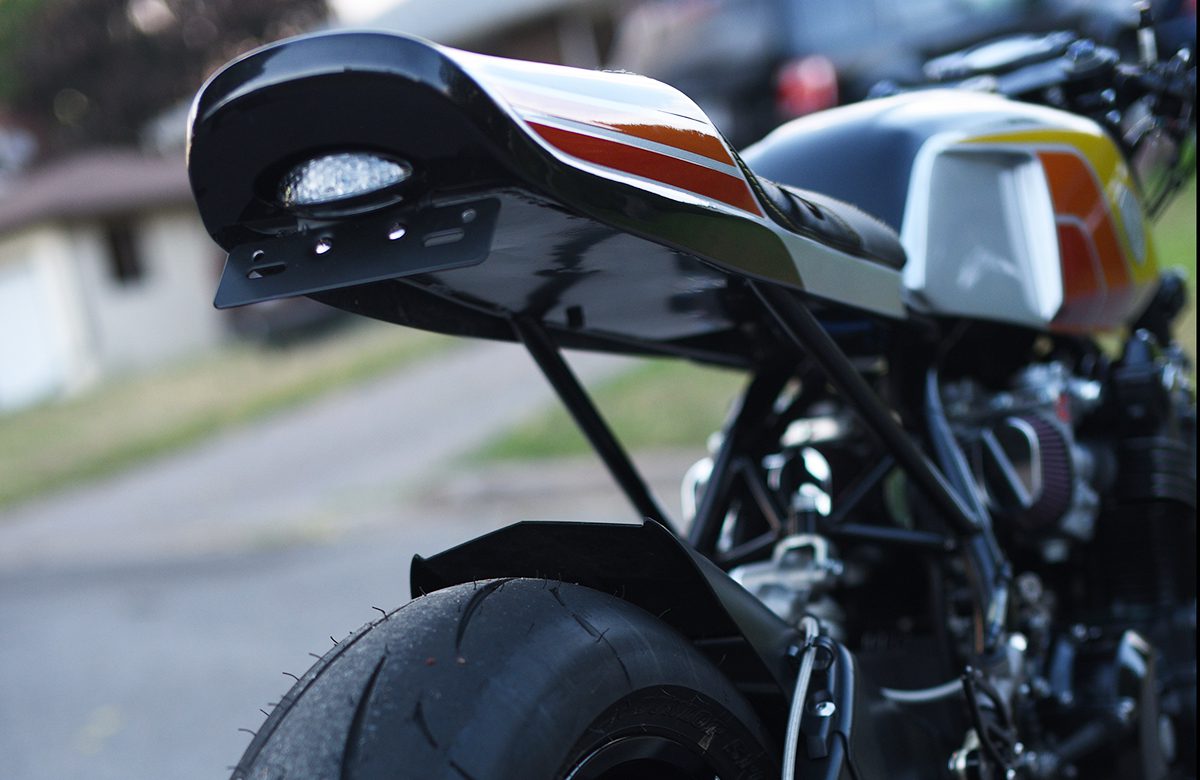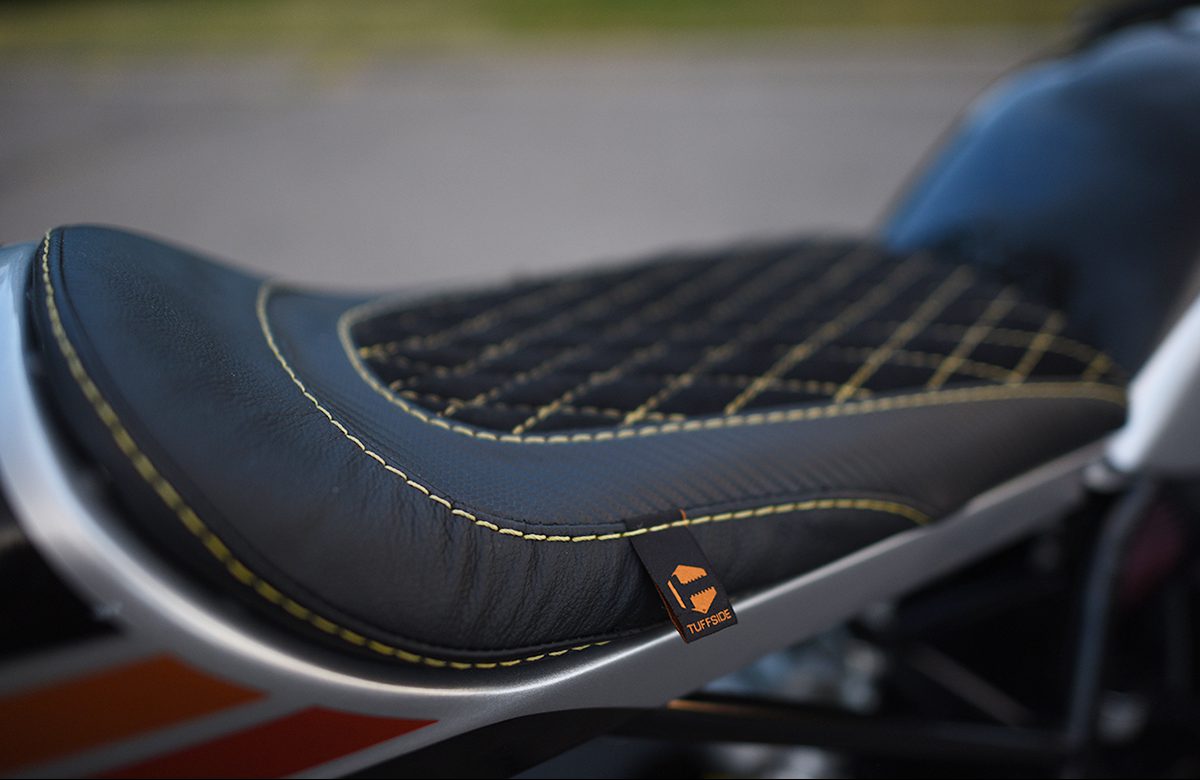 "The Honda's engine was bored to 985cc and I tore it completely down to the bottom end before rebuilding it. I also fit a set of Keihin CR31 carbs and a full Cycle-X exhaust system. During the engine rebuild, I fit stainless hardware and all of its external surfaces have been powder coated either gloss or matte black.
I rewired the entire bike and added an ignition barrel from a car so you just turn the key to start it. The electrics are made up of a Dynatek ignition system, Dyna coils, Anti-Gravity 8-cell battery, digital gauges, bar-end signals and even a functioning horn. The tail light is a LED unit with built in signals and a license plate light, all of which make the bike totally street legal."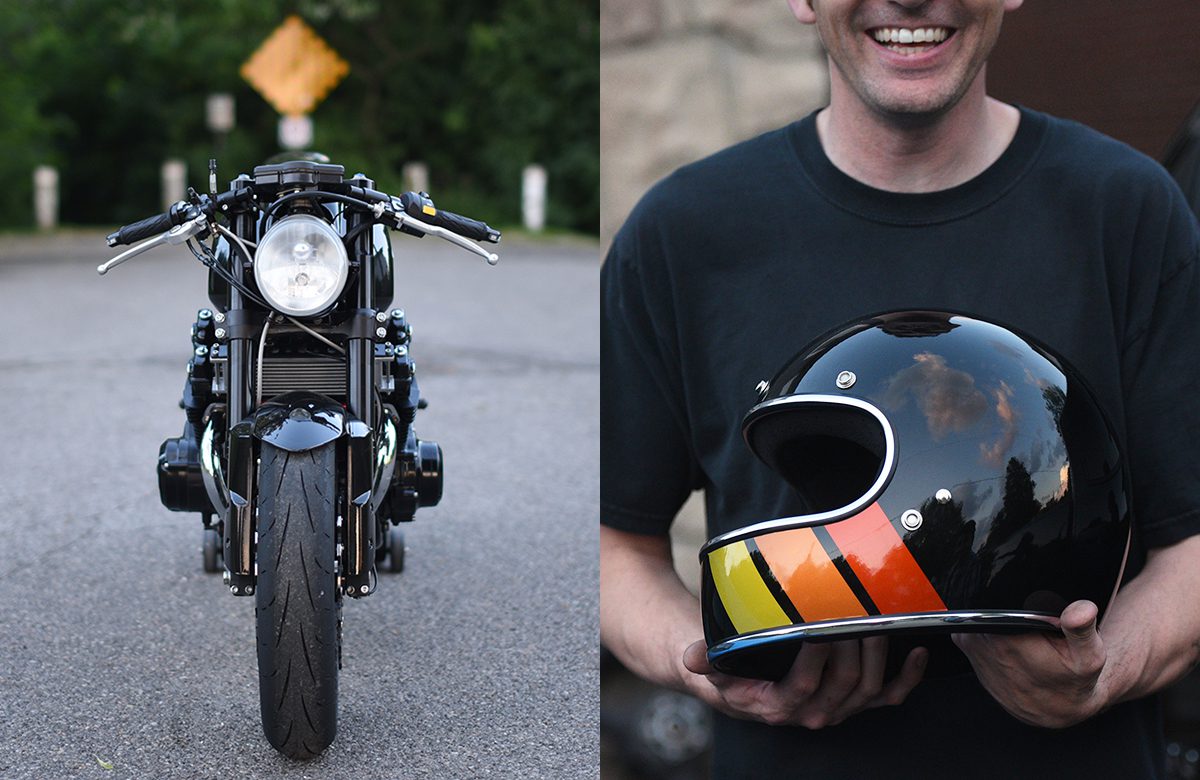 "Since my last CB900F was white I decided I would go opposite and do black this time – so it's kind of like its evil twin. When I was designing the paint job I wanted to showcase the new parts while retaining a retro feel that reflected the bike's heritage. I settled on a satin black frame with the bodywork finished in metallic black, silver, lemon, copper and red scheme. I think in the end it's a perfect balance of new and old."
Photography by Mat Manser