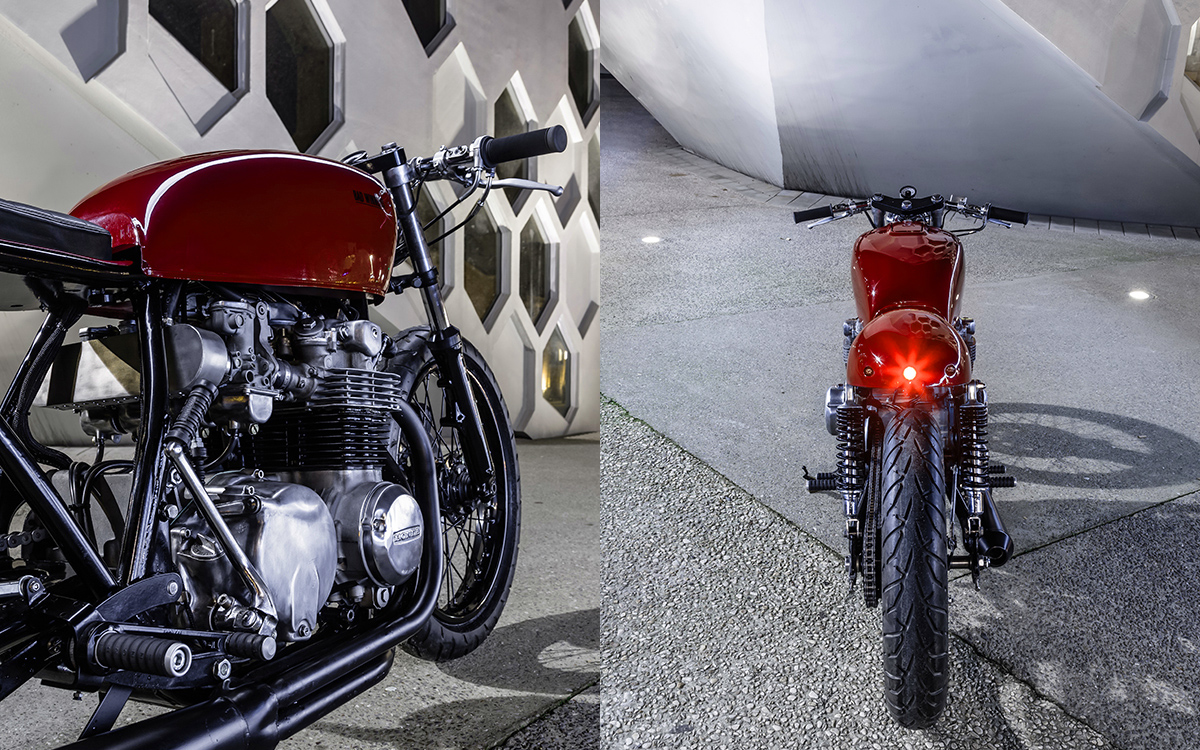 Bad Winners workshop owner Walid was exposed to working on motorcycles from an early age. Tinkering on bikes with an older cousin who raced professionally, he gained a first-hand look at how they worked. Walid's reason for building the Racing Rose came down to personal taste. He'd had the '76 CB550 F1 Supersport sitting in his stable for some time, but wasn't riding it. The bike lacked appeal for him so after some consideration, he decided to turn it into something he'd be drawn to ride often.
"The concept behind this bike was to create a clean, minimalistic and aggressive racer from the '70s." says Walid. Along with his styling goals Walid also wanted to create his vision without molesting the machine's chassis. This meant that the frame would remain untouched aside from a basic clean up and that the suspension set up would be consistent with Honda's original design.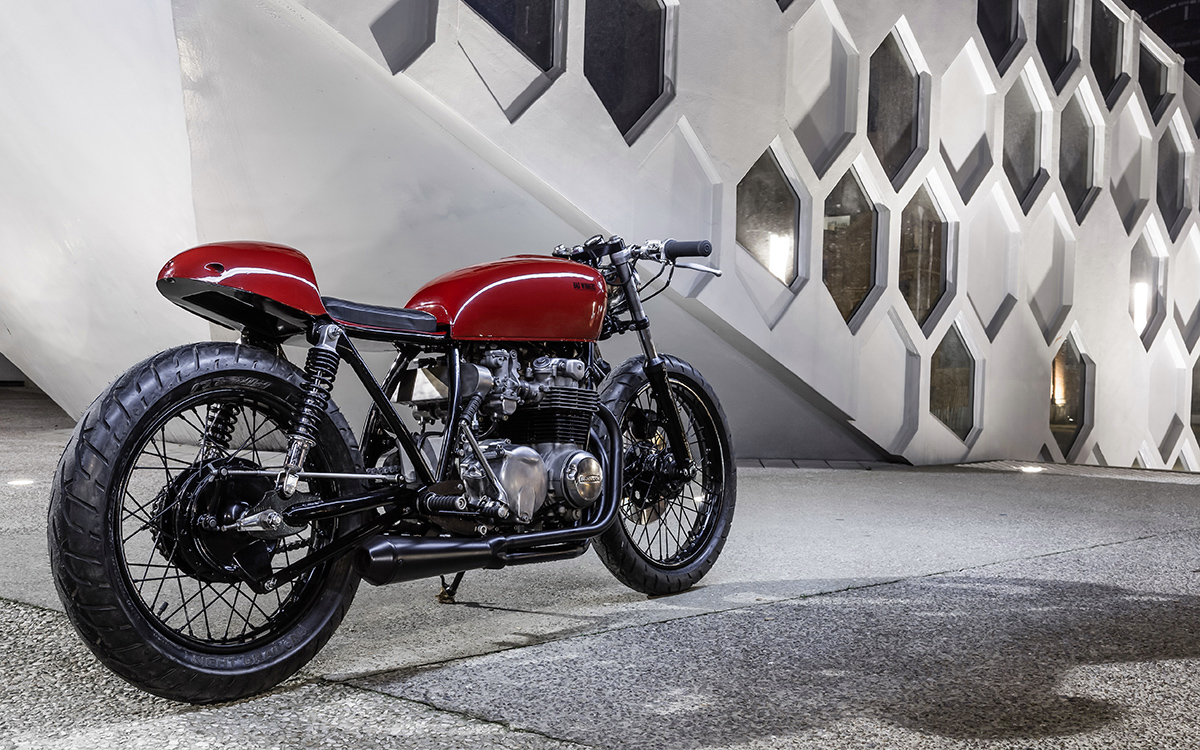 Working with the geometry of the original frame Walid shaped a metal rear cowl on his English Wheel and hand stitched the leather for the new seat. To balance the bikes stance and provide basic handling improvements the front end was shortened by 6cm and a set of retro style YSS shocks were mounted to the rear. The airbox and all of its contents were discarded and relocated and the carbs now wear custom made foam filters. Piloting the bike is now performed using a set of Tarozzi rear set foot pegs and clip on handlebars that sit high on the fork tubes. After a full rebuild the 550's engine was dropped back into its frame and fit with a blacked out 4-into-1 exhaust with a Megaton muffler.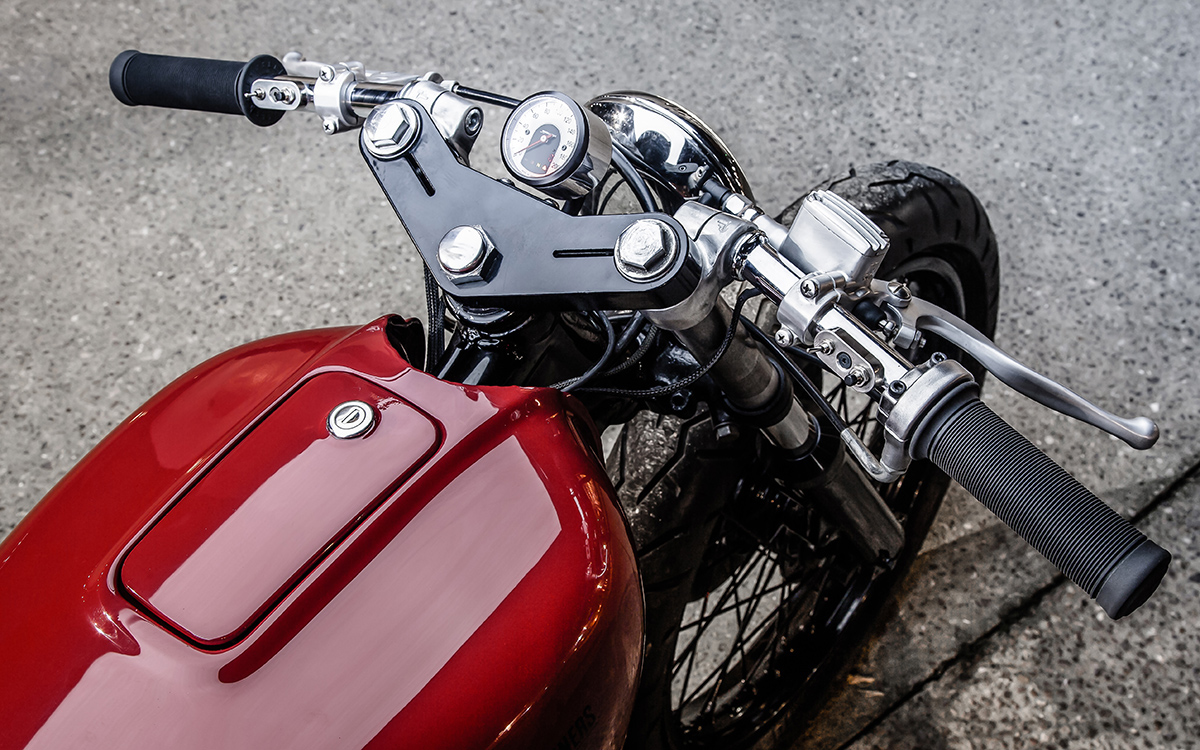 His build may be more classic in its approach, but that didn't stop Walid from adding a few modern touches to help simplify things. All of the bike's lighting for instance (aside from the Marshall headlight) has been converted to LED, allowing him to integrate it into the rear cowl. A milled billet top clamp did away with unused holes and risers and provided a clean slate for mounting a Motogadget Tiny speedometer. To keep the cockpit clutter free mini switches running internal wiring manage the bike's accessories. Front brake and clutch function is managed by a pair of Kustom Tech levers and an Alloy S&S throttle gets the juices flowing.
When it came to painting his Racing Rose red was Walid's obvious choice. After all nothing makes a vehicle go faster than a coating of racy red paint.
Photography by Guillaume Petranto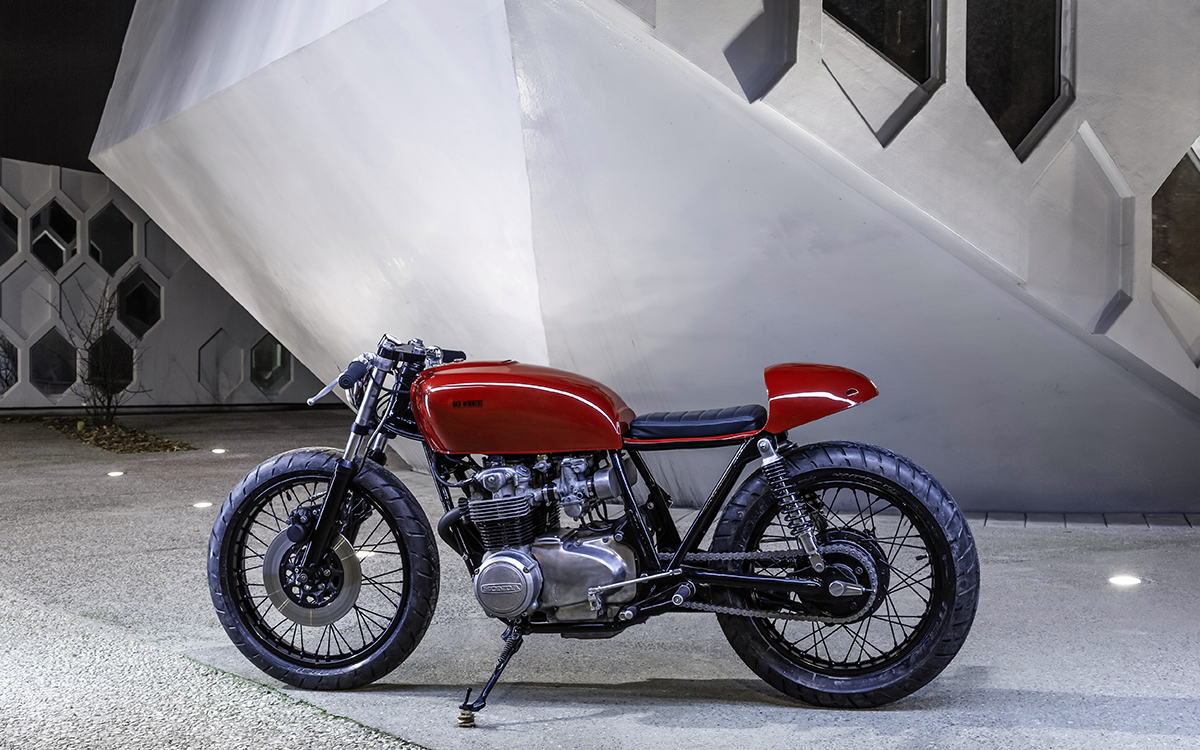 These days there seems to be two major trains of thought behind building a cafe racer. There's the performance focused route, swapping out old forks for sportier alternatives and increasing bhp through serious engine work. Then there's the more classic approach of retaining a period correct aesthetic and using simpler modification to unlock performance gains. Both approaches remain true to what building a cafe racer is all about, it really just boils down to what outcome a builder is pursuing. Today's featured build takes a more classic approach. Built by the 'Bad Winners' workshop in Paris this is the 'Racing Rose' Honda CB550.