Huge events like Verona's Motobike Expo offer custom builders the opportunity to try something different. After all, how else are they going to stand out amongst the hundreds of other vendors and workshops displaying their wares? Attending the Verona show is an experience I've yet to have thanks to a 25-hour flight and high ticket prices. So I experience the show via the social media posts of others. Although not ideal this method gives me a good insight into which custom motorcycles are making the biggest impact on show attendees. This year there were a few bikes that kept surfacing in my feed, most of which used an unconventional approach. Amongst them was this curious yet undeniably cool custom Honda CX500 by Raffaele Gallo of Officine Uragani.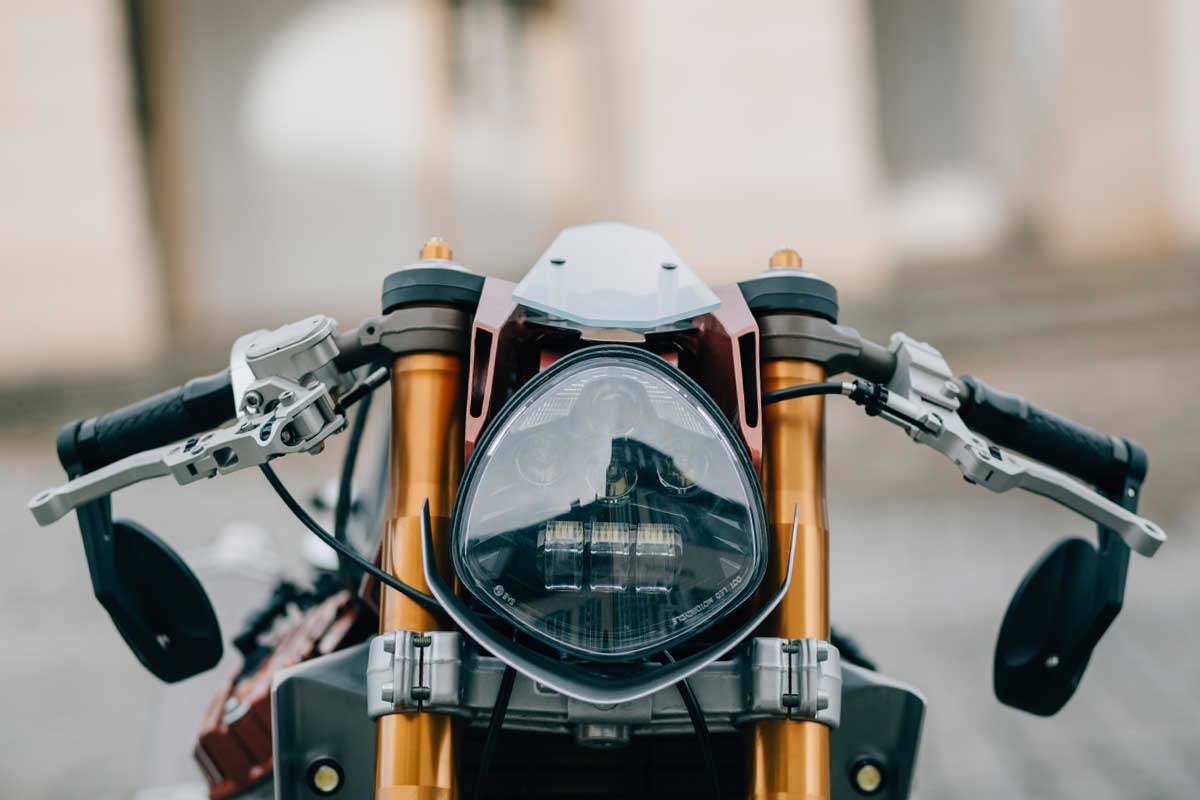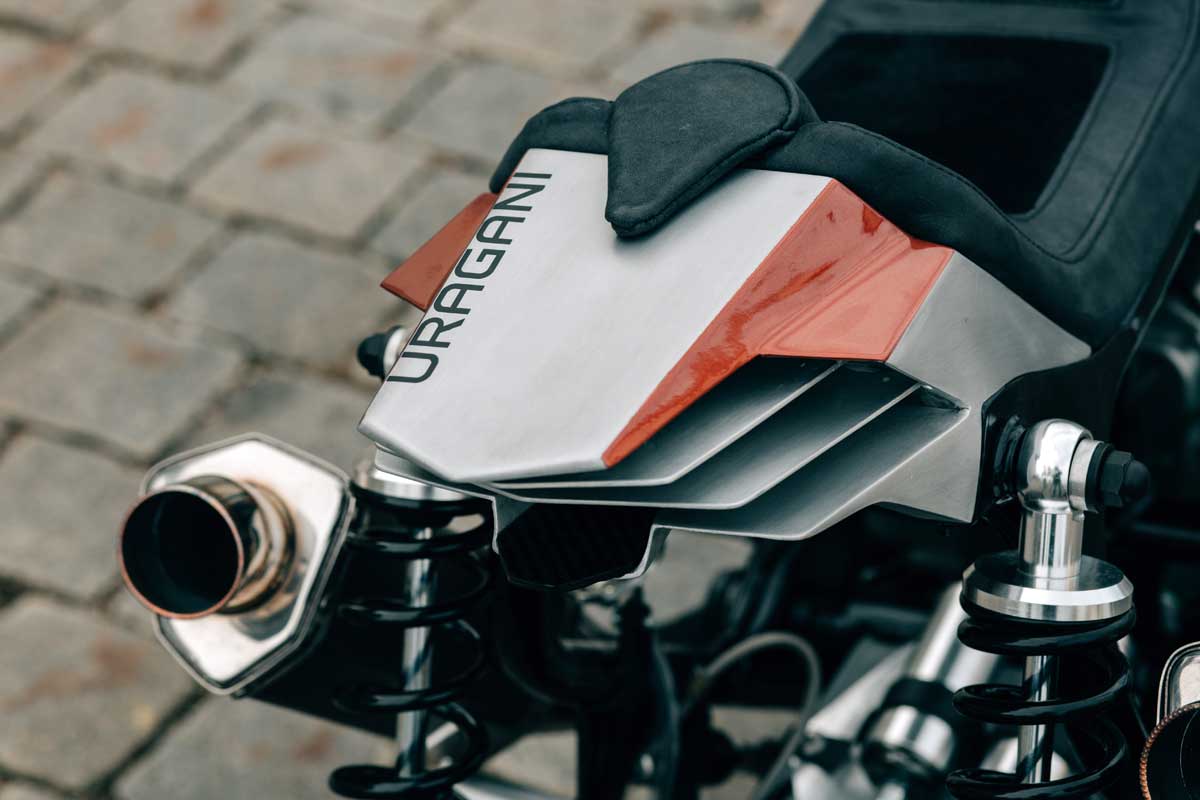 This isn't the first time we've seen something unexpected roll out of the Raffaele's workshop. The Italian born Germany-based builder likes to push the limits of style and his own abilities with each new project. Last time we featured his work it was a radically transformed Buell M2 Cyclone cafe racer. This time he's tried his hand at turning a Honda CX500 into a cafe racer-cum-scrambler creation that throws the rule book right out the window.
The aptly named Sfida, which translates to 'challenge', started out as a 1980's CX500 C and took around 7 months to create. As far as styling goes, Raffaele's direction was unique from the outset. "My idea was for an aggressive design that had a bit of a cafe racer, scrambler and street tracker in its character," he says. Unconventional was the term that first came to mind when I laid eyes on this custom CX500. Somehow though, despite the unorthodox mix of styles, Sfida was a success.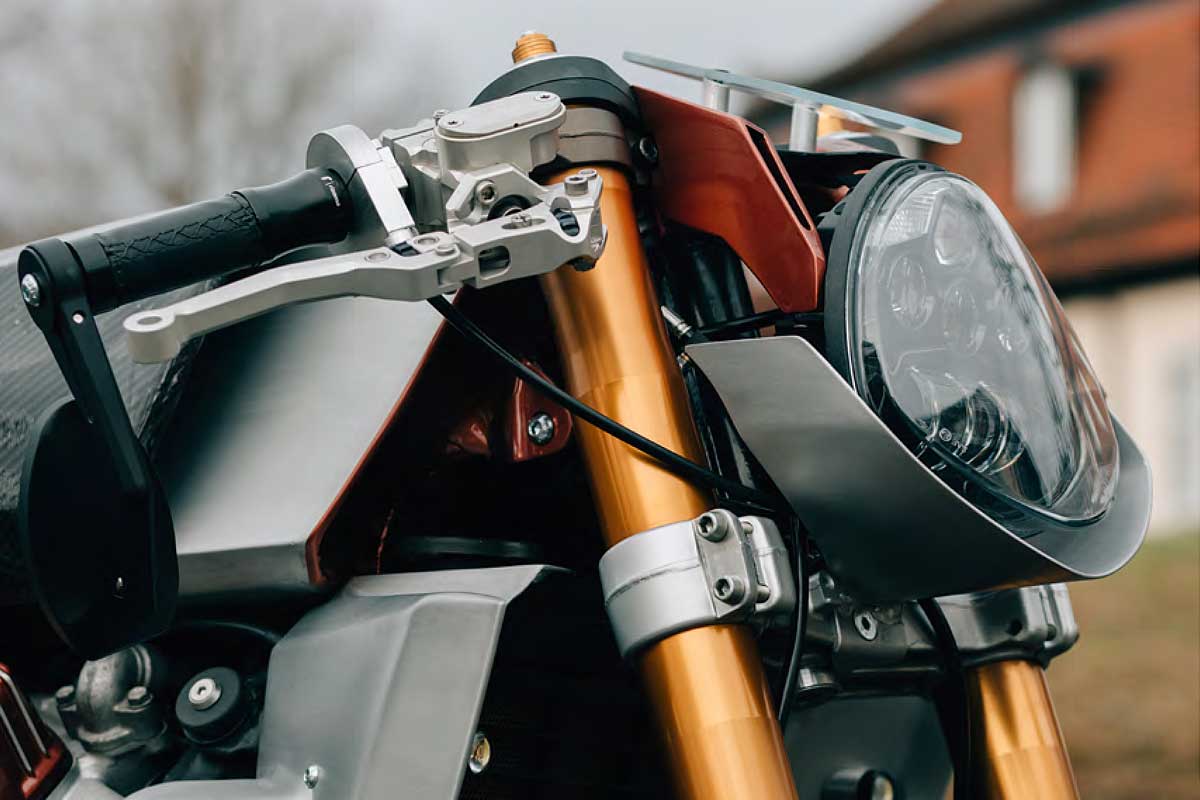 One of the biggest challenges for anyone attempting to customize a CX500 is dealing with the frame of the bike. Usually, this involves plenty of time grinding, bending pipe and welding to get the rear half sitting right. This was not the case with this build. Despite its radical new look and stance, Sfida's frame is untouched. Raffaele opted to work around what Honda had presented him with. Instead, he used a bespoke suspension setup and custom made bodywork to achieve the look he was after.
The CX's new suspension setup consists of a set of 50mm Showa forks retrofitted to the CX frame. In the back, you'll find extra tall shocks lifted from a 1970s motocross bike which Raffaele has bolted to the swingarm of a GL650. Honda created its Comstar wheels as a successor to spoked alternatives and their use on the CX500 marked the first time tubeless wheels had been used on a production motorcycle. Despite their historical achievements Comstar's didn't suit Raffaele's vision for his custom CX500. So, in their place are a pair of suitably styled Excel spoked rims wearing CRF450 disc brakes. The rubber chosen to wrap them is Continental's chunky, multi-purpose Twinduro TKC80.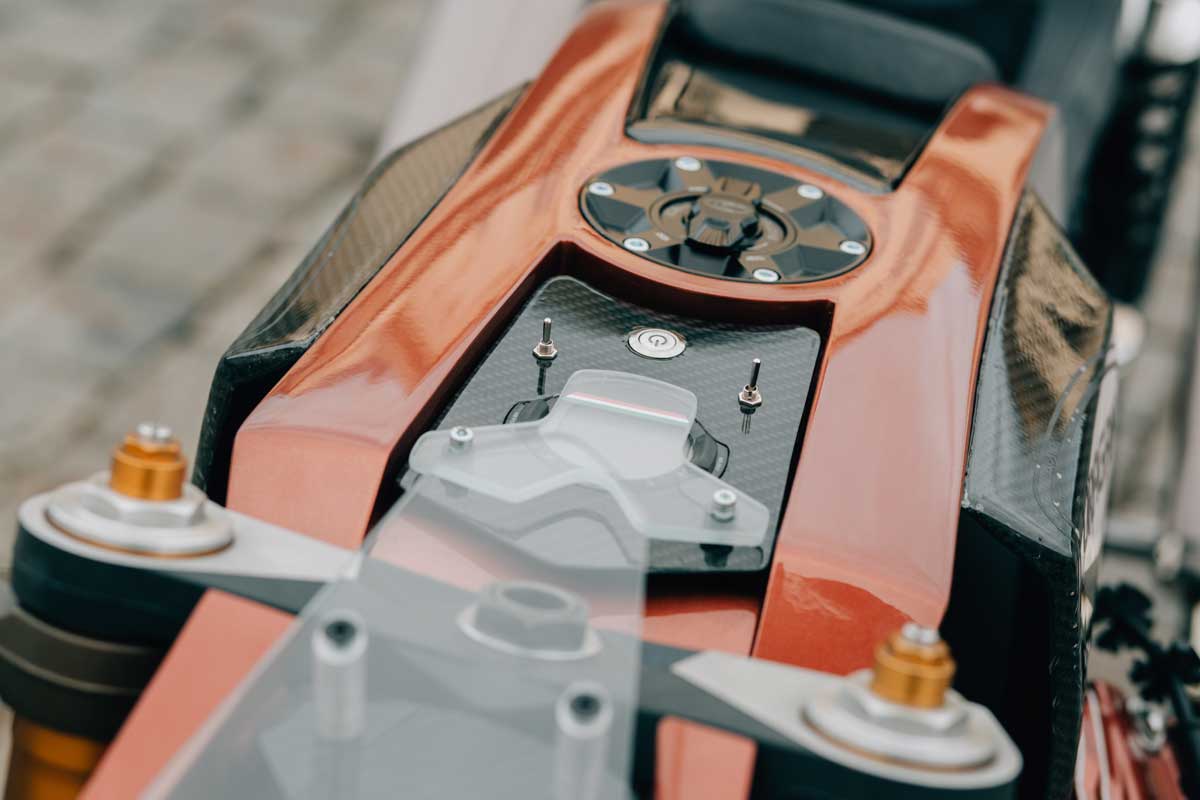 Raffaele designed Sfida's new bodywork to create a balanced bone line. Constructed from aluminum the bodywork is a visual feast of angular lines and clever details. The body has the look of an exotic sports car with carbon fiber air scoops on each side of the tank, a finned tail end and a headlight canard. To keep the cockpit clean the gauges and start button are recessed into the tank and refueling is done via a custom machined filler. A small windscreen above a modern LED projector headlamp was cut from perspex and the front indicators are recessed into a custom alloy radiator shroud. Lighting in the rear is managed by a trio of LED strips in the tail unit. In keeping with the cafe racer aspect of this custom CX500 build, the bike wears clip-on handlebars. On the handlebars are Rizoma grips and mirrors, and LSR levers.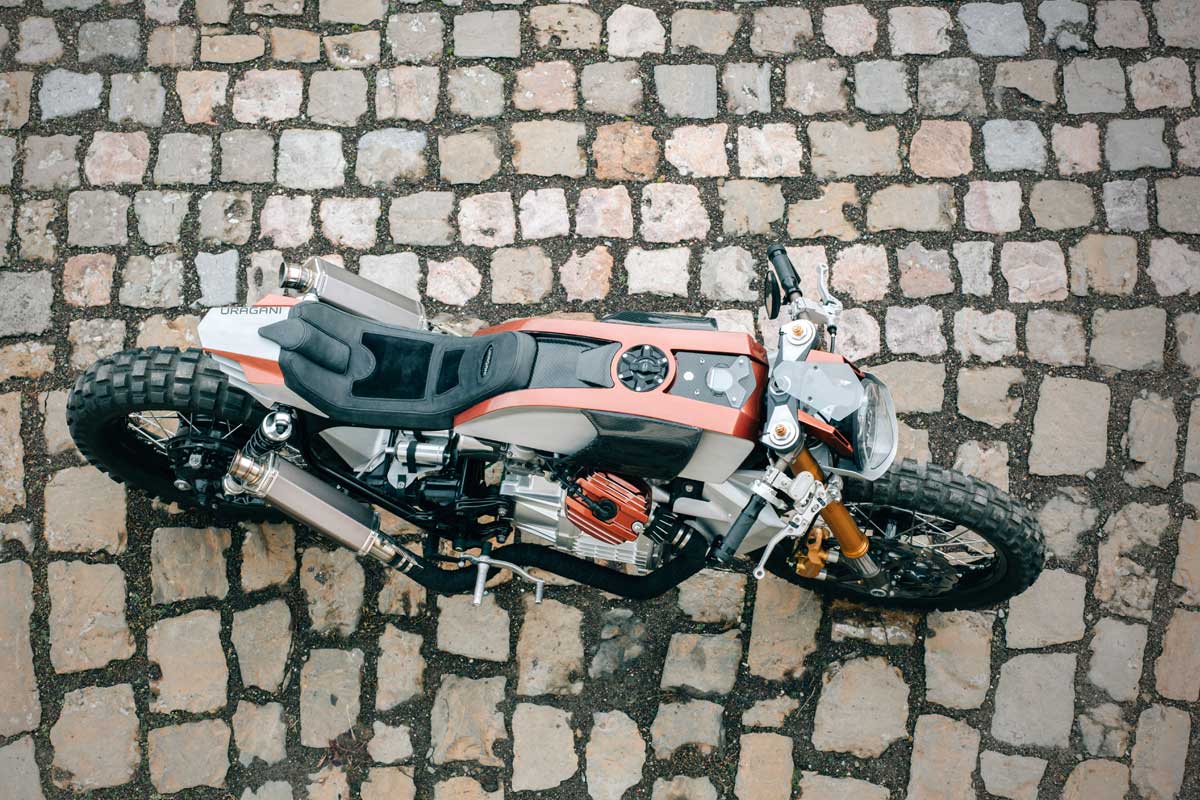 As for the engine it's been treated to a refresh both inside and out. The v-twin heads have been color-matched to the body and the cases have been given a fresh coat of silver. To free up the flow of gases the carbs wear carbon and alloy velocity stacks and there's a complete custom exhaust. The 2-into-2 system wraps under around the engines bottom end before sweeping to position the mufflers parallel with the CX's subframe.
Officine Uragani's Sfida Honda CX500 defies stereotypes and while there won't be any shortage of critics, the public's reaction has proven it to be a winning recipe. Although Cafe Scramblers aren't a trend we think will take off, one thing I am looking forward to seeing is more work by this ambitious Italian builder.
Photography by Sascha Feuster