German riding gear manufacturer Loius was founded in 1938 by motorcycle mechanic Detlev Louis. Today the company is Europe's largest retailer of motorcycle clothing and accessories with 85 locations throughout Germany, Austria, Netherlands, and Switzerland. As part of the company's ongoing annual marketing strategy, Loius collaborates with specialist workshops and builders to piece together custom motorcycles. They then go on display each year and compete at Germany's revered Glemseck 101 motorcycle festival.
Following tradition, the Louis team turned up at Glemseck 101 2023 with a handful of custom builds in tow. Amongst them, their modified Kawasaki Z900RS giveaway bike and this motorcycle, a sprint racer-prepped 2015 VFR1200 F Honda cafe racer nicknamed Lemmy.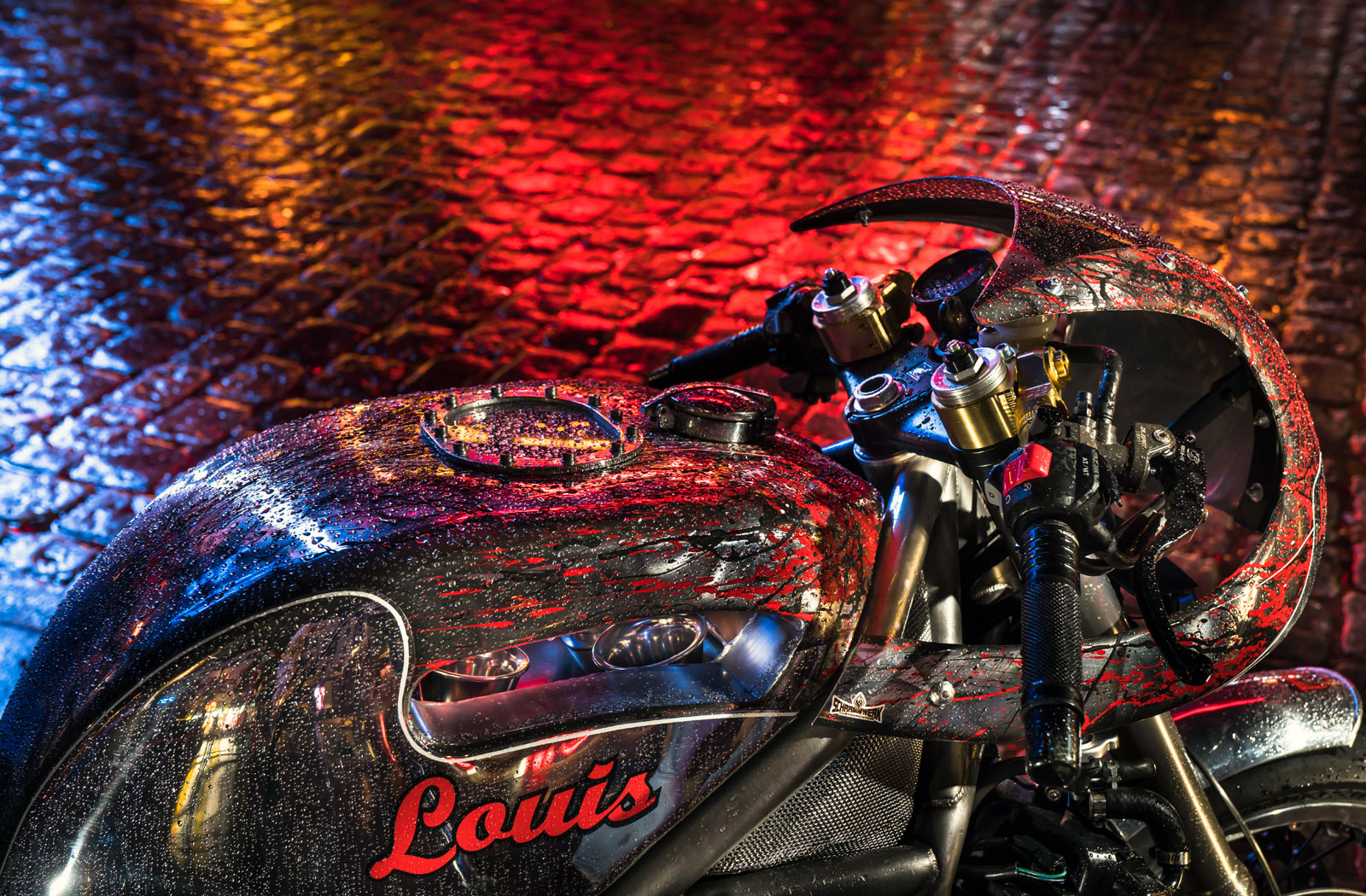 The VFR1200 F was Honda's fire-breathing sport tourer. Produced between 2009 and 2017 the Honda was powered by a 170bhp\129Nm 1237cc V4 engine. With numbers like that, the VFR1200 F made an ideal starting point for a Sprint Racer, and Louis marketing team member Kay Blanke was tasked with seeing the project through to completion.
Another contributing factor to the decision to modify the VFR was Loius' approach to building custom bikes. According to Kay they always aim to be original by building motorcycles you wouldn't have seen modified in such a way before. Lemmy is the perfect example of this approach.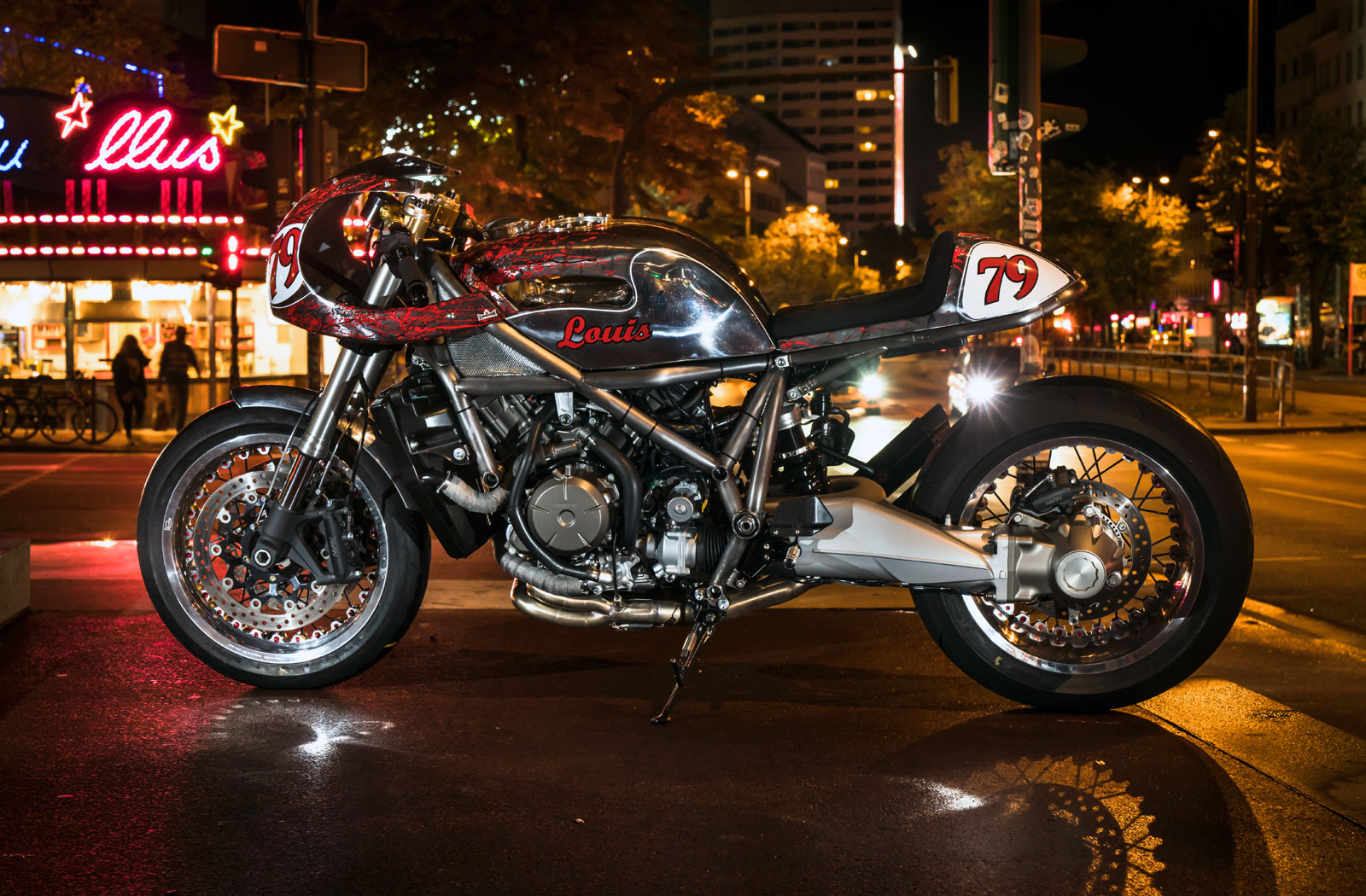 "I am responsible for the concept, design, and production of Louis custom bikes. However, specialists from the scene are always involved in the creation of our Glemseck 101 motorcycles, such as tuner Ulf Penner, painter Danny Schramm, or in this case, metalworkers Sam Wassermann and Friedhelm Lammers," says Kay.
Louis acquired the donor for the project courtesy of Honda Europe who had the 2015 VFR1200 F in their pre-owned fleet. Kay was convinced the VFR had the potential to be a formidable sprint racer, but it'd need a makeover to stand out amongst the other custom-built racers at the show. "For me, the great V4 engine was somehow in the wrong body. So I drew a classic cafe racer around it." he says "Normally I make several drafts. But in this case, the lines were created from wire and cardboard directly on the bike, because I wanted the intake tract visible. Friedhelm Lammers then built it out of aluminum."
Using textbook cafe racer styling, Kay's design necessitated the construction of a custom chassis to house the VFR engine, electronics, and swingarm. Built by Sam Wassermann, the trellis frame functions as a stressed member, and along with the VFR OEM gear it's been fitted with a YSS performance rear shock, custom-made Kineo spoked wheels, and a set of handlebars and footrests by Gilles.
The aluminum work by Friedhelm Lammers, who runs the business alu-tanks.de, consists of a new half-fairing that surrounds the front end.  The fuel tank, with its visible velocity stack intakes made by engine tuner Ulf Penner. And a wasps' tail seat assembly. All of the new bodywork has been shaped to sit perfectly on the new chassis and left mostly raw to hero the hard work and skill that's gone into creating it.
Raw power is an essential component of any race bike and despite the Honda's respectable factory figures, it needed more to stand a chance of taking home a trophy. As a result, the V4 has been tuned to increase its output and improve power delivery across the rev range. Topping off the performance gains is a whopping 50kg drop in weight.
"Ulf made the intake funnels and wrote a new map for the Power Commander. Together with the custom Shark 4-1-2 exhaust, we now have a good 180 hp and the standard power hole at 3500 rpm has disappeared." Kay explains. "We have more than enough power and thanks to the long swingarm we hardly have any problems with wheelie tendency. Our rider Mai-Lin (Stunt rider) has already beaten Freddie Spencer and Conor Cummins with it at Glemseck 101."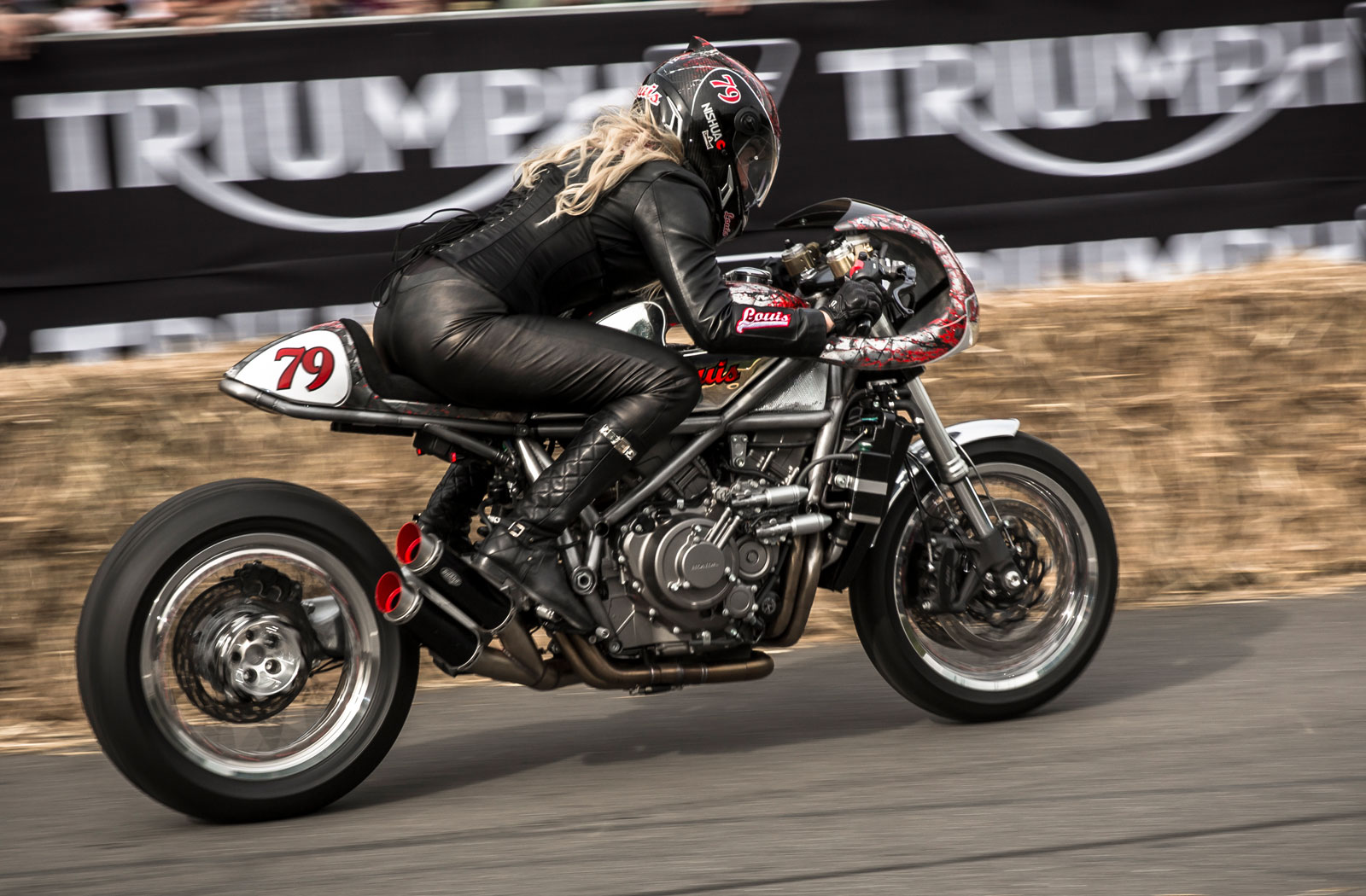 The finishing touches on this build come courtesy of Louis' online parts catalog. Sitting behind the fairing you'll find a T&T gauge. The LED headlight strip is a Highsider product as are the dual-function LED turn signals which allow the bike to still be ridden on the street. A retro aluminum fender by LSL covers the front wheel and there are custom fluid reservoirs for a more premium finish. Finally, Kay enlisted the help of painter Danny Schramm to apply the Jackson Pollock style livery using Louis' corporate colors. And the seat was upholstered by Patrick Kinzlin.
The VFR1200 F never quite met up to Honda's expectations when it went on sale. Despite having an updated version of their legendary v4 powerplant it was overweight and lacked the bells and whistles consumers wanted at the time. Thanks to Kay and the team at Louis, this VFR1200 F has been given a fresh lease on life and will undoubtedly now get all the attention it deserves.
Photography by Volker Rost