50cc's! Hmm doesn't sound that cool to me you say. Well check out the pics…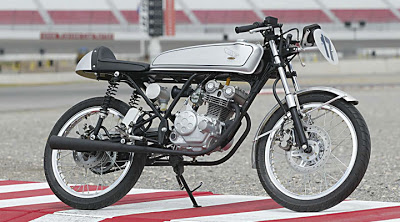 and not only does the Honda Dream 50r look like the ultimate 50cc cafe racer it's a hell of a little performer too. Here's the standard specs for a Dream 50r straight of the production line: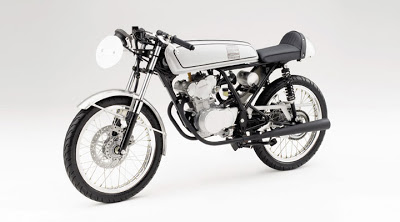 • 49cc four-stroke engine produces 7 bhp (yes, you read it right. That's 5.14kw) at 13,500 rpm.
• HRC® racing parts include: camshaft, valve springs, low-friction cam chain, crankshaft and lightweight AC generator.
• Six-speed close-ratio transmission.
• Big-bore carburetor and special manifold for optimum power.
• Race-ready engine features oil drain bolt with hole for lockwire to comply with race regulations.
• Lightweight and strong steel frame.
• Weight-saving aluminum fenders front and rear.
• Aluminum oil catch tank.
• Showa® front and rear suspension are calibrated for the track to provide optimum handling and stability.
• Front number plate and chainguard as standard equipment.
The Dream 50r was built to commemorate Mr Hondas racing dreams and to celebrate the companies earliest beginnings. Available for track use only the Honda Dream 50r might just be the thing for those who are looking to get in to racing but don't have huge $$$ to spend. From all reports the bike is a hoot to ride and a real little performer. Best of all you can carry it home under your arm when you're done at the track.
If you're in Australia and you're keen to get your hands on one the guys at Deus Ex Machina are looking at importing them soon. If you want to see/hear one in action there are also plenty of vids like the one below available on
youtube
.