I've had a rather unhealthy obsession with Honda's CR750 for as long as I can recall. I think it stems from a love of the bike's history and the fact that it is, in my opinion, one of the best looking faired motorcycles ever made. Bulky in the front and narrow in the back, its muscular bulldog proportions let you know this bike is packing some serious performance and seeing it on the track back in the '70s must have been awe-inspiring. As a result of my obsession, I'm often trawling the internet looking for CRs and recently that lead me to this somewhat unorthodox CR replica.
Built by Justin Steyn aka 'Justiflied' in Johannesburg, South Africa, this is his CB550 based CR replica, and what it lacks in cubic centimetres it makes up for in style and performance.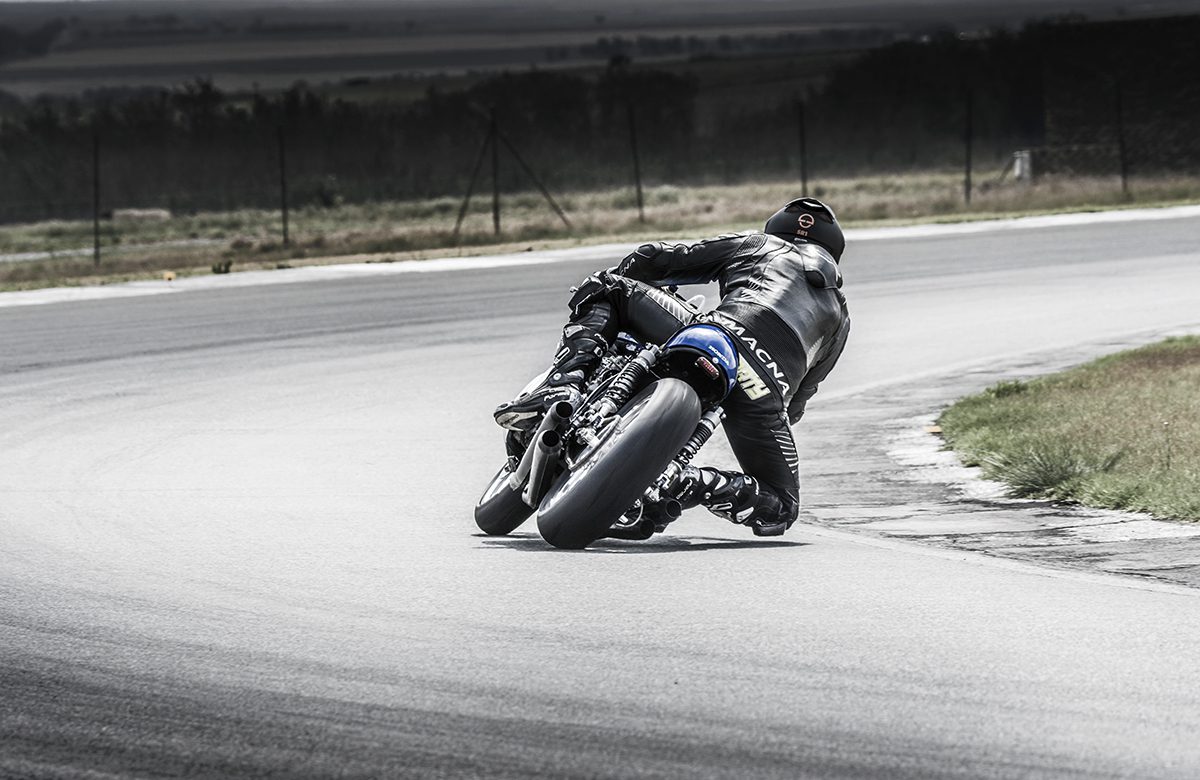 "I'm a Honda guy. The passion started with dirt bikes in my teens," confesses Justin. "A few years ago a friend showed me a picture of a Triumph Bonneville bobber, and it was love at first sight. So I got cracking on my first custom build, a '69 Triumph Bonneville bobber that ended up getting some coverage online. Although I love the classics, especially the Brit bikes, my heart still lies with Honda, so all my builds since then have been Honda based."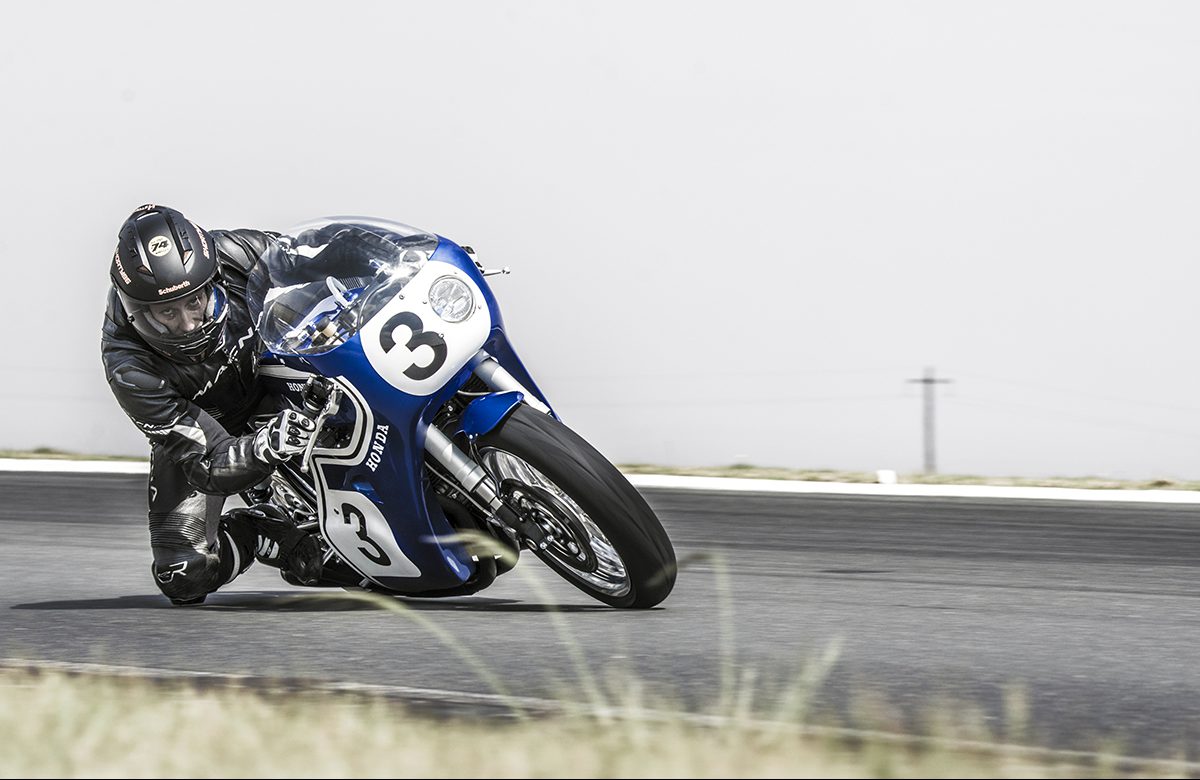 Justin's stable of custom Hondas has a rather unique theme to it, all his builds are based on #1 plate and championship winning motorcycles. His CR is, of course, no exception. Honda's CR750 is arguably one of the most iconic racebikes Honda ever built. It's win at Daytona in 1970 piloted by the legendary Dick Mann singlehandedly popularised the Honda brand in the United States and the bike it was based upon, the CB750 is commonly referred to today as the world's first superbike. However at the core of Justin's Honda, you won't find a 750cc engine, his build started its life as a CB550.
The project began when Justin got his hands on a clean CB550. The goal was to convert the bike into an RC181 replica like the bike ridden by Mike Hailwood in the TT days. However, being a lover of the classics he decided that the bike shouldn't follow the same fate as so many others and be chopped up, never to be original again. So with that, he began hunting for individual parts that he could use to build a whole other bike. Soon a frame and engine were sourced and the project was underway.
"When I went to see Kevin Bidgood from TTR400 about building an engine for me, I spotted a Dick Mann replica CR750 in his shop," says Justin. "I liked it so much that I decided to go down a similar route, except I'd do it using the CB550 parts".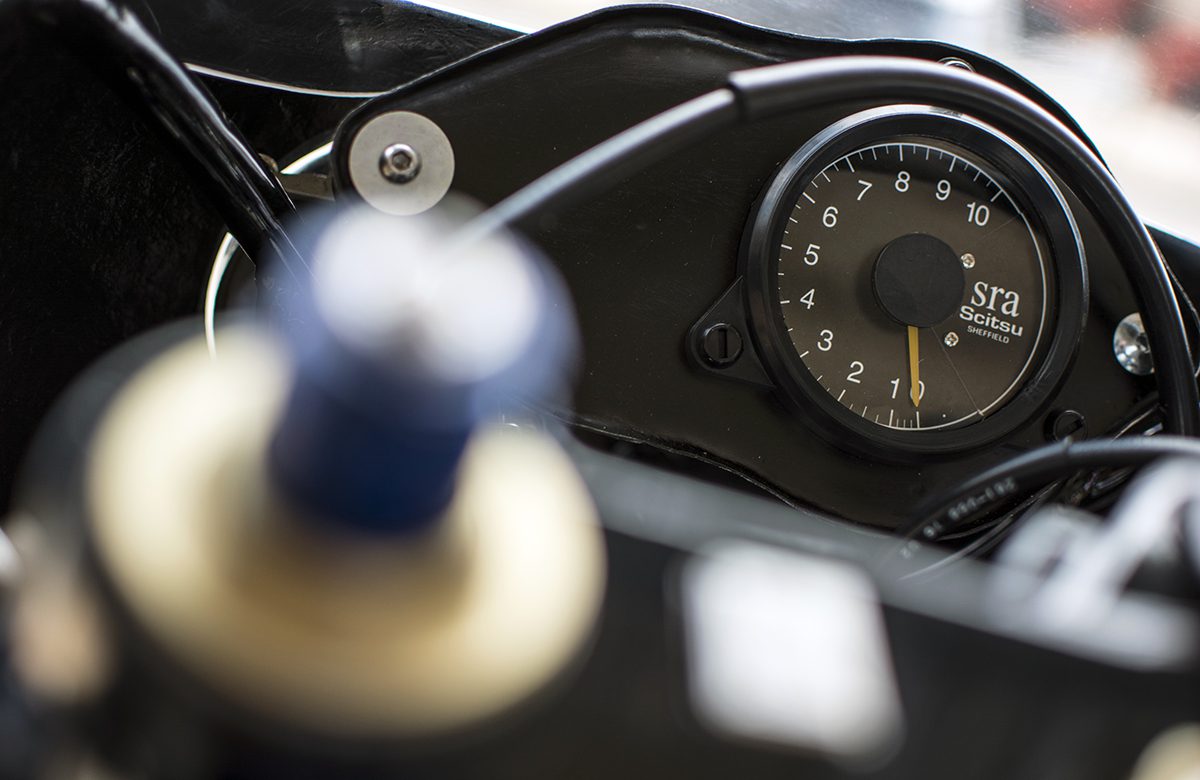 The CB550 does, of course, have different proportions to its big brother, so work began with modifications to the frame. Using Honda's RSC (Racing Service Corporation) frame as a guide they tweaked the subframe, made preparations for the revised bodywork and added an extra top tube for a better bone line. With the bulk of the frame ready, smaller details such as the rearsets, gear linkages and oil tank mounts were designed to look as close to the CR750 items as possible. An oil tank/battery box was also designed in line with the original to sit beneath the seat inside the frame.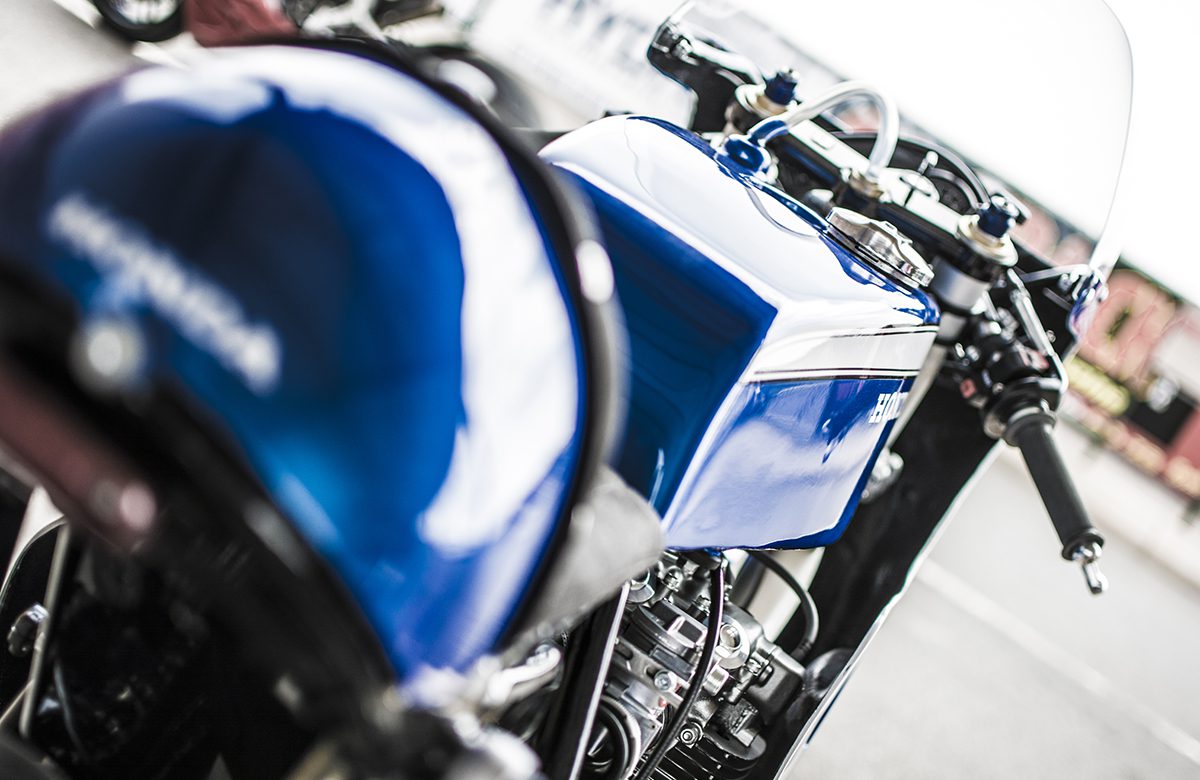 Meanwhile, Kevin was working his magic on the 550's engine. With it torn down, he bored each cylinder 3mm over and the crank, rods and pistons were all balanced. The heads were ported and polished and a set of high-performance valves, springs and guides were installed. To get more fuel into the engine a quartet of Keihin CR Carbs were mounted and a Dyna 2000 ignition system installed to manage the spark. Finally to get the bike singing like a tenor a set of pipes were fabricated from scratch to look exactly like the CR750's original 4-into-4 system.
With loads more power on tap, the handling was suitably modified. Despite not looking period correct having an ill-handling bike wasn't an option so Justin fitted a GSXR front end with the help of Duane from Moto Speed Shop. The bike also rolls on a pair of 17 inch Excel supermoto rims retrofit to a modified Cognito Moto front hub and a Talon rear hub.
The bike's bodywork is a mix of modified and custom made components. The tank is a one-off built by Philip Liebenberg. Phil was also the man who modified the bike's frame, built the oil tank, fuel tank, exhaust and much more. Using traditional metal forming techniques he spent around 350 hours getting everything to fit accordingly, right down to the replica CR750 fairings that he customised to suit the 550's geometry. TTR400 supplied the bikes trick points and tappet covers and under the windshield sits a Scitsu tacho and Smith's oil gauge. Then with everything sitting right, Wicked Wayne Paints laid the striking blue, white and black paintwork.
"I have an eye for detail and I like the detail that's gone into the build… at the cost of everyone's sanity. I think we've got it right though. Sure the proportions are way different on the Honda CB550 compared with the CB750, but I think it works." says Justin and I would have to agree.
Photography by Boom Productions