Much like their Honda CB550 "SL" cafe racer the CB350 has undergone a comprehensive rebuild. "Marek rebuilt the engine completely" Grzegorz explained, but that process always sounds easier than it is. This time round Marek had to resort to tearing the engine down to its gearbox to ensure the old Honda would prove a reliable purchase for its next owner. After replacing worn components and installing fresh gaskets and seals the engine was meticulously reassembled before its exterior was given a facelift using a high temp, gloss black engine enamel.
After detabbing and cleaning the frame it was powdercoated using a satin finish graphite grey. The revisedrear loop carries a custom made, steel cowl and a basic seat pan that both sit flush to the rails of the frame. The tiny tail somehow manages to house the bikes electrical components along with a lithium-ion battery and, as if that wasn't enough, there's even an LED taillight tucked in there that shines out through a mesh grill. When it came to choosing a covering for the seat Unikat pride themselves on having bikes that boast a premium level of finish, so for the saddle they sourced some original beige leather from a Mercedes 300SL gullwing.
At the pointy end you'll find a set of Tomaselli adjustable Clubman bars that lower the steering without sacrificing comfort and a single, low slung bar end mirror keeps things uncluttered. Offcuts of Mercedes gullwing leather were used to cover both grips and the original warning light cluster has been complemented with a pair of tiny aftermarket gauges. Weight reduction on these smaller capacity bikes is always a priority, so at the sacrifice of practicality, the fenders were discarded. For the sake of keeping road grime out of the carbs a basic mudguard with laser cut Unikat logo was mounted into the frame.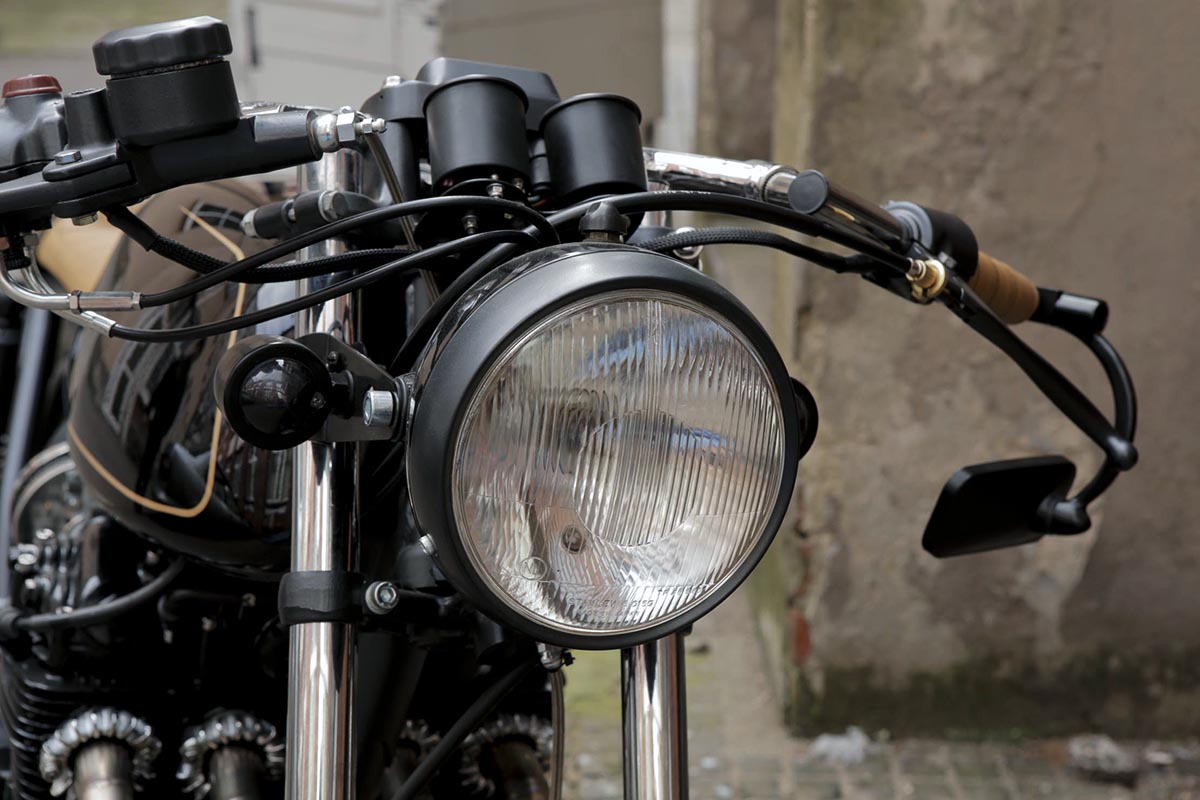 Along with shedding weight the biggest performance gains on these retro mid-sized motorcycles comes from freeing up the flow of gases. So to get a bit more poke out of this bikes 350cc powerplant the airbox was discarded in favour of pancake filters and the carbs rejetted to suit. A custom 4-into-2 exhaust system with low slung mufflers was then fabricated to complete the power upgrade package.
Everyone's favourite rubber, Firestone Champion Deluxe, was chosen for cladding the CB's rebuilt wheels. Despite their deplorable reputation the Firestone's bulkier profile adds mass to the bikes svelte proportions and are the perfect finishing touch to the CB's retro styling.
The graphite paint scheme continues onto the bikes rebuilt wheels, hubs and rear shocks, however when it came to the bodywork a classic gloss black was applied to the tank, tail and headlight bucket. Finally to tie it all together a gold pinstripe was applied and a gold link chain installed.
It may not be the fastest steed in the Unikat stable, but this racy little runabout oozes thoroughbred appeal.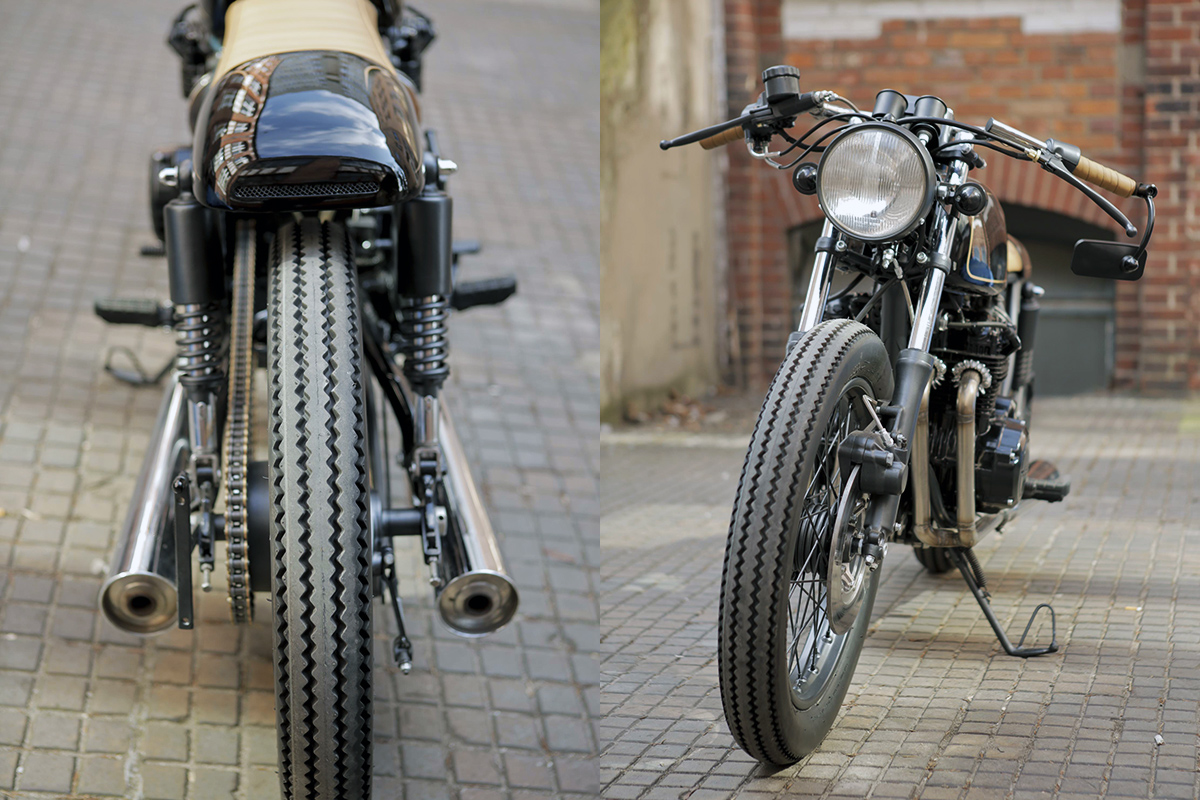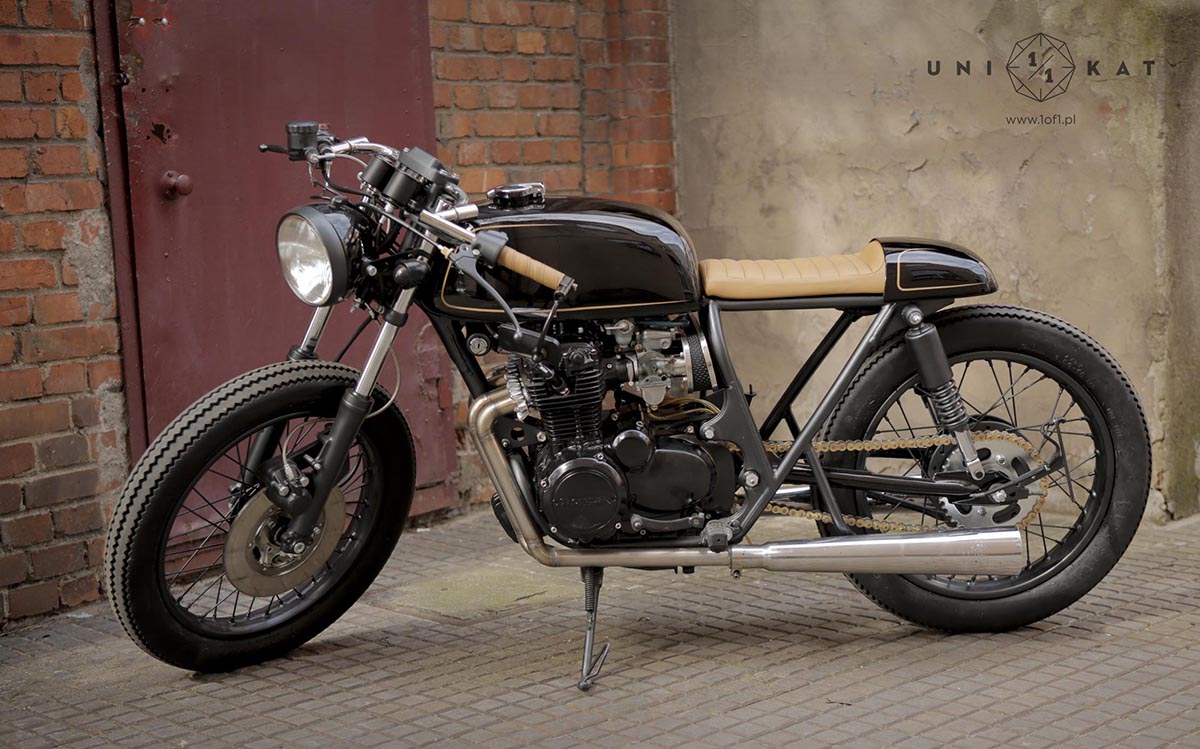 To wrap up this week's motorcycle features we're revisiting our friends from Wroclaw in Poland, Unikat Motorworks. This time Grzegorz, Marek and Kuba have reworked a Honda CB350F that was imported from Holland especially for the task. It's no secret the guys have a soft spot for cafe racer style builds and according to Grzegorz they're also rather partial to mid-sized Japanese bikes. So, as you would expect, the combination of these 2 passions has resulted in yet another great showcase of Unikat's methodology.