We've seen many custom builders progress from one-off builds to limited series motorcycles with great success. A limited series approach allows a builder to produce components in bulk which can drastically reduce the cost and time involved in building a custom motorcycle. It can also improve quality control and even yield higher profits. 
Additionally, a limited series approach can bring big benefits to the customer. Workshops invest a lot of time in developing these motorcycles because they are a way of showcasing their talents. You'll pay a premium to own one, but you'll generally be getting top-of-the-range components and you'll be buying a one-of-a-kind machine that's been meticulously built by hand.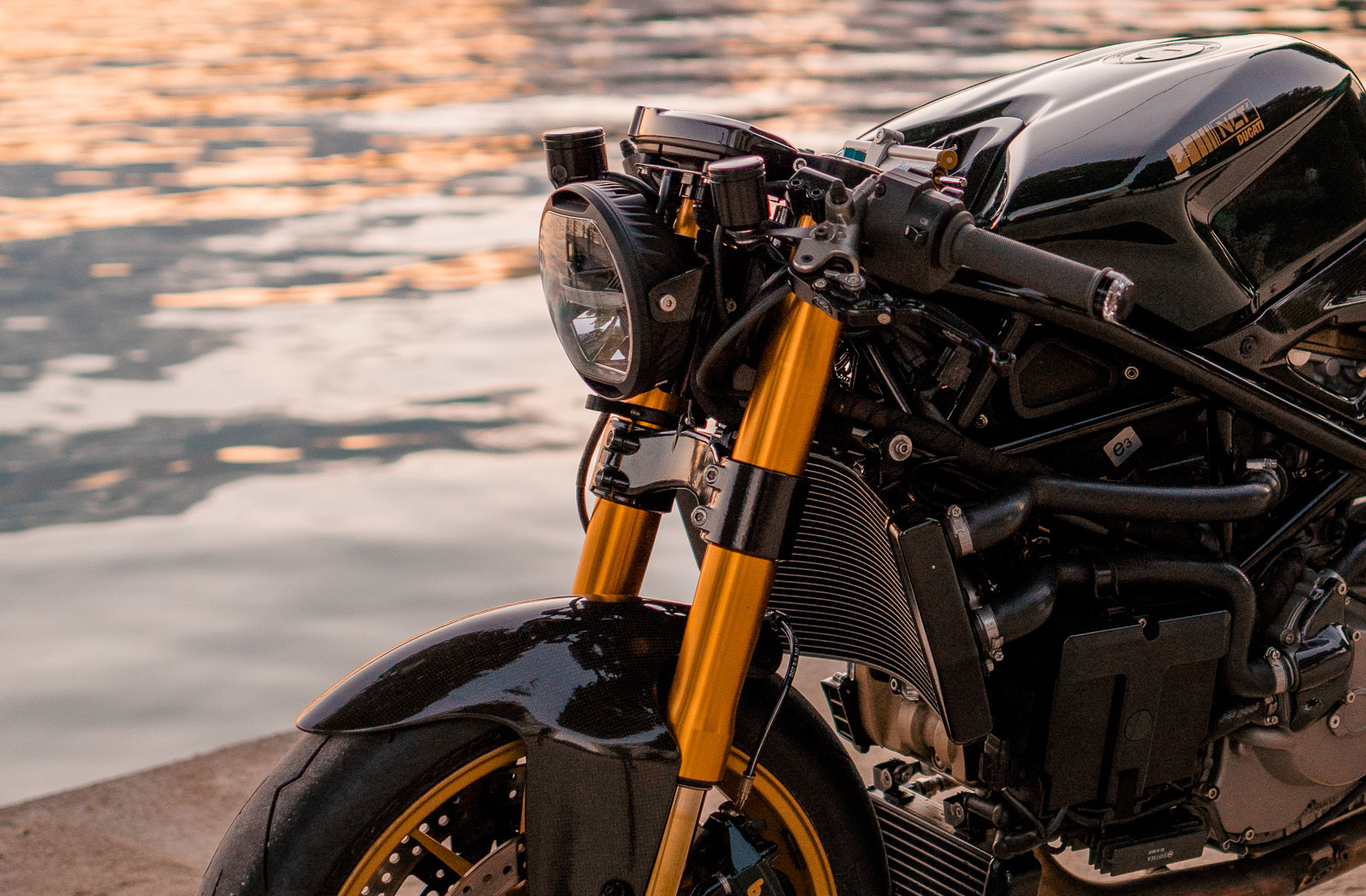 David Widmann, the owner of Austrian-based NCT Motorcycles, is one of the latest builders to adopt a limited series approach. The NCT Evo Racer is a 70-piece series that's made up of 3 different donor motorcycle models, the Ducati 848, 1098 and 1198.
Developing the Evo Racer series has been a 2-year project at NCT headquarters. David's goal was to give a modern motorcycle the look of a classic bike without clashing with the Ducati's unmistakably modern running gear. The result was a naked motorcycle that borrowed styling cues from 1950s cafe racers and vintage race bikes, but at its core was pure Italian muscle.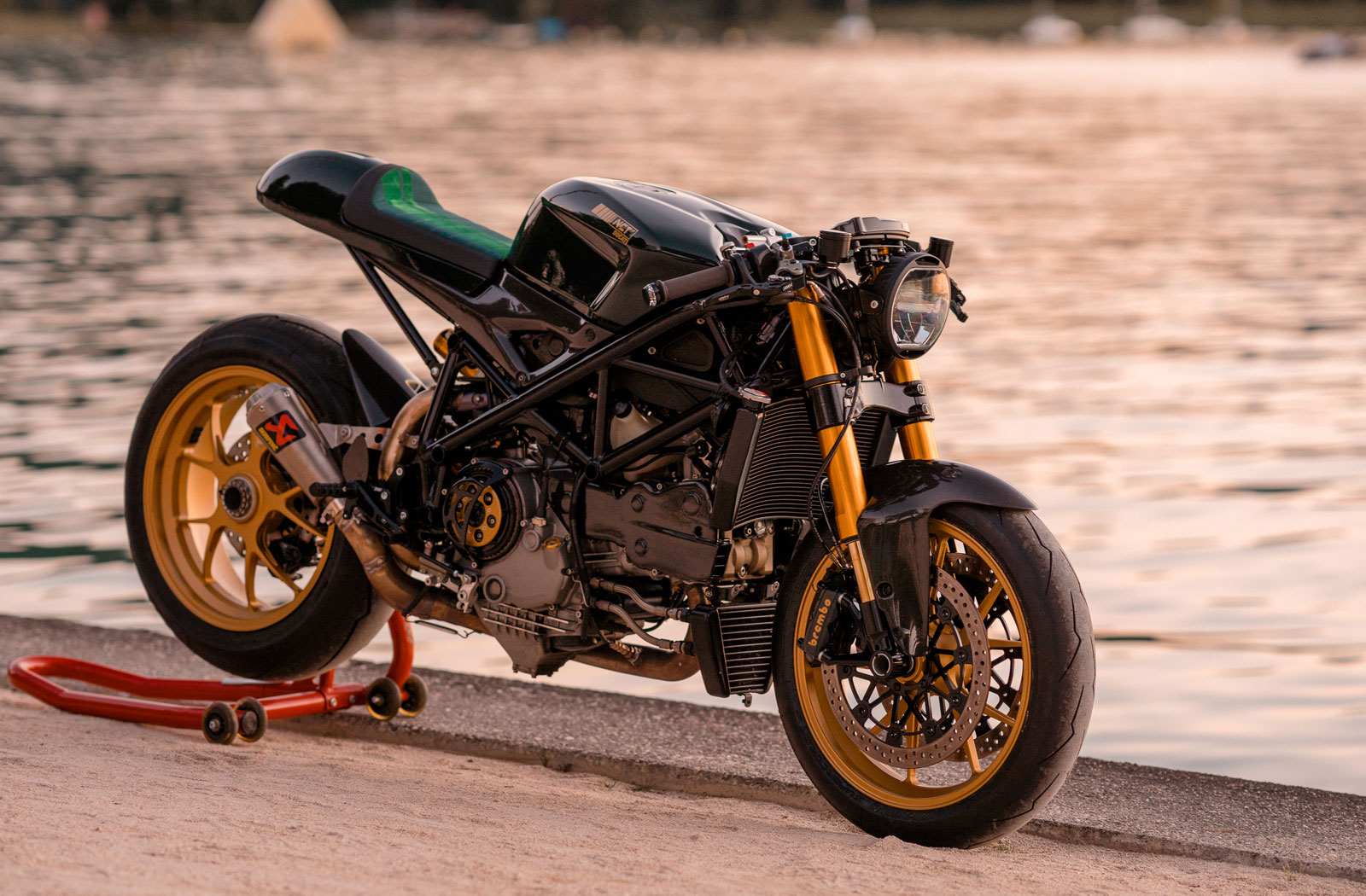 This bike, based on a 2009 Ducati 1098S was the first NCT Evo Racer completed. David secured the donor from a local dealership and used it as a test bed to develop his concept.
One of the key components of the Evo Racer design is its classic racer seat hump. The new hump and seat base are NCT original components constructed from carbon fibre. The single-seat cowl accommodates a custom upholstered saddle and has an LED tail light integrated into the rear. To tie things together, NCT has also built custom side panels from carbon fibre and added a spattering of carbon parts like guards and engine covers which also help to shed a few pounds.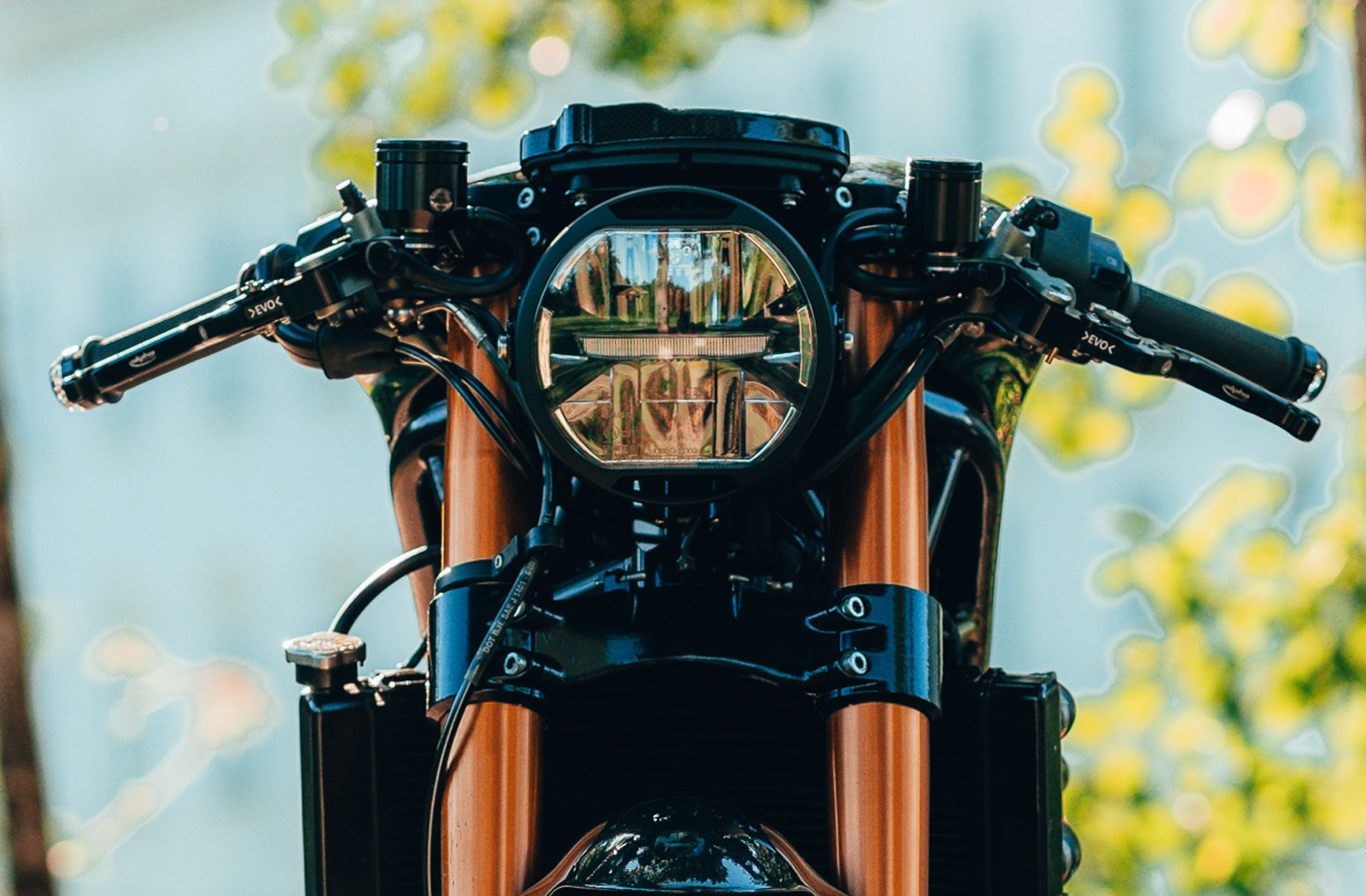 The Evo Racer's revised rear end is perched on another NCT original part in the form of a bespoke subframe. With the rear cowl in place, the subframe creates an aggressive upswept bone line that stretches from the top of the radiator to the very tip of the tail. The new design dispenses with the underslung exhaust setup of the stock 1098 and although not shown in these photos, comes fitted with a small license plate bracket that houses the rear-end turn signals. The new unit also doubles as a space to stash some of the Ducati's electrics that were exposed after removing the front fairing.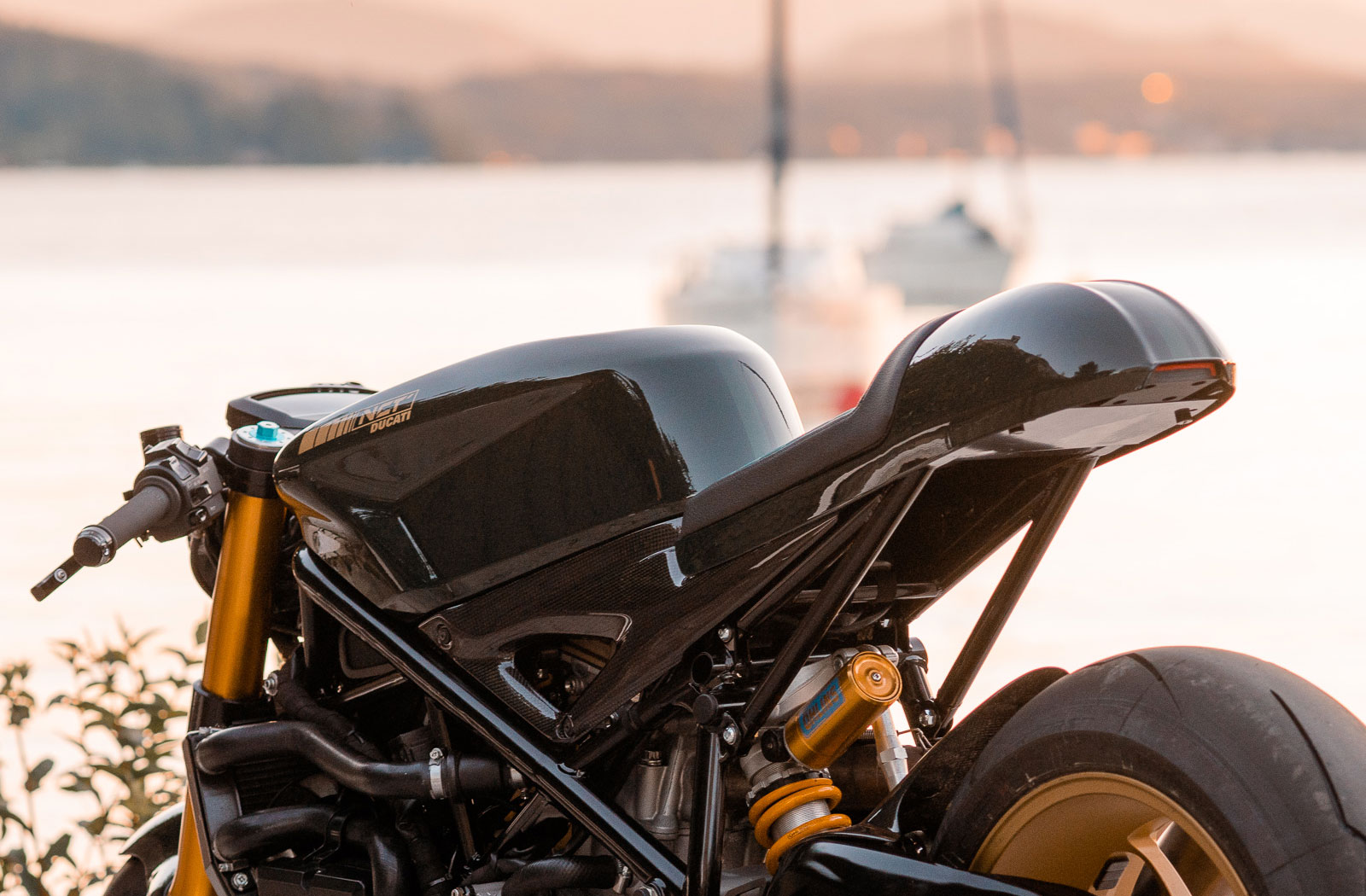 Another distinct difference between the Evo Racer and a standard 1098S is its naked appearance. After removing the Ducati's front fairing NCT relocated any unsightly electrics to display the frame, engine and beefy golden Ohlins forks in all their glory. The removal of the fairing also necessitated the fitment of a new headlight which comes in the form of a small round LED-powered unit. The new headlight is held in place by a custom-made bracket that holds it snug between the forks.
NCT has also stepped things up by dispensing with any of the 1098s' lower-spec accessories. This is apparent on the engine where plastic covers have been replaced by carbon fibre and the handlebars where the "piss cup" fluid reservoirs have been swapped out with machined alloy alternatives. Bar end indicators by Motogadget keep things looking tidy and the finished road-going version of the bike also wears low-profile milled aluminium mirrors by Italian aftermarket experts, Rizoma.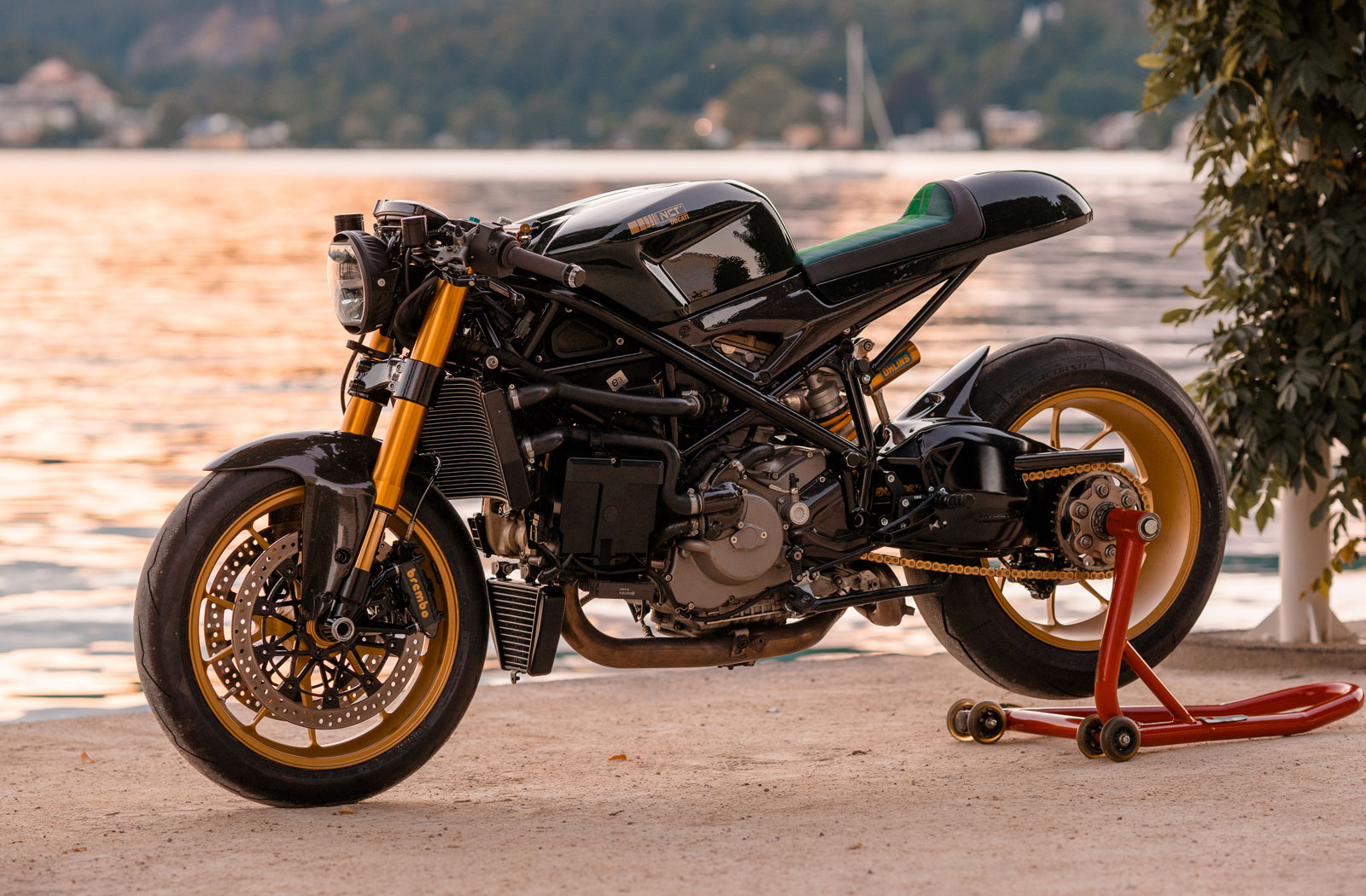 It goes without saying that anyone buying an Evo Racer would expect it to outperform a stock version of the motorcycle it is based upon, and NCT has come to the party. To squeeze more horses out of the 1098S 1098cc L-twin they've fit it with a performance exhaust system by Akrapovic. The ECU was then retuned to increase the engine's output by 20hp. That may not sound like much but when you consider that translates to 180hp in a package that weighs only 156kg (15kg less than a stock 1098S) that's 1.018hp per kilogram… white knuckles anyone?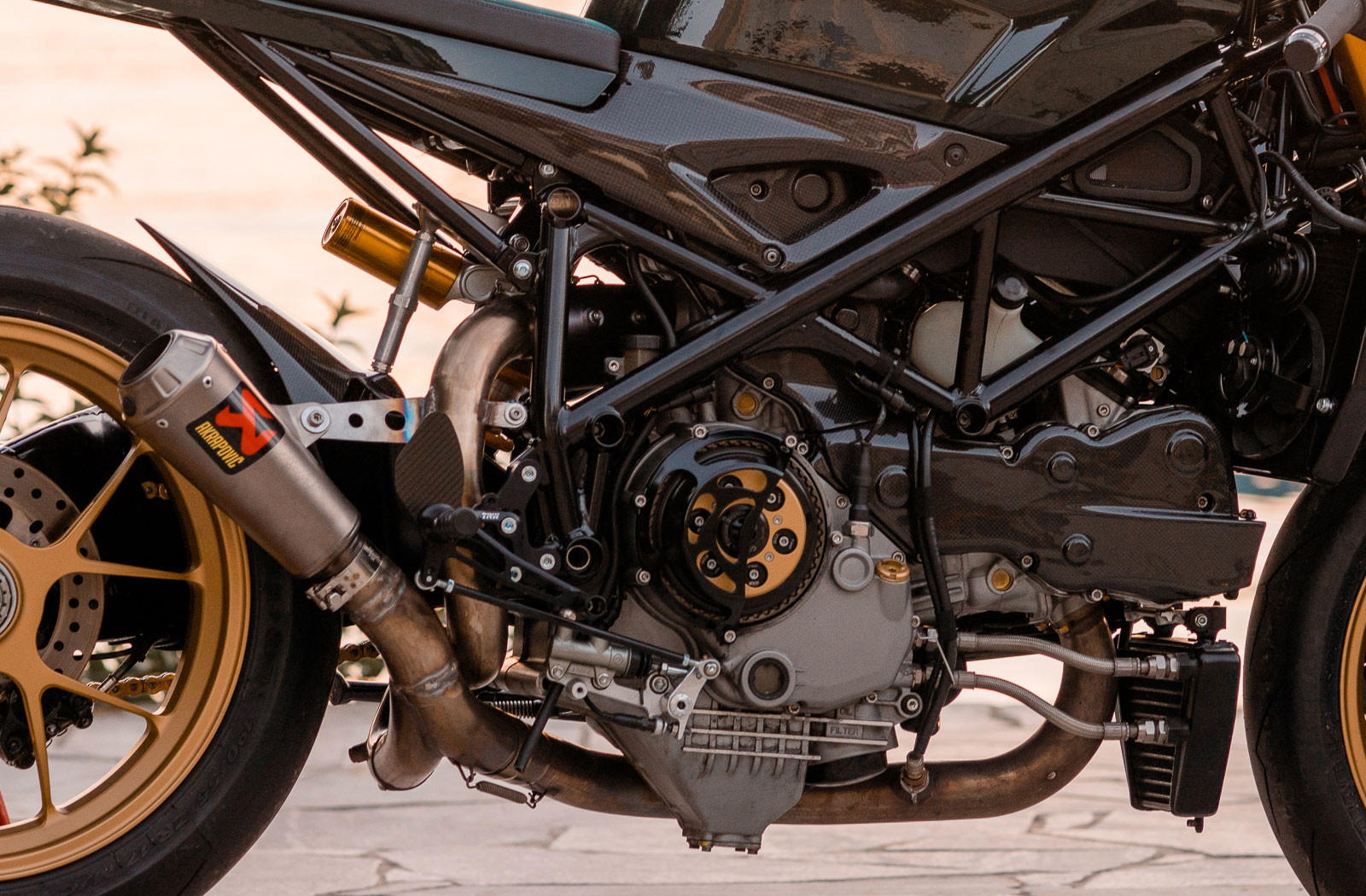 Over the past 10 years, NCT has shipped their custom builds to customers around the world and will be offering this service to Evo Racer customers too. To ensure the bikes are registerable they are designed to meet strict European homologation laws.
David has finished his first Evo Racer in a British Racing Green and gold livery which is a nice hat tip to the cafe racer influences on this design. Evo Racer Customers however will have Carte blanche over the colour scheme and several other details of their bike to make it a one-of-a-kind.
You'd better get your deposit sorted as we're sure these custom Ducatis will be selling just as fast as they can accelerate!
Photography by Peter Pegam