It was Oscar Wilde who once said that imitation is the sincerest form of flattery, but it isn't a sentiment that is often agreed with. Copying someone else's hard work without acknowledging the source is blatant plagiarism and should be frowned upon. But if the imitator takes the time to pay their respects to the original creator things take a different turn. The work then becomes an hommage to the original creator and could be considered flattery. There are always going to be exceptions, but in the case of this Ducati 1198S based cafe racer by Mandrill Garage, the latter definitely applies.
The original inspiration for this project was a turbocharged Ducati 848 cafe racer built by an American moto enthusiast. That Ducati made its debut at the 2019 One Moto Show in Portland, USA, and its influence has clearly been widespread. Now, 4 years later, the Chinese workshop Madrill Garage has created its own version of the Ducati cafe racer and they aren't keeping its inspiration a secret.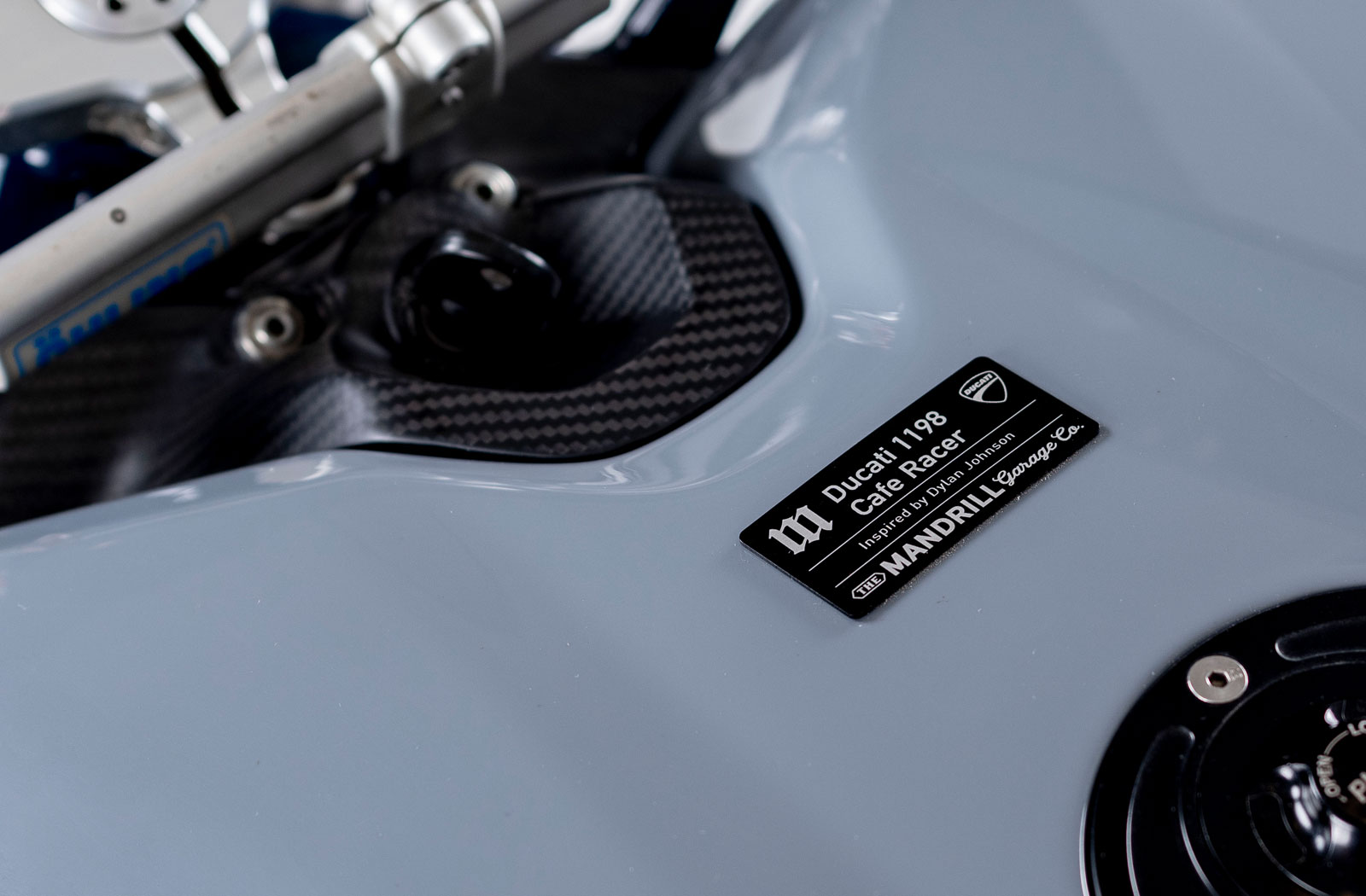 "The design idea of this bike comes from Dylan Johnson," says Luo Hao of Mandrill Garage. "I first saw Dylan's 848 turbo on the One Moto Show site. I wrote to Dylan, hoping to use his design and colour of the 848 turbo on our project and he readily agreed."
The visual similarities between Dylan's and Mandrill's Ducatis are undeniable. Mandrill has applied the same hue of grey paint, 1970s Ducati decals and dark blue paint to the frame as Mr Johnson. Mandrill's wasps tail seat is also a dead ringer for Dylans but the commonalities end there.
The biggest difference here is Mandrill's choice of donor. Rather than using the same Ducati 848 model that Dylan opted for, Mandrill went with a higher-powered starting point.
"Second-hand 1198s are cheap now," Luo explains. "It is a good idea to convert a superbike into a cafe racer because the power, handling, brakes, shock absorption, etc. of a superbike are already very good."
The Ducati 848 comes with 122bhp in stock form. To bump up its performance Dylan fit his bike with a turbo. In comparison, the Ducati 1198S has a whopping 168bhp in standard trim which is more than enough for most street riders. But as it turns out, there's nothing standard about the performance of this one.
"After getting the bike, the original fairing was removed. Many parts of the more than a decade-old Ducati had seriously aged, and many places had begun to seep oil," says Luo. "So this was not only a modification process but also a renovation."
According to Luo this generation of Ducati will almost always have oil leak issues, so this bike's lubrication system has been completely rebuilt. The rest of the engine has also undergone a full service to grt it running like new. Despite their donor's shortcomings it also came with a few bonuses in the form of a race-spec ECU and oxygen sensor block-off. So all that was needed to unlock additional power was an IXIL performance exhaust and a remap. As a styling consideration, Mandrill mounted the new exhaust to better suit the project's cafe racer theme.
Along with the engine leaks the Mandrill team also addressed issues with the Ducati's suspension. The Ohlins rear shock was well overdue a service and showing signs of leaks and corrosion.  So it too was given an overhaul to restore its performance. From there all that was needed to do was alter the bike's appearance.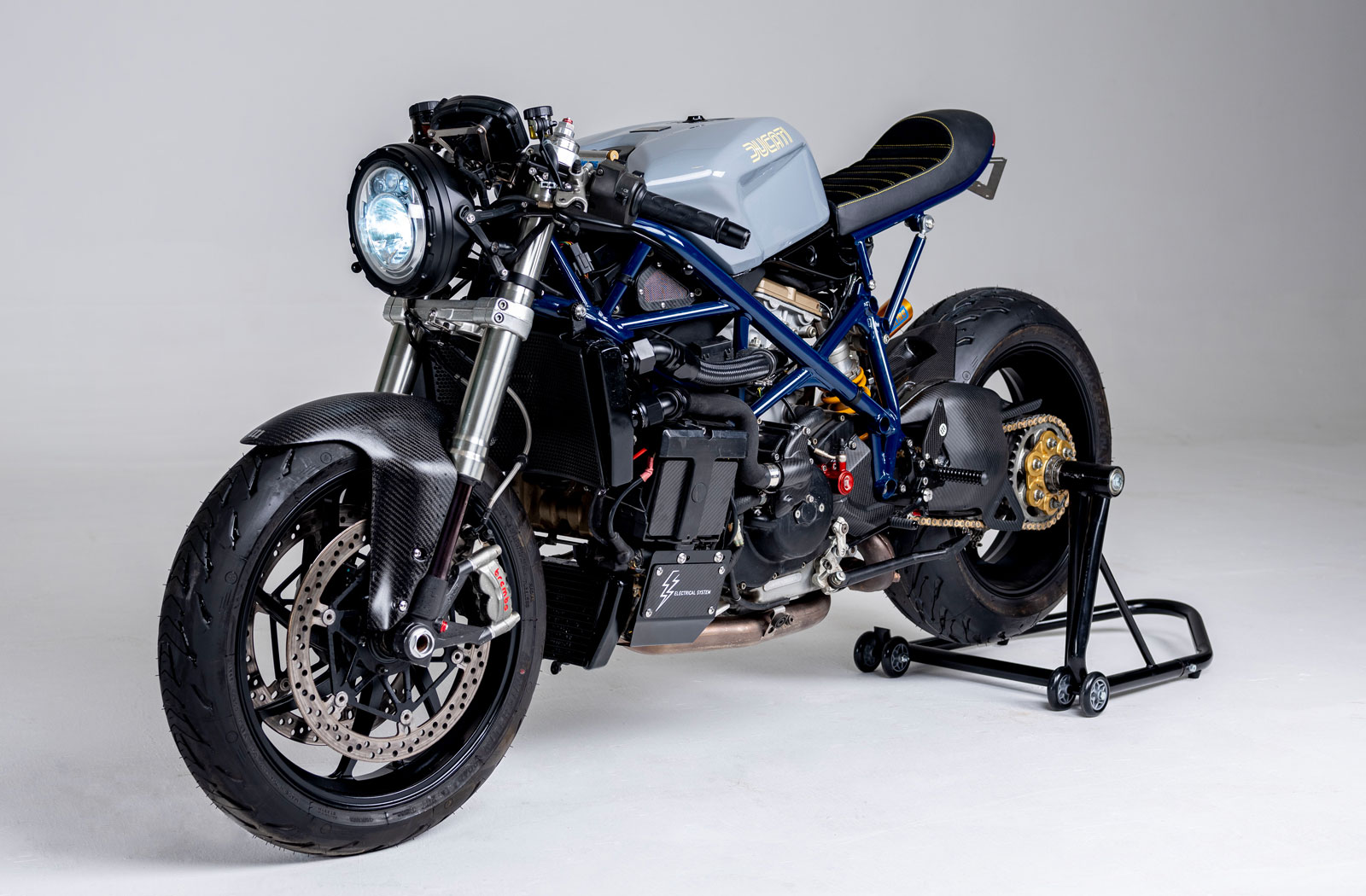 With the goal of installing a similar seat and tailpiece to Dylan's 848 cafe racer they developed their own bolt-on subframe with a round hoop and integrated, dual-function LED lighting.
The revised front-end lighting consists of a classic round LED headlamp sitting in machined alloy brackets. On either side of the bucket are small LED bullet indicators. The tech-laden 1198S dash still takes pride in place above the triple clamp, but it now sits in a custom-made bracket to positions it appropriately. With the fairings gone Mandrill had to relocate exposed unsightly wiring and electronics. They now live in a purpose-made box beneath the battery which is covered by a carbon fibre casing.
The electrics box isn't the only place you'll find carbon fibre on this Ducati. Infact there's no shortage of it. Opting for a matte finish weave, Mandrill has installed carbon covers over the battery, swingarm, front sprocket, belt drives and clutch housing. You'll also find carbon heel guards above the rear set foot controls and a carbon front fender and rear mudguard.
Thanks to all of the weight-saving modifications to this Ducati its 10kg lighter. That's a lot for a motorcycle with over 170bhp on tap. Luckily Ducati fit the 1198S with premium performance components because this beastly cafe racer will be putting them to the test.