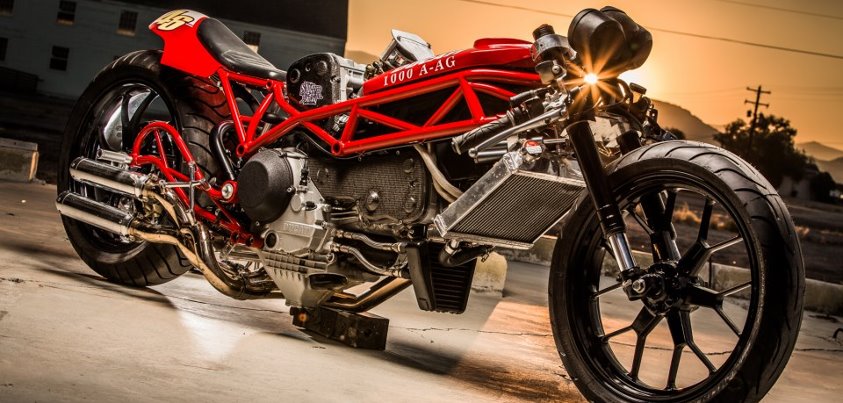 When it comes to unique custom motorcycles Carl Bjorklund and the guys at Super Rat seem to be the experts. I loved their Trident Cafe Racer with it's mind blowing pipe work and their steam punk esque "War Crimes" Harley, but in this case it's nothing to do with looks. Carl's custom Ducati S4RS Salt Flat Racer was built for one purpose…going fast; and As Carl explains that's exactly what it did.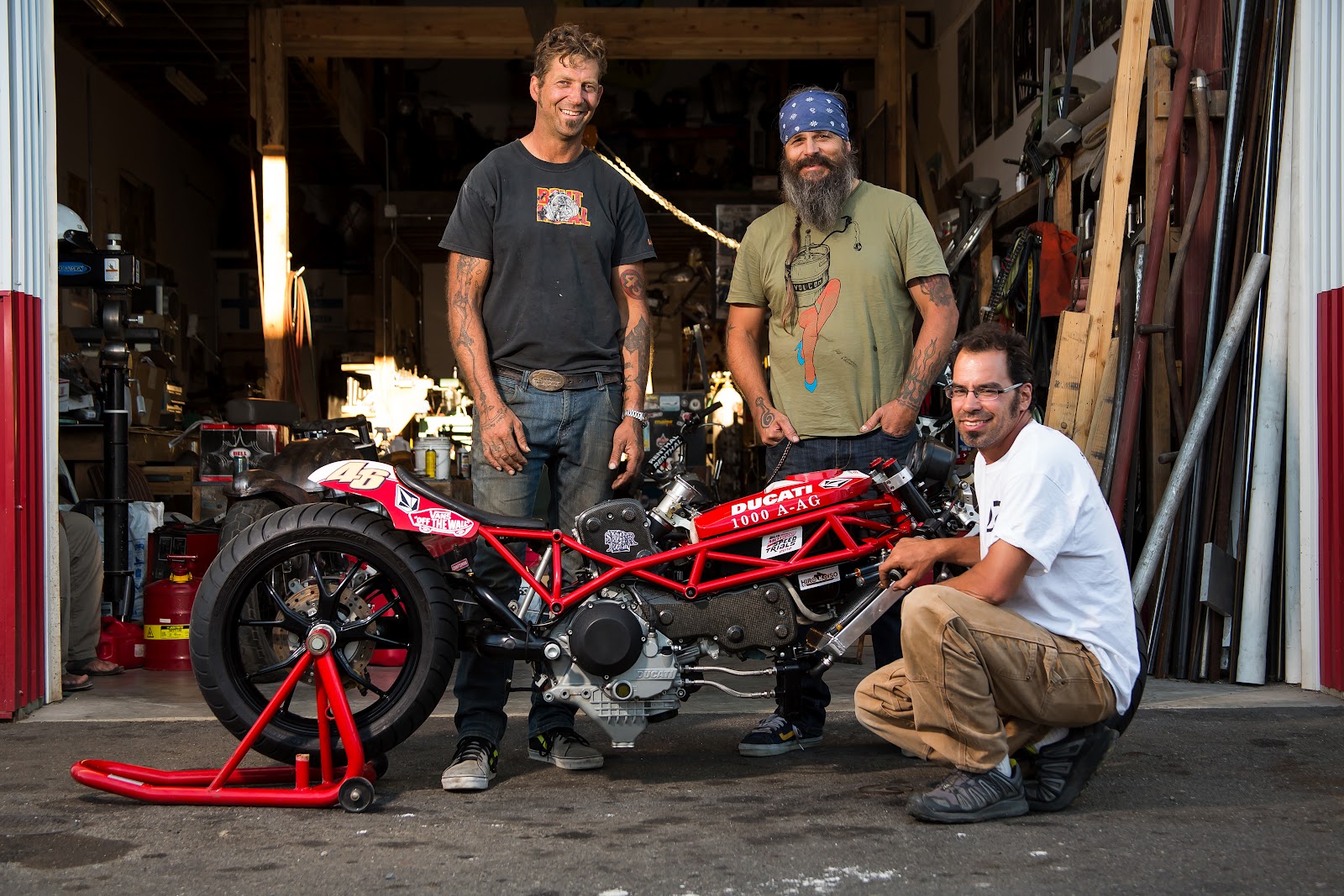 This was our second year at the salt. Last year we ran a couple rotax singles at Bonneville but they didn't really do anything over 115mph so when we got back we decided to build a bike that was faster. After helping out a buddy he handed us a wrecked 2007 Ducati S4RS (ironically the same bike my brother Mark and I each have as daily riders), we knew these things go like stink so the decision to turn this wrecked one into a salt flat racer was a no brainer. Our buddy Jason Omer has been building salt flat racers and racing since 2005 and he insisted on building us a new trellis frame for the bike. He used the stock swingarm and built the forks out of a set of pit bike forks.
Once we had the rolling chassis at our shop, I built the sheet metal fuel tank and tail section along with the stainless steel exhaust. I had to build an x-pipe where the o2 sensor had to go and I wanted to make it an original item so each exhaust tube comes into the x come at a radius. It was really hard to make but it looks really cool. We also fabricated the triple trees and used an Aprilia wheel up front, the mufflers are also our own Super Rat rebuildable design. My brother Mark built the rear-sets and all the fancy bracketing and was responsible for the paint and all the assembly. When we built this bike we didn't want to brand it Super Rat as much as we wanted to make it a bike that the ducati factory would be proud so we only flew their logo on it.



Mark piloted the bike at Bonneville and on its first run down the salt it clocked 158mph, breaking the 1975 record of 150mph. Success! We went on that week to break our own records and ending up setting a new world record of 165mph. We could have done better if we had more money to buy a nice chain that didn't get all ruined by the salt, but hey, I ain't gonna bitch we got us a world record setting Ducati!
Carl had plans to sell the Ducati to fund their other projects but decided it's time out on the salt wasn't over. Next year the Ducati will be back at Speed Week with partial streamline fairing and some "secret engine mods". Carl jokes that that next year they will be aiming for the 200mph mark but humbly admits the salt can quickly devour your dreams. Whether they make 200mph or not I'm sure it's going to be one hell of a ride.
Check out the new Super Rat Racing facebook page where you can buy a shirt to support them. The other bike you see here is their twin YZ80 engined Yamaha. Keep an eye on the Super Rat website for details on this one too. Photographs by Chad DeRosa Photography and the Moto Lady.