Christian Boosen runs 86 Gear Motorcycles, a custom motorcycle shop in Warsaw, Poland. Growing up alongside the Dutch border in Germany he has spent most of his life surrounded by motorcycles. The self-taught mechanic started his two-wheeled career as a hobby. His early projects were based on scooters ranging from Italian Vespa's to East-German Simson KR51 Schwalbes. But it was after one particular motorcycle trip that his lifelong relationship with modifying motorcycles was cemented. On his first long bike tour, he travelled over 2,500 km to Istanbul on an '81 Yamaha XT500. Spending almost half the journey fixing issues on the side of the road it was a defining moment. As a result, he's been tinkering on bikes ever since.
"When it comes to motorcycles, the adage 'form follows function' holds true for me as a custom builder," says Christian. Although the aesthetics play a large part in my design process, the essence of every custom motorcycle, no matter how stunning, is that it's meant to be ridden. Driven by that purpose Christian works closely with his customers to ensure they get a bike that is uniquely theirs and will deliver years of riding pleasure and reliability. This project was no different.
This BMW cafe racer celebrates the most appealing aspects of the R100 RT's original design. "The base was a very well maintained 1982 BMW R100 RT, which spent its life in Berlin," says Christian. "With less than 80,000 km on the dial and a full-service book provided, this BMW was worth every dime." Adding to the appeal of the bike was a range of original factory touring upgrades which Christian opted to retain. The R100 RT wore higher-spec front forks, alloy snowflake wheels, a factory steering damper, Brembo double front disc brakes, and a rare rear brake rotor. Christian also wanted to keep the original muscular RT fuel tank since it lent itself well to the cafe racer look.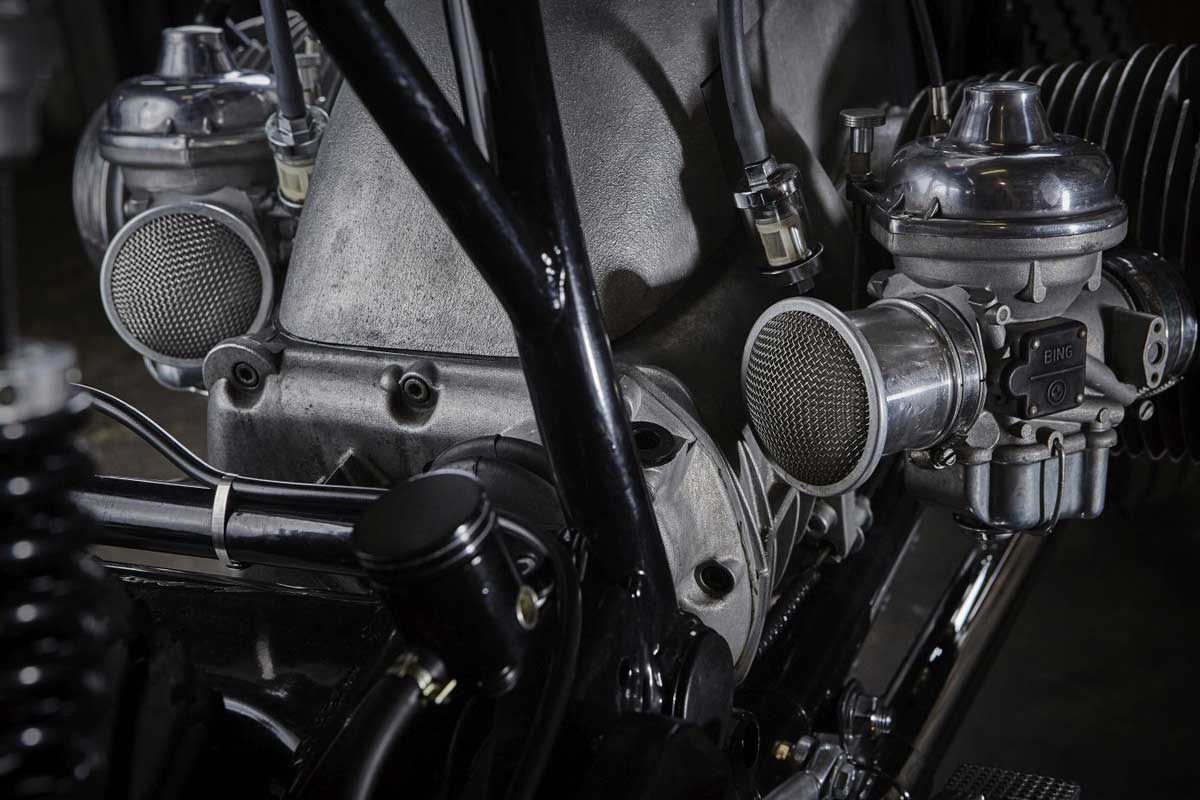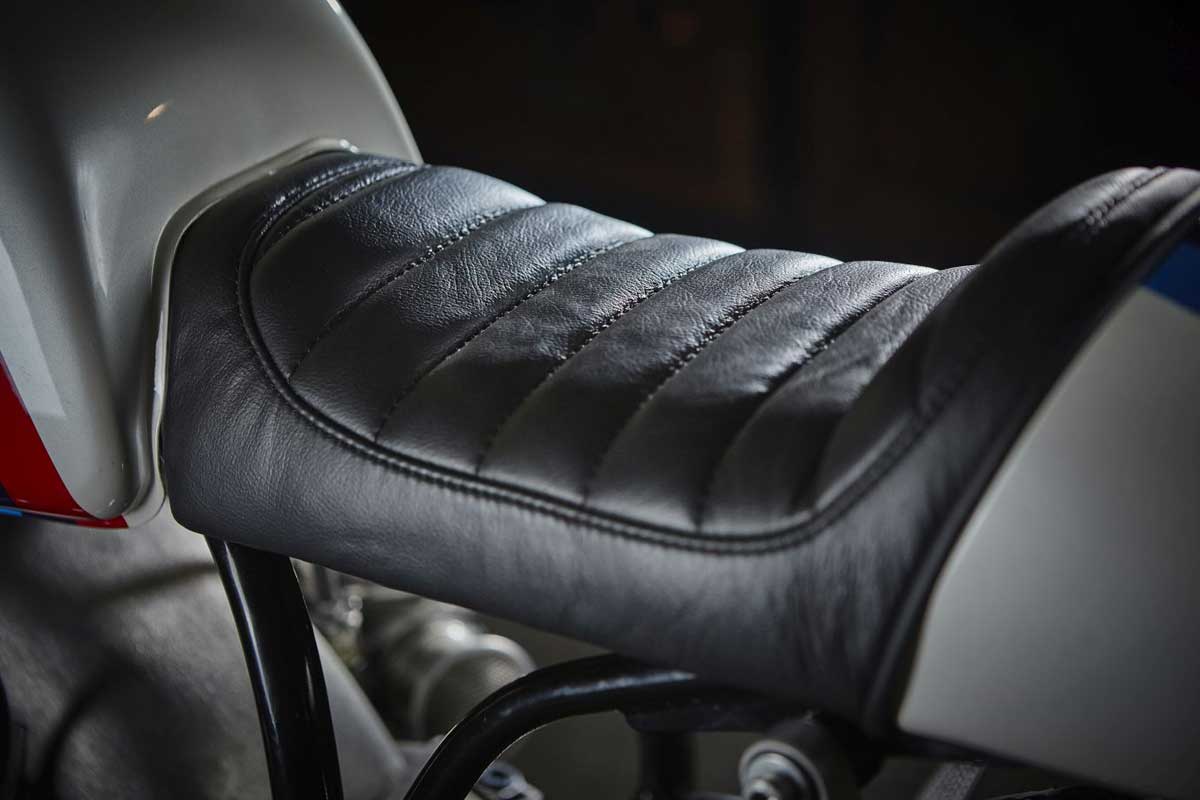 Despite the bike's stellar service history, Christian completed an extensive overhaul. The boxer twin was treated to fresh pistons along with a new cam chain and clutch. Rather than having the stock oil cooler clutter things up an aftermarket oil pan upgrade was fitted to increase capacity and keep temperatures in check. Christian confesses that compared to the engine internal work, fitting and tuning the Siebenrock Velocity Stacks and custom exhaust required serious skills. After a bit of hard work, everything came together nicely and has resulted in a modest 5hp power increase.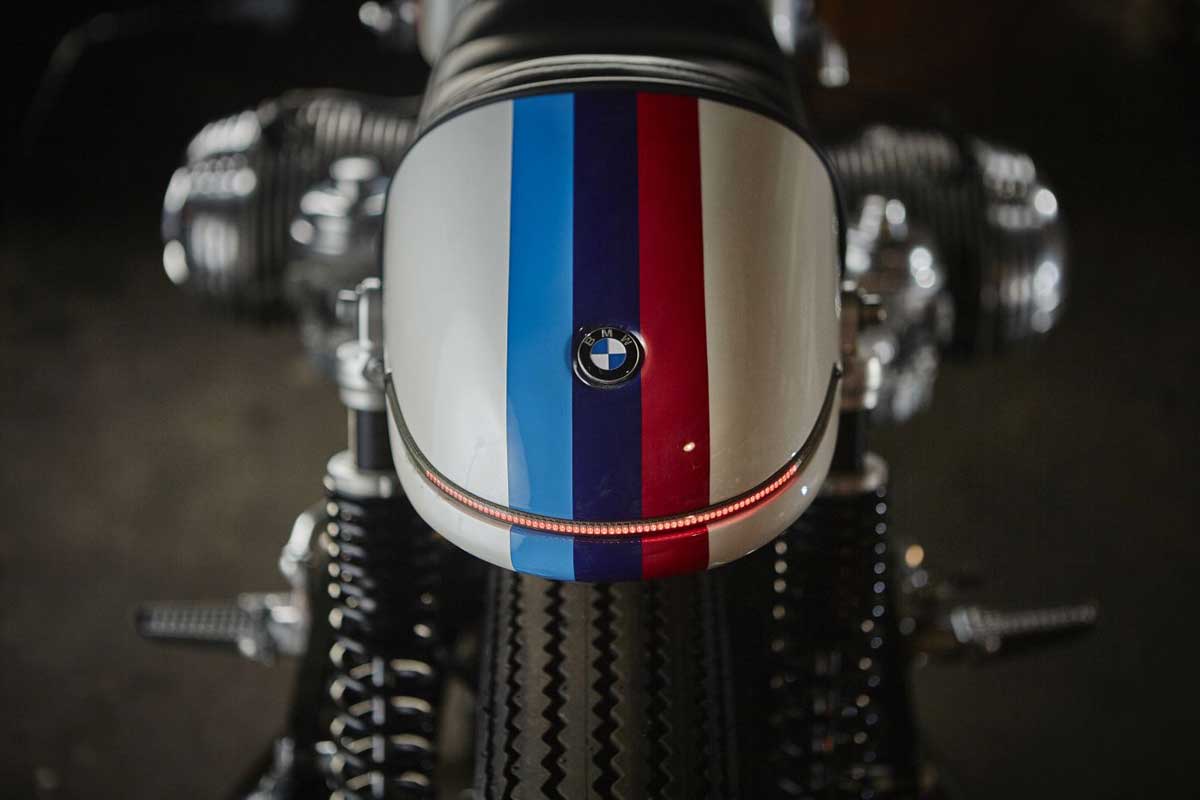 Sitting atop the custom subframe of the R100 RT is a cafe racer style cowl. Again in a bid to unclutter all of the rear end lighting has been incorporated into the cowl. A trick dual function LED light strip now sits recessed into the cowl for a slick streamlined finish. To then create a balanced line from front to back Christian lifted the rear of the R100 fuel tank. The bodywork overhaul was finished with a custom leather saddle.
As for handling the bike's owner splashed out on a complete rear end upgrade using YSS shocks. The factory forks also received an upgrade using progressive springs. The factory Brembo brakes have been rebuilt and paired with new discs, aftermarket reservoirs and a Grimeca front brake master cylinder too. But the bike's list of premium upgrades doesn't end there. Leveraging Motogadget's extensive catalogue Christian installed an m-Unit under the tank. A custom made wiring harness then runs power out to a Motogadget Motoscope Pro gauge, bar end m-Blaze indicators and m-Switch controls.
| | | |
| --- | --- | --- |
| Image | Product | Buy Now |
| | Motogadget Motoscope Pro | |
| | Motogadget m-Unit | |
| | m-Blaze bar end indicators | |
| | LED lighting upgrades | |
| | Rubber m-Grips | |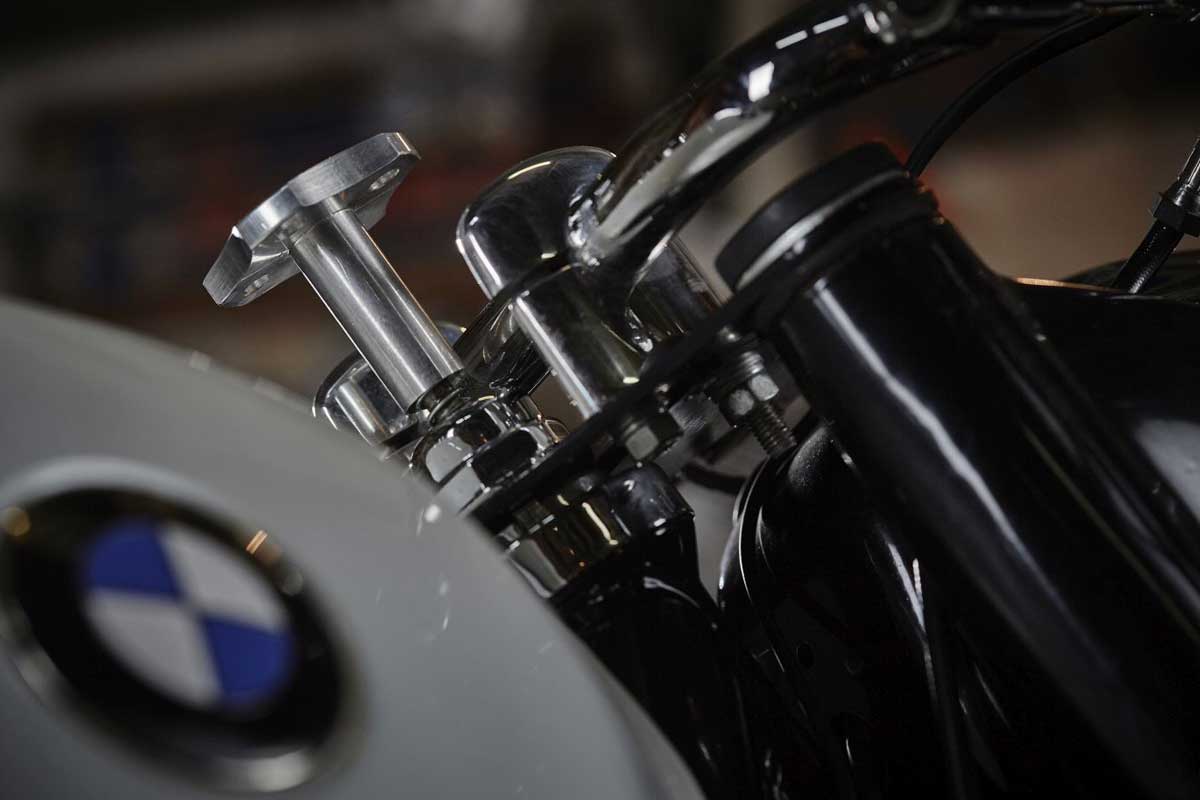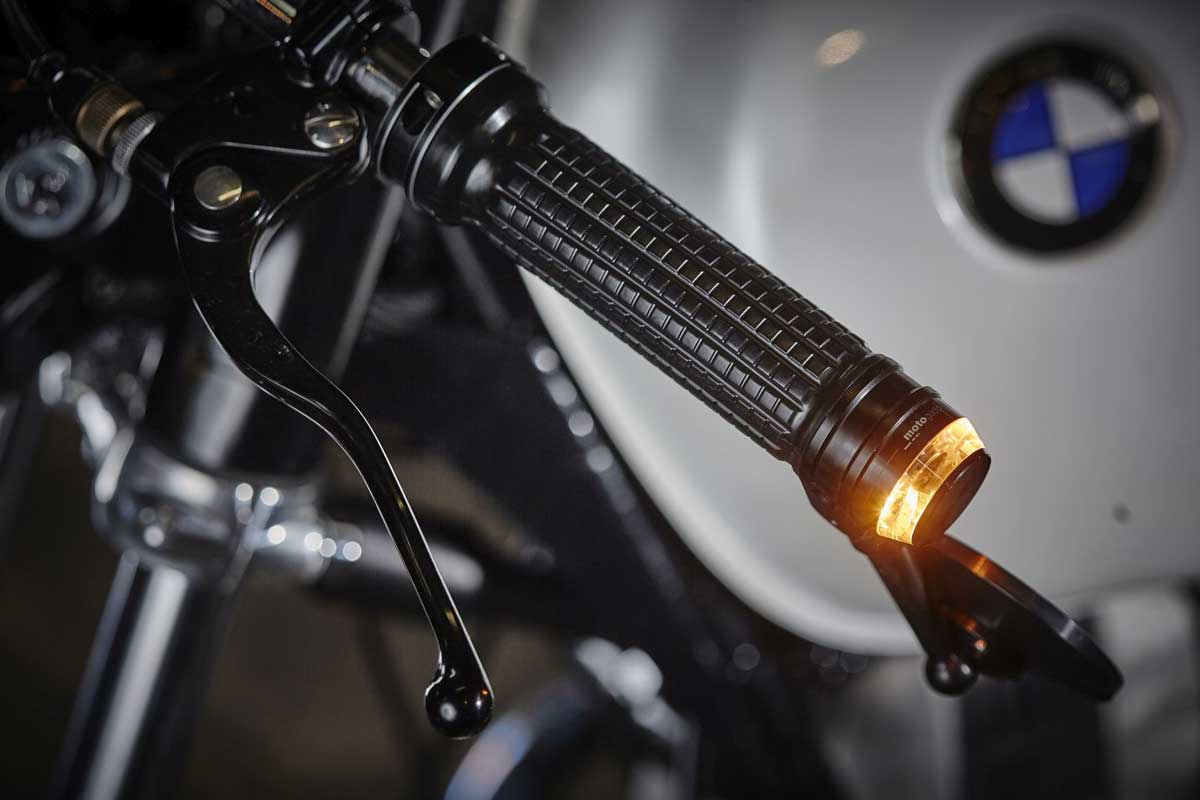 The riding position of this R100 RT has also been revised to suit the cafe theme. Adjustable ace-style clip-on bars are mounted to the original clamps and have been fitted with Motogdget grips and bar end mirrors. As for the foot controls, they're rear set items from Rassk.
To achieve the bike's spotless finish Christian sunk hours into cleaning, polishing and painting the BMW. The polished cylinder heads and intake contrast beautifully with the raw engine cases. Adding to the polished embellishments are an alloy steering damper adjuster and a Monza style filler cap. The snowflake wheels and frame have been treated to a fresh coat of classic black while the bodywork is a vivid white. Finally, to complete the look, M-power tri-colour stripes were laid over the tank and tail according to the client's desired placement.
Crisp, clean and fresh this BMW R100 RT has been given an enviable new lease on life that will undoubtedly see it through another 40 years of dedicated service.