When you're on to a good thing, stick to it. This isn't the first time Gwenael Barthélémy, aka Le Weekend De Course, has graced these pages with a custom Aprilia Tuono V4 project. Despite already turning one track bike into a cafe racer and then building a Pikes Peak style racer he's back at it again! This time around he's decided to take another Pikes Peak racer, but this time his styling inspiration came from the Le Mans racing achievements of Porsche.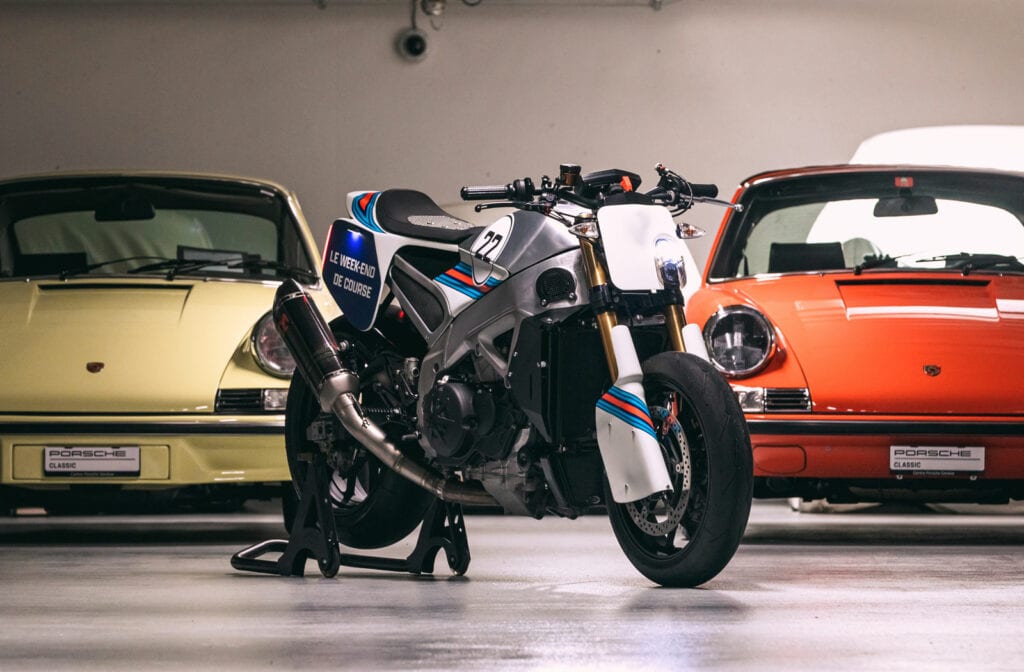 "5 years ago I started motorcycle customization and never stopped. I work closely with many skilled Swiss craftsmen to realise my ideas," says Gwenael. "Over time I have gained experience so things are getting easier for me to manage. I am better at defining what needs to be done, who to work with and how to achieve my goal in a reasonable period of time."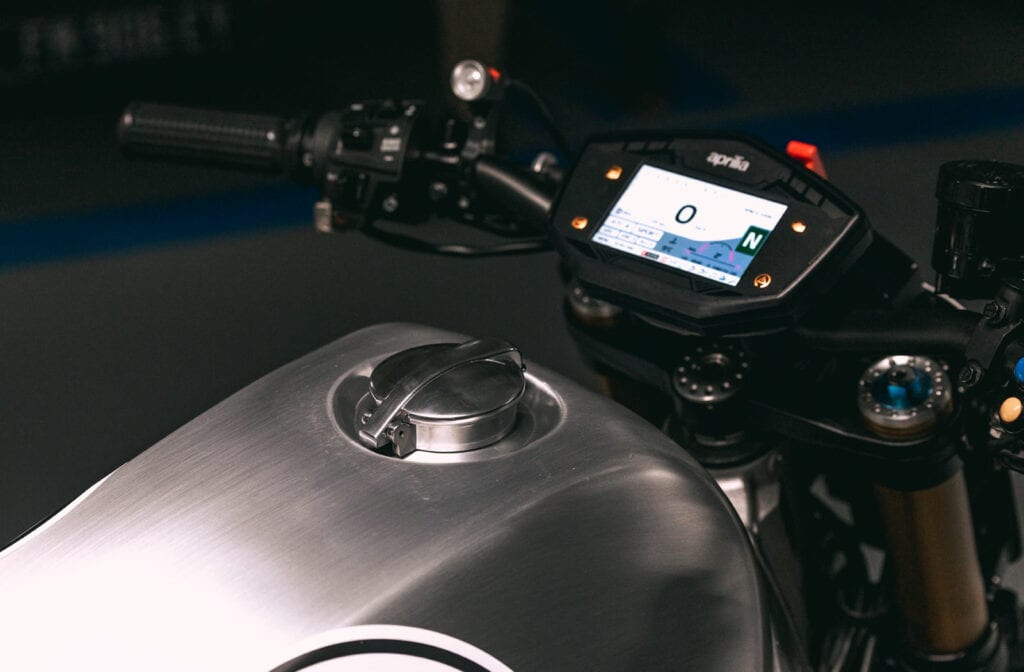 Seeing as this was the third time he'd modified a Tuono V4, Gwenael already had a cache of parts on hand. These included a pair of Motogadget grips, a complete set of racing switchgear and a fighter jet style toggle for the ignition, a set of ultra-light forged alloy Aprilia wheels, an Akrapovic carbon slip-on exhaust and an Airtech Streamlining rear cowl assembly. While these helped to fast-track things in some areas Gwenael says they certainly didn't make this build a walk in the park.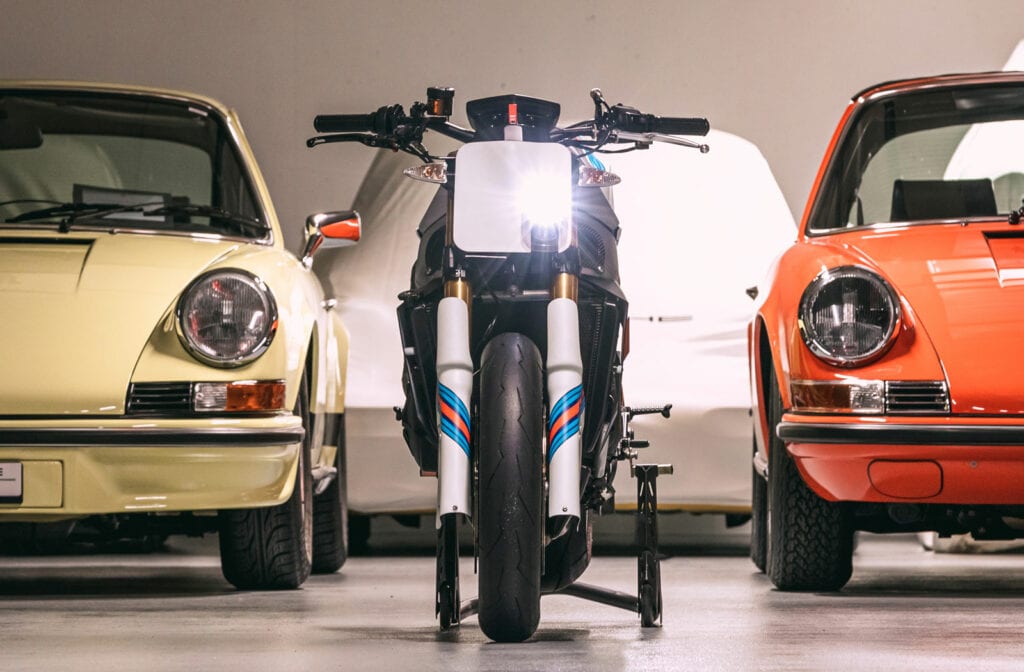 The challenges began with fitting the Airtech rear cowl to the V4. Gwenael invested serious time in getting it looking and fitting exactly as he wanted. He also opted to use more Airtech Streamlining fibre panels at the pointy end of the Aprilia. Surrounding the lower half of the forks are aerodynamic fork covers which were also painstakingly modified to fit.
Replacing the Aprilia's front fairing is an alloy race-style number plate by SwissMotorcycle which has again been modified to suit. Since the purpose of this bike is for street use, recessed into the plate are a pair of vertically stacked Highsider headlamps that have been finished in a unique fashion. "The Plexiglas that covers the lights is something I have never seen before," says Gwenael and we tend to agree.
As for the remainder of the lighting, aside from the stock front turn signals, Gwenael stuck with Highsider products. At the rear, you'll find 2 vertically mounted LED strips that perform running, brake and turn signal duties. He then added another unique lighting feature inspired by Le Mans race cars, downlights on the side of the tail to light up the bike's Le Weekend De Course livery.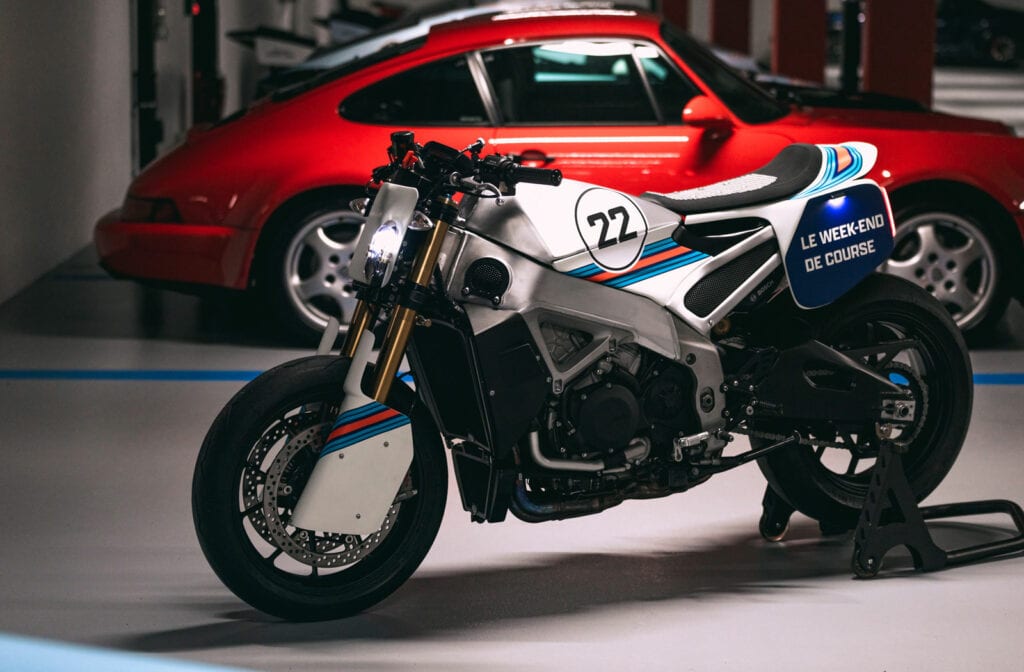 Similar to his previous Pikes Peak Tuono V4 this bike is running a Burgol racing alloy fuel tank. The tank has been left primarily raw and it's topped off using a classic Monza filler cap by Mecatwin. To clean up the cooling system the radiator now sits in ALC Tolerie covers and it's been painted an inconspicuous flat black. To close up the space between the tank and frame Gwenael had French company Apiata Metal Shaping fashion a set of side covers and to fit with his theme the chassis has been polished, brushed and left raw.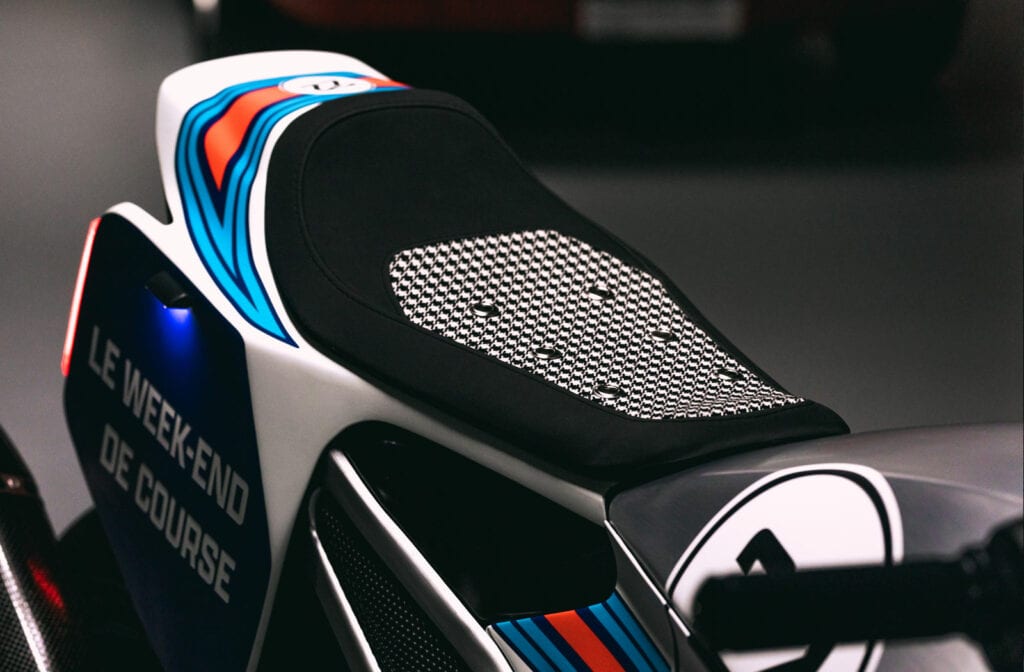 Gwenael knows what to expect from a Tuono V4 once the throttle is opened. He's owned and raced them for years and as a result, wasn't looking for big performance gains. However, thanks to the loss of around 15kgs of weight, a significant reduction in unsprung weight and the slip-on Akrapovic it's running much smoother and nimbler than before. Gwenael tells us that despite this bikes road readiness he'll be stretching its legs properly on a track when the opportunity arises.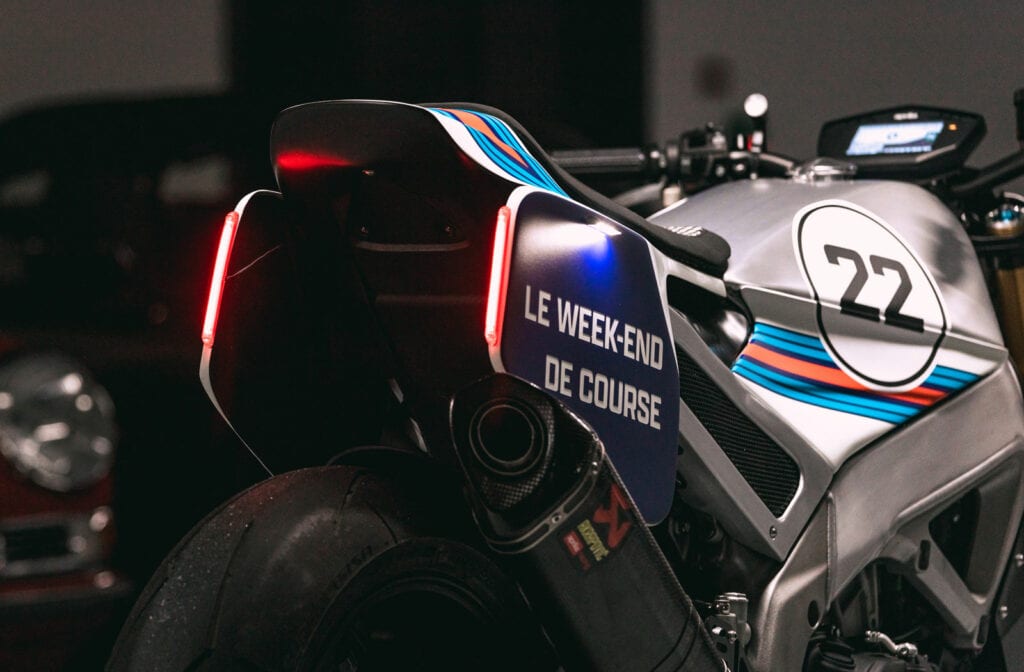 The biggest challenge of this build that Gwenael faced this time around wasn't related to finding or fabricating parts to fit his brief. It was all to do with replicating the style of the vehicle which inspired this bike.  "When I was working on the saddle design, I opted to upholster it using the iconic Porsche pepita fabric," he says. "This became the overall direction for the project itself! My inspiration came from the Porsche 917K No.22 which won the 1971 Le Mans race."
In '71 the Martini themed 917K not only won the race, but it set several long-standing records. Doing an average speed of 220.2 km/h the Martini 917K set a distance record of 5,335.313 km during the 24-hour race. This record remained unbroken for an impressive 39 years. Even more impressive is that during the same event the car also set a new track lap record which to this day has not been beaten.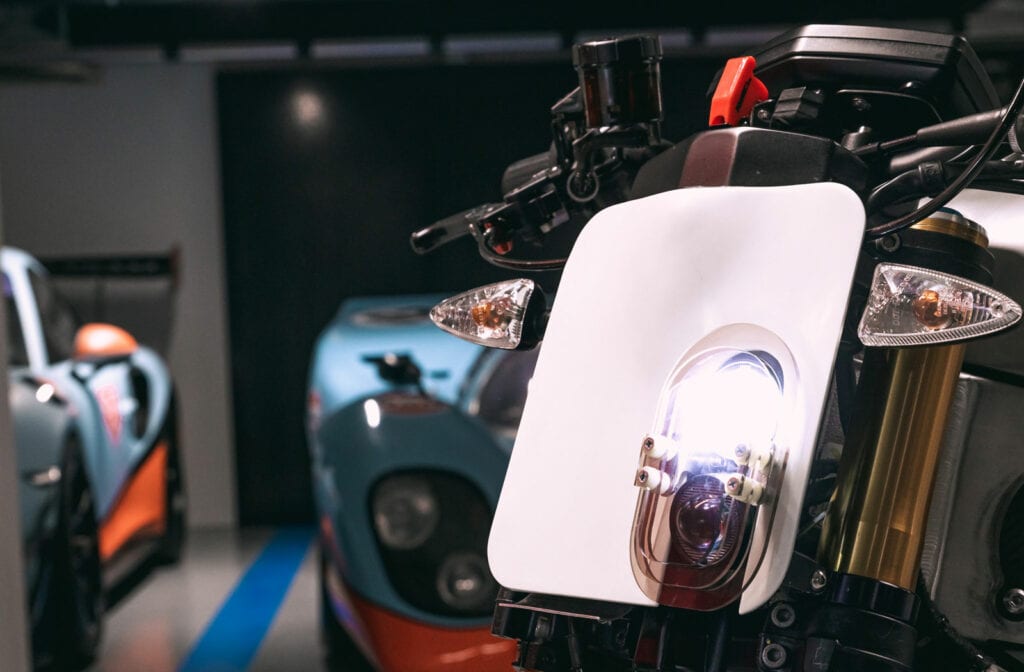 The decision to mimic the look of the Martini Porsche 917k was an obvious one for Gwenael who is a dedicated Le Mans fan. Unfortunately, that same dedication became a source of anxiety. This was due to the fact he couldn't find an exact paint match to the Martini 917K. After several unsuccessful attempts and more time researching than he'd like to admit he says "I failed to get a satisfactory result. I realized I had to look at the build as being inspired by the Martini Porsche rather than from a copy/paste point of view." and there's no denying he's achieved that goal.
Gwenael's Le Mans Tuono V4 wears a basecoat of raw brushed alloy, matt black and white finishes. Then to tie it all back to the Porshe he's added a set of Martini racing stripes that run the length of the bike diagonally from the fork covers back and to the tail.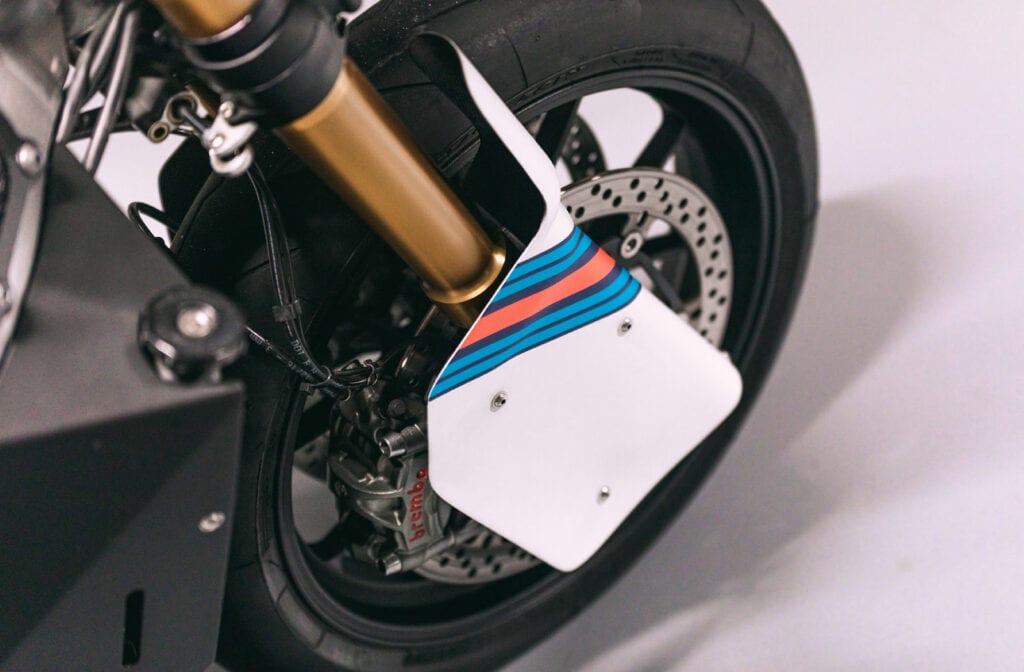 "At the end, what I am trying to do with my greatest integrity is to incorporate things, parts or ideas I have not seen elsewhere into my projects," says Gwenael. That's no easy task these days, but his Le Weekend De Course Tuono V4 is a testament to his goal and we can't wait to see what new ideas he has in store for us next.
Photography by Pepito.jpg