I met Michael Capraro some years ago at a communal motorcycle workshop I was involved in. His enthusiasm for bikes and the community that surrounded them was inspirational. As a painter by trade, he selflessly gave his time to help us spruce up the workshop and in return, we helped him make a few modifications to his military-themed Royal Enfield Bullet. Today Michael's garage is home to 3 impressive motorcycles; his beloved Royal Enfield, a Ducati Sport Classic 1000 and this latest addition, a freshly completed Yamaha XV750 Virago cafe racer.
"A guy in Hamilton in Western Victoria was selling the XV," says Michael. "I always dreamed of owning a cafe racer one day so I took a 4-hour train ride with my helmet and gloves in hand. As soon as I saw it I had to have it and rode it all the way back to Essendon." The XV was already in a partially modified state with clip-on bars, an XS650 front end, wasp's tail rear and a lairy orange paint job. Happy with his purchase he rode the bike in that state for a couple of years. But 15 months ago Michael decided it was time to add his own touch to his beloved Virago. "I got inspired by the 1981 Ducati 900ss. The look of a cafe racer fairing, rear cowl and clip-on bars really appeals to me."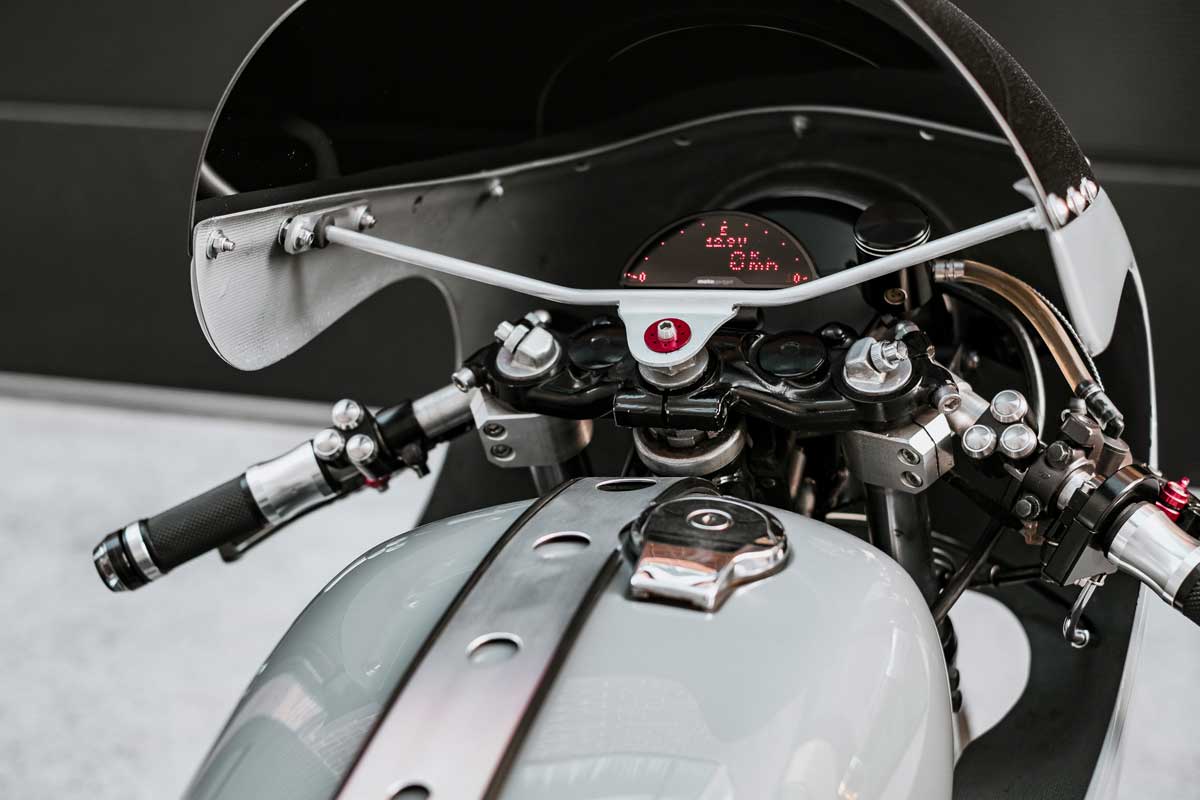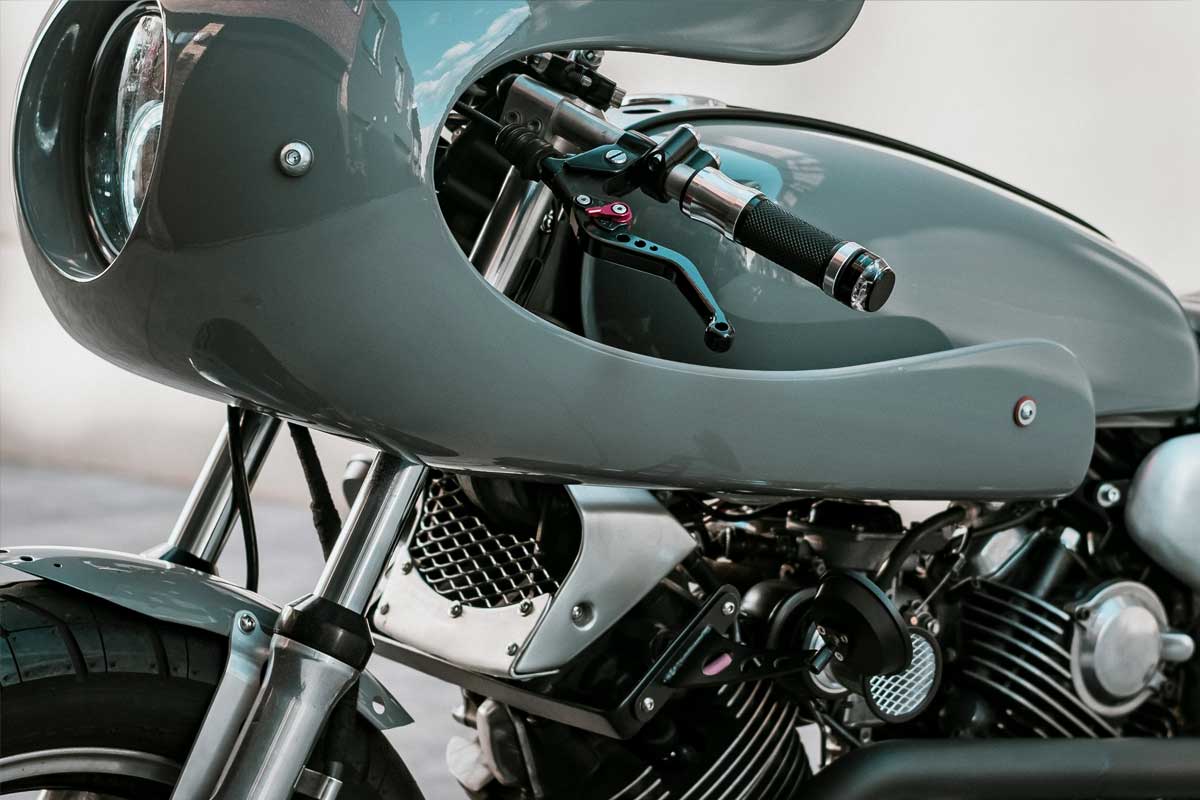 To achieve the look he was after, Michael got his hands on a 900SS styled fibreglass fairing from Airtech Streamlining. Fitting a fairing to any bike that was initially naked poses plenty of challenges. In the case of Michael's Yamaha VX750, it took some creative thinking to get around them. With the help of Matt from Krank Engineering, they fabbed up aluminium hardware to hold the cowl firmly in place. Two concealed brackets attached to the frame support the lower arms and a custom alloy support mounted into the fork clamp nut does the heavy lifting. A third hidden bracket is attached to the neck of the frame and doubles as a support for the headlight bucket.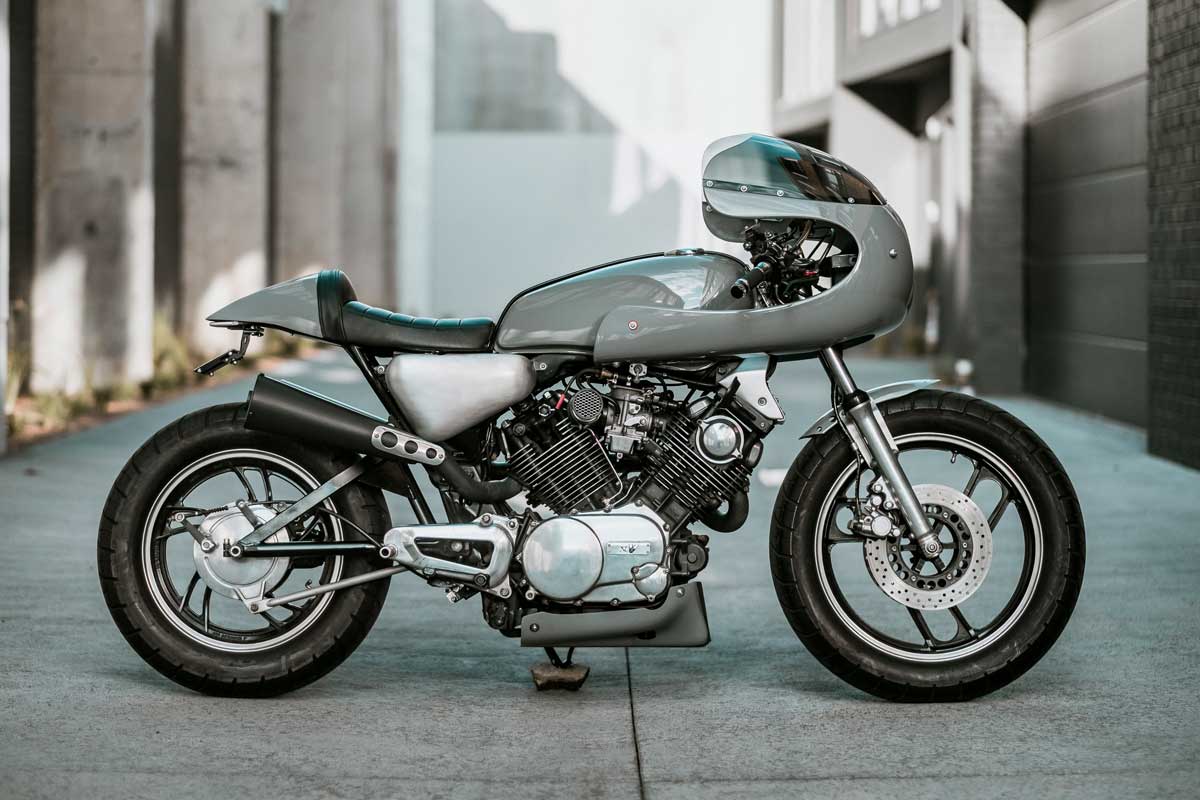 Next, Michael added a horde of modern electrical upgrades including an LED headlight, dual function LED taillight and a comprehensive list of Motogadget upgrades. Motogadget's m-Blaze indicators hang off the end of the bars and an m-Lock RFID ignition removes the need to carry a key. All the handlebar switches are Motogadget gear too and sitting beneath the windscreen is Motogadget's enviable Motoscope Pro digital gauge.
Michael spends his days mixing colours so choosing a new hue for his Yamaha was a cinch. The original fuel tank, front fairing, rear cowl and belly pan have all been finished in an Audi-inspired Nardo grey. It's a huge improvement over the previous Sunkist orange. The grey marries well with the alloy highlights and satin black details that are abundant on his XV and adds a level of class that was previously lacking. As for the rest of the bike's components, the engine cases and v-twin barrels were shot in black and the fins shaved for a hint of silver. The alloy engine covers have been polished to a mirror finish and are complemented by polished fork legs, footpeg mounts and the rear drum. The original XV750 rims are a smart-looking mix of black and polished details and Michael's wrapped them in Shinko's Tour Master rubber.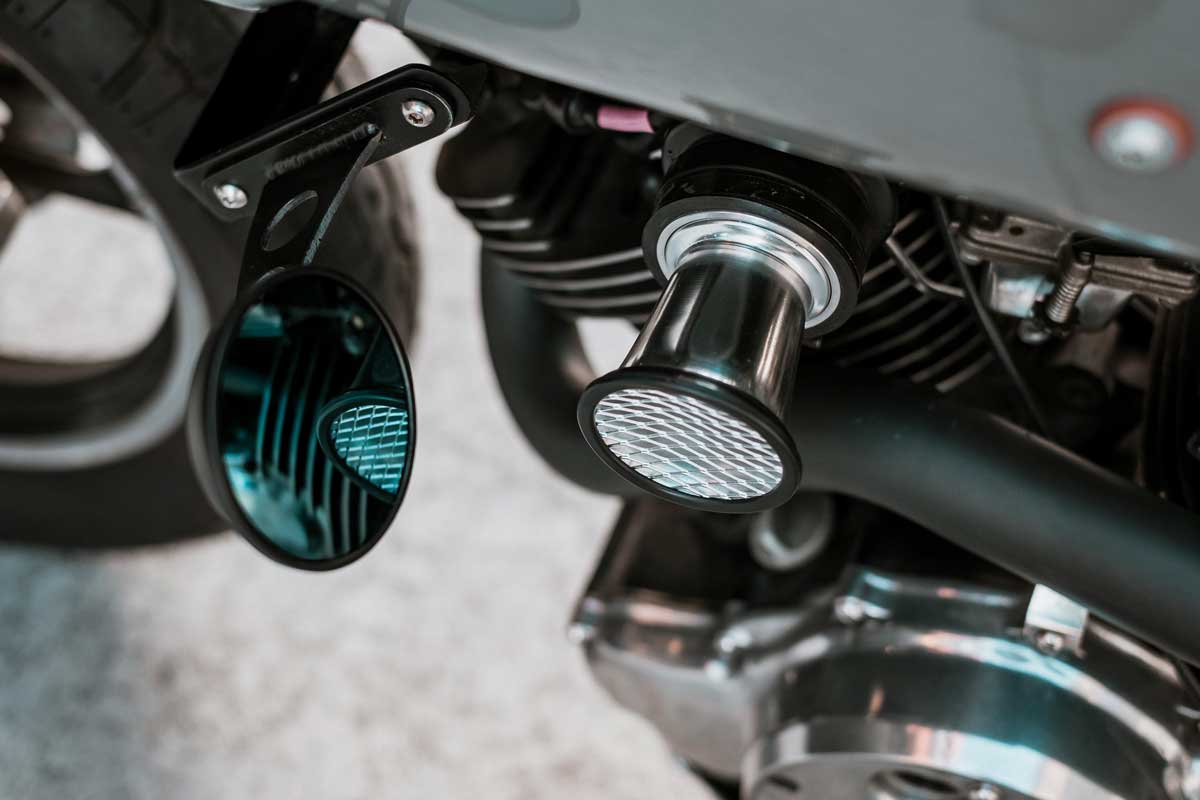 Again thanks to Matt at Krank Engineering the bike wears custom side covers. Shaped by hand the alloy covers have been left raw to show off their 'built not bought' origins. The raw alloy air scoop at the front of the engine is also bespoke; as is the strap running down the spine of the fuel tank and the velocity stack, both of which are Matt's handy work too. Then, to ensure everything was looking like new, Michael had the saddle reupholstered by needle and thread pro, Savvas upholstery. The finishing touch is a smoked windscreen from Peter at Screens for Bikes.
I've seen my fair share of motorcycle mufflers and this one gets top marks. From how it makes its way around the engine to the brazen trumpet style mufflers. It's a definite stand out feature of this Virago cafe racer. Michael's had the engine tuned to suit the 2-into-2 system by Benzia Garage in Melbourne who also upgraded the brake and clutch cables and mounted the stealthy low slung mirrors. To properly showcase the pipework the exhaust has also been ceramic coated in flat black and the alloy heatshields cleaned up.
Michael tells us that, "The bike performs better now with the velocity stacks and new jets in carbs. It feels like a true cafe racer!" Unfortunately, Melbourne's still in total stage 4 lockdown so he's not going to be putting any serious miles on the bike just yet. Rest assured though, as soon as restrictions are lifted this Virago cafe racer won't be spending a lot of time indoors.
Photography by Jason Lau
SHOP THIS LOOK
| | | |
| --- | --- | --- |
| Image | Product | Buy Now |
| | Motogadget Motoscope Pro | |
| | LED headlights | |
| | Motogadget wireless ignition | |
| | Motogadget accessories | |
| | Performance tyres | |
| | Cafe Racer mirrors | |