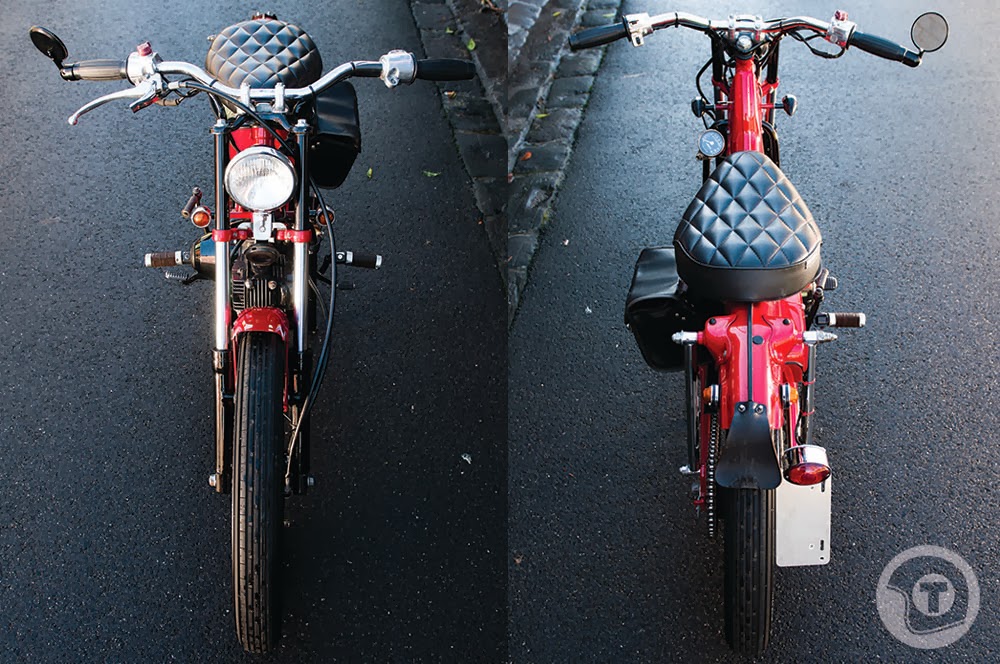 Back in the early nineties Jim was customising Yamaha SR's and British bikes under the influence of the Japanese custom scene. After a friend suggested he try Postie Bikes as a platform Jim started sketching a few ideas. He stripped away the stock seat, added some fat rubber and was happy with the result. Soon afterwards he purchased his first Postie and it was transformed into the 'Blackmail'. When Jim started showing people the bike the feedback was unanimously positive and Post Modern Motorcycles was born.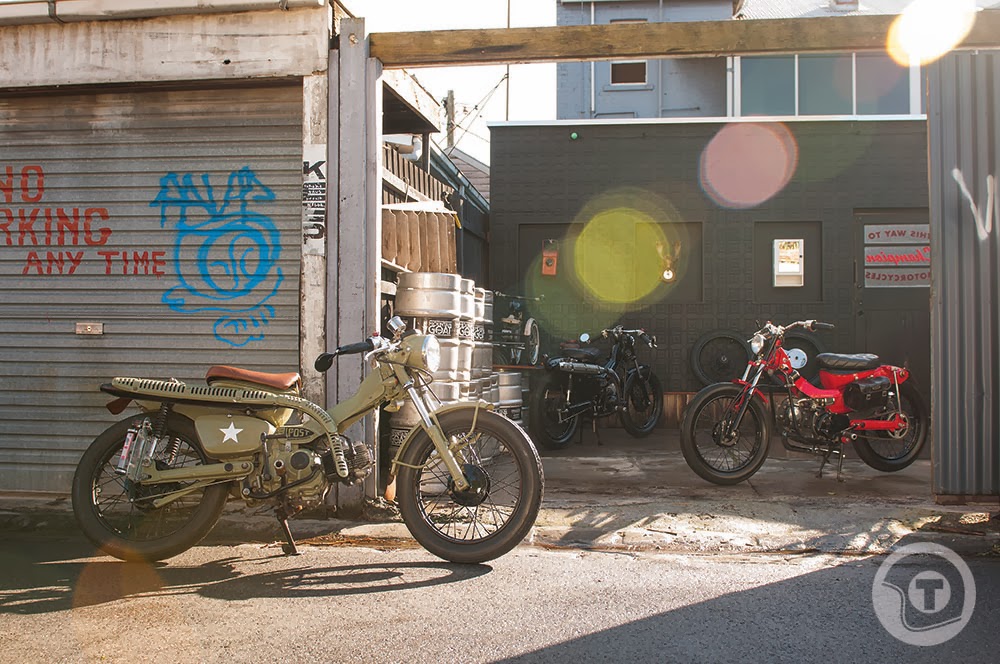 All of the Post Modern builds are ex-Australian Postal Service vehicles. These versions of the CT110 were designed and built especially for Auspost by Honda and feature a series of special modifications to cope with the day-to-day wear and tear of postal delivery. Postie Bikes feature a heavy duty gearbox, rock solid heavy duty gauge rims, 3 stands (center, left and right) so they can be quickly parked on any surface and a locking front brake. Starting with this platform Jim performs a set of standard upgrades to all of the bikes he builds. The engines are rebuilt by removing the side cases, barrel and head. Jim then replaces the piston, ring, cam chain, seals and gaskets and the heads are blasted clean. The barrel is also given a thorough clean before being resprayed in engine black and pieced back together. While there's no huge power improvements to be easily gained from the CT110's engine, Jim unlocks a smidge more grunt by dropping around 5 to 10 kilos of excess weight and by opening up it's airways. He starts by pulling out the stock air box and fitting a K&N filter to the carb. The exhaust is debaffled or completely replaced with a hi-flowing system and the carb gets a new set of jets. With modifications like these a Post Modern Motorcycle will haul along at around 90-100kmh at full tilt.
The black bike is Jim's most recent build. The customer wanted another Blackmail so it's almost a carbon copy of the original. After the tear down it was treated to a full respray in gloss black. The stock seat was replaced with a Nitro Heads unit and the bars swapped for Café Racer style, low hanging Clubmans. The red bike ("Pinko Bastard") is Jim's personal ride, which he refers to as a kind of Street Tracker. He prefers a more comfortable upright riding position so this bike has a wider set of handlebars, giving it the look and handling characteristics of a BMX. The rear end has been made rigid by swapping out the springs for solid struts, lowering it by around an inch and tucking the rear wheel up into the fender. Jim says the bike will easily get air over speed humps but recommends standing up on the pegs before landing. Post Modern builds also regularly feature a mix of custom components from Japanese parts manufacturer Easy Riders, for which Jim is the Australian distributor. Individual design/style changes come in the form of custom paint and decals, the occasional fuel tank add-on and Brooks leather saddlebags, grips and mudflaps to compliment the 40's/50's aesthetic of his builds.
Honda first released the CT110 in 1980. Powered by a 105cc, 4 stroke, air cooled engine it was the predecessor to the CT90 and offered commuters exceptional economy and reliability. Like the CT90 the CT110 had an automatic centrifugal clutch for ease of operation and a robust, steel pressed frame. Certain models also featured a "dual range subtransmission" that could be activated by flicking a switch under the transmission. With the subtransmission engaged the CT110 could tackle the steepest of slopes under full load, despite it's low powered engine…
If you want to grab yourself a copy of issue 2 to see the rest of this story you will need to be quick. It's now only available through a handful of distributors including our friends at 100MPH.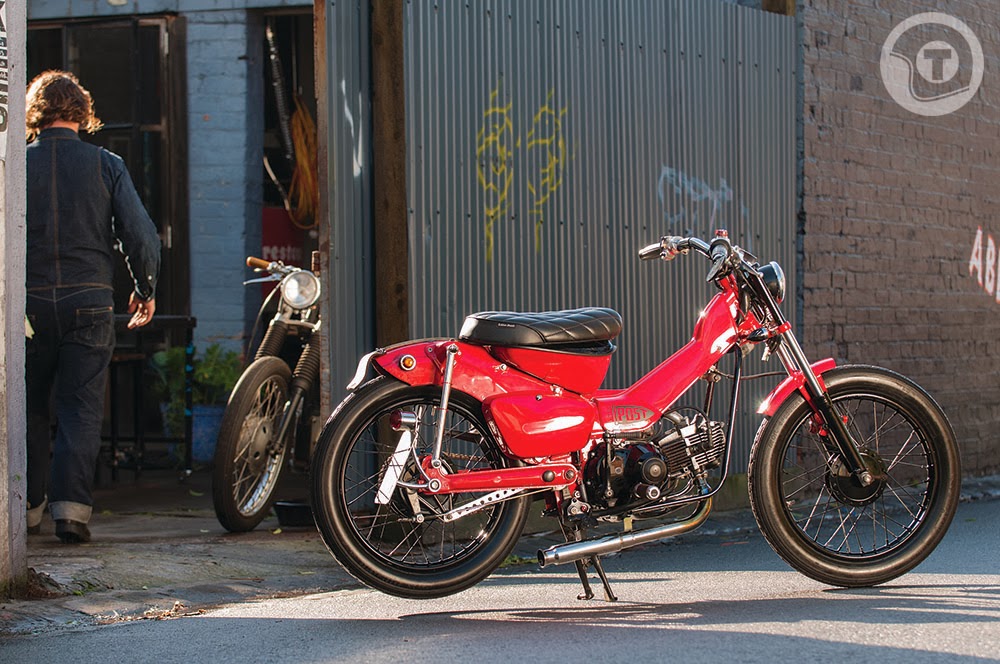 Tank Moto issue 2 recently hit the shelves (and promptly sold out!) and one of my favourite stories from the issue was the one about my visit to Champion Motorcycles workshop in Abbotsford, Melbourne. Champion owner Jim Clark has been customising ex-Australia Post Honda CT110's for several years now under his Post Modern Motorcycles brand and I finally got the chance to meet the man behind the bikes that make grin from ear to ear. Here's an excerpt from the feature…