Hey Daryl, It's been a while since we last spoke. What's been happening at Bandit9?
"There's only one way to describe it: Same, same but different. We're still doing our thing but we're also taking a different approach to the business. 2015 was a tumultuous year where life decided to throw a couple of bricks at me. It's been a year of learning – the hard way.
The aftermath of it all is that I've taken a more patient, more calculated attitude to Bandit9. I've spent a lot of time re-engineering and calibrating our business model, production line and shipping processes. The best part is I've taken my sweet, sweet time with the new design(s).
I've turned down a lot of opportunities, which I've learnt is crucial. And for us, the no's have manifested into something positive. Sure, we could make t-shirts, open up a café, craft furniture and design stickers or we could channel all that energy into something singular and perfect – in this case, a motorcycle. Maybe one day, we'll look into venturing out, but I think we're at a stage where we can't afford to be preoccupied by distractions disguised as opportunities."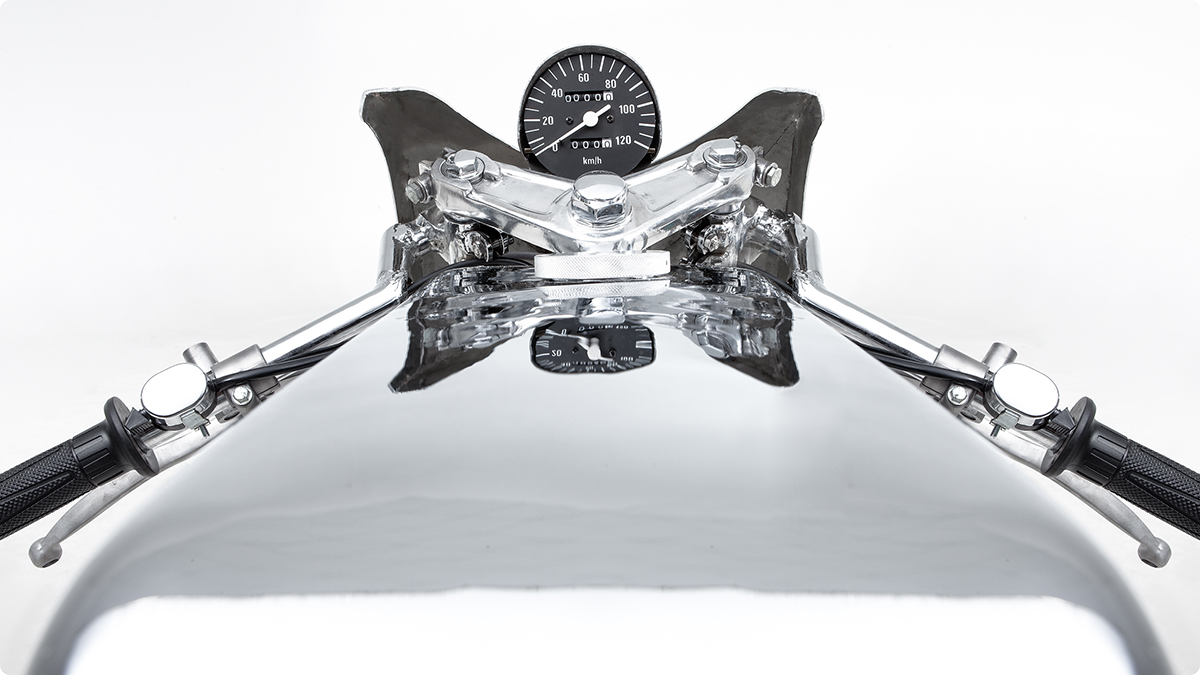 The last bike we featured from Bandit9 was the Honda Supersport based 'Eve'. How did that bike go with your customers?
"The EVE was the first build from our new headquarters in Saigon, Vietnam and it performed incredibly well. We've got versions of the EVE rolling around in a number of cities in the US, France, Abu Dhabi, London, and Switzerland. So we're really thrilled about that.
Although it's a motorcycle, each client makes use of the bike a little differently. Of course, some ride it, but some have it on display inside their living rooms, some have it as part of an automotive collection, and in Switzerland, it was on display at the M.A.D. Gallery until it was recently picked up by one of their customers. I guess it's great to know that people value the work we do and that they're proud to display it in their homes or have it part of a collection that they've been building for years. It's very humbling."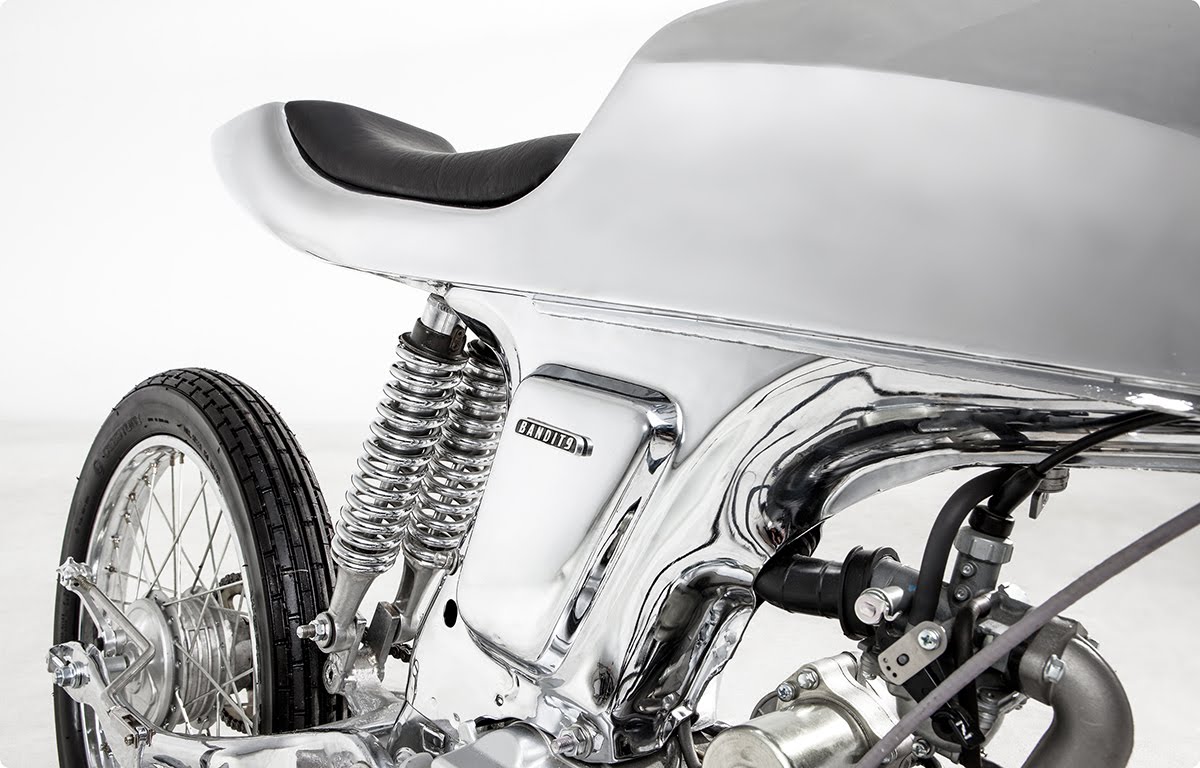 With your latest bike 'Ava', you've taken the same, limited production run approach. Is this something we can continue to expect from Bandit9?
"Yes, absolutely. The reason we do the limited production runs is to strike a balance between creativity and business. It gives me the time to think on the next design while existing motorcycles are in production. Building beyond "one-offs" also gives more than one person a chance to own something beautiful, but at the same time, it's still a very personal machine because they're so rare. The limited production run also gives Bandit9 the opportunity to maintain an artistic approach to motorcycles while sustaining a business that can grow.
I want Bandit9 to separate from the custom motorcycle industry so we focus on making products – we don't take client requests. I was in the advertising industry for such a long time that I'm a little exhausted "incorporating" client requests. Those who have been in the industry will know that this back and forth can take ages and sometimes (actually, most of the time) leads to work that is subpar to the original vision. I want the ability to protect the team's vision and come out with something pure."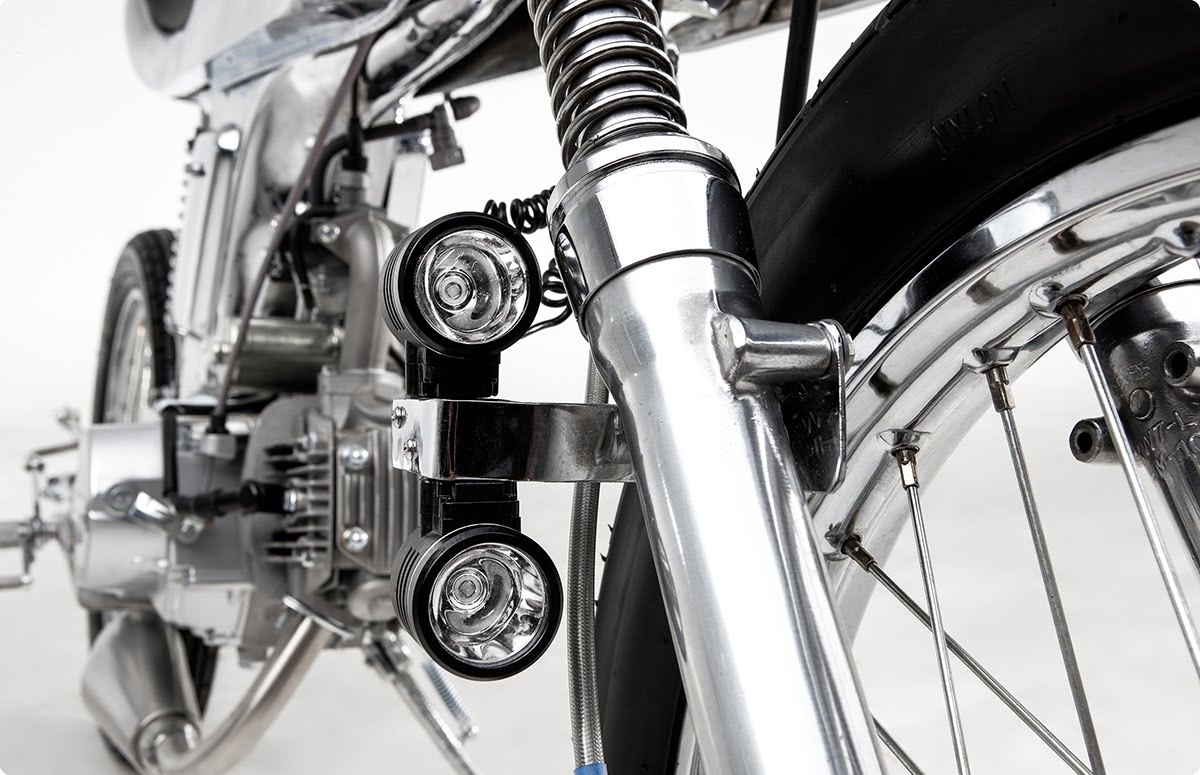 What was the design approach for AVA?
"We do what we do because we believe that vehicles today are incredibly dull. Look back 50 or 60 years to the Jet Age, it was a time when cars and airplanes were inspiring beacons of human progress and symbols of what could be and not necessarily what is. Bandit9 is here to revive the spirit and momentum of the Jet Age. We just happen to make motorcycles. For now.
That's why we spit out motorcycles like the AVA. We like to build what could be and what's in our imagination and we completely ignore naysayers who take comfort in convention and the rules that do nothing but hinder progress."
What was the donor bike for the build and how much of its original components remain?
"The original frame comes from the Honda Supersport. I would say the wheels and the engine are the only things that haven't been altered."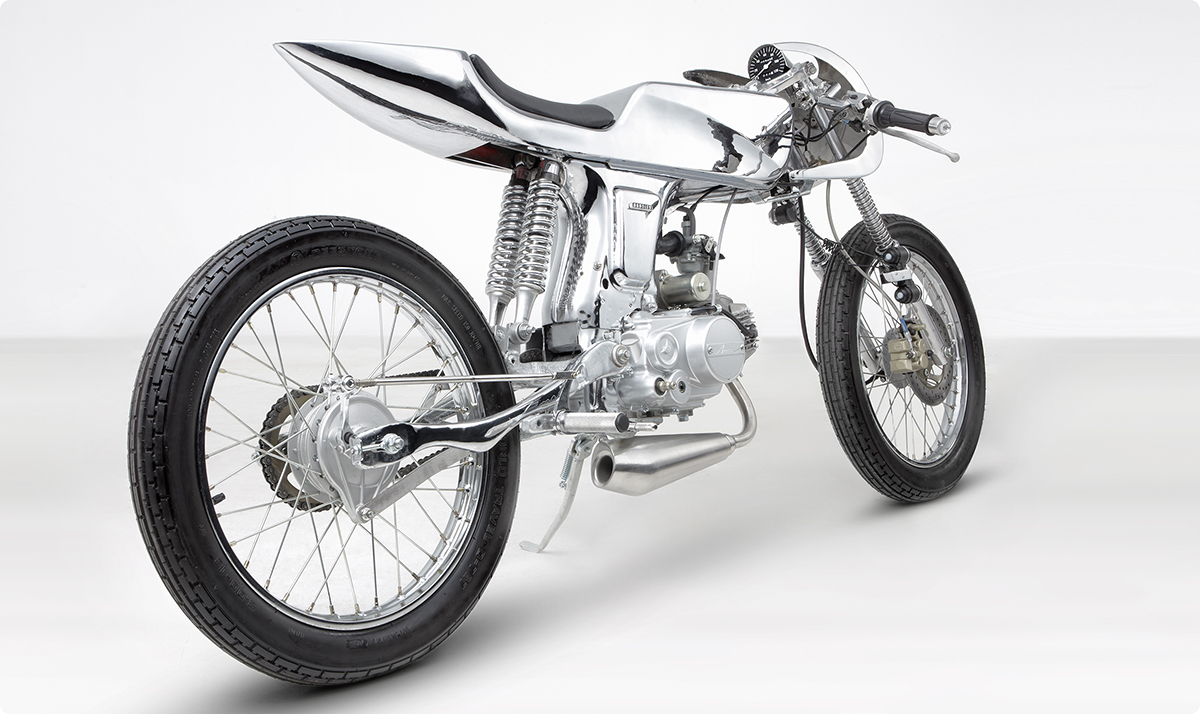 Can you walk us through the build process and how the incredible bodywork was realized?
"I've always thought that having one part for the tank, one for the seat and another for the rear cowl was superfluous so we've been developing unibody forms since the EVE. It's not easy and with the AVA, it was particularly difficult because there's a lot of different curvatures that need to flow seamlessly. You can't make these forms with machines because it's a closed shape so each unibody is built entirely by hand.
The next challenge was to keep the rear completely clean. So we started off with a really special shape for the swing arm, which is shaped like a deer leg to compliment the liquid forms of the bike. We made it by pouring molten steel onto a sand cast mold. You end up with a swing arm that looks visually light but actually, it's incredibly solid. It also gave us the opportunity to create the dualshock suspension, which looks damn cool…in my humble opinion.
The headlight would have been another disconnected object and I wanted to keep the lines of the bike flowing and so for the first time, we built a front cowl. We wanted to create a fairing that didn't possess that common bulbous shape so we used the same design language of the arcs on the unibody on the fairing.
We also created a naked speedometer where we took the guts of a regular speedometer and outfitted it with a new body made from steel. We discarded the glass because we wanted to give the speedometer a sense of dimension. Think of it like this, a motorcycle feels like you're connected with the environment because unlike a car, you're not trapped behind a window. The naked speedometer adds another tactile connection with the bike.
All the other details were also built by hand – the handlebars with bar-end indicators, brake lights, front suspension, exhaust system, foot pegs, levers and switches."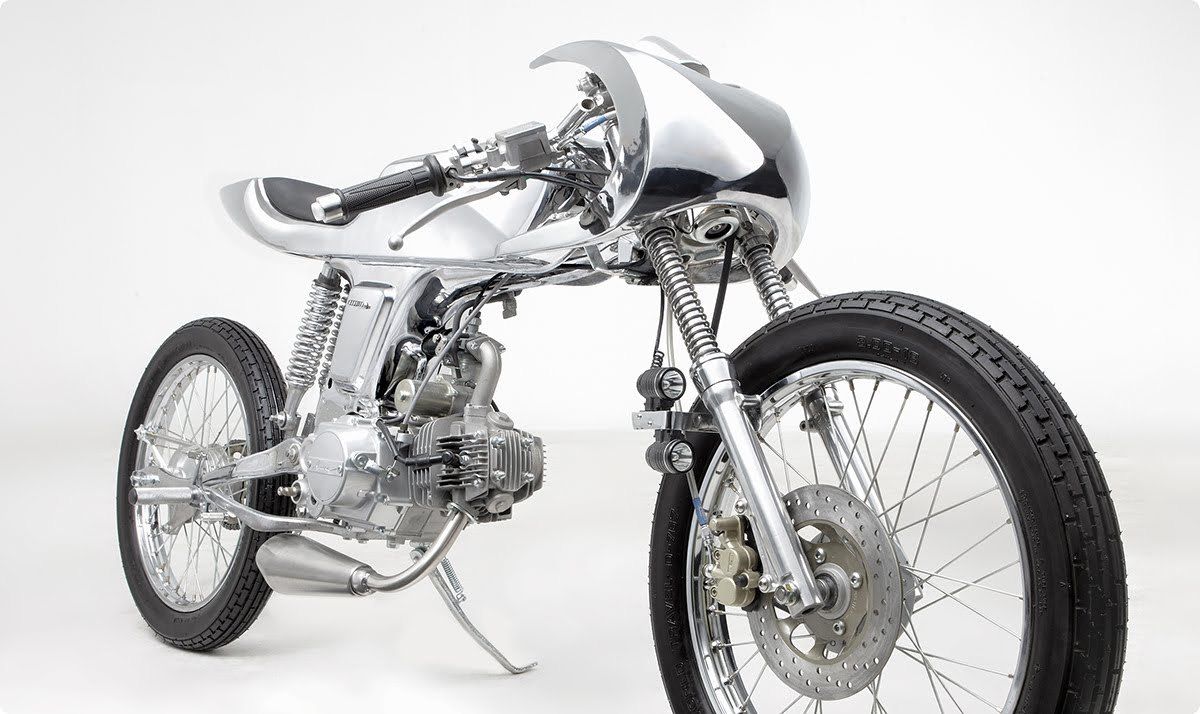 I noticed on your site that you're also including international delivery with orders. Is this a process Bandit9 will manage start to finish?
"We liaise with an international company that ships globally. It's very painless for our clients. Nobody wants to handle the paperwork and bureaucracy of importing a motorcycle so our shipping partner handles everything and the motorcycle magically arrives at their doorstep. We do everything we can to make it easier for the client and for them to also feel safe. We want them to feel like it's Christmas when their Bandit9 motorcycle arrives. Actually, now that I think of it, a lot of our international clients tell us how great it feels to unbox our motorcycles."
Thanks, Daryl. One last question…what can we expect to see from Bandit9 in 2016?
"We are starting another operation somewhere else in the world that will have a different focus than what we're currently doing in Saigon. I don't want to ruin the fun so I'll stop there, but you can keep up with us on our facebook page."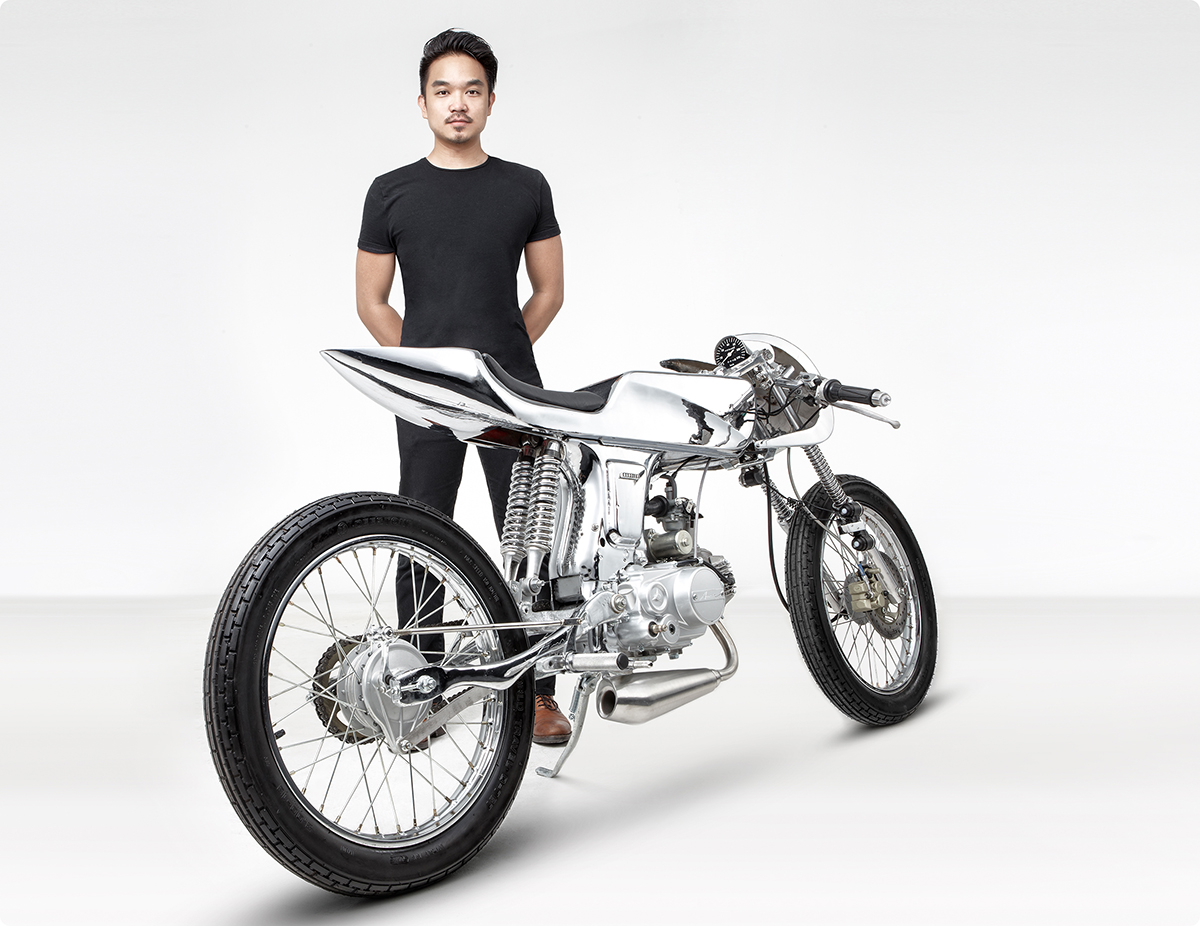 There are only a handful of custom workshops in the world whose builds can be considered truly unique and Daryl Villanueva's Bandit9 is one of them. From their blacked out, Chang Jiang based 'Nero' to the unibody construction of the Honda SS based 'EVE', Bandit9 have a knack for building bikes that defy categorization. Today I am excited to be unveiling their latest creation, the Honda 125 based 'AVA' available to order as an incredibly short run of only 9 units. I exchanged a few emails with Daryl to pull together this interview about the Bandit9 business and the development of their incredible AVA.