For Nick Xiromeritis working as an automotive designer has had its benefits. Born in Detroit Michigan Nick has been lucky enough to have had a career that has taken him around the world. Working for companies like Mazda and Renault he's lived in Japan, Paris and currently resides in Cologne, Germany. Along with the travel benefits, he's also met some very talented designers like Jens vom Brauck of JvB Moto who he now shares a workspace with. The pair tinker on motorcycles alongside one another and Nick benefits from access to Jens JvB parts catalogue and his extensive knowledge of bikes. One of Nick's long-running projects is this heavily modified Honda VF500C and today he's sharing the story of how this bike came together…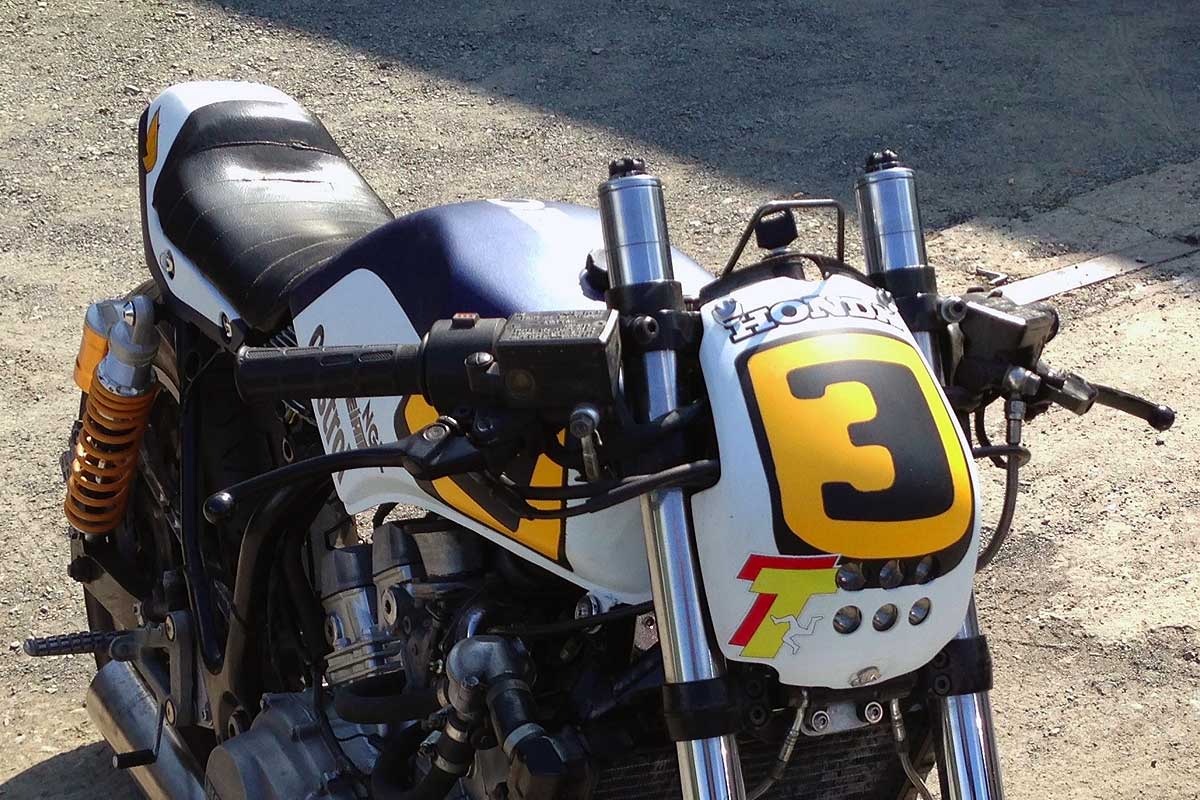 "The donor bike for this project was a 1983 Honda VF500C or V30 Magna V4 'soft chopper' that was purchased in the Netherlands. My idea was to put together a quick build to take to Wheels & Waves. I chose the 'chopper' version of this bike as it was lighter than the VF500 Interceptor (196kg wet vs 205kg) and its tubular frame and dual shock layout lent itself to modification. This model also had two gas tanks. One smaller tank above the motor and the main tank under the seat along with the battery.
The plan was that a few of us from Cologne, including Jens, planned to go to the event in Biarritz. So the first phase of the build was done in only two weeks, loaded on to a trailer and driven 1300km to the show. After the Wheels & Waves weekend, I fished off the build so it could be shown at the Bike Shed event in Paris. There were some electrical issues in Birraitz from a defective LED headlamp and the rear shocks I'd used from a V65 Magna were too stiff and underdamped. These were updated for the Bike Shed Show along with the paint and exhaust.
My inspiration for the project came from a very unique period in Honda's history. It was the start of their V4 motors and the RSC (Racing Service Center) period before HRC was established. Honda's RSC was designed to support privateer racing teams and it became the inspiration for this build. At the time Honda was just starting with their V4 design and came up with 6 motor variations of the VF before developing the iconic VFR and RC30 machines. My idea was to create a bike that had the look of a 'barn find' ex-racing RSC machine developed for road races like the Isle of Mann TT.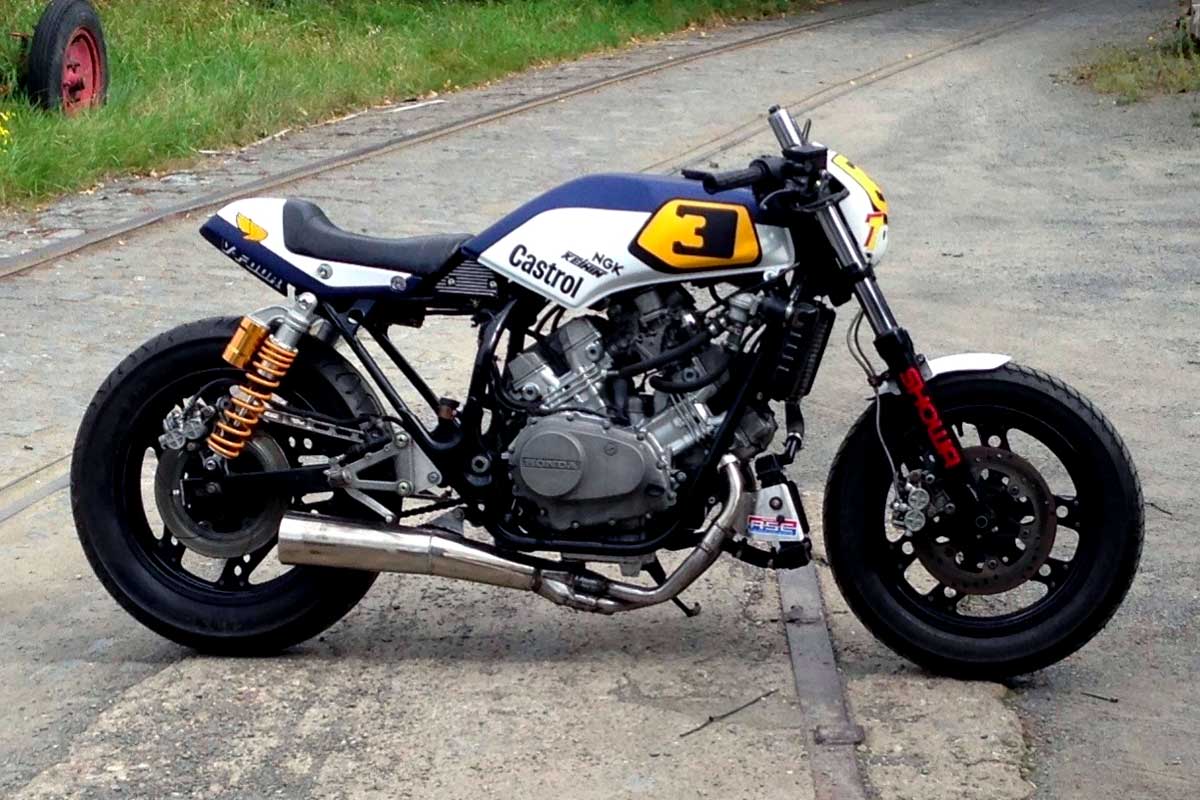 For the build itself, there were two primary goals. First, to create appropriate modern geometry. Second was to make it as light as possible without using expensive materials. These days, you can use online calculators to generate what rake, trail, offset, swing angle, etc. is required. So with those values in mind, I used the complete front end of a Honda VF1000 including the 16-inch Comstar wheel, 41mm forks, triple trees, steering stem, clip-ons and brakes. For the rear, a 17-inch wheel was fitted to the original steel swing arm along with a set of longer, adjustable shocks. The larger radiator from a Honda VF750 was also installed because the Honda VF500C motor was notorious for overheating.
The airbox was removed and individual velocity stacks were custom made to fit. Footrest controls from a Cagiva 125 were also adapted to fit. The exhaust/headers are modified from a VF750 and the gas tank was repurposed from a Kawasaki AR 125. The bike's seat hails from a Ducati Pantah. The tailpiece, front fairing and all of the aluminium parts (lower radiator and tank mounting) are custom made with only the front fender being a pre-made part from JvB Motors. All of the modelling, construction, painting and assembly was managed by me.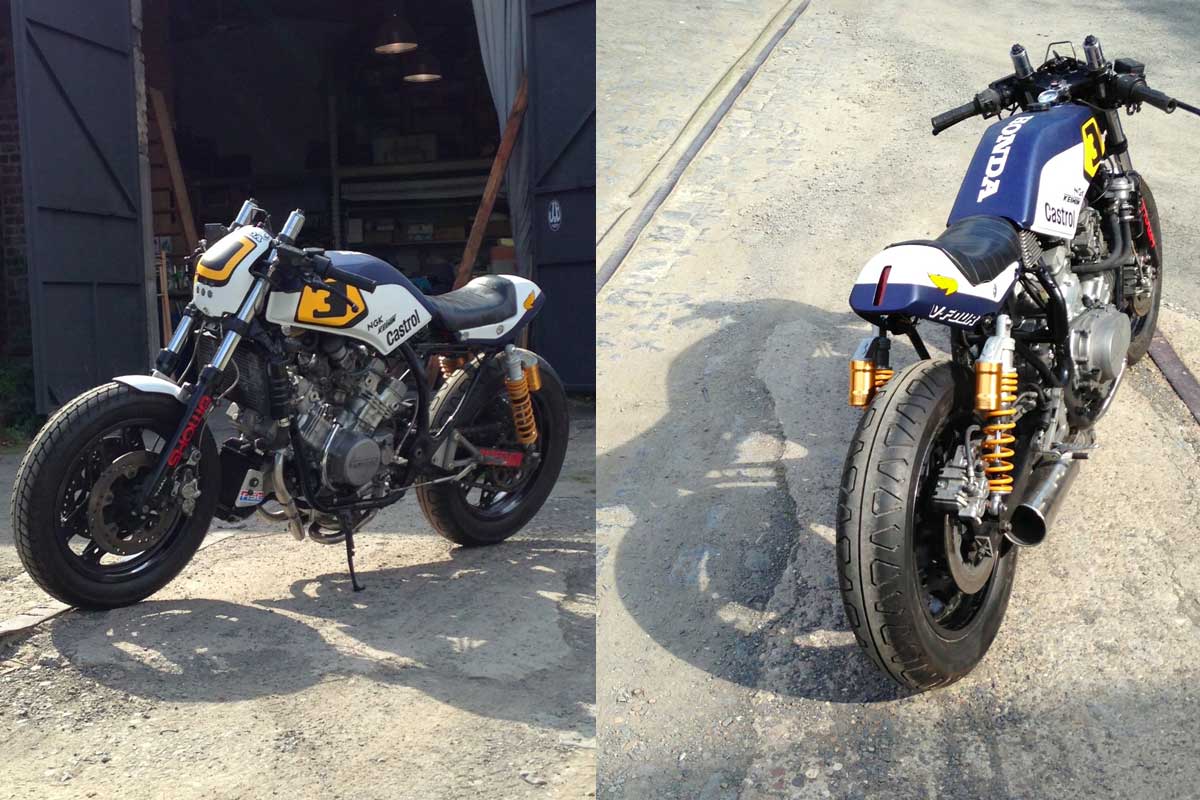 The most challenging aspect of this build was its perpetual evolution. Once the original Biarritz issues were solved, part of the transmission broke. This forced me to source a low mileage 500cc Interceptor motor and install it. I then upgraded the original steel swing arm with a modified (for dual shocks) NS400R item that is slightly longer and it's still not done! I'm currently redoing the complete exhaust system to create two separate 2-into-1 systems, like the old race bikes. This will give a flatter torque peak than the 4 into 1. I am also installing 41mm forks form a VTR100 that hold 4 piston callipers and 310mm discs. This should be finished by the fall, as I have a few other ongoing projects.
Obviously my Honda VF500C doesn't ride like a chopper anymore. The original wet weight of 196kg is down to only 163kg. With the updated forks, shocks and brakes it feels like a modern machine."