Being unconventional takes guts. It means having the confidence to buck trends, do the unexpected and disregard what neigh sayers and sceptics have to say. In the world of custom motorcycles, there are a handful of builders who consistently take a path less travelled with their work. One of them who does it with inspiring confidence and pizzazz is J.Shia of Boston's Madhouse Motors.
The Pareidolia Series is a four-part build project that J.Shia started in 2017. The first bike to be built was a 1971 BSA A65 coined 'The Manipulated'. It was designed and built in collaboration with found object sculptor Michael Ulman. That bike featured a plethora of weird and wonderful design and function easter eggs including a pull start lever for bringing it to life. Despite its unconventional appearance and build approach, it was a huge hit.
The second motorcycle in the series named 'The Devil's Advocate' was completed in 2019. Based on a 1957 Royal Enfield Indian platform J.Shia built it to prove to herself she could pull off another build as impactful as the Manipulated BSA.
This time working independently she built another fine art motorcycle. Despite its unorthodox appearance the Enfield was completely functional and was very well received by her peers. Similar to the BSA the Devil's Advocate was created using a found object design approach. J.Shia made use of everything from an egg slicer to modified parts of a Little Red Wagon pull cart to realise her vision. The Enfield also featured a bespoke foot throttle setup making it a truly one of a kind build.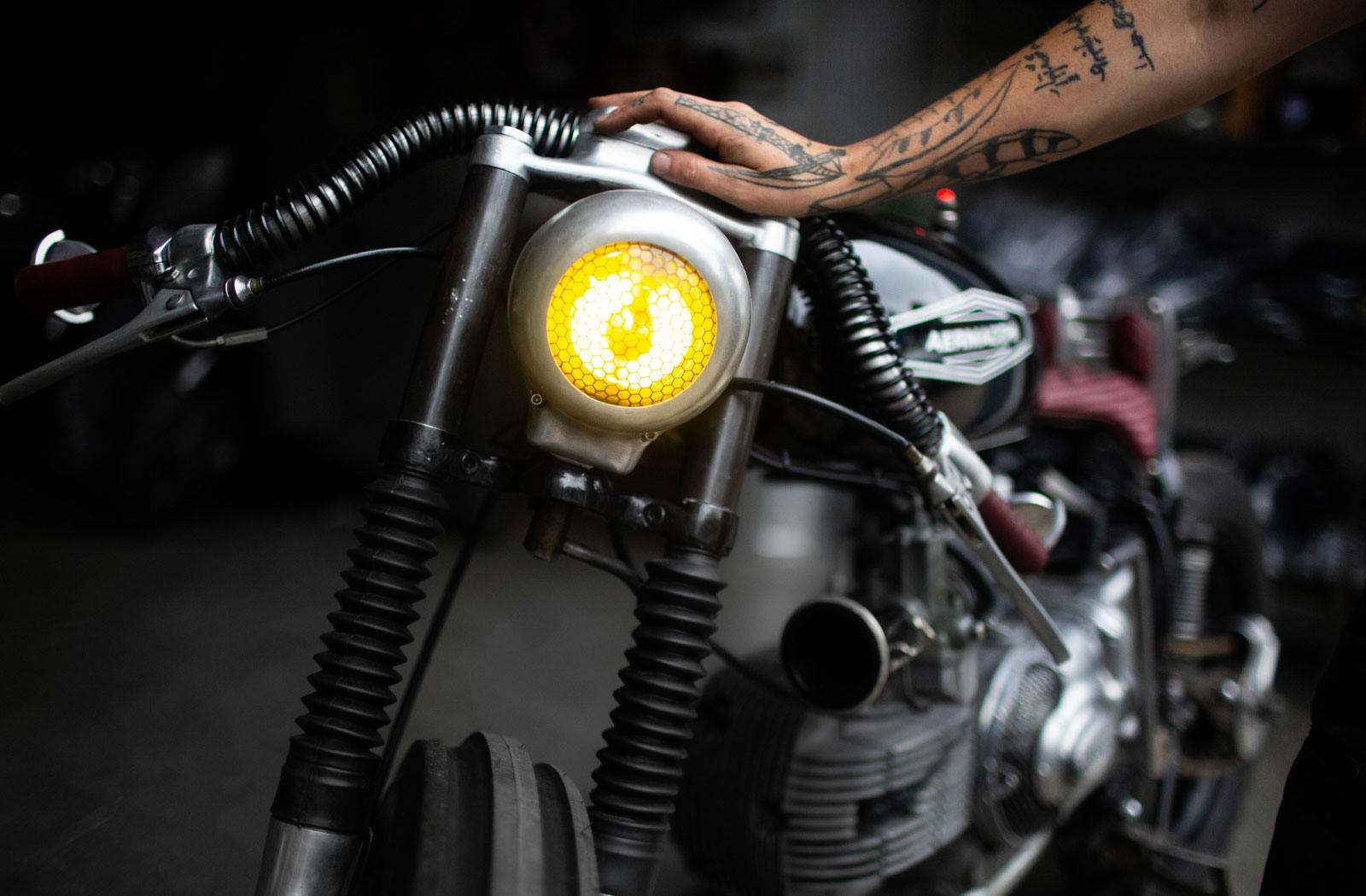 For the completion of the Pareidolia Series, J.Shia and the Madhouse Motors team built the final 2 motorcycles simultaneously. Both bikes which have been dubbed 'The Optical Conclusions' started life as 1972 Harley Davidson Aermacchi SS350s and their styling came from a rather unexpected influence.
"Inspired by Tchaikovsky's ballet 'Swan Lake', J. dedicated these twins to her mother, a former classical singer, by debuting them on the stage of the Boston Symphony Orchestra," says Madhouse team member Gretchen. "These two bikes are only a few hundred VIN numbers off from each other. They are identical in their length, height & weight, and their profiles are near silhouettes of one another."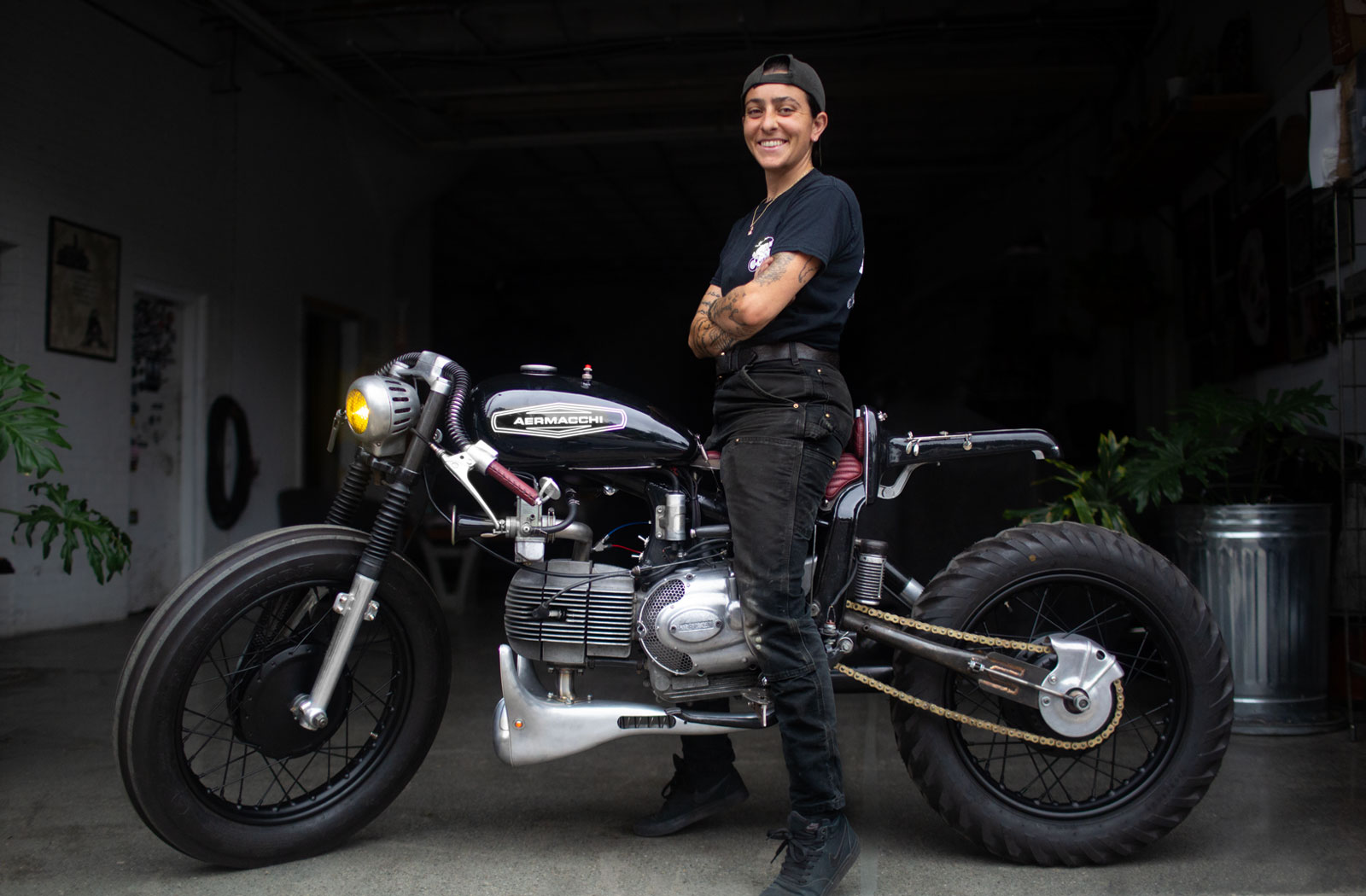 While the 2 Aermacchi have been engineered similarly they are also individually unique thanks to several aesthetic differences and the approach taken with engine modifications.
The chassis and subframe of each bike have been treated the same. Both of the swing arms are stretched and fitted with single-sided suspension that utilises a gas tension spring and an opposing enclosed coil spring. J.Sia also removed the secondary down tube of each chassis to clean up their appearance before reinforcing the rest of the frame with gussets.
The major difference between the 2 frames is that the white bike's frame loops around to the front, while the black bike's frame continues to the rear.
"The lighting is definitely one of J's favourite parts of this series," explains Gretchen. "Each bike has its batteries built into the gas tank, and wiring running down the frame and under the seats. All the wiring near the exhaust is Teflon coated."
What makes J.Shia's approach with the wiring unique is a secondary loom that bypasses the coils and battery. This allows each bike to be plugged into a standard 110 power outlet. This means that the headlight can function as a lamp should the owner ever want to park one inside their home.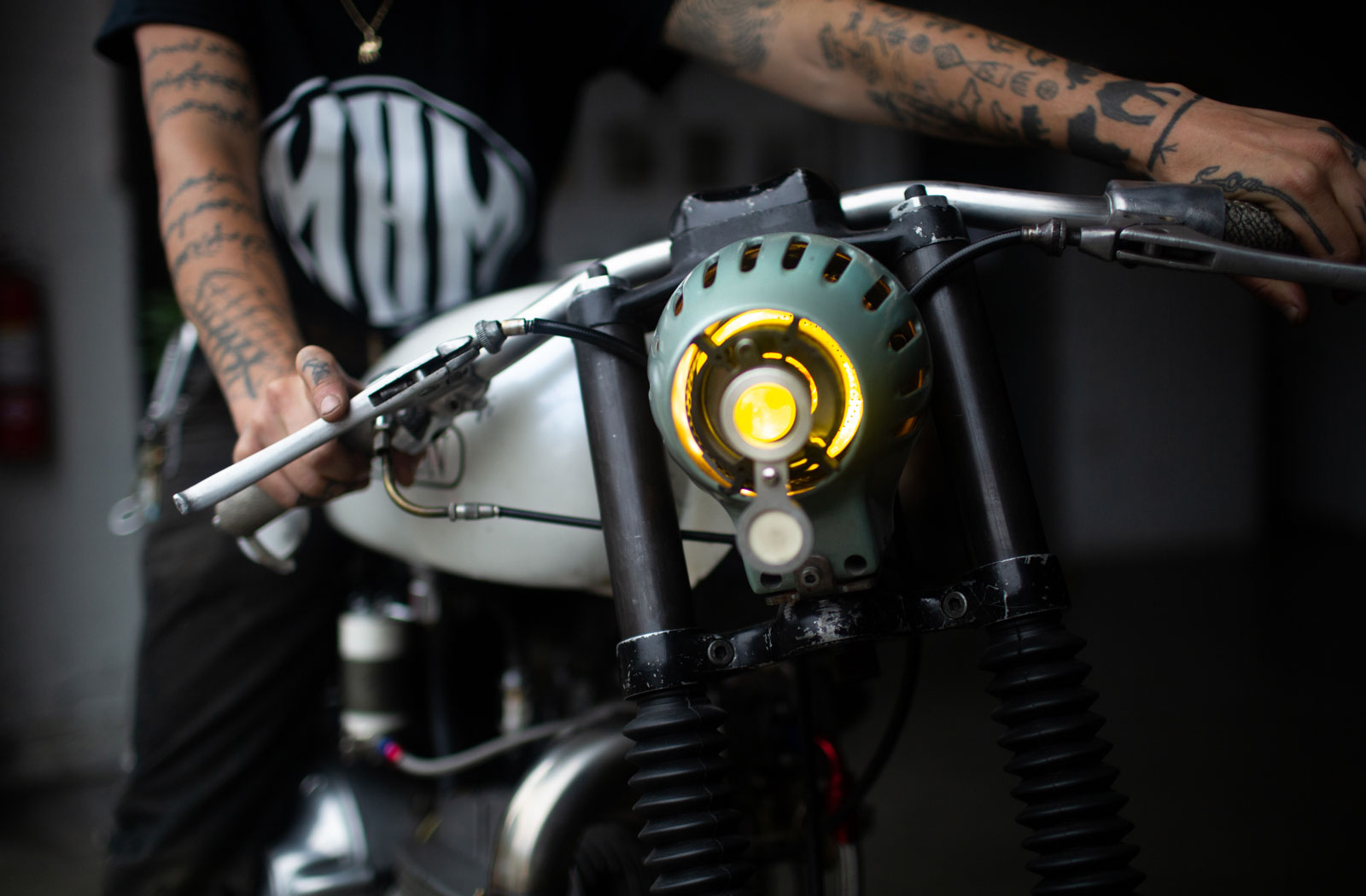 Each of the Aermacchi's 350cc single engines underwent an overhaul prior to being modified. As for how each bike exceeds its original performance J.Shia used a different approach for each.
On the white bike, you'll find a draw through turbo kit. It functions using a dual scavenge pump set-up and an exterior oil tank for cooling. As for the black bike, it inhales nitrous. The N2O feed is activated via a switch on the top of the carb housing.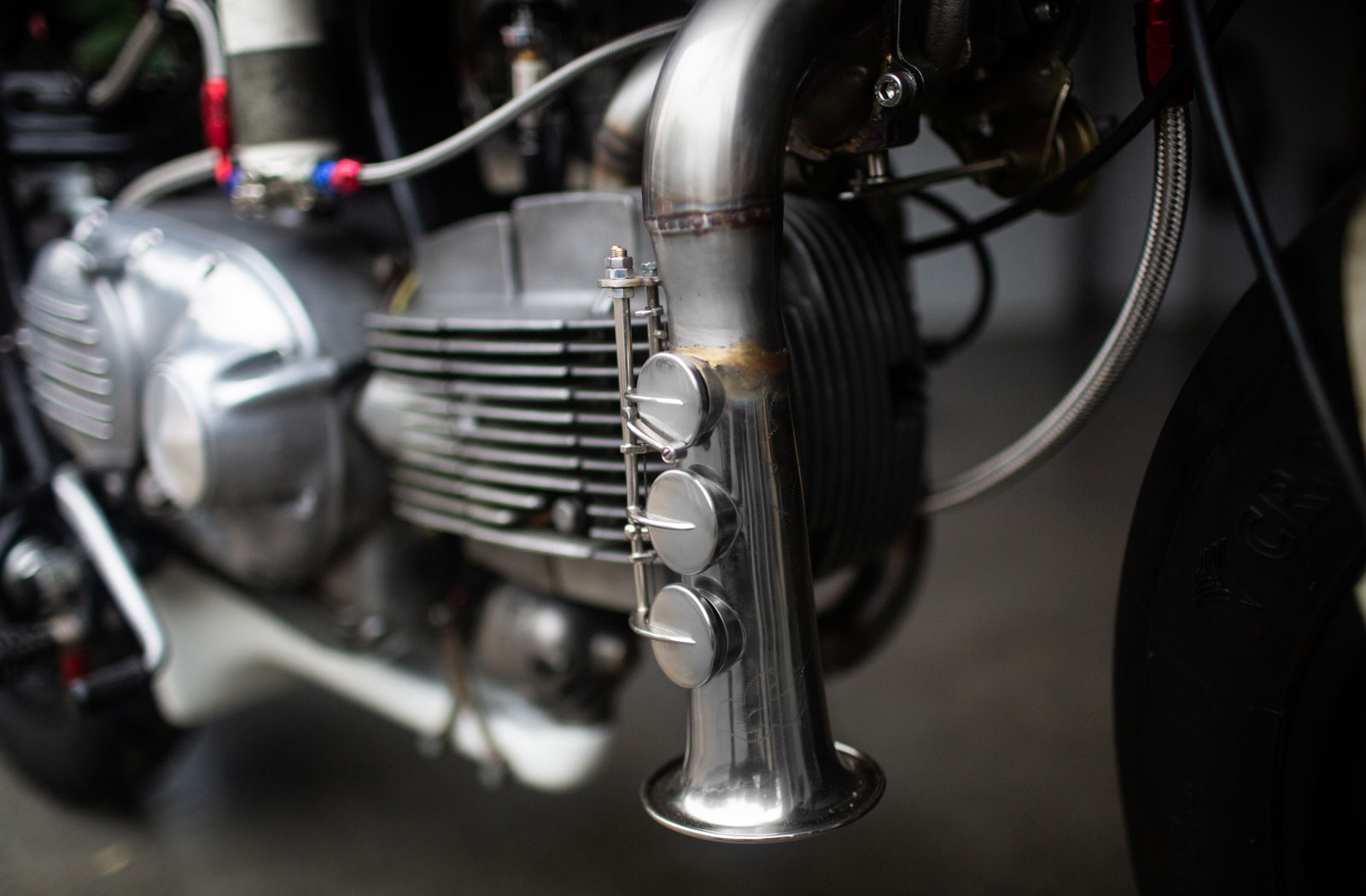 There's no shortage of curious design touches on either of these bikes. Closer inspection of either one will reveal repurposed components from musical instruments, old telephones, agricultural machinery and secondhand leather. Some have been added purely for aesthetics but most have a dual function. For instance, on the white bike, the air intake on the turbo housing is made using part of a straight soprano saxophone and the black bike has a velocity stack on the carb made from the mouth of a clarinet.
Of all the weird and wonderful features J.Shia has made to each of these motorcycles it's the rear ends that are sure to raise the most eyebrows. On the white bike is a green tail unit that resembles a wizard's hat. Made from aluminium, it houses the oil for the bike's turbo cooling system. An identical part can also be found on the black bike. This time though it takes on the form of a belly pan cowl and doubles as part of the exhaust system. As for that bikes tail unit, it's another repurposed wind instrument that's been split down the centre and expanded using custom aluminium spacers.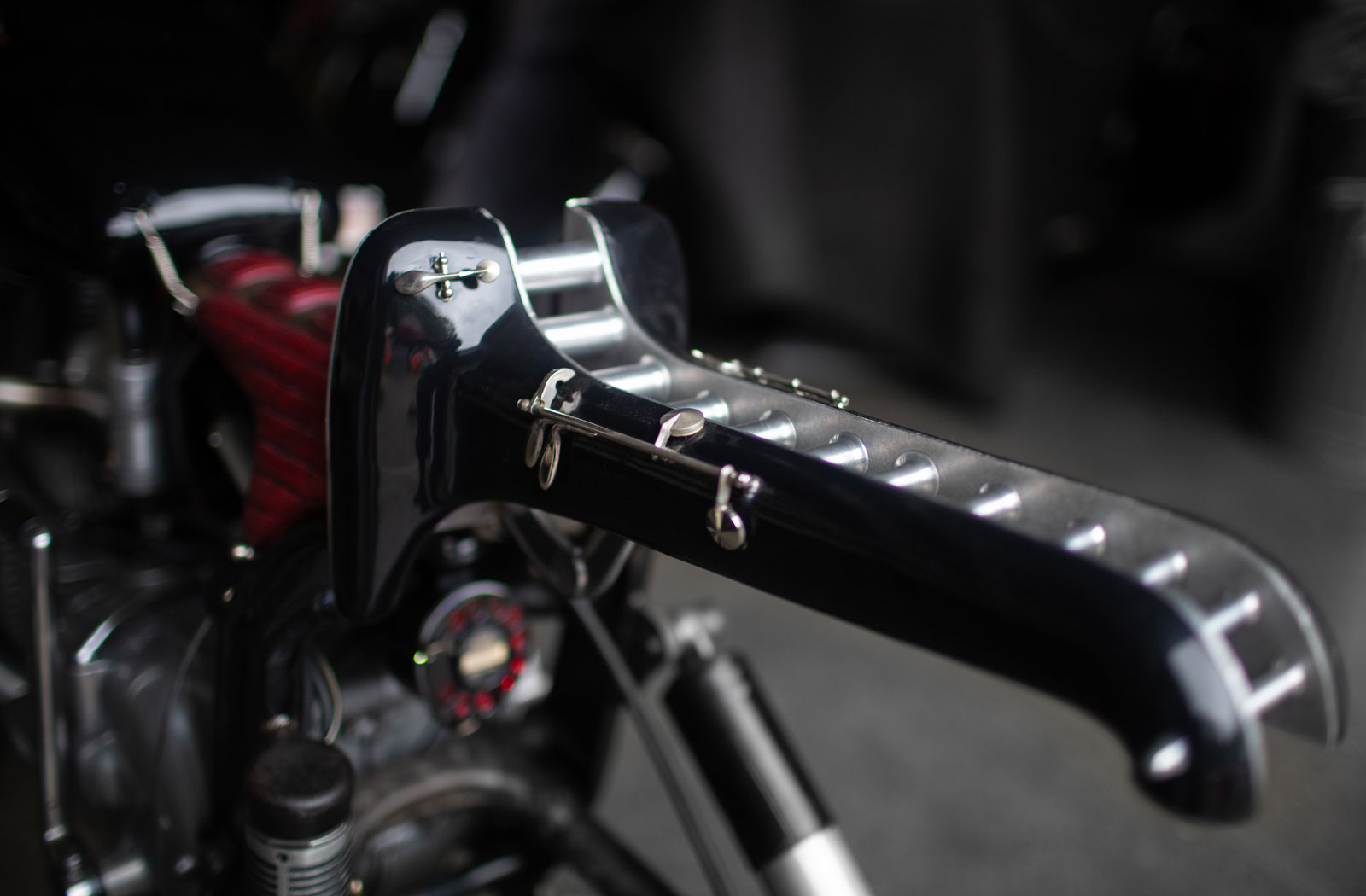 "J. did this to challenge herself not only as a custom builder, both conceptually and technically, but also as an artist, and intertwine her two worlds of fine art & backyard bikes," says Gretchen. With these two machines, J.Shia's Madhouse Motors Pareidolia Series is complete but we have no doubt that this won't be the last weirdly wonderful machine from this talented builder.