Unfortunately, my Japanese isn't great and details on the website are limited so here's what I managed to translate from it…
"The Balle features full cowling designed specifically for the Sportser frame.  Integrated air cleaner housing in cowling body, custom gauges, top clamp and clip-on bars, set down low for an aggressive riding position. Custom gas tank formed and mounted to hug the V-twin and finished with custom Harley Davidson branding."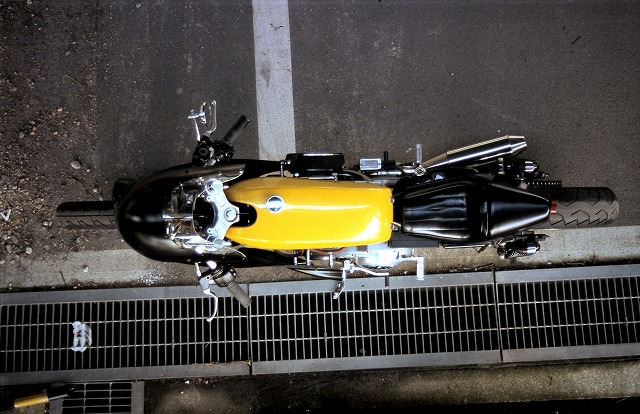 Just like the Harley 883 Cafe Racer we recently featured this bike is extremely tight. Just take a look at the front and rear photos below. No excess or overhang, everything tucked in and streamlined. The hazard style paint scheme of yellow and black works great and having the headlight set off to one side breaks up the almost perfect symmetry of this Harley Cafe Racer.
The one other thing I managed to translate from the site was the term "Warlike" which was used to describe the look of the bike. I think that's a pretty accurate description. Perhaps this motorcycle will rule the decaying streets of a post-apocalyptic future alongside of Icon's Honda VRF1000R Magnificent Bastard?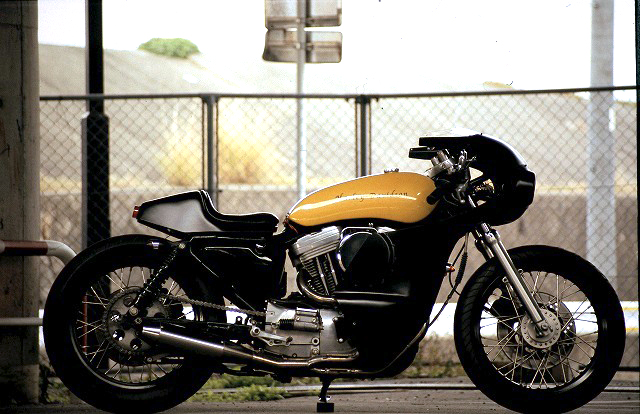 It's another Harley Davidson Cafe Racer and by some strange coincidence, it's also yellow!? Straight out of Japan this custom Harley XHL Sportster by Anbu Bike is named Full Cowl "Balle" which I am going to assume means balls…because this bike has plenty of them!