If you're into custom motorcycles (which I will assume you are since you're here) the name Kaichiroh Kurosu and his workshop Cherry's Company should need no introduction. For the uninitiated, Kaichiroh-san is kind of a big deal.
Since opening his workshop in 2000 Kaichiroh-san has become one of Japan's top custom motorcycle builders. he and his Cherry's Company brand have won numerous trophies at Japanese custom motorcycle events including 3 'Best in Show' awards at the world-renowned Mooneyes Yokohama show. He's been commissioned by manufacturers like BMW Motorrad to customise their motorcycles and even built fully functional prop-bikes for movies including the latest Batman film and the Amazon series,  Kamen Rider Black Sun.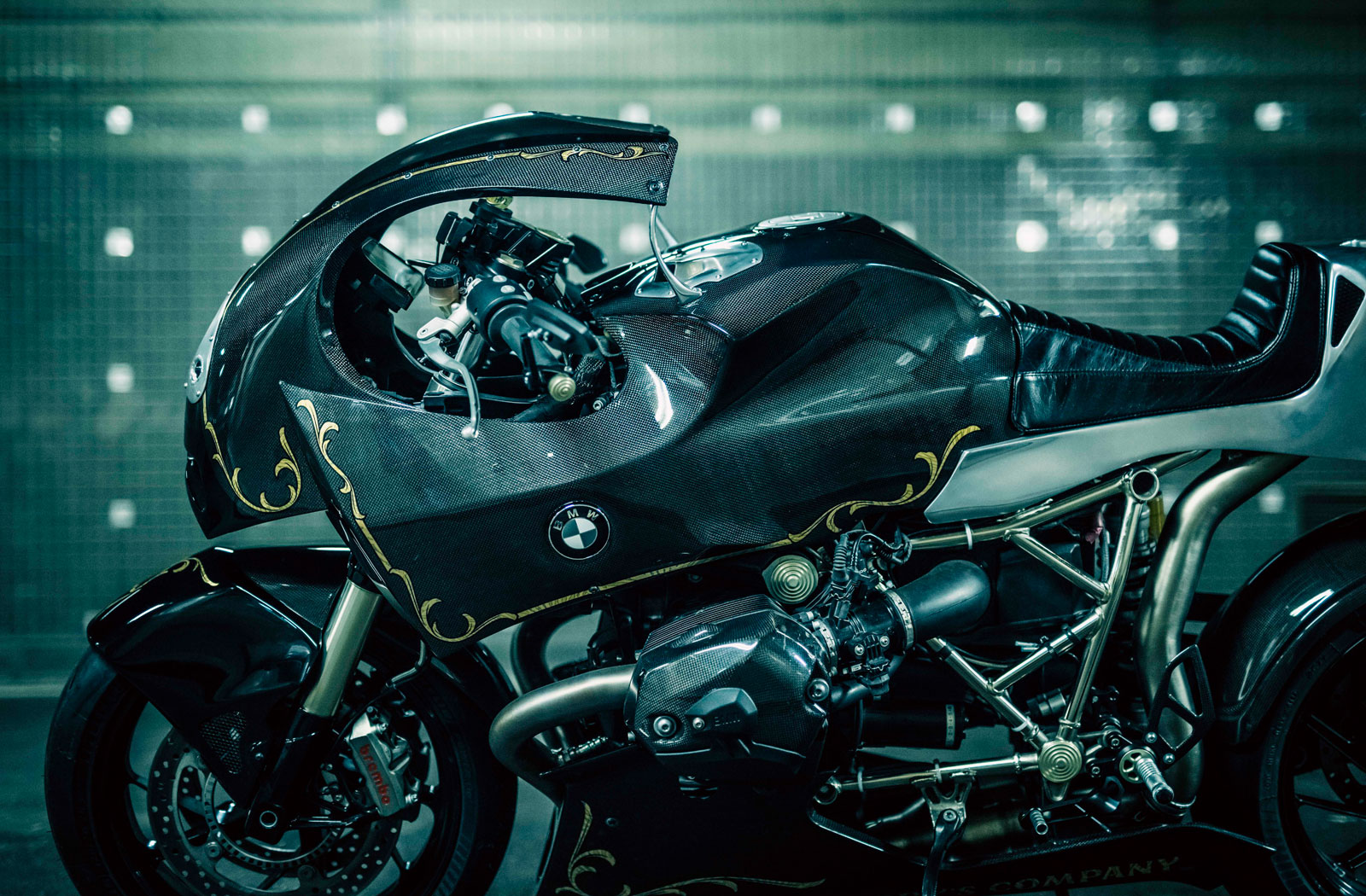 2022 marked the 30th anniversary of the Mooneyes show. As you'd expect Kaichiroh pulled out all the stops to mark the occasion with a wildly unique custom creation, and his efforts paid off. Cherry's Company's highly stylised, carbon-bodied  'Midnight Dancer' took out the Mooneyes award for Best Cafe Racer and Best European Motorcycle.
Midnight Dancer was built for a customer with a crash-damaged motorcycle that he wanted resurrecting by Cherry's Company. This wasn't just any old motorcycle though, it was BMW Motorrad's highly acclaimed HP2 Sport, a motorcycle that is quickly becoming a collector's item.
Released in 2008, the BMW HP2 Sport was powered by the most powerful oil/air-cooled boxer engine the Bavarians had ever produced. It was based on the R1200S platform and had a capacity of 1170cc. Thanks to a special tune and plenty of internal upgrades the HP2 engine made 128bhp at the crank and 110Nm of torque; the HP2 Sport wasn't just about power though.
Carbon fibre played a big role in the HP2 Sport formula. The bike's chassis was a combination of tubular steel and a semi-monocoque carbon fibre rear end, which removed the need for a subframe. The front fairing, belly pan, fenders, parts of the fuel tank, cylinder head covers and more were all carbon too which helped to keep weight to a minimum. Along with all that carbon BMW also fit the bike with a long list of weight-focused components such as forged aluminium wheels, lightweight pistons and even lightweight headlamps. This all resulted in an impressive 178kg (dry) weight. To top it all off, the HP2 Sport wore a top-of-the-range suspension and brake package. Upon its release, BMW boldly claimed that the HP2 Sport was ready for both the road and track straight off the factory floor. By all accounts, it lived up to their promise.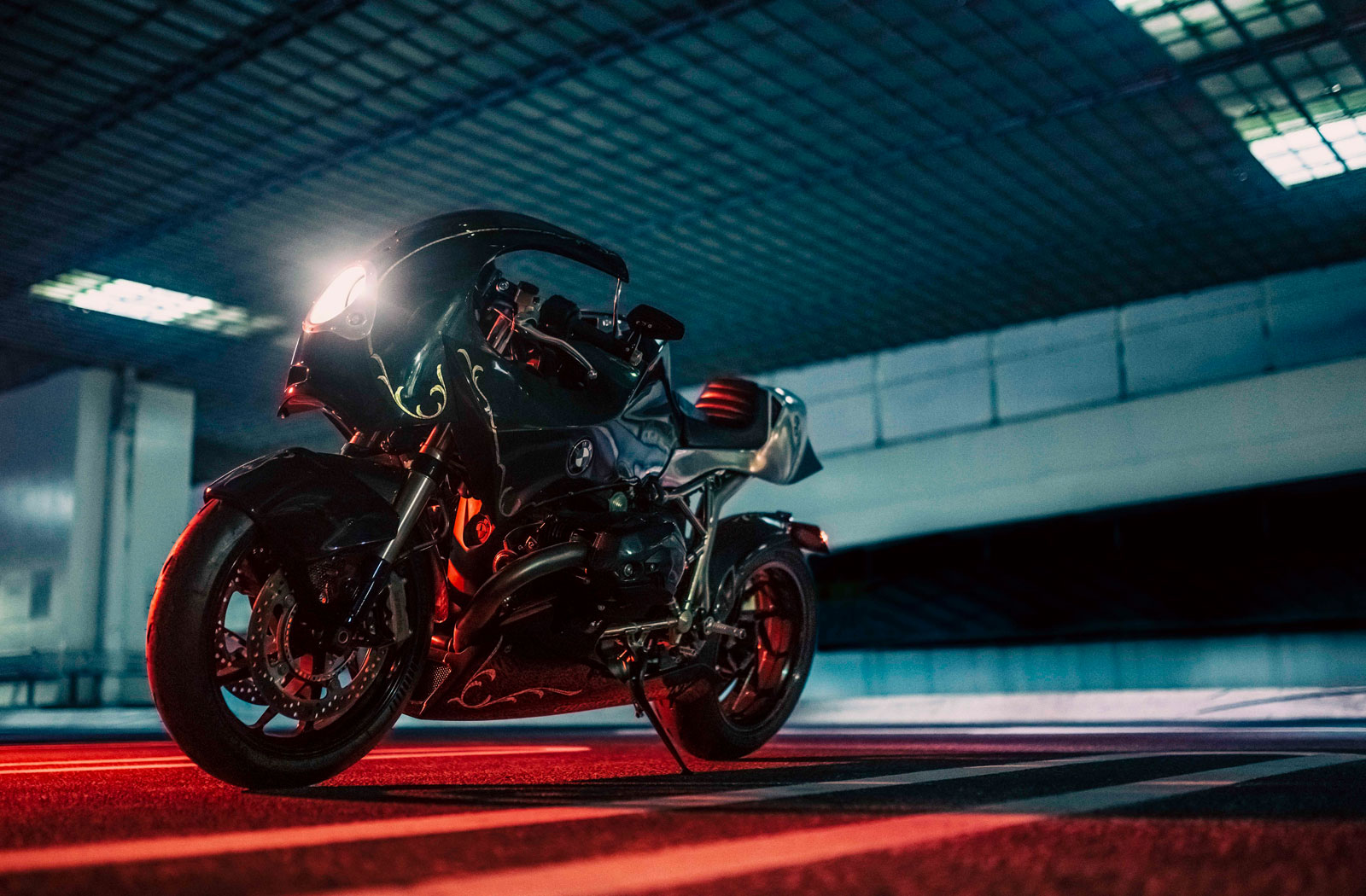 Under the highly customised exterior of the Cherry's Company Midnight Dancer, you'll find a 2008 BMW HP2 Sport. When tackling the project Kaichiroh wanted to do this venerable motorcycle justice. This meant pulling out all the stops and even upskilling to achieve his desired goal. The following is Kaichiroh's account of how the Midnight Dancer build played out…
---
"I received the order in 2018 from a customer whose BMW HP2 Sport had been in an accident. He asked me to customise it, but due to me being very busy and then Covid19 the build of the bike was on hold for a long time. The HP2 Sport had a carbon exterior, the strongest performance of a flat twin engine and an excellent chassis to support it. I didn't have a concrete customization plan for the bike, but I knew I didn't want to degrade its performance or styling. For those reasons, I wanted to rebuild the HP2 Sport with a carbon exterior.
From around the end of 2021 to January 2022 I started planning the bike. At the time, I was using carbon exteriors on customers' 'Highway Fighter' builds, which came out of the R nineT customization project I did with BMW in 2014. However, I had only used a hand-laid method of carbon modelling. I thought this approach would compromise the performance of the HP2 Sport. On the other hand, dry carbon was impossible so I began searching for a new method. That's when I found Vacuum Infusion Technology. Using Vacuum Carbon Infusion Technology, which hardens carbon fibre with epoxy, I found that it is possible to produce carbon parts with a quality close to that of dry carbon."
"So I changed the production method of the exterior parts for the Highway Fighter to Vacuum Carbon Infusion as a test bed. Motorcycle parts are notoriously small, complex in shape and have intricate curves so I devised my own vacuum method and built my own Vacuum Infusion Technology. Of course, my manufacturing method is still evolving. I am continuing to improve the strength and quality of my process which is essential for bike parts, as well as finding methods to provide greater design freedom.
Once my own Vacuum Infusion Technology had been established, my work moved on to design. The Midnight Dancer's design is based on World Grand Prix racers from the 1980s. The era was characterized by large cowls and somewhat exaggerated designs compared to today's race bikes. However, I loved the WGP in that era and have used that image many times in my custom motorcycles. This time, I tried to make it work with a BMW flat twin engine."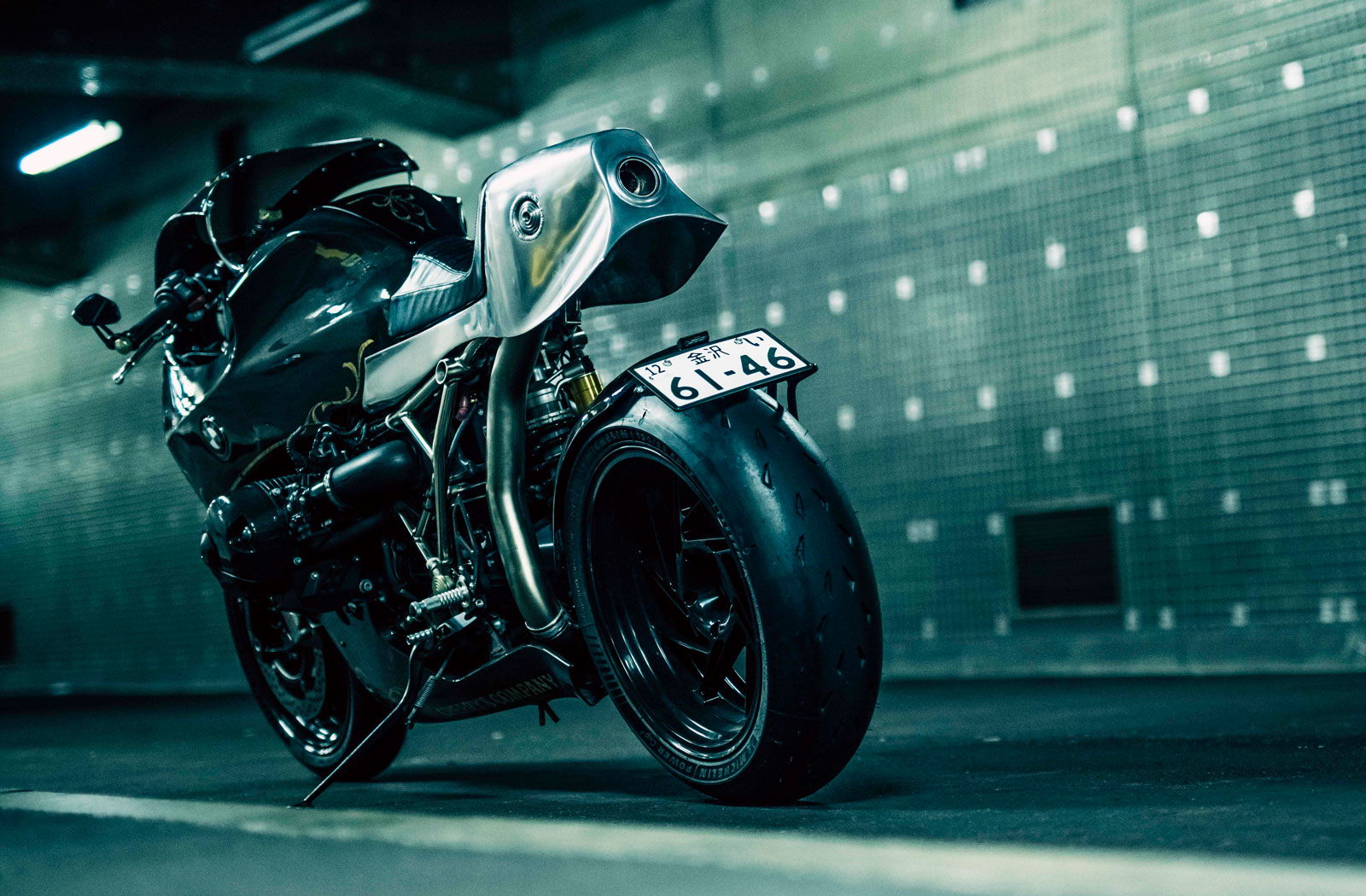 "As the HP2 SPORT had high riding performance, I decided to rebuild only the exterior. So I have avoided changing the arrangement of the suspension system, including BMW's unique telelever front suspension system and paralever rear suspension, the frame supporting it all and the computers and electrical devices necessary for function. The HP2 SPORT uses an inner fuel tank system, with a cover over the fuel cell. The side of the front cowl is integrated into the tank cover and the front cowl was a separate structure from that side part. Behind that front cowl was the air intake for ram air and the dash gauge holder. My process was carried out without changing the arrangement of these parts, which led to this design, with the exterior parts overlapping each other.
I was originally going to finish even the rear cowl in carbon. But during the production process, I started to think that I wanted to combine metal with carbon. Even nowadays, racing bikes like MotoGP or WSBK sometimes use aluminium fuel tanks. In the off-season, when no sponsor or body colour has been decided, the teams test their bikes with bare aluminium tanks and carbon fibre cowls. That look is what I wanted to express with the Midnight Dancer."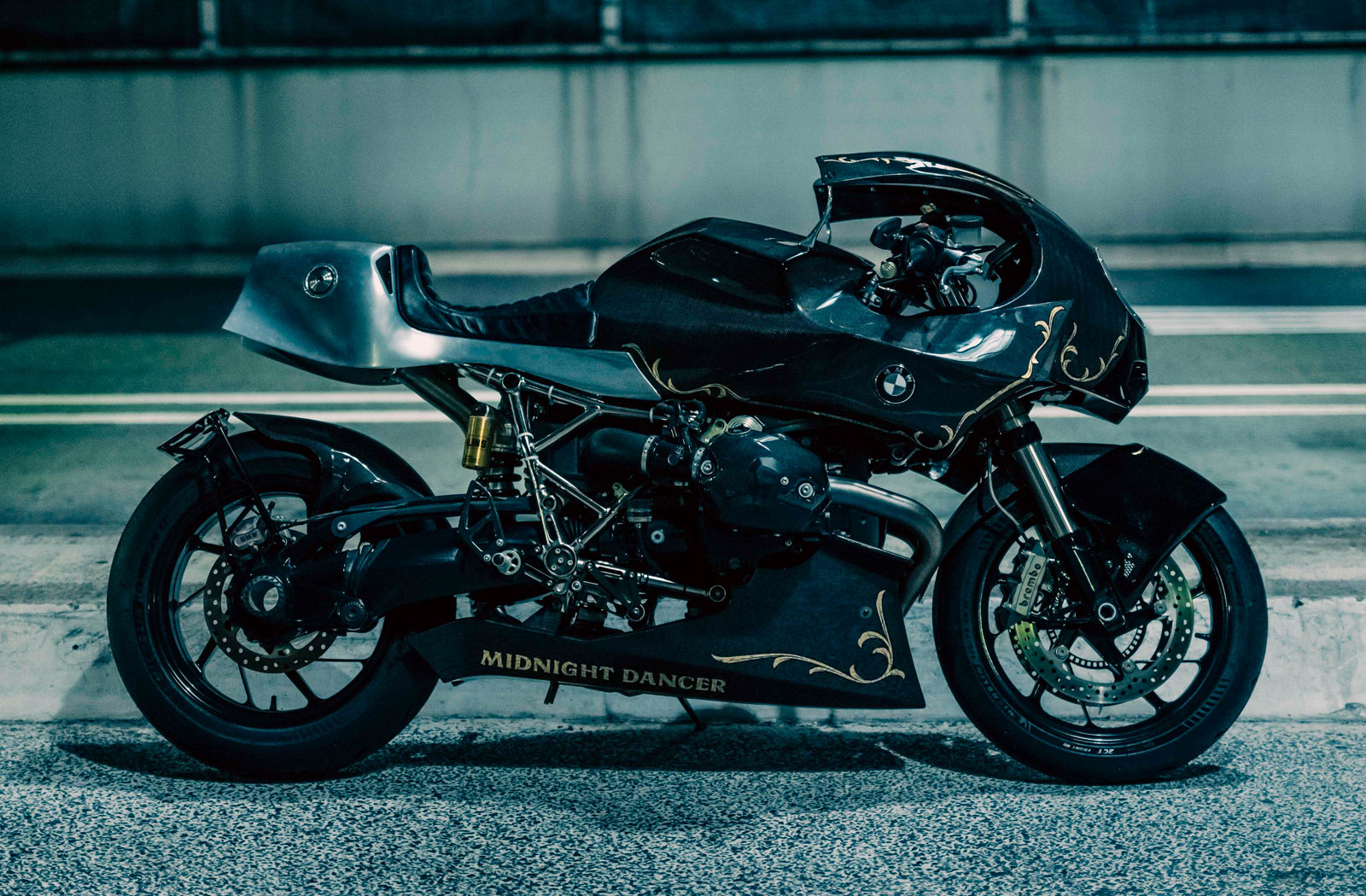 "When I exhibited the Midnight Dancer at the Yokohama Hot Rod Custom Show 2022, many media asked me why I used a carbon exterior. It seems that in the hot rod scene carbon parts, or resin parts for that matter, are frowned upon. They thought the two things were not a good fit for each other. However, the hot rod scene has been using resin parts since the 1960s. This is exemplified by Tracy Nelson's Fiberglas Works custom motorcycle body kits that used a one-piece monocoque fibreglass design.
I also insisted on resin moulding carbon because it allowed for greater flexibility in design. Mould making is essential for resin moulding. It is very difficult but it makes it possible to create complex shapes with positive and negative curved surfaces. The same result is impossible with sheet metal. By combining the carbon exterior with sheet metal parts, I was able to create something new that is neither a chopper nor a super sport. With the 'Midnight Dancer', I am proud to say I think I have proved this."
Photography by Hiromitsu Yasui
Midnight Dancer HP2 Sport Spec sheet:
Base motorcycle: 2008 BMW HP2 SPORT
Exhaust: One-off mufflers
Frame: Nickel plated
Tires: MICHELIN Power Cup 2
Front Fender: One-off/CFRP
Fuel Tank: Standard/Inner Tank
Tank Cover & Front Cowl: One-off/CFRP
Rear Cowl: One-off /Aluminum
Seat: One-off
Headlight: 4inc
Rear Light: KIJIMA NANO
Blinkers: KIJIMA NANO
Meter: Standard
Rear light & Turn signals: KIJIMA NANO
Paint: Hopping Shower by Tetsu