Getting up at 5:30 in the morning for work is difficult sometimes, but on Sunday, December 19th, I had no problem getting out of bed on time. Having dropped my Moto Guzzi V7 at my friend Jon's house the day before, all I had to do was jump in the car and head up to Wanneroo Raceway. After the 35-minute drive, I was greeted by clear skies, perfect temperatures, the smell of fuel, and the raucous sound of over 100 motorcycles filling the air. It was time for a track day.
I've long been drawn to any sort of motorcycle training, but I've never been brave enough to sign up for something by myself. My fears were allayed with the Revival Riders from Geraldton, Western Australia (our fellow retro and custom motorcycle aficionados in the north) coming to town. If the Revival Riders could venture south to brave the wild, blue cloudless skies and 26ºC track temperature of Wanneroo Raceway, the least I could do was join them. Yes, that was sarcasm, because it was a perfect day.
Arriving just in time for registration and scrutineering to open, for most of us this was our first time on a race track. We signed up for the Group 1 training session, hosted by the aptly named TrakDayz, and it was the perfect introduction to the sport.
The requirements for Group 1 are a helmet, calf-length motorcycle boots, gauntlet gloves that cover the wrists, kevlar jeans, and an appropriately armoured motorcycle jacket. Group 1 is the most basic training and the safety requirements reflect this. This makes it more accessible to the everyday rider who doesn't own a one-piece leather racing suit. Most of the guys already had this gear and those who didn't borrowed or bought what they needed.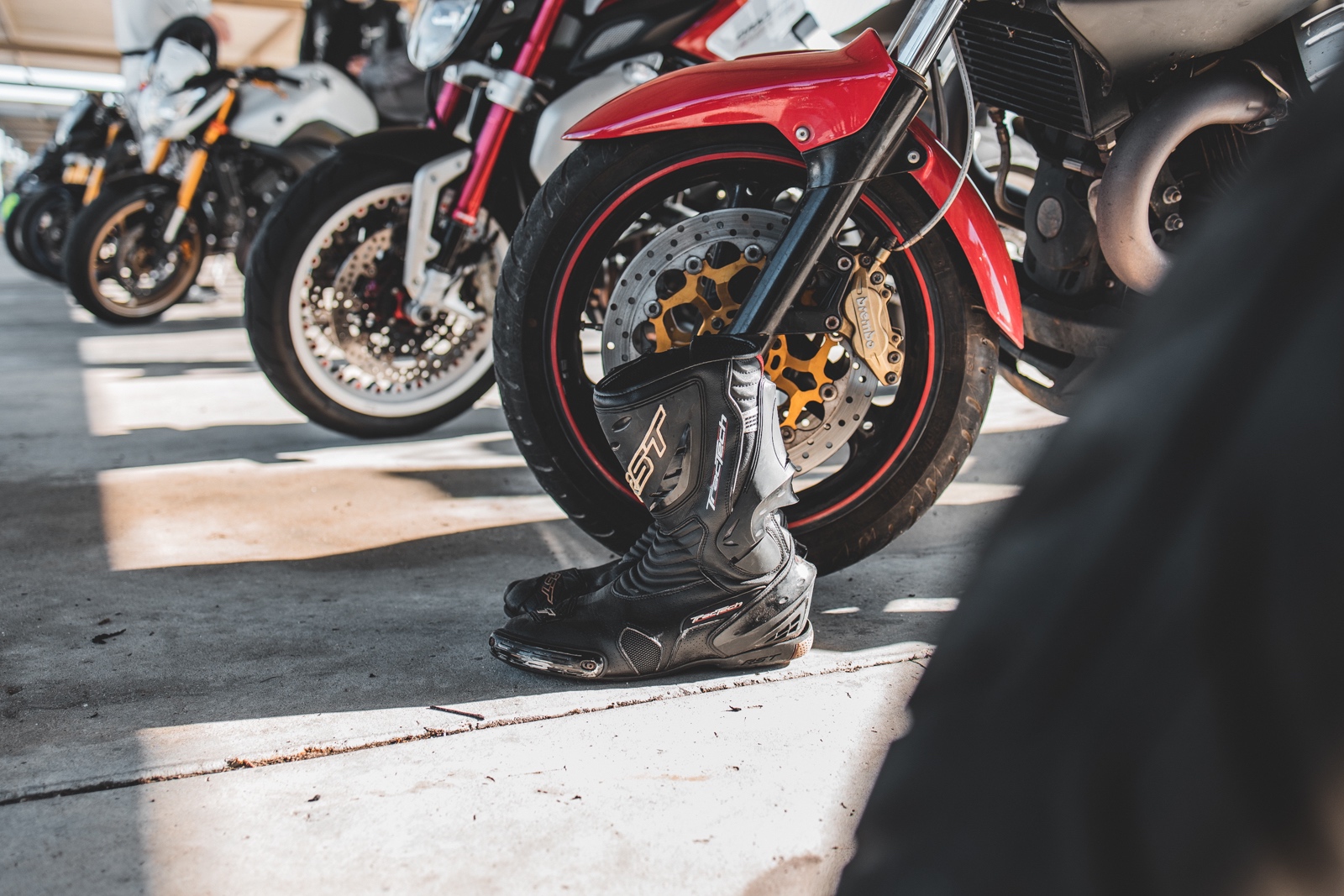 The bike prep was equally as basic. Headlights, brake lights and speedometers were taped up and brake pads and tyres were checked by the scrutineers. They also checked for any oil leaks. That was a bit concerning for the old British bikes, but luckily we all passed with flying colours.
In the weeks leading up to the day, I swapped my exhaust for an older, lightly crashed set of Lafranconi racing mufflers. This wasn't necessary, but I wanted to negate any major financial loss if I did manage to bin it. That, and the Lafranconi mufflers sounded incredible. I also removed my centre stand and mirrors.
With the bikes prepped and waivers signed, we headed down to the pit lane for the safety briefing. With the organisers sporting Christmas elf hats, a healthy dose of sarcasm, and quick wits, apprehension about the day being a serious racing event went straight in the bin.
We all felt immediately at home with the TrakDayz team, and that was paramount to the day running smoothly. Group 2, 3 and 4 headed out onto the track while Group 1 was ushered into the classroom for the first session.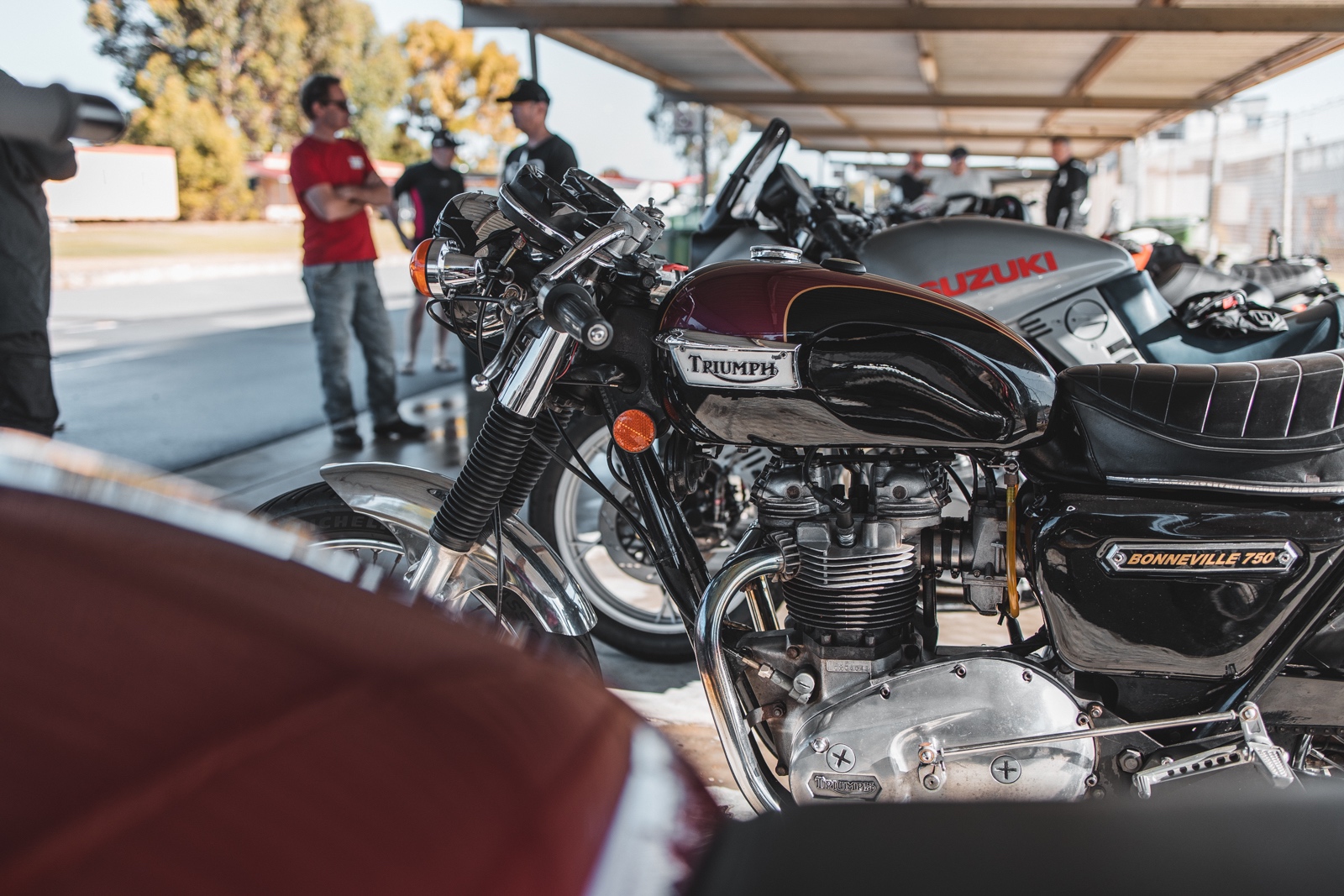 Session One
The day was structured around six classroom sessions, broken up by six track sessions. After about 6-7 laps, we'd come back into the pits and head straight back to the classroom.
The first session was an introduction to the race track and TrakDayz's own "Golden Rulez". The day was about practice, not racing. That meant respecting your fellow riders' skill levels and to keep all overtaking to the straights, if you thought it necessary.
There were 25 of us in the class, of all different ages and experiences. The bikes were just as much a mixed bag as the riders—from a 1970's Triumph Bonneville to a brand new MV Agusta Brutale 800 R and everything in between.
With the track marshall announcing that it was nearly the end of the Group 4 session, it was our turn to suit up and head out. All kitted up and excited as hell, we hit the track for the first time.
There was, however, a small catch. We weren't allowed to use our brakes, and we had to use a single gear the whole time, with most of us choosing 4th. This was so we could focus on our lines through the corners without having to devote any brain power to slowing down or changing gear. Those elements would come later. There was an emphasis on being smooth and controlled, so choosing a higher gear was a safeguard for those without traction control.
In November, I had spent a day belting a Formula Ford car around this track (or trying to, at least). Going into the first session, I had some idea of how the track looked, but I couldn't help but feel a little nervous. I'm sure the others were feeling the same as we took off from the pits, feeding into turn one.
In an open-wheel car, you can't appreciate how big and wide this long right-hander is. It's completely different on a bike. The first thing I remember is realising how wide the track is and how that makes turn one unique with its double apex strategy.
But I digress—this session was just a series of sighting laps to get us used to the size of the track. Even though we were tootling along at an easy pace, not using any brakes was a daunting task. This was especially apparent coming off the throttle down the two straights.
Another experience of note was riding over the hill at turn five, which is appropriately named "Skyline". The views are quite breathtaking, rewarding the riders with a full vista of the Darling Ranges before diving down the hill to turn 6, the "Basin".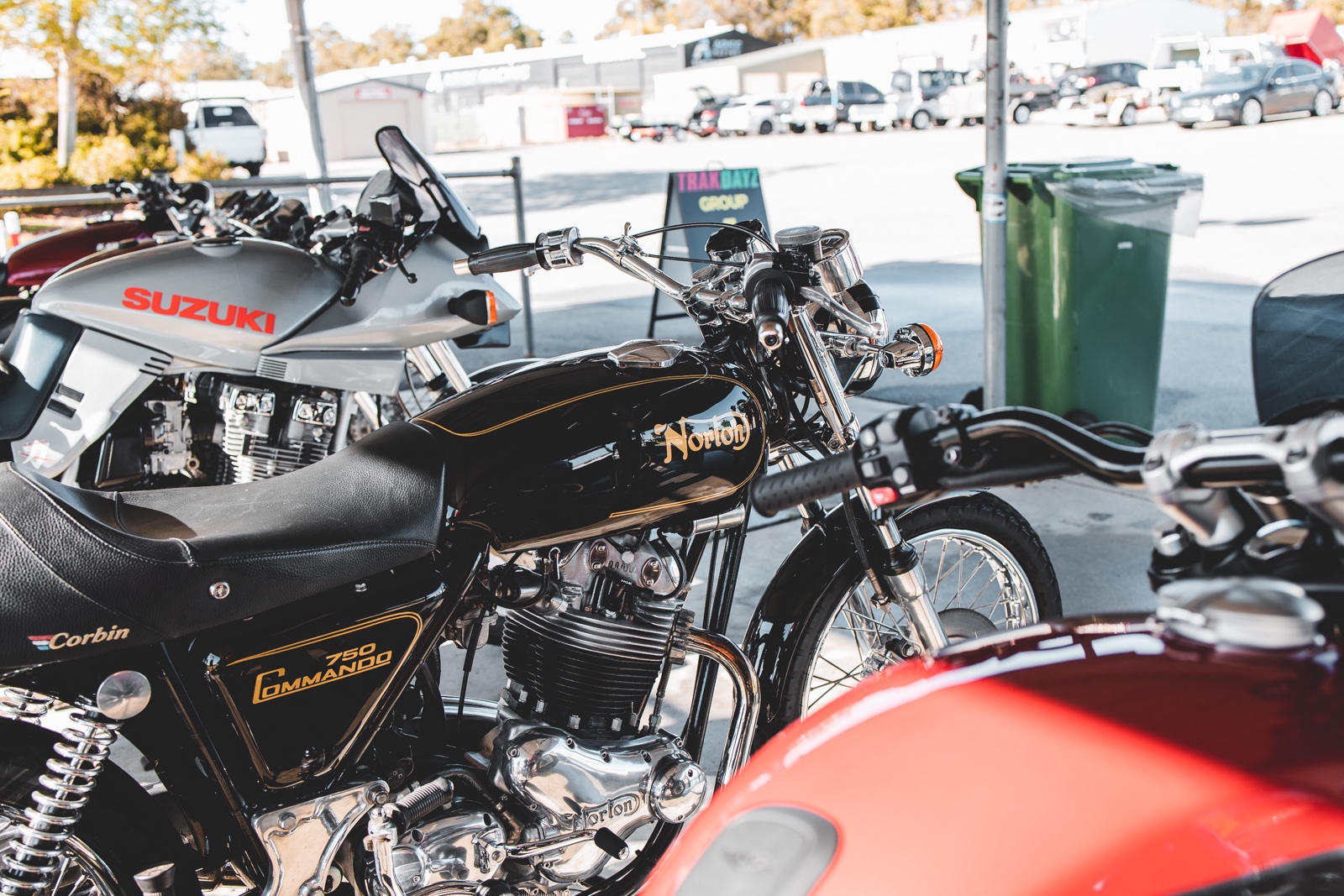 Session Two
The chequered flag was waved, and as we dived back into the pits, the apprehensive excitement was well and truly gone. Replacing this feeling was a childlike joy akin to riding a bicycle without training wheels for the first time.
We were all in good spirits, and the post-session banter that followed was proof. The coaches eventually wrangled us back to the classroom for the start of Session Two. The "herding cats" expression was mentioned more than once.
Session Two started by digesting everything we experienced on the track. After this, we delved into how and why a motorcycle changes direction. It was all about handling, counter-steering and listening to what our bikes were trying to tell us.
Back out on track, cones were set up on the main straight. This was about slowing down, countersteering through the cones, and listening to the bike and tyres. It was an exercise that rewarded those who went at an easy pace.
In hindsight, I should have gone slower as I was having trouble feeling the changes through the bars. Other than that, I noted that I felt far more confident on the track than I did in the first session and that my grip was more relaxed. This was another 4th gear, no brakes session.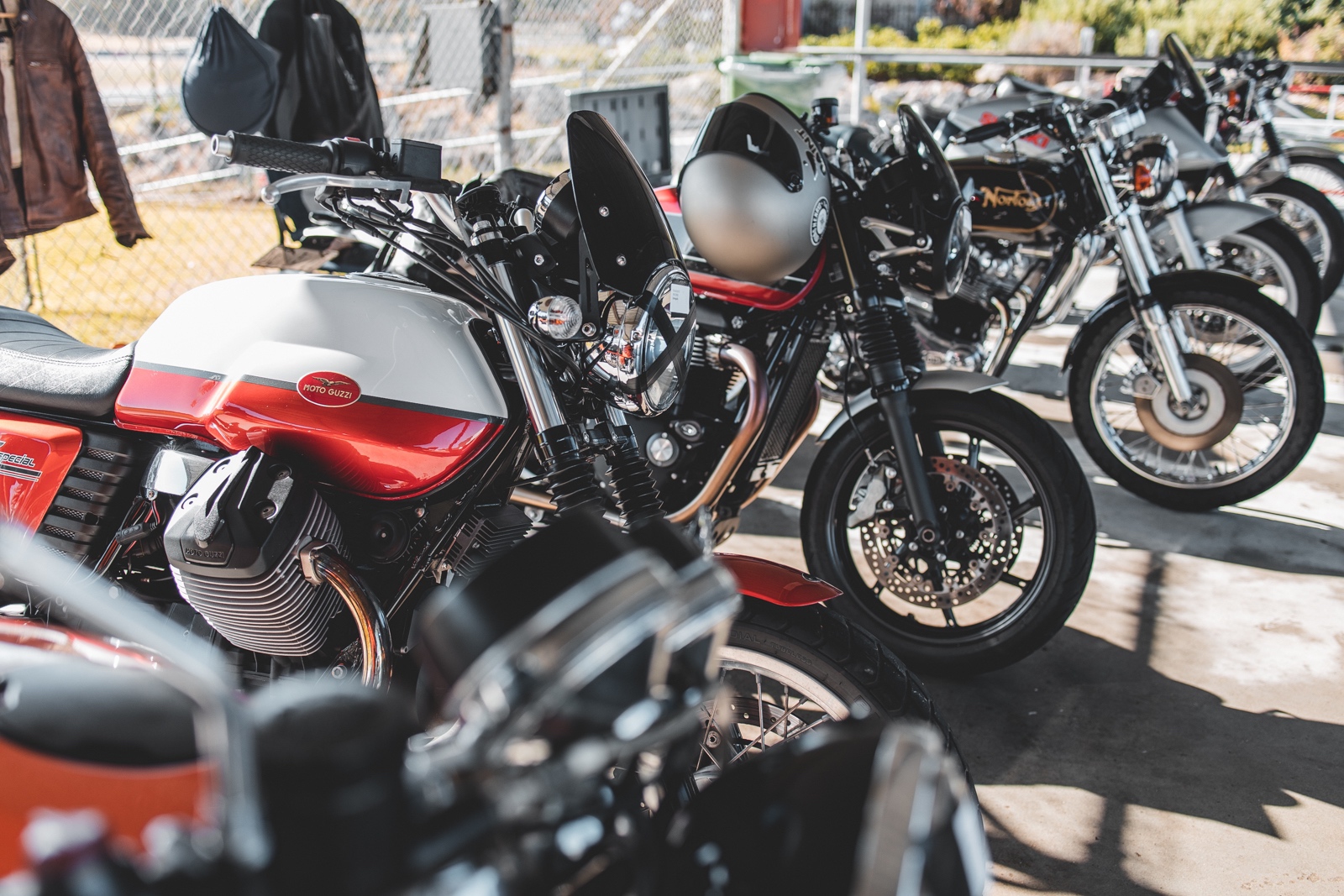 Session Three
Next up: body positioning. Macka (the main coach) and the rest of the TrakDayz gang guided us through the best way to position ourselves on our bikes to help us through corners. Time was also spent examining how and why MotoGP riders hang off their bikes and the physics associated.
Surprisingly, this was the only session where we talked about bike setup and ergonomics. How to use your feet and legs to position yourself on the bike was the real takeaway of the session.
Something I found useful was not lifting my weight off the seat when changing directions, like through an S bend. Out on the track, it was obvious the bike didn't like it when I lifted my bum off the seat to change direction.
Using the correct method of sliding over the seat instead of standing up, I could feel how much more planted the suspension was through the corner, and how that led to better stability and more grip. This was just one example of how powerful a track day experience can be. We were taught things in the classroom and then got to practice those teachings on the track.
Again, this was a 4th gear, no brakes session, and we also learned how loading our feet and footpegs helps steer the bike. This was a game-changer for Jon, riding his Norton Commando on 3.5-inch wide tyres. He was an absolute demon through the corners, going far quicker than anyone else. It's how you ride, not what you ride.
Session Four
With the previous session giving us more confidence with body positioning, it was time to talk about corner entry points. The corner entry points were marked on the track, and Macka coached us through how to properly prepare for a corner. Our confidence was starting to increase so we were moving at higher speeds. This meant that planning ahead was key to getting around the corners.
There was a certain level of mindfulness in this session, which I found very helpful. Just like out on the road, there is no point dwelling on what you did wrong or how badly you took that last corner. All that matters is the next one. Think forward, execute the corner, forget about it, repeat. If anyone thinks motorcycling can't be a relaxing experience, then they're wrong.
Session Five
This was where we added brakes into the mix, and it was my favourite session by far. In the classroom, we covered how and why we brake, what happens when we brake and the correct technique. Trail braking was covered, albeit very briefly, as we mostly covered straight line braking. Being novices, this was understandable.
Looking back, the biggest difference brakes made to my track riding was adding confidence. Having slightly more control over corner entry speed was probably why I felt this way.
That said, it was quite difficult to get the brakes just right. Having to think about braking on top of corner entry, body positioning and handling was quite the task. More often than not I was either getting on the brakes too early or I was braking too much. It was only on the last laps that I managed to get a few of the corners right (at least that's how it seemed in my mind, anyway).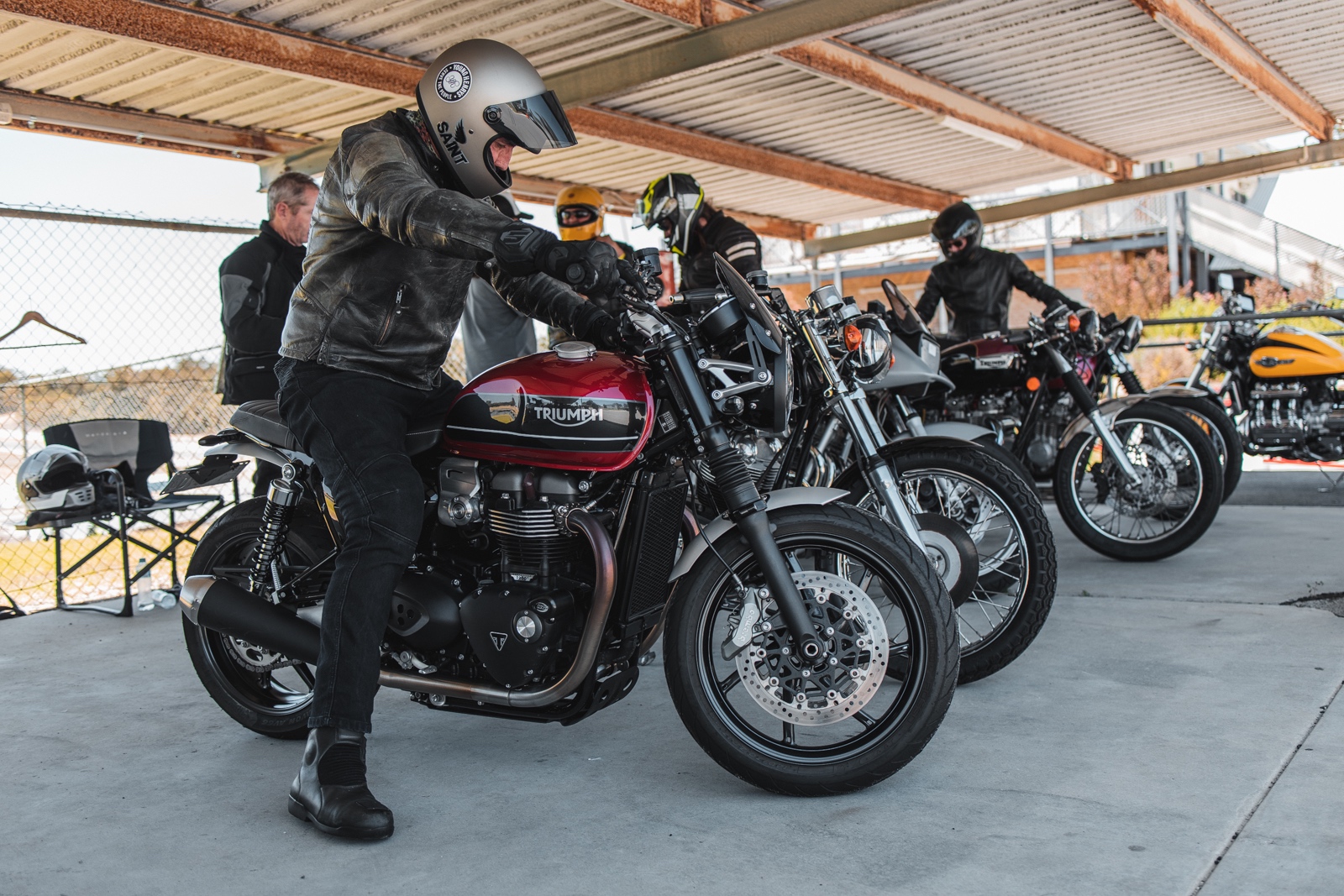 Session Six
Just as we were feeling a little more confident on the brakes, it was time for the next classroom session. This one was all about gears. We covered modern tech such as auto-blip throttles and slip assist clutches, but we spent more time discussing rev-matching. There was an emphasis on smoothness throughout the day, and rev-matching is key to being smooth, especially on the older bikes.
For most Moto Guzzi riders, rev-matching and preloading the gear lever are techniques that make street riding much more enjoyable—so I didn't have much trouble with this. I guess the nature of their construction has some benefits after all.
On the track, I only changed gears on the back straight as I chose to focus more on my braking and body positioning. This was another great aspect of TrakDayz training—they were totally fine with you working at your own pace, on the things you wanted to work on.
I gained more speed on the back straight, but other than that, I didn't see the need to use more gears, even down the front straight. It is a Moto Guzzi V7, after all.
It was on the second-to-last lap in this round where I had my only scare of the day. Heading down the main straight towards turn one, I was too focused on hitting my braking point, so I wasn't thinking through the corner enough. All too late I realised I was carrying way too much speed (for my novice liking, anyway) into the corner, so I jammed the brakes on as smoothly as I could.
All I did was brake a bit deep into the corner before I could turn right so all things considered it was a fairly mild error. However, it was a stark reminder that I needed to be more attentive, plan through the corner, and not get distracted.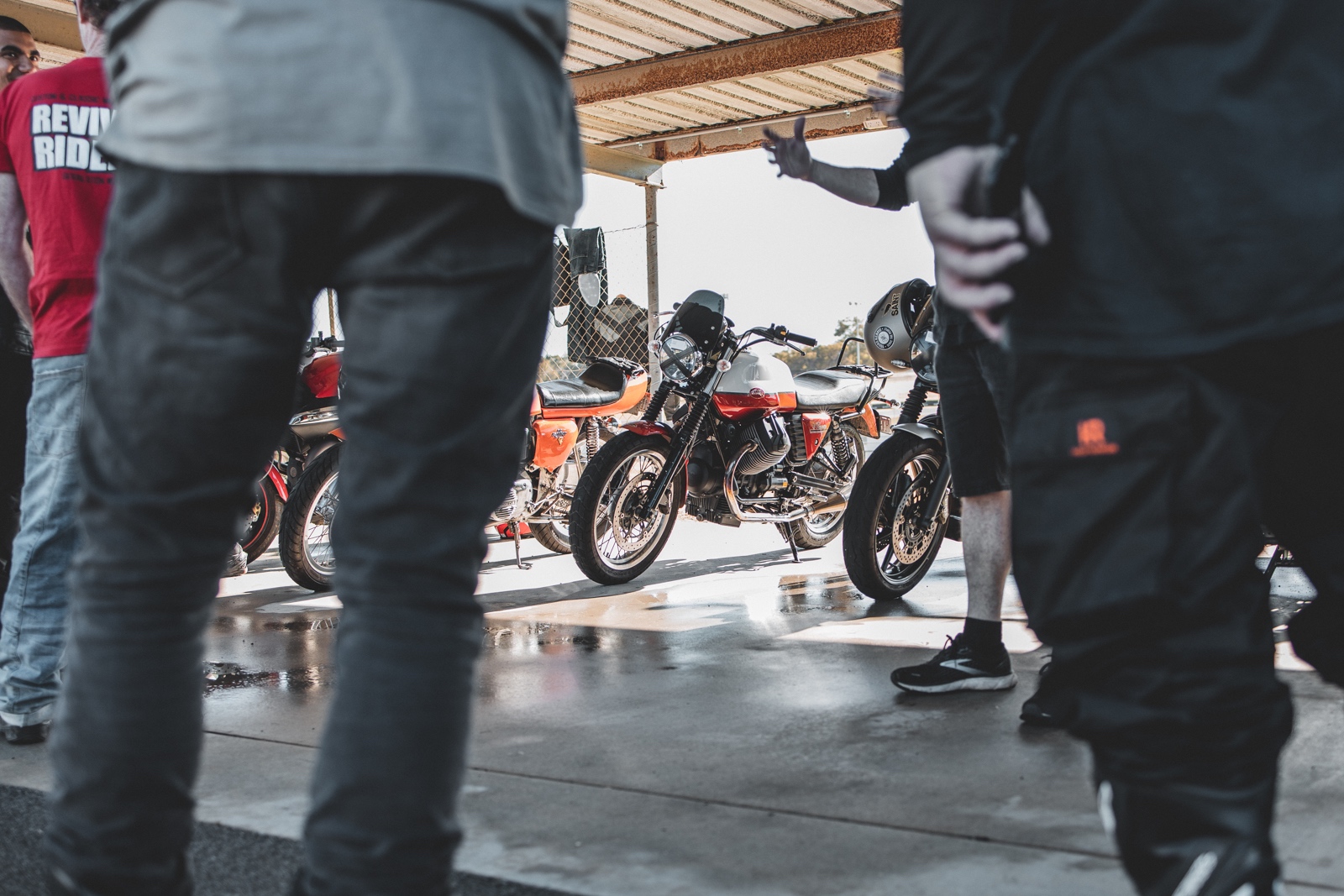 Bonus Round
After the sixth session, we went back to the classroom to go over everything that we'd learnt. We summarised a few points, had a good laugh, and just relaxed inside, out of the sun. Luckily, there was time for us to head out for a seventh session on the track, so we suited up for one last go.
There was a little voice in the back of my mind telling me to take it easy and not bin it in the last session. That's what I did in the Formula Ford car the previous month, so it wasn't so much of a little voice as it was a shout. Spirits were high but it was late in the day, we'd had an early start, and everyone was a bit tired. I think we trickled onto the track all feeling the same way.
Regardless of this feeling, the bonus round was great. The braking and body positioning techniques had time to sink in, so I felt more comfortable than I had all day. I was getting lower to the ground, hitting braking points better, and I was carrying more speed through some of the corners. All in all, it was a perfect end to a perfect day.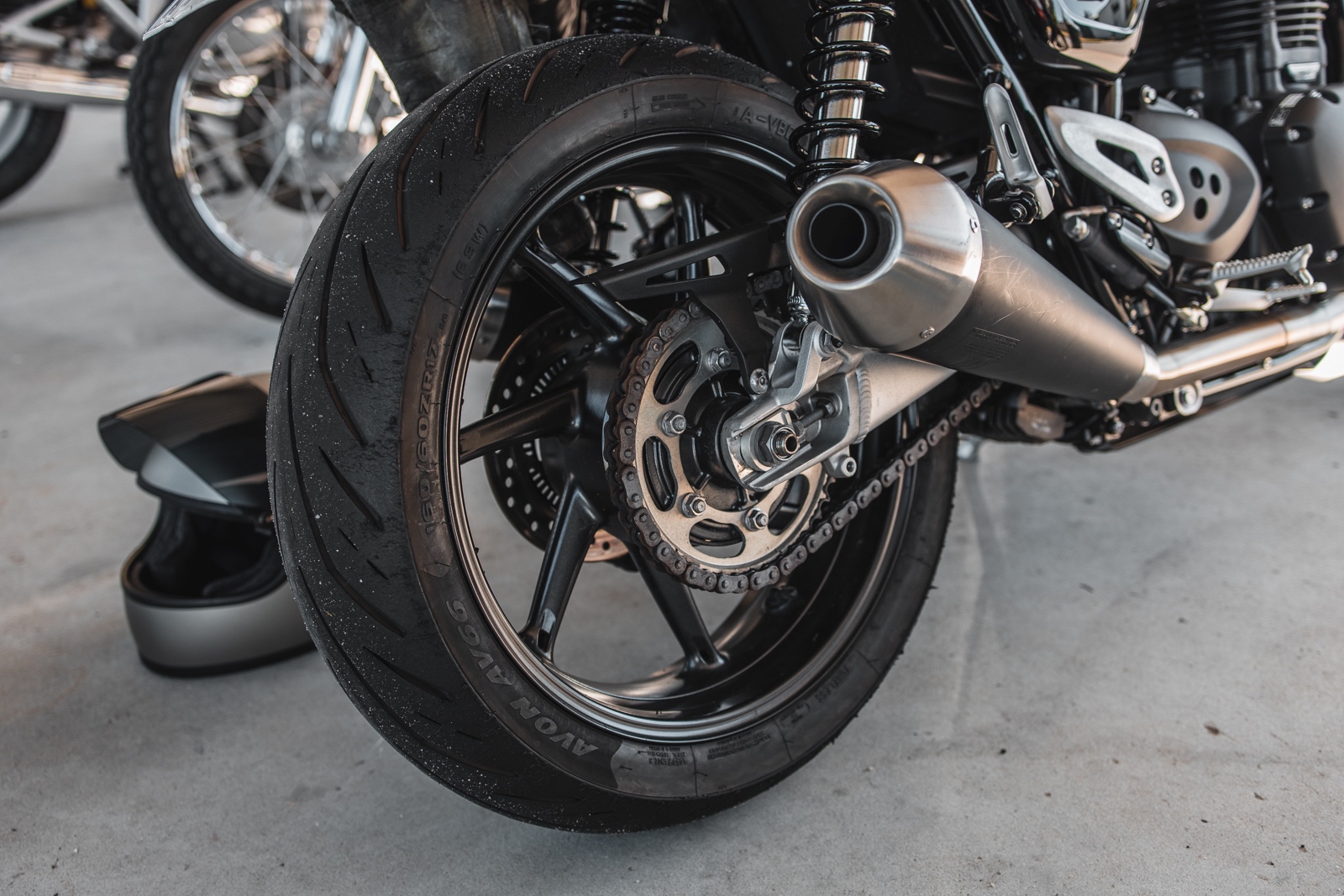 The End of the Day
This was one of the best days on a motorcycle I have ever had. I set out to learn as much as possible and am proud that I achieved that goal. Macka and the TrakDayz team made us feel more comfortable than we probably should have, considering what we were doing. If you had told me a year ago that I would feel comfortable flinging a heavy, tractor-like motorcycle with adventure/scrambler tyres around a race track I would have ignored you.
This is a testament to the work that TrakDayz and everyone at Wanneroo Raceway do daily. To my utter delight (and for the first time), my tyres were scrubbed all the way to the edge. Seeing molten bits of rubber flaking off your tyres is more satisfying than I can explain in words. Even more satisfying is being passed on the straight by someone with 100 more horsepower, only to have them hold you up through the corners.
Some riders give up riding on the road in favour of the race track, and I can see why. The track is a far more controlled environment. The surface doesn't change, traffic is all in one direction, and there are safety marshalls and medical staff on hand. Even though the speeds are much higher than on the road, I still can't help but think that the track is the safest place to ride a motorcycle. There are no trees, cars, gravel, or people crossing the road high on methamphetamine (but that's a story for another time).
It was said on the day that our motorcycles have millions of dollars worth of development behind them (except maybe Moto Guzzi). They have been designed by very clever people using very modern technology (again, I know, Moto Guzzi). They have been designed to go, stop and corner. However, what motorcycle manufacturers cannot account for is the peanut behind the handlebars. That peanut needs to be taught what to do and when to do it.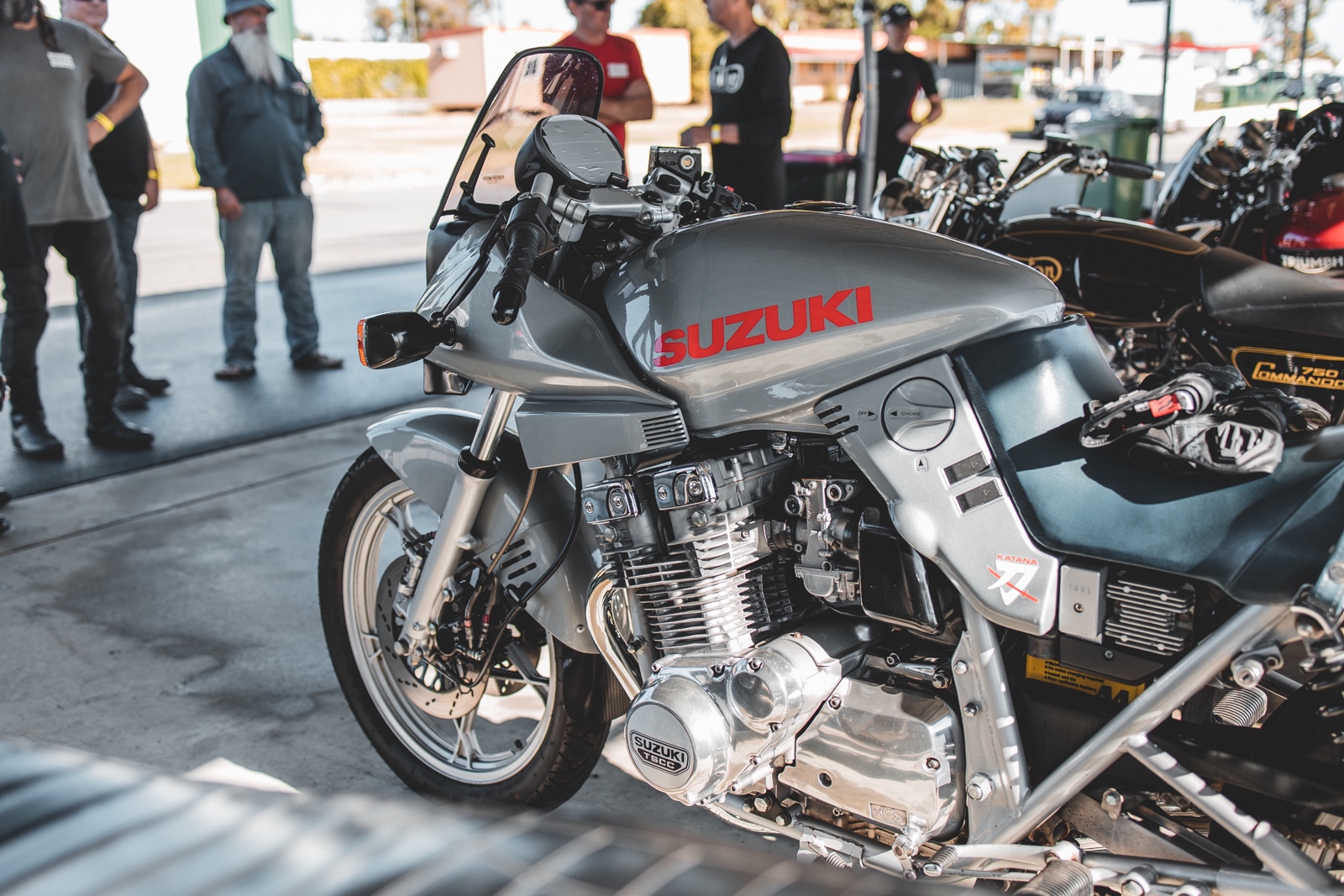 There are many reasons why track days and coaching are valuable to everyone. New riders will get the basics drilled into them before they develop bad habits. Conversely, older riders are given the chance to shed those bad habits in favour of good ones.
There are riders out there who want to shave tenths off their lap times, and that's also fine. Old, young, riding for one year or 30 years, it doesn't matter. Coaching will give you more confidence and make you a more competent rider. More competent riders result in fewer crashes on the road, more lives saved, and fewer negative motorcycle statistics.
I don't want to be a motorcyclist who only goes out when it's sunny and only for a 10-15 minute ride from home to get a coffee. Stephen MR Covey said, "some people say they have 20 years experience when in reality, they have 1 year's experience repeated 20 times." You can apply this directly to motorcycling, and it's another reason I signed up with TrakDayz.
Admittedly, after the Group 1 training, I am still a peanut (just slightly less of one). Since that track day, I've ridden 1200km, and I feel more confident, especially through corners. I'm not necessarily going faster, but I am more in tune with my abilities and with what my bike is saying to me.
What started as an idea pitched to us by the Revival Riders has become one of my fondest motorcycling memories. You, your mates, motorcycles, a race track all to yourselves, and a professional coaching team at your disposal. What are you waiting for?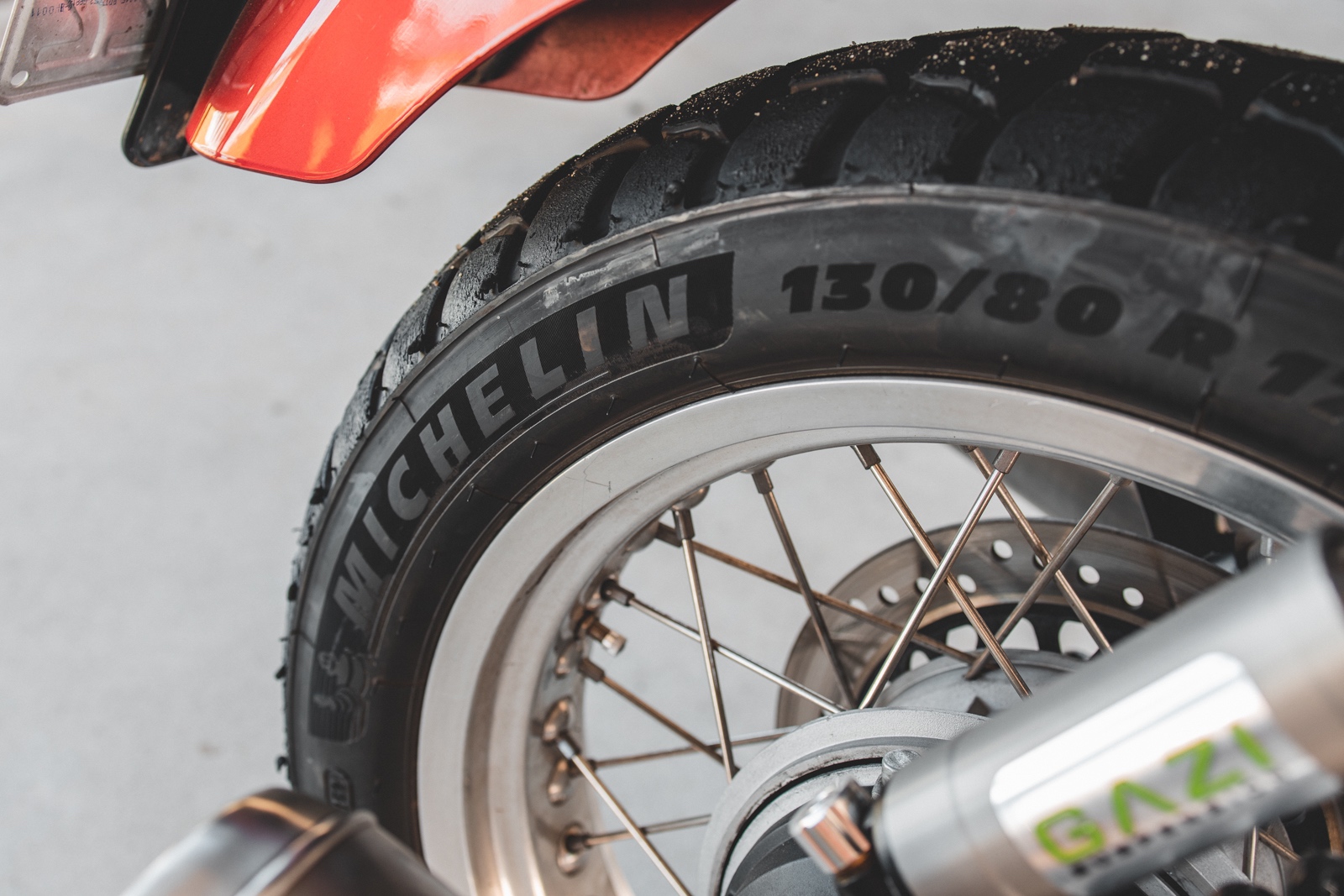 Special thanks to TrakDayz and Wanneroo Raceway for putting up with our tomfoolery for a whole day. Huge shoutout to Revival Riders and to Jon Richardson for hauling my bike to and from the track.
Story and pictures by Ben Pilatti of Regular Moto.