In 2015 Italian restauranteur Alessandro Dell'unto rented a small workshop space 500m from his restaurant. Why? Because when he's not refining his latest offering of culinary delights Alessandro spends his time-wrenching on motorcycles. It's an unusual recipe (pun intended) but ones that seem to have hit a chord as the bikes he's built have gained more attention than he'd ever planned. His last build, a CB750 based café racer, was so well received that it landed him the opportunity to create this, Europe's first custom Honda Rebel 500.
Back in 2015, Alessandro displayed his very first build at Verona's MBE show. The feedback was so good that it spurred him on to build an impressive 10 more customs over the course of 3 years and establish his Puzzle Garage workshop. In 2017 he displayed his Honda CB750 named 'Tokyo's Revenge' at another event and was awarded 2 design trophies including one by Honda Italy. Along with that trophy, Alessandro received a prize in the form of a brand new Rebel CMX 500, Honda's new entry-level "Bobber".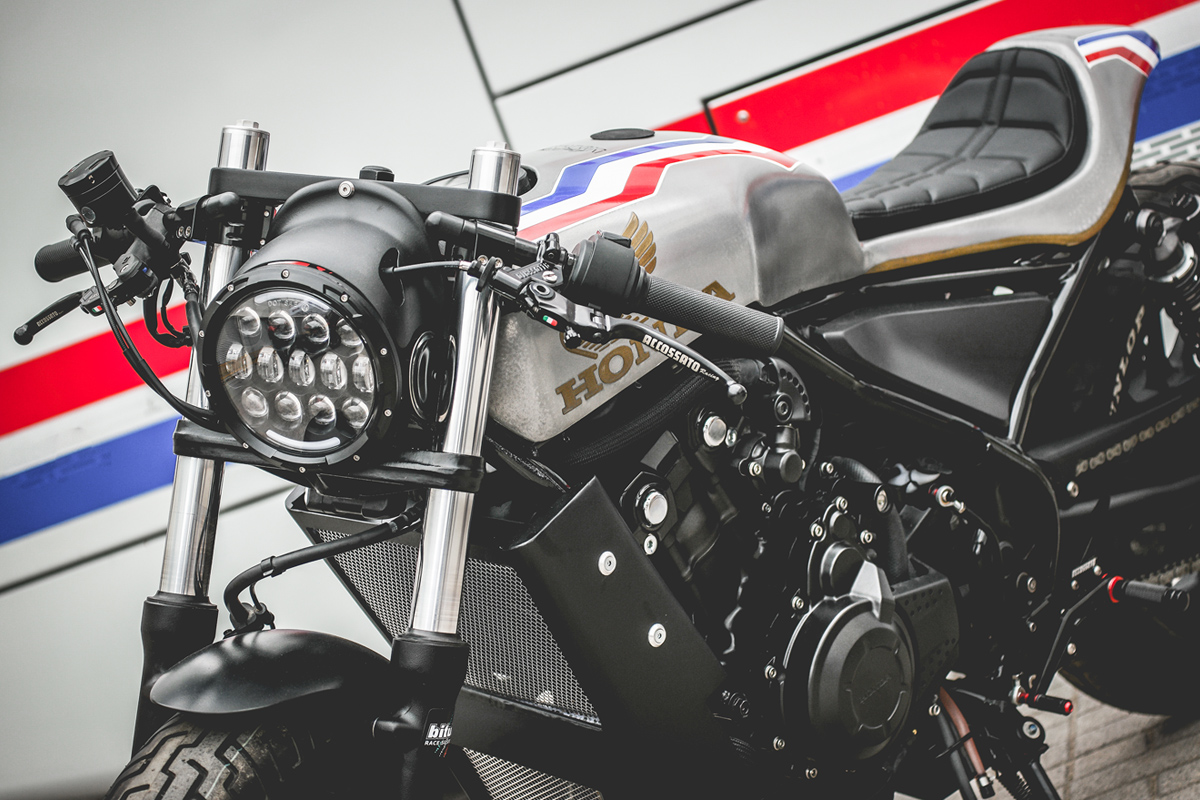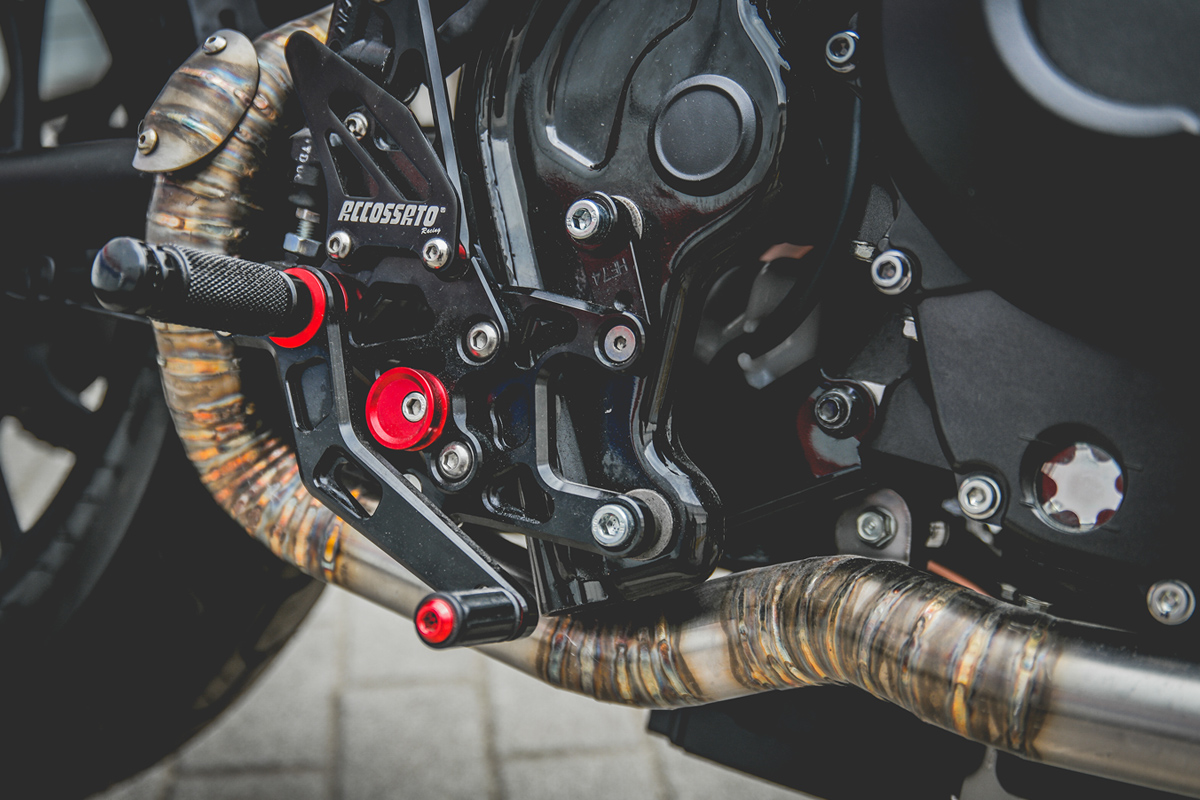 After awarding Alessandro with his new bike Honda went a step further by inviting him to customize it. He gladly accepted despite two restrictive stipulations; the bike's frame and the wheels must remain untouched. Having a soft spot for café racer styling he knew exactly what he wanted to do. "I thought it would be particularly interesting to create something that could be installed to change the bike aesthetically in a few seconds. With the same kind of ease you can change your clothes," he says.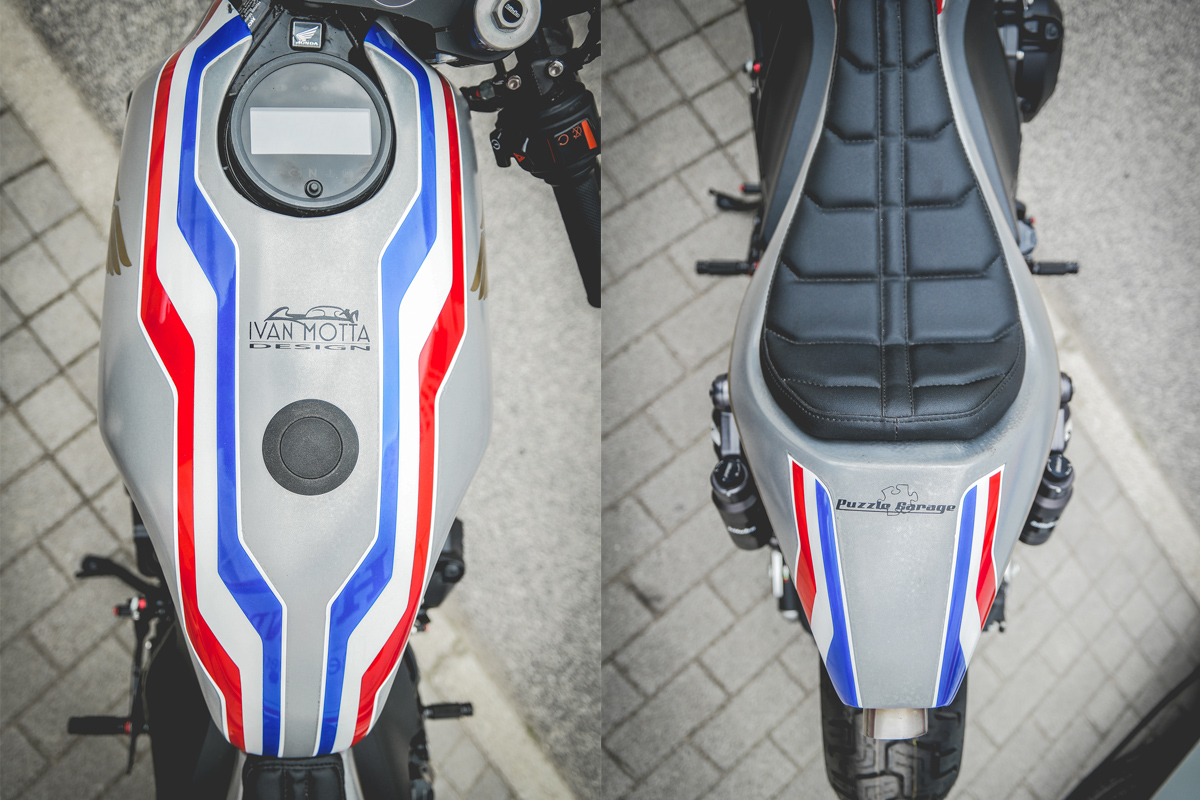 Transforming a Bobber styled motorcycle into a levelled out café racer without modifying its frame is no easy feat. Alessandro's previous experience with composites was close to non-existent and his timeframe was limited to evenings and weekends, but this didn't stop him from designing a rather ambitious, quick-fit monocoque body.
"I started with a simple wire form buck made from iron rods," says Alessandro. "The lattice structure was then filled with polystyrene foam which I worked by hand." Once he was happy with the shape a prototype was laid in fibreglass over the buck. His prototype was then used to create a silicone negative mould that could be repurposed to create multiple versions of his design. The monocoque body he designed incorporates the bikes fuel cell and entire tail section into the design. Then to keep the front end clutter free he recessed the factory gauge into the body.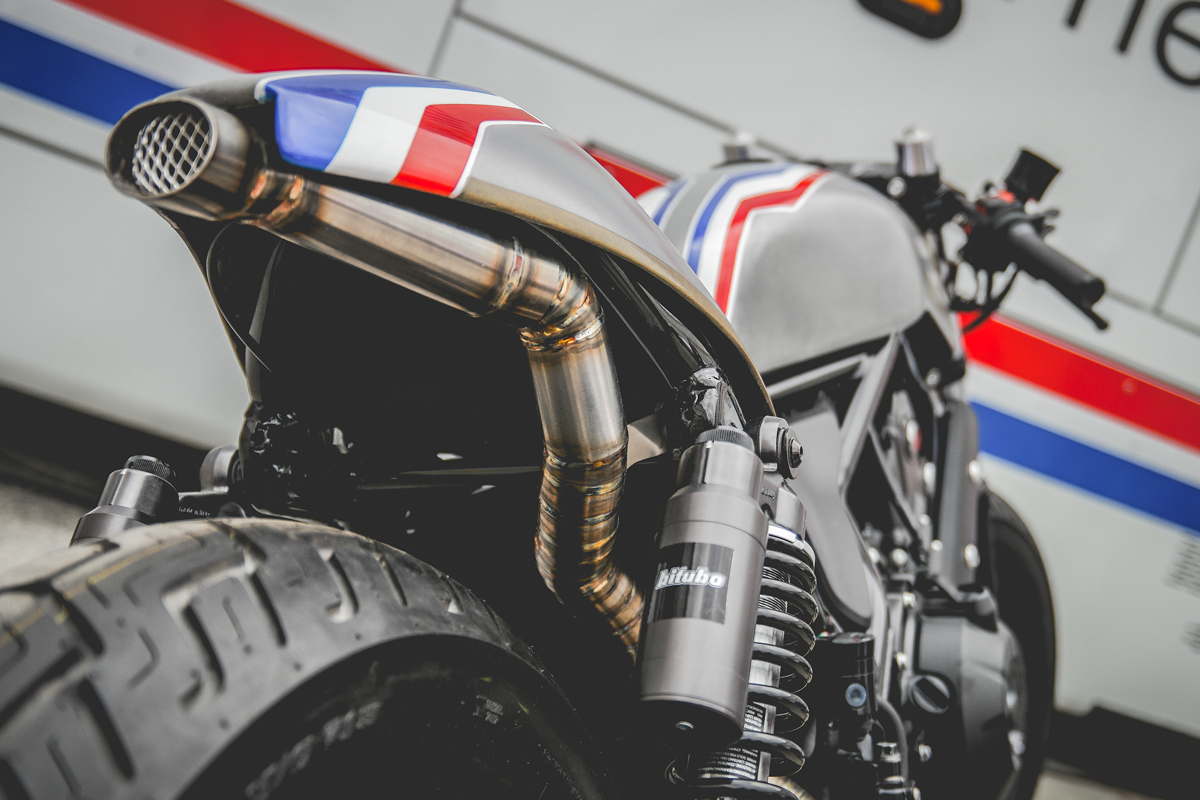 Along with fitting his monocoque bodywork to the Rebel, Alessandro fit the bike with a collection of easily acquired aftermarket parts to complete the transformation. The bikes clip-on handlebars, rear-set pegs, levers, and reservoirs were all sourced from Italian aftermarket supplier Accossato and are all straight replacements for the factory items. At the rear, he fit a set of Bitubo shocks, the same ones found on Harley's V-rod, that raise the everything by 4cm. Up front, he lowered the shocks by the same amount to turn the Rebel's slouched stock stance into an almost level bone line.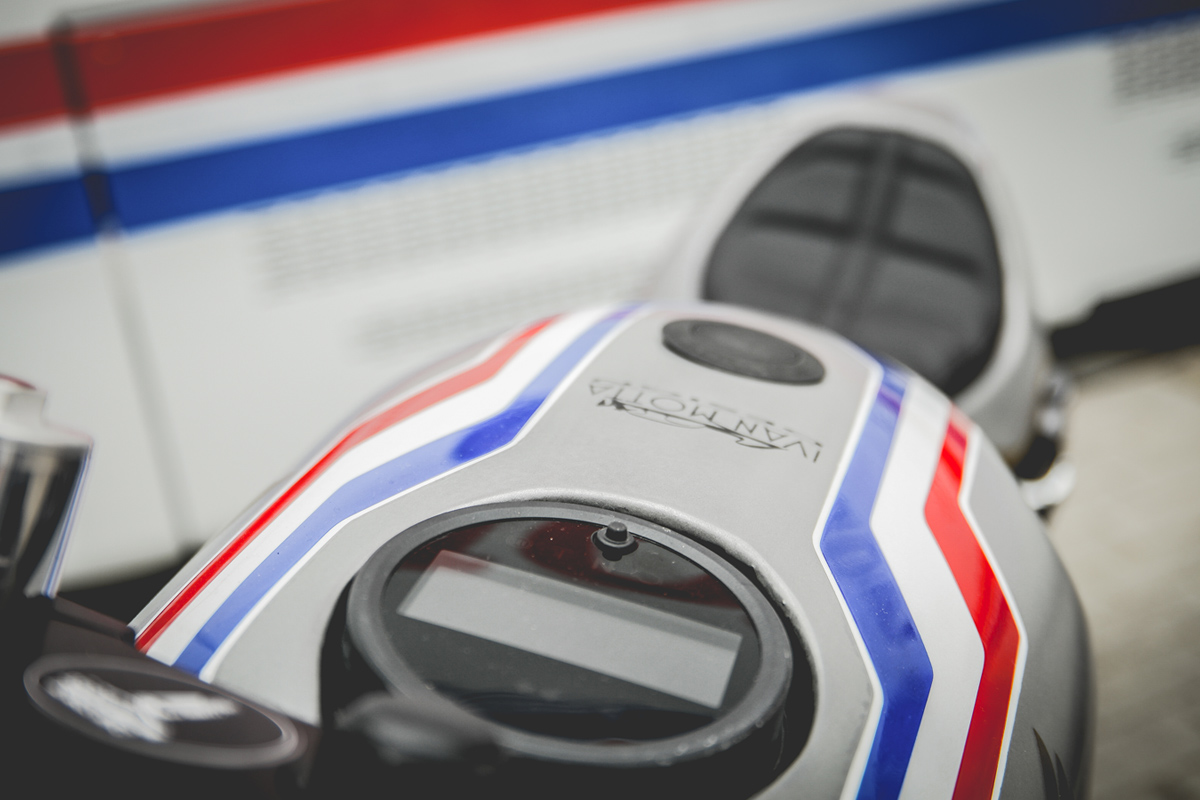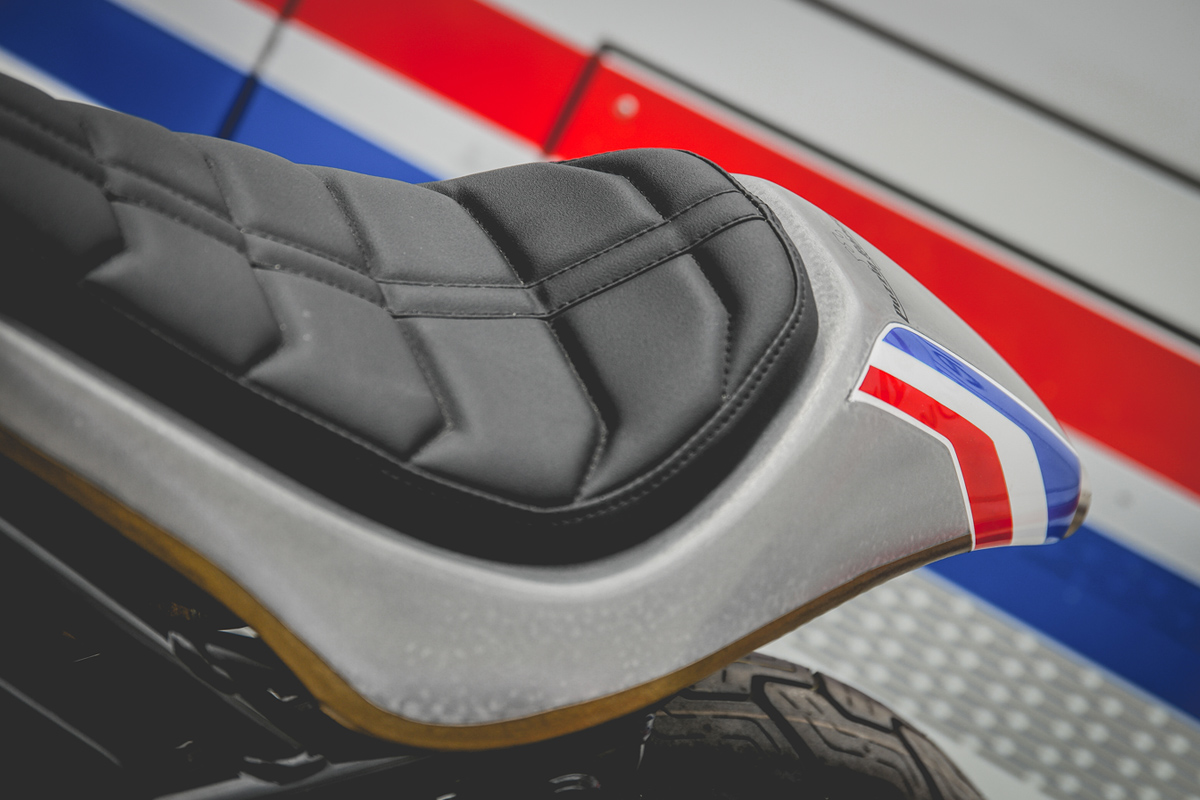 Other custom tweaks to Alessandro's Rebel include a simplified wiring harness, an aftermarket headlight with a custom made shroud, and a wild 2-into-1 pie-cut exhaust by his friends at DR di Paolo di Russo. The radiator has also been enclosed in a belly pan style fairing adding to the Rebels muscular silhouette.
The result is a drastically transformed Rebel that, as per Honda's request, is completely street legal. Alessandro's monocoque bodywork can be removed simply using the ignition key and will soon be available to order in a variety of finishes and materials. With the Honda Rebel 500 available for less than $7000 USD spending the extra cash to recreate this machine should be mandatory.
Photography by Virgilio D'Ercole