Nostalgia is a powerful thing. For seasoned motorcyclists, nostalgia can quickly become...
Clutch Moto is a 100% Australian made purpose-built riding gear brand based...
In the scheme of things, 10 years isn't all that long. But...
"Design truly governed by passion and a constant need for improvement." –...
When it comes to motorcycles, there are certain makes and models that...
Never shall I ride cold again! In a recent article, I reviewed...
My first decent crash on a motorcycle was in front of about...
Looking cool on a motorcycle used to be effortless. Before the invention...
Even in the motorcycle world, trends, like all things in life, come...
If there's one builder whose work can be summed up by the...
Pin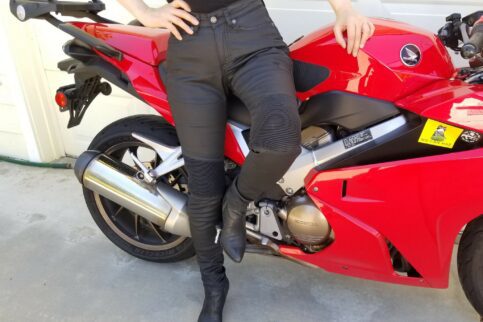 How many of us started riding because it looked cool to be...
"I have a habit of going cheap at the start of a...
It seems like ancient history now, but back in those scary days...
Story contributed by Fiorello Galluzzo I'm a regular humble guy and generally...
All outdoor images courtesy of Machines That Dream Pity the poor old...
We applaud moto brands that continually step up their game. One such...
It's spring, 1957 in an alternate-reality London, and the car park of...
Someone once said, "It's more fun to ride a slow bike fast...
Let's be honest. There aren't many things you can do in public...
While the average person may think Italy's best export is its cuisine,...
UK helmet manufacturer Ruroc has released the third edition of their Atlas...
Are you a dreamer or a doer? Prior to 2018 Marcel Galuszka...
What better way to celebrate a motorcycle workshop's 10 year anniversary than...
Motorcycles are an addictive drug. Every rider remembers the first time they...
Not all custom builds have to completely transform a motorcycle to catch...
Back in 2015 Christian Möhring came up with a unique concept. It...
Tanadit Sarawek is somewhat of a grandmaster when it comes to building...
A spontaneous retro helmet party ignited and all the manufacturers were invited....
If you're anything like me, you'll regularly find yourself daydreaming about moto-related...
Triumph Motorcycles range of Modern Classics is arguably the best mix of...
EngineHawk is the newest company on the motorcycle gear market, launching in...
My name is Ryan Despres, I'm 31 years old and live in...
Spanish workshop Tamarit Motorcycles have over 100 custom Triumph Modern Classics under...
Back in 2005, when I first became interested in the Japanese custom...
Hooded motorcycle jackets are a point of contention for some riders. Due...
Kristy Nadine is a busy lady. When she's not hunched over a...
We have to admit that seeing riders getting around on their motorcycles...
I'm Billy Marijn Kuijken and I run Rogue Motorcycles, a custom motorcycle...
In today's high-tech world, a basic cell phone is almost non-existent, often...
At 54 years young Swedish born Norwegian Tomas Wrede has an enviable...
Denim Jeans with a Protective Punch Riding pants are often overlooked when...
Fake news is a term that's taken on new meaning in the...
We've all experienced a time when our best-laid plans fell in a...
Keeping yourself protected isn't the only reason to buy dedicated riding gear....
High in the northeastern reaches of Italy, you'll find the Friuli Venezia...
Photo by Brandon LaJoie 'Cafe Racers of Instagram'. The name alone strikes...
There have been close ties between skate and motorcycle culture for decades....
As someone who has a history of heart disease in their family,...